Janata Curfew unites india, PM Modi says we have a long way to go to fight COVID-19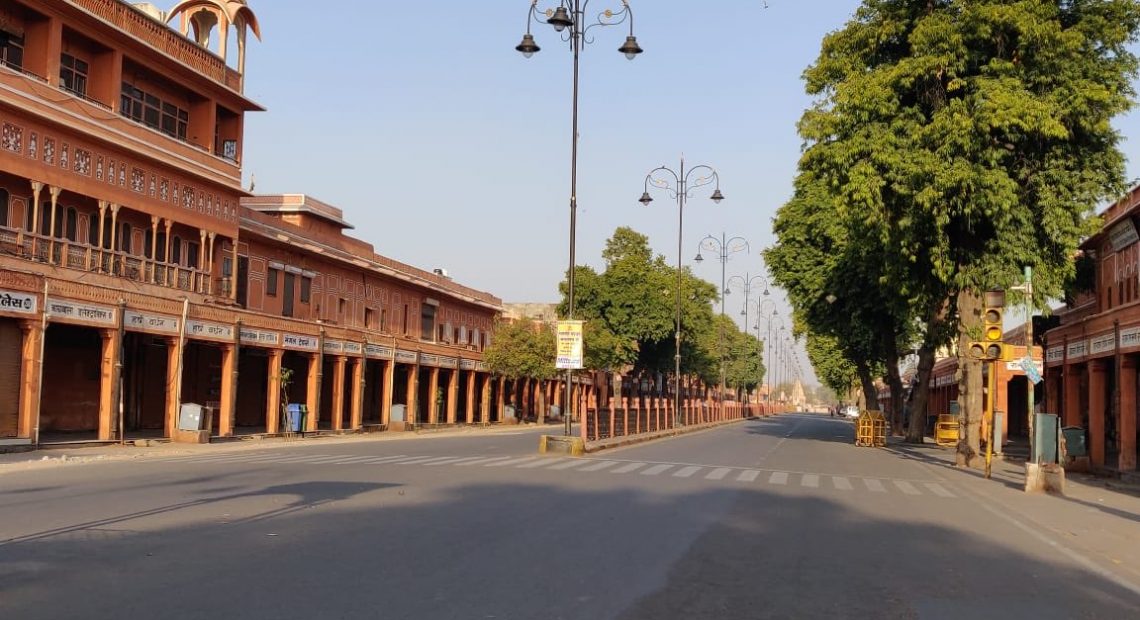 The entire country is observing Janata Curfew today following Prime Minister Narendra Modi's appeal for people to voluntarily stay indoors to check the spread of Corona virus. In his address to the nation on 19th March of this month, he urged public to avoid stepping out of their homes.
Prime Minister said the steps we take now will help in the times to come. People's restraint and determination will defeat the epidemic.
Mr Modi asked everyone to express gratitude towards doctors, nurses, hospital staff, sanitation workers, airlines employees, government staff, police personnel, media people, people associated with train-bus-auto rickshaw services and home delivery agents.
मां…

मां आप जैसी करोड़ों माताओं के आशीर्वाद से कोरोना वायरस से लड़ रहे डॉक्टर, नर्स, मेडिकल स्टाफ, पुलिसकर्मी, सुरक्षाकर्मी, सफाईकर्मी और मीडियाकर्मी जैसे अनगिनत लोगों को बहुत प्रेरणा मिली। आगे काम करने का संबल मिला ।https://t.co/Hx5usWceTShttps://t.co/Qx8zBynSL3 https://t.co/YclxhAetSN

— Narendra Modi (@narendramodi) March 22, 2020
Mr. Modi has appealed to the migrants to stay put wherever they are and not undertake train and bus journeys to their home due to the fear of coronavirus. He cautioned people against any kind of travel, saying they are playing with their health and also putting their families at risk.
PM's appeal on Twitter came amid reports of migrants leaving for their homes from big cities, where several cases of coronavirus have been reported.
Public transport has been suspended or curtailed and all markets and shops except those dealing in essential items are closed in wake of Janta curfew. It is a self-regulated drive which will come into force at 7 this morning and will continue till 9 PM.
Reports of Janta Cufew are pouring in from various states.
In Uttar Pradesh, the self imposed lock down is seen highly successful in the entire state . Most of the people are inside indoors and the road and streets bore a deserted look.
All markets shops and other establishments barring some essentials like Hospitals and medicine shop , are totally closed. Uttar Pradesh Chief Minister Yogi Adityanath has appealed people to remain inside their home. Yogi Adityanath also thanked the people for their support to the Prime Minister's call for Janta Curfew.
In Maharshtra, following the Prime Minister Narendra Modi's appeal for a day long Janata curfew, citizens of Nagpur observed the self imposed curfew from 7 a.m onwards today. Most of the streets and market places in Nagpur are remaining closed. The vehicular movement on the streets is also minuscule due to outbreak of Covid-19. The city has registered 4 positive cases till date.
Check-posts by police in the city are monitoring the unnecessary movement of citizens and imposing penalty under the law those who are violating the sections under Epidemic Law. Nagpur is among the four metropolis town in Maharashtra which are being locked down by the district administration till 31st March where in all private and corporate establishment are shutdown except essential services.
However due to the closure of public transports in the city, some passengers were stranded in Ajni railway station after they deboarded from Vidarbha Express and Garib Rath Express in Nagpur today.
Janata Curfew in Andhra Pradesh is going on successfully as public enthusiastically responded to the call of the Prime Minister Narendra Modi. Road in cities, towns and villages across the state wore a deserted look since 7 am. almost all the main cities in the State, like, Vijayawada, Visakhapatnam, Tirupathi, Guntur, Kadapa, Kurnool, Nellore Vizianagaram, Srikakulam, Rajamahendravaram and Eluru fell silent. People from all walks of life and all sections of the society voluntarily kept themselves indoors.
Extending support to Prime Minister's call for Janata Curfew, Andhra Pradesh Governor Biswa Bhusan Harichandan and Chief Minister YS Jagan Mohan Reddy, time and again appealed the people of the State to make it a success. Bus services were also suspended. The buses in Pandit Nehru Bus Station in Vijayawada are confined to depot. Essential services are seen.Though police were deployed, largely it was the people who voluntarily and actively participated in Janata Curfew. All commercial establishments have been closed. The situation is the same in Visakhapatnam and other cities as well.
As called by Prime Minister Narendra Modi, along with the rest of the nation Arunachal Pradesh is also observing the Janata Curfew today to check the spread of COVID-19. In the Capital City Itanagar, people are not coming out of their homes, roads are empty, markets shut down and shops are closed.
AIR correspondent reports that people in Madhya Pradesh have remained indoors and roads wore a deserted look in view of the 'Janata curfew' call given by Prime Minister Narendra Modi to make the fight against coronavirus a success. Gardens, stadiums and other public grounds, that usually witness crowds on Sundays, are also empty.Roadside shops and eateries are also remained closed across the state. Eight districts including Jabalpur, Rewa, Seoni and Narsinghpur- have already been placed under lockdown since Saturday.Madhya Pradesh recorded its first cases of coronavirus on Friday with four persons testing positive in Jabalpur city. To check the spread of coronavirus, authorities in several districts of the state have taken various measures, like shutting schools, cinema halls, restaurants, markets and museums. The administration has also made elaborate security arrangements in view of Janata curfew, but due to the full support of common people, security personnel are also able to remain in isolation.
Punjab Chief Minister today announced shutdown of all non-essential services and businesses with immediate effect till March 31 to prevent the spread of coronavirus. The essential services and shops , buisness establishments selling essential items will remain open.The essential services include police, health, power, emergency transport, supply of milk, food items, medicines, etc. A top government functionary told AIR Correspondent that All Deputy Commissioners and SSPs have been directed to issue relevant orders and implement lockdown immediately.
After reviewing the situation, the chief Minister has ordered has shutdown till March 31 all across the state.
People across Chattisgarh remained indoors in response to the Janata curfew call given by the Prime Minister Narendra Modi.
In Raipur, all the main roads and public places, including usually busy Jai stambh chowk, Malviya road and Sadar bazar, wore a deserted look. Entire city comes to a halt as the people observes 'Janata Curfew' joining hands in the fight against corono virus's spread.
In other cities of the state also, all the shops and establishments have been completely closed.
In Kolkata most of the shops and establishments are closed . Public vehicles are off the road. However train services under Metro Railways are playing after half an hour gap . Long distance trains services have been cancelled , but few local trains are playing . Inter – State bus services and International flight operations from Kolkata have been kept on hold as precautionary measures . People from all sections of the society are spending the day at their homes .
In Gujarat, people are enthusiastically responding to the call of Prime Minister Narendra Modi and participating in the Janata curfew today.
Shops, markets, temples and other institutions are closed and roads are deserted since morning. All towns and cities have witnessed no movement of people since morning. The buzzy textile and diamond markets in Surat wore a deserted look since morning.
The civic bodies in many cities including Ahmedabad municipal corporation have taken fumigation drive to deinfect roads and other public places.
AIR correspondent reports that Local and state transport services have already been suspended in the state.
However, essential services are open for people all over the state. Police are seen on the roads to keep check on the unnecessary movement of people.
In Tamil Nadu, the call for a self-imposed Janata Curfew in the war against Covid-19 has witnessed an enthusiastic responsne. People barring those who carry essential commodities and those who require emergency medical attention are keeping themselves indoor.
In Chennai, arterial roads and iconic Beaches are wearing a deserted look. Famous tourism spots like Kanyakumari, Ooty and Mamallapuram that normally brim with people are totally free from any footfalls. The wholehearted support to the people conveys the public cooperation to the Government efforts to contain Covid-19.
The Janata Curfew, has evoked an all out response from the people of Mizoram today with people confining themselves to indoors
Police sources said, no vehicular traffic, private and public transport, is plying on the roads while shops and business premises are totally shut down, barring essential servicrs. The Church services and prayers at Churches have also been suspended since morning, while people are holding the prayers today at their homes. All cities wear a deserted look in the state. In the fight against Corona Virus and in support of Janata curfew, a key role is being played by media through their contents and broadcast programs from yesterday.
In Meghalaya, people stayed home responding to the clarion call of the Prime Minister to observe 'Public Curfew or Janta Curfew' to check the spread of COVID-19 across the country.
Residents in Shillong stayed indoors except for essential and emergency service providers. All shops and business establishments based in the city remained shut and all vehicular movements were restricted to only the emergency services.
In other districts people stayed off the road and all business establishments remained closed.
Effect of Janata Curfew is visible in Pune since morning. Roads are empty in several areas of the city. All shops and Markets are closed today. Only Medical, grocery, milk shops were seen open in early Morning. Business establishments and private companies' offices are closed. Very few people were seen on railway station. Pune-Mumbai Expressway is almost empty with only a few vehicles are seen on the road. An additional 2800 home guards have been deployed in Pune.
In Telangana, and all sections of people are voluntarily taking part in the Janata curfew. Except emergency services like medical and water and power supply almost all sectors and services have been closed. Public transport services besides business and other services have been totally closed.
The roads passing through the capital city, Hyderabad wore a deserted look while the public places otherwise crowded were also empty. The state government authorities' including police have also encouraged people to remain indoors. Meanwhile, the total number of COVID – 19 Positive cases rose to 21 in the state.
The people of Kerala had extended complete solidarity towards the JanataCurfew today.All the roads, public places, railway stations, bus stands etc across the State is totally deserted. Train, bus service and metro is not functioning in the State. Only essential services like medical store, hospitals, media units etc is operational . The call of the PM to express gratitude and to encourage the essential service providers at 5 in the evening is also been widely communicated and is expected to have complete support from the people for the same.
The Union territory Ladakh wore deserted look in response to Janata Curfew today. Region spread in over sixty thousand square kilometres is stalled as and where it is, since this morning. Including villages on two International borders with China and Pakistan, entire region participating in the Curfew.
Ladkah has reported 13 COVID – 19 positive cases sofar. General public have determined to co-operate with the authorities and join the fight against the pandemic.
Chuchul village representative Konchok Ishey told AIR news at zero point on Indo-China border, the district administration has taken all precautions to create awareness about Coronavirus. He said people are participating in the janata Curfew to put a stop to the virus spread.
In Shey village of Leh Ladakh, farmers defered Dulo festival to celebrate the begining of Agriculture works and preferred to stay home in response to Janata curfew.
Similarly, in Kargil people responded positively to the Curfew call by the Prime Minister. Kargil police are also doing Corona awareness campaign since morning.
In Trichy, people voluntarily took part in the 14 hour Janatha Curfew, which commenced at 7.00 am today. Temples and other religious centres have also been closed and only rituals are being conducted. he main arterial roads like the Dindugul, Chennai, Madurai and Kovai highways fell silent, with only very few vehiclesPublic transport as well as trains are not plying. Milk supply has been maintained as usual. Restaurants and hotels have also not been open.
In the meantime, 385 passengerswho landed in three international flights in Trichy early today morning were subjected to protocol based medical examination. Of these, 10 male and 12 female passengers have been taken to quarantine centre in Kallikudi, near Trichy, as a precautionary measure.
Following Prime Minister Narendra Modi's clarion call for 'Janta Curfew' and lockdown imposed by the Odisha government to contain the spread of Coronavirus, all the commercial shops, and business establishments baring essential services are closed in the State today. Along with the people, all the public transport vehicles, including buses, taxis, auto-rickshaws have also stayed off the roads since this morning. Roads and streets wore a deserted look while police at main junctions were seen urging people not to move on roads unless they had important works.
The State government has imposed seven days lockdown in Khordha, Cuttack, Ganjam, Kendrapara and Angul istricts and eight major towns Puri, Rourkela, Sambalpur, Jharsuguda, Balasore, Jajpur road, Jajpur town and Bhadrak from 0700 today until 2100 hrs next Sunday, March 29. In these five districts and eight towns, all distribution of benefits such as pension and PDS is postponed for the time being, and private companies are advised to encourage work from home. The State government has declared all service providers, including the private sector, engaged in tackling the COVID-19 crisis as Emergency Workers.