Belgium Nutraceuticals giant Eubage Laboratory to pump 17 Million US $ in Dr. Datsons Labs Ltd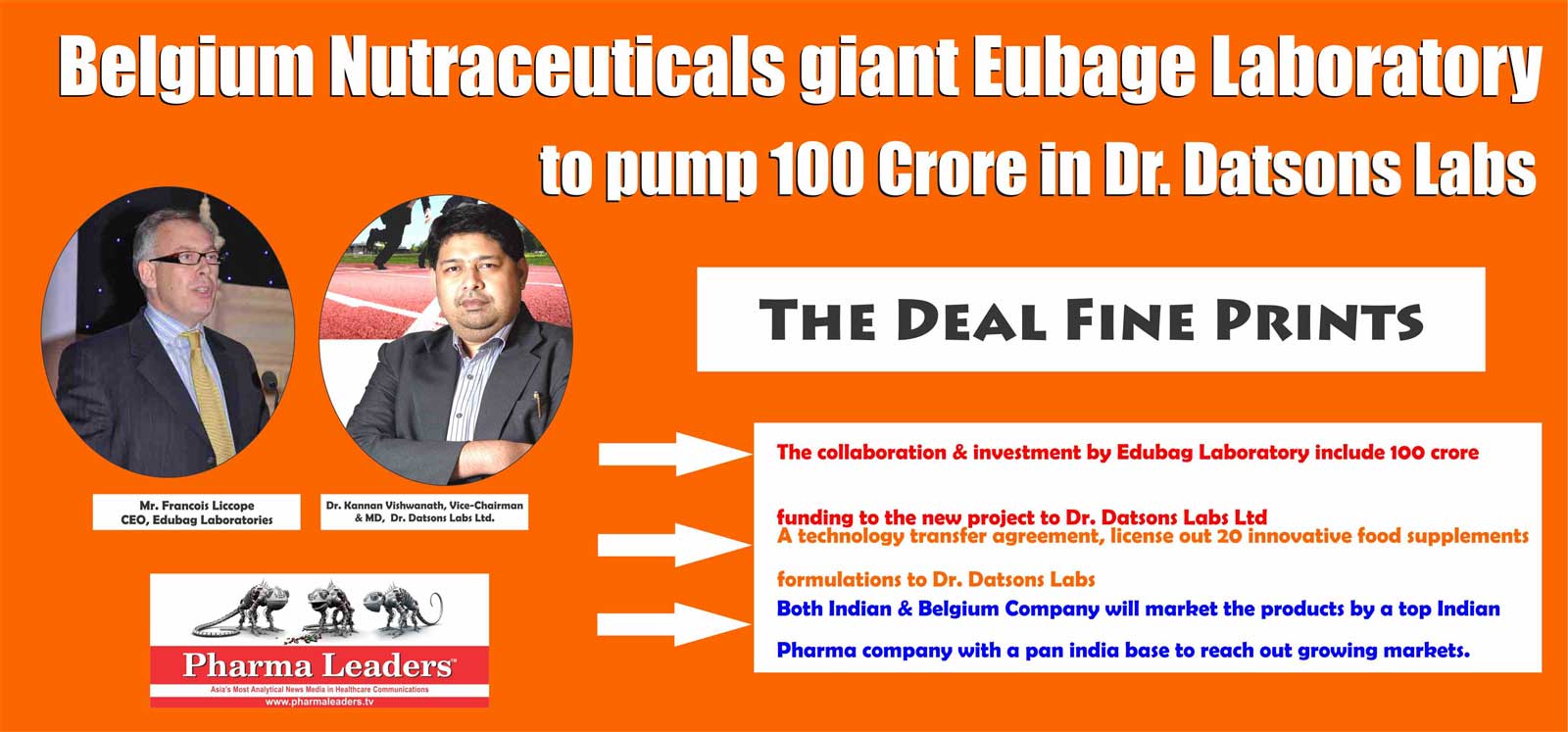 The Deal includes licensing out 20 innovative food supplements formulations to Dr. Datsons Labs to capture the flourishing $4 billion Neutraceutical Market in india.
Tuesday,20th January 2015, New Delhi : Belgium based Eubage Laboratory has striked a major partnership agreement with the Indian Pharma Company Dr. Datsons Labs Ltd specializing in Bulk drugs, Contract manufacturing Company which is  the third-largest quinine salts manufacturer in the world and among the-largest controlled substances quota in India. As per the sources, Belgium Nutraceuticals  giant Eubage Laboratory  is expected to invest around Rs 100  crore in setting up a  nutraceuticals manufacturing facility in the state of the art facility at Dr Datson's UK-MHRA and EU-GMP-compliant facilities, & is  ISO 9001:2008, ISO 14001:2004 and ISO 22000-certified Spanning  100,000 sq meters at unit at Mahad, Pune, India. Soon after the commissioning the plant & project by the Eubage Laboratory technical team next month. The plant initially will have a capacity of 200 tonnes annually and would scale up to 2,000 tonnes to cater to the domestic requirements of the country. Both the company are also  in talks with various players in various parts of the world for exports of nutraceutical products wherever Belgium Nutraceuticals  giant Eubage Laboratory is not present specially in middle east and it would be primarily to the European and other Asian countries. Pharmaceutical companies are the buyers for these products. Nutraceuticals is estimated to become $4 billion market in India by 2018 & the demand for this segment is growing with the forecast the Indian RTE food market is projected to grow at a CAGR of 22 per cent during 2014-19. With the passage of time and due to many international and local players in this segment, the percentage share rose with a rapid pace. Belgium company will  license out 20 innovative food supplements formulations to Dr. Datsons Labs & will invest 100 Crore in Datson Labs Pune Factory. The Belgium delegation met the senior Board Members of Dr. Datsons Labs Ltd in Singapore to source some essential raw materials to be used for the finished formulations as the compositions in about six to seven products are not available in india. To confirm the news on this development, Pharmaleaders reached out to the promoters via mail/sms & voice, however, no one were available to comment till the release of this news, though the officials from the Eubage Laboratory confirmed the developments.
The collaboration & investment by Eubage Laboratory include 100 crore funding to the new project to Dr. Datsons Labs Ltd, a technology transfer agreement, license out 20 innovative food supplements formulations to Dr. Datsons Labs, a top Indian Pharma company to market the range of 20 products that include the revolutionary ingredients to be launched for the first time in india. Both Indian & Belgium Company will market the products by a top Indian Pharma company with a pan india base to reach out growing markets.
The Advantage Factors with Eubage Laboratory
amylase, proteases, papain, ficain, bromelain, cellulase
participates in the process of detoxification, drainage and the functioning of liver
participates in the stimulation and maintenance of memory  and cognitive functions from students to seniors
promotes urinary comfort, regular micturitions and creates a hostile environment to micro-organisms
ensures an optimal ionic absorption of calcium, magnesium and dietary minerals in order to keep a good acid-base balance
participates in carbohydrate conversion and balanced  glucose level
participates in emotional moderation, inducing better mental provisions, fast recovery and greater attention
participates in the removal of the heavy legs effect, swollen and sensitive reducing aqueous excess in lower limbs
regroups the most powerful antioxidants stimulating natural defenses and reducing the effects of lipid peroxides.
helps to reduce the uncomfortable effects of premenopause and menopause
contributes to a better resistance to menopausal effects by different phytoestrogens
helps to support an hormonal balance and a comfortable premenopause menopause by providing phytoprogesterones
participates in the intensification and endurance of men performances
participates in the protection of organic tissues and sustains the body reactivity during inflammation
participates in comfortable diuresis of men
participates to faster physical recovery and efficient cognitive functions
participates in an optimal cholesterol level and reduces the effects of triglycerides
improves metabolic provisions under stress and sustains concentration and memory
participates in strengthening antioxidant defenses and to improve the visual acuity
helps to maintain lubricated, flexible and protected joints
sustains skeleton by mineralization and maintenance of bone density
According to experts, nutraceuticals & functional foods would help mitigate malnutrition in India. Although, there is a huge potential for the growth of the sector, yet its development is slow. The country has a long way to go to en-cash much of its bio-agri wealth.
Speaking to Mr. Satya Brahma, Editor-In-Chief, Pharmaleaders Group, on the reason of investing in an Indian Company, Mr. Francois Liccope, CEO, Eubage Laboratories said, "there has been an increasing awareness among the rising affluent middle class about health and wellness. Nearly 400 million people in India belong to the middle class and have disposable income which have made them capable of buying nutraceuticals and dietary supplements. It is an inevitable fact that affluence is one of the causes of lifestyle diseases, which nutraceuticals and dietary supplements often address. These factors will support the double digit growth of the industry in the coming few years". Nutraceuticals could complement drugs and can reduce over-dependence on medicines for treatment. There is considerable scope for value-addition of agri-by products. The biodiversity and traditional knowledge could make India a world leader in nutraceutical market.
Speaking on the scientific & technical edge over other players, Francois said "Eubage Laboratory develops its know-how and expertise to ensure reliable, efficient and traceable, productions. It has a Careful selection of raw materials & a highly trained  Team of dedicated and approved professionals. Totally independent of any pharmaceutical group, Eubage Laboratory is distinguished by its flexibility and responsiveness. The Eubage ranges are marketed in several European countries under different types of representation, and preferred collaborations are established with  partners for the distribution of those productions under our own brand or under the label of the distributor. Scientific and trade services of  Eubage Laboratory are available for any feasibility study, in different dosage forms.Eubage  Laboratory provides an advanced  response to ethical nutrient and nutritional supplement markets throughout various countries. Our Innovation: The Catalyst C89 Enzymes are biological catalysts involved in many reactions essential for the proper functioning of a living organism. These macromolecules of proteins or RNA specifically recognize several molecules and accelerate transforming reactions to made their speed consistent with the functioning of the organism: they are biological catalysts, or biocatalysts. Enzyme activity regulation can normalize cellular metabolism. This activity depends strongly on the conformation of the enzyme, and thus of the shape of its sites, which can be modified via phosphorylation and dephosphorylation.Convergence point of several catabolic reactions of cellular metabolism, discovered by the biologistHans Adolf Krebs in 1937, the "Krebs Cycle" is a series biochemical reactions whose purpose is to produce energy feedstocks which will be used for ATP production in the respiratory chain. Composed of 8 steps each of which is catalyzed by a specific enzyme active during processing a chemical reaction in order to change its rate of reaction, both homogeneous and heterogeneous, in aerobic conditions, these enzymes, localized in the mitochondrial matrix or at the inner mitochondrial membrane, catalyze this reaction sequence. The Krebs Cycle is the ultimate degradation process of different metabolites.
Dietary supplements are the largest category accounting for 64 per cent of the nutraceuticals market, driven primarily by the pharmaceutical sector in the form of vitamin and mineral supplements. Functional foods will be the quickest growing category until 2015 followed by dietary supplements.However, dietary supplements, specifically herbal and dietetic supplements, will form the greatest opportunity areas for nutraceutical manufacturers, driven by growing demand from an evolving consumer base. Most of the leading pharmaceuticals companies have ventured into nutrition and nutraceuticals space and have a growing portfolio of such products which targets various therapeutic segments. This trend is increasingly on the rise and will continue to grow to a large extent in turn adding to the growth of the nutraceuticals industry.
With the growing popularity of these supplemented foods, many multinationals are investing in the nutraceuticals market in India. These include Monsanto, American Home Products, DuPont, BioCorrex, Abbott Laboratories, GlaxoSmithKline Consumer Healthcare, Johnson & Johnson, Nestle, Novartis, Yakult-Danone India, Herbalife etc. These players are a major resource for nutraceuticals and related dietary supplements. Besides, India has many local players such as Dabur India, Cadila Healthcare, British Biologicals, Himalaya Global Holdings, Sami Labs, Sami Direct, Parry Nutraceuticals, Wockhardt etc.
The global demand for nutraceutical ingredients is forecast to rise 7.2 per cent annually to $30 billion in 2017 according. The best growth prospects will exist in substances with clinically supported health benefits and broad applications in foods, beverages, dietary supplements and adult and pediatric nutritional preparations.
Countries such as Brazil, China, India, Mexico and Turkey will be among the fastest growing consumers and producers of nutraceutical ingredients worldwide. Increasing economic prosperity will enable these countries to expand and diversify their food and beverage, processing, and pharmaceutical industries. In 2017, China, alone, will absorb more than 16 per cent of the value of global nutraceutical ingredient demand and will account for over 18 per cent of the value of related world shipments. Because of maturing markets, the supply and demand of nutraceutical ingredients in the United States, Western Europe, and other developed economies will increase more slowly than the average worldwide pace. Nonetheless, food, beverage and pharmaceutical companies in these economies will continue to pursue opportunities in conventional and speciality nutritional products and natural medicines. As a result, they will remain key customers for nutraceutical ingredients.
Nutrients, including proteins, fibres and various specialized functional additives, will remain the top-selling group of nutraceutical ingredients worldwide. Proteins will post the fastest demand gains as food and beverage makers throughout the world will introduce new high value-added nutritional preparations. Functional additives and fibre nutrients will also fare well in the global marketplace.Demand for these ingredients will gain upward momentum from increasing clinical evidence of health benefits and expanding applications in speciality foods and beverages.Naturally derived substances, consisting of herbal and botanical extracts and animal- and marine-based derivatives, will see the fastest growth among the three major groups of nutraceutical ingredients. Among these substances, omega fatty acids derived from fish oils and other marine sources will lead gains, reflecting clinically proven cardiovascular benefits and expanding use in dietary supplements and nutritional therapies.
The rising popularity of preventive medicine will impact favourably on global demand for numerous other natural extracts and derivatives, including cranberry, garlic, ginkgo biloba, ginseng; and glucosamine and chondroitin.Well established applications in food and beverage fortification; infant, adult, and paediatric nutritionals; and dietary supplements will continue to be a large global market for mineral and vitamin ingredients. Within this group, essential minerals such as calcium, along with vitamin A and vitamin C substances, will post the fastest gains in world demand.
Pharmaleaders survey indicated that there are more than 8,000 registered and non-registered nutraceuticals, herbs and related companies in India but most of them are small and medium enterprises. The increasing need for additional nutrition and food security concerns in India has resulted in government to introduce schemes for vitamin fortification.
Overall, the Indian nutraceutical market is emerging with strong growth potential. With increasing health awareness, and the shift towards preventative health care and increased regulatory clarity, India's future in nutraceuticals industry looks promising, for both manufacturers and consumers. However, there is a strong need of developing customized products, affordable pricing and distribution strategy. Though India holds only 10 per cent market share in the global nutraceutical market that will be a $250 billion industry by 2018, the country has a definite edge over China, which is the first rank holder in the industry, with better research and quality compliance. Industry experts point out that as the world back off from buying food supplements and nutraceuticals from China due to pollution and quality issues, India has a great advantage in the global market. The term Nutraceutical is applied to products that range from isolated nutrients, dietary supplements and herbal products, specific diets and processed foods such as cereals, soups, and beverages.
Though the annual growth rate of the industry is 7 per cent, in India it is growing at around 20 per cent annually. The country has a huge potential in this segment as 7,000 medicinal plants were identified in the country, but nutraceutical properties of majority of these plants remain untapped. The products from India are being exported to the US, Europe and Far East Asian countries."As the quality standards in the US and Europe have been increasing continuously, China is losing its grip due to pollution and contamination problems. Even though China produces at least 10 times more these products, in terms of quality parameters India is far ahead. The awareness about the side effects of drugs is increasing drastically around the world which throws up good opportunities for Nutraceuticals and India. If we invest more on research, we could be a super power in the sector," said Francois. Nutraceuticals are the exaggerated version of Ayurveda in which India has surely an upper hand. Companies from India are making strides in this market and the global presence of Indian products has been increasing recently.China is presently the second largest consumer and largest producer of the Nutraceuticals in the world. On the other hand, countries such as South Korea and Australia have also noticed an increasing growth trajectory in the Nutraceuticals market.
About Eubage Laboratory
Eubage Health Innovation is a trademark which develops and markets food supplements under its own brand and under the brand of third parties. From articulation to inflammation, from ophthalmology to stress, from menopause to urinary comfort, we are active in various therapeutic areas. The entire range is based on enzymology. An enzymatic complex that increases the bioavailability of different nutrients is added in each of our formulations. This enzymatic complex has obtained positive pre clinical results. Those trials have been done by the University of Liege. These products are registered by the Belgian Health Ministry and have obtained the authorizations needed in other European countries like France (DGCCRF), Portugal, Lithuania,… and abroad like Pakistan, Vietnam.Eubage Laboratory develops, manufactures and markets a broad range of optimal quality ethical nutrients and nutritional supplements. These realizations confirm the best guarantee in terms of analysis, traceability and purity of raw materials respecting the good manufacturing practices established (GMP). Eubage Laboratory develops, produces and markets ethical nutrients and nutritional supplements of pharmaceutical quality. By strictly adhering to the pharmaceutical industry's good manufacturing processes (GMP), Eubage laboratory offers the strongest guaranties in terms of analysis, traceability and purity of all raw materials used in the development of exclusive formulas that guarantee an optimal result. Eubage Laboratory is a parapharmaceutical company based in Belgium which develops and markets food supplements under its own brand and under the brand of third parties. The company has launched twenty formulations and obtained from the competent authorities (SPF Santé Publique) its nutrients numbers. The entire range is based on enzymology. An enzymatic complex that increases the bioavailability of different nutrients is added in each of our formulations. This enzymatic complex has obtained positive pre clinical results. These products are registered with the APB (Belgian Pharmaceutical Association) and have obtained the authorizations needed in other European countries like France (DGCCRF).
About Dr. Datsons Lab Ltd
Dr. Datsons Lab Ltd, formerly known as Aanjaneya Lifecare Ltd, BSE code (533412) is a public listed vertically integrated company having state-of-the-art; WHO GMP approved facilities for manufacturing bulk drugs at Mahad and finished dosage forms at Pirungut near Pune. It is one of the largest contract manufacturers of codeine based cough syrups in India. The company exclusively manufactures the Codorex Brand of Zydus Cadilla and Codilite Brand of Tablets India Ltd. amongst others.The company raised about Rs. 117 crore from its IPO and the funds are being used to built new capacities along with the refurbishing of Research & Development centre. The new facilities being created as part of CAPEX are using eco friendly, recyclable material and will be rated by LEEDS once completed.The Facilities being established will comply with the latest European & US guidelines. With new capacities to be added in next 6 to 9 months the company will be expanding operations in emerging markets of South East Asia, Africa & South & Central America and its domestic operation in branded generics segment. The company with its manufacturing facilities –in Mahad, Hyderabad and Pune has to its credit many achievements. It is the world's third-largest manufacturer of quinine salts in the world . Only nine companies globally manufacture quinine salts.One of the largest codeine based formlulations manufacturer in the pharmaceutical sector. One of the largest manufacturer of multi- flavored Lozenges in  medical products in India. The company pioneered the recognition that lozenges represent a stable platform for the delivery of pharmaceutical and nutraceutical ingredients. Dr. Datson's Nicco Nil lozenge is a first-of-its-kind  hard boiled lozenge remedy for smoking de-addition; its Relacs is a first-time lozenge against insomnia and Arecta Plus, a lozenge variant for Erectile Dysfunction, is a first of its kind . The company has an expertise in opportunity spotting and innovation. The company's success has been built on a business model that integrates Research, Innovation and Knowledge. The company has invested in building proprietary Knowledge through research and acquisitions. Dr. Datson's competence has been validated through patents granted by international and Indian authorities. Production of Quinine Sulphate increased 30% in 2011-2012. Sales of Quinine Sulphate grew 45%. Exports increased 250% from Rs 10 Crore to Rs 31 crore. Added 35 international and 50 domestic clients. Completed trials for Bromexine(expectorant)a new API that will be launched in 2012-1023. Highlights 2011-2012 for Finished Dosage Forms. Launched 'Rancorex' an in-house codine based cough syrup brand for the first time in its history. received the Kenya PPB GMP approval from all facilities namely lozenges,liquids and ointments. Received registration for 'Arecta Plus'(a lozenge variant of Viagra tablets)from Sierrs Leone and Libya; received the first export order for this product to be executed in 2012-2013.
Media Contacts
Steve Rozer
Global Head – Communications
stever@network7mediagroup.com