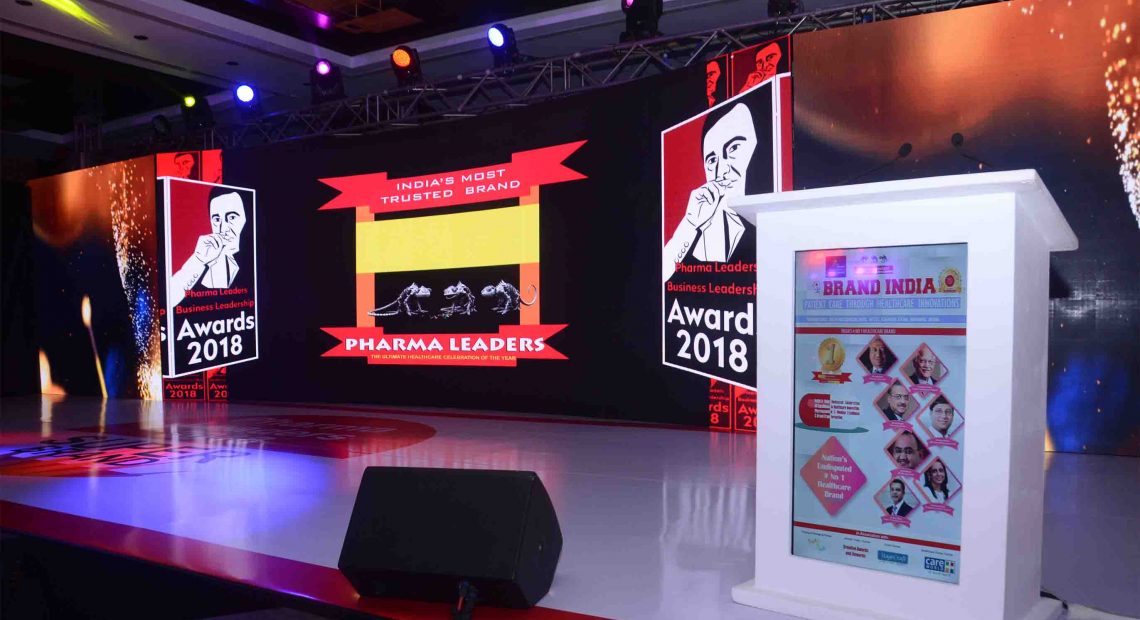 PL Power Brand
For over a decade, Pharma Leaders Awards has been acknowledging and celebrating talented pharmaceutical & Biotechnology Companies and passionate entrepreneurs across the various spectrums of the healthcare industry. Pharma Leaders winners have come from a vast range of specialisms, backgrounds, countries and communities. Many have gone on to be National Award Winners from the Government of India. All have proved that passion, excellence and dedication deserve recognition and reward. The Jury at the Network 7 Media group have developed & constituted the categories to fuel the spirited engines of the companies & motivate them to work hard & hard to be the trendsetters. In fact, they have after achieving the Pharma Leaders Awards.
Pharmaleaders Power Brand Awards are the most prestigious annual industry awards recognized annually that acknowledge and honor individuals and organizations for their remarkable accomplishments. These are fitting tribute to those individuals and companies that have gone the extra mile to advance the excellence in healthcare through best practices and leadership, Pharmaleaders Business Leadership Awards is the premier largest business and technology leadership awards program in the sub continent , covering the set of prestigious awards spanning from biotech to Healthcare to CEO awards. Pharma Leaders Power Brand Awards are conferred to those Companies & Individuals who exhibt rare display of innovation for Outstanding Academic & Professional Leadership to individuals & Companies This top recognition symbolizes the best out of best from chosen few. Over the last one decade, since the institutionalization of recognizing excellence in healthcare & pharmaceutical business in the form of Pharmaleaders Business Leadership Awards , Pharmaleaders has recognized several individuals and organizations that have empowered the healthcare industry in the global map by creating values & manufacturing process;. These Pharmaleaders and organizations inspire the public by motivating others to carry out their calls to action, by serving as a champion for their cause, and by, demonstrating a clear record of accomplishment, in addressing urgent, relevant and complex healthcare needs , problems & solutions. They also maintain consistent, long-lasting relationships with the people and communities in which they work. They are truly trendsetters. Thus the Annual Pharmaceutical Leadership Summit & Pharmaleaders Business Leadership Awards conducted years after years are truly India's only dedicated celebration of excellence in healthcare innovation, pharmaceutical & medical excellence and brand transformation. Widely rated by the Industry experts, these set of awards reflect benchmark of credibility, leadership spirit & known as "Pharmaleaders Power Brands".
Network 7 Media Group will continue its tradition of recognizing those in the healthcare space, whose work truly creates positive change & this years awards, will highlight the magnificent delivery of work of the Leaders who not only illustrates the Summit's mission of Healthcare empowerment, but also embodies the idea of "The Power of Indians'."
The journey that Pharmaleaders undertook till date has been marked by many momentous, outstanding & long standing occasions. Each year we hosted the Pharmaleaders Program, We only meant to salute the visionary leaders, small or big in size or in financial numbers, we had a clear agenda that we are not going to follow the routine & stereo-type award nomination mechanism where there are only selected companies, personalities who are constantly in the limelight. Pharmaleaders broke the rule book & made an exception. We looked at people who are ignored by others, & our research team took a gigantic task of uncovering the "unsung pharmaleaders" who has been spectacular in their own sphere be in Healthcare, Clinical Trials, Manufacturing or in Marketing. Our quest of crowning the Pharmaleaders were twofold, those who imbibed innovation with risk taking abilities, to break the rule & make an exception, to show the world that they exist in their own world, in their own way, unmatched vision & critically acclaimed leadership. We were never tired, we continued to mix existing bigwigs with the companies & individuals relatively unknown & made them king. We looked at sheer passion, excitement & a sense of pride each time we crowned a Pharmaleader in the award platform annually after a rigorous voting methodology. The Pharmaleaders has been tested & were thrown to the various stakeholders to vote before being crowned. We even stunned some big names when the unsung pharmaleaders were crowned against the mighty of bigwigs. We believed in the spark of innovation year after year as we continued our quest for celebrating the ultimate pharmaleaders experience since 1999. We were the earliest media house to recognize the talents & created Pharmaleaders platform that were imitated by many & became the trendsetters. We are happy today, when we notice the rise of companies in Healthcare to honour the achievers. In the early stage of our momentus journey, we recognized the veterans & legends who are now no more but our spirit of leadership are still reverberating in the reception of companies. Late Dr Parvinder Singh of Ranbaxy who built india's first MNC, Dr Anji Reddy of Dr Reddy's Labs, Mr. Indravadan A. Modi of Cadila, Mr Jagdish Saxena of Elder Pharmaceuticals or The former Drug Controller General of India (DCGI), Dr M Venkateswarlu are the few notable names.The current thespian legendary Pharmaleaders who are responsible for building the India image like Dr. Yusuf K. Hamied of Cipla, Dr Habil Khorakiwala of Wockhardt, Mr Samprada Singh of Alkem Laboratories, Dr D. B. Gupta of Lupin or Mr Suresh Kare of Indoco Remedies are in the list of Pharmaleaders winners library. Pharmaleaders Magazine, India's first opinion based & research driven bi-monthly magazine has felicitated more than 500 companies & has created world-class platform in the form of Summit where discussions are on burning issues. The historic Pharmaceutical Leadership Summits has been addressed by some of the crucial topics of great significance by the Industry Leaders, Policy Makers, Academia etc. The defining moments which Pharmaleaders attempt to focus year after year is to enhance the communication of the Industry & the government. Pharmaleaders Pharmaleaders Business Leadership Awards has been presented to the top performers & shining stars of the Indian Healthcare Industry year after year.The Aim is to encourage & motivate the Pharmaleaders to achieve greater success in coming days. These set of Awards are determined by a credible award mechanism under the supervision of prominent Juries.
Pharmaleaders attempt is to recognize and celebrate science and innovation in the pharmaceutical, biotechnology, life science & healthcare industry. At the celebration day of the Awards, Companies, Academics, Partners, Government and Delegates get a glimpse of Pharmaleaders's ongoing research and a walk through of the Network 7 Media Group 's most recent innovations in the complex field of understanding & analyzing genes of the healthcare industry as Pharmaleaders feel that "no one understands the returning the smiles to the achievers they deserve most"

Pharma Leaders Awards Grand Jury is comprised of a panel of international industry experts, representing the top creative minds in the field of healthcare, pharma academia, policy formation & the representatives from the government.Each year, in addition to online judging sessions, the Pharma Leaders Awards organizes live judging sessions around the globe to review digital based works as well as collateral materials that support a campaign and which cannot be judged online. These live sessions hosted at prominent international healthcare communication agencies, allow jurors to examine in detail multi-paged works including: sales kits, direct mail, brochures, point of purchase displays, and annual reports.
Winning " Pharmaleaders Power Brand is an amazing achievement in the healthcare industry. But to win this award from the platform in Pharmaleaders is a significant win & achievement that recognises more than hard work. In the most difficult discipline of all to be creative and innovative, this Award in healthcare excellence celebrates the diligence of an initiative, innovation & milestone achievements committed to raising the bar of its industry's perspective and at the same time celebrate the victory with the various associated stakeholders who not only demand high degree of business excellence, but support and encourage the recipient to deliver.The Pharma Leaders Awards has also committed to being the premier award show in healthcare that sets standards, through industry leaders as judges and navigators as well as critics who know good from great and brilliant from best. Through the Pharma Leaders Awards, we are now seeing outstanding work across the board globally, not only in the conventional media but in new media, digital, viral integrated and interactive. This is what great shows do. Celebrate, recognise and encourage us all to do better is the guiding spirit.Pharma Leaders Awards has an established record of leadership in research, innovation and in ongoing improvements to health services through strong healthcare leadership. These Awards seek to recognise outstanding health leadership by an individual or team resulting in positive change across the global health system. Pharma Leaders Awards attempt to recognize outstanding individual and team contributions across priority areas selected by the Pharmaleaders Jury. The Pharma leaders Awardrecognises outstanding leadership, by an individual or Companies for a distinctive recognition in a clear exhibition of top performances in various verticals.
Award Category Definitions:
Pharma Leaders Awards: Honors an individual or organization in health education making a difference in their community and in health care. In managing the business activities and the practice's internal promotions, has direct authority, and/or decision-making responsibilities. Honoring a company, and/or organization that has successfully implemented a program that has addressed and acknowledged problems in health care administration or in the delivery of health care. Recognising a company, and/or individual primarily responsible for a medical science discovery or for development of a new procedure, device, service, program or treatment that can save lives or improve the quality of life for a large number of people. Honoring a physician whose job performance is considered commendable by patients and colleagues. Honoring an individual who is an authorized practitioner of medicine, whose job performance is considered commendable by patients and colleagues. Honoring an individual who contributes time and/or expertise to patients or healthcare issues, and whose volunteer efforts have made a substantial positive impact on the community.
The Top Areas of Judging & Selection By The Jury
Leadership
Strategic Planning
Customer And Market Focus
Information And Analysis
Human Resource Focus
Process Management
Business Results
Financial management,
Decision making roles
Business impact. •Business ethics,
Managing rapid growth,
Innovation.Adapting to change.
Strategic partnerships.
Leadership roles& Marketing strategies
Corporate philanthropy to society.