Priyanka Gandhi makes her debut in Uttar Pradesh, draws huge crowd.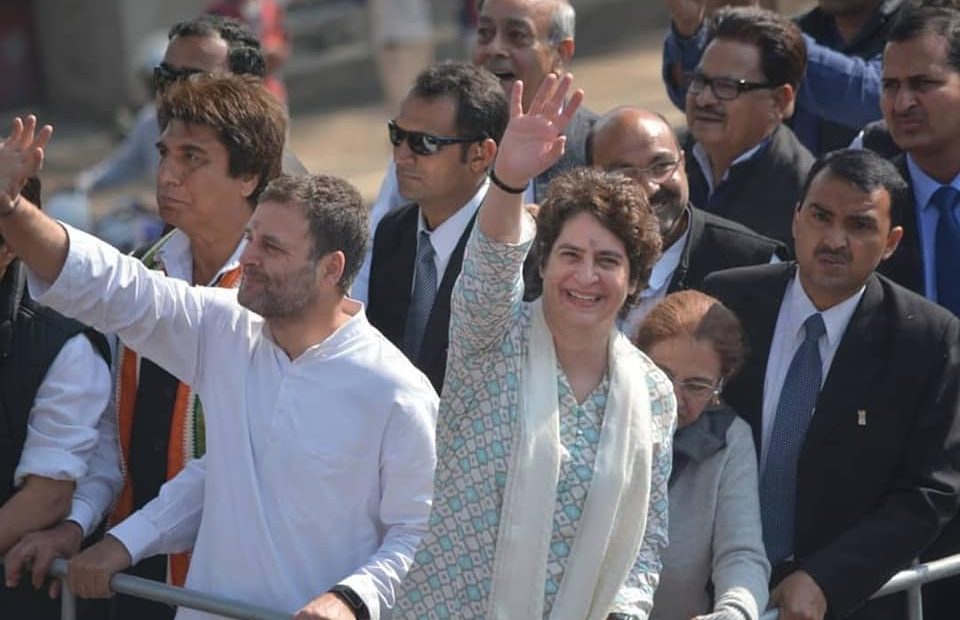 Priyanka Gandhi Vadra waved, grinned, flashed a thumbs-up sign and pointed Hillary Clinton-style as she launched her charm offensive in Uttar Pradesh today with a roadshow through Lucknow, a longtime BJP stronghold.
Hundreds of Congress workers ran alongside as Priyanka Gandhi Vadra, her brother and Congress president Rahul Gandhi, Jyotiraditya Scindia and several others stood on the roof of a modified truck weaving through the packed streets.
They tried to catch Priyanka's attention, some showering petals, others throwing garlands and even party t-shirts at her. She scooped them up and threw them back to the crowds.

Priyanka Gandhi Vadra with brother Rahul Gandhi at UP Congress roadshow
The truck inched its way through streets splashed with posters of Priyanka Gandhi and Rahul Gandhi. Many billboards starred Priyanka Gandhi and her grandmother Indira Gandhi, underscoring — for those who may have missed it — her striking resemblance to the former prime minister. "We see Indira Gandhi in her," said a poster on the 47-year-old mother of two.
As the Gandhi siblings passed under a bridge, a motley group of supporters competed for their attention. One group was in neon lungis and painted chests; some workers were dressed in pink and called themselves "Priyanka Sena". Priyanka Gandhi and Rahul Gandhi looked up at the spectacle and waved at them all.
"Today Congress has created an aandhi (storm)," a worker gushed.
Midway through the mega roadshow in UP, Priyanka Gandhi was photographed playing with a child from the crowd.
The Congress has pinned its hopes on Priyanka's much talked about mass connect and natural charisma to revive its lost base in Uttar Pradesh, a state that gave it many prime ministers but which turned away from the party over three decades ago, alongside the rise of regional powers like Samajwadi party and Bahujan Samaj Party and the surge of the BJP.
For years, Priyanka shunned a bigger role outside the family strongholds of Amethi and Raebareli – the constituencies of her brother Rahul and mother Sonia Gandhi – limiting her campaign to a tiny part of India's most politically vital state with the most number of parliamentary seats.
As the Congress announced her debut two weeks ago, sources said she had decided to take the plunge since her son Rehaan and daughter Miraya are now older.
Decked up in the Tricolour, a truck slowly made its way from the Lucknow airport to the Congress headquarters over the course of six hours Monday. Standing atop that truck, surrounded by hundreds waving the party flag stood one woman, seemingly a beacon of hope to a party that was a no-hoper till even weeks ago.
A banner on the truck carried her photograph, juxtaposed in front of a black and white image of the first woman Prime Minister of India, her grandmother Indira Gandhi. "We see Indira in you," read another banner.
This was the political debut of Priyanka Gandhi Vadra, 20 days after she was appointed the Congress general secretary in-charge of eastern Uttar Pradesh.
Accompanied by her brother, Congress president Rahul Gandhi, her western UP counterpart Jyotiraditya Scindia and UP Congress chief Raj Babbar, she was welcomed with flower petals and garlands, with residents standing on balconies and terraces waving at her.
She smiled, waved back, flashed a thumbs-up sign and offered garlands to the crowd of Congress supporters who gathered around her entourage. Her face never gave away the size of the task that awaits her — she has to shoulder the burden of a party that had won just two Lok Sabha seats in Uttar Pradesh in 2014, and just seven assembly seats in 2017. A party whose grassroots support barely exists outside the Gandhi family's pocket boroughs of Rae Bareli and Amethi. A party that is not only facing the might of the ruling BJP, but also the heavyweight strategic alliance of Mayawati's BSP and Akhilesh Yadav's SP.
The cavalcade reached the Congress office just after 6 pm. Priyanka had made two short halts, offering floral tributes to the statues of Mahatma Gandhi and 'Babasaheb' Dr B.R. Ambedkar. Twice, her brother addressed the Congress workers, but the newly-appointed in-charges remained silent.
"I am very happy that Lucknow has given a very warm and love-filled reception to Priyankaji and Scindiaji. The Congress party will play on the front foot in every state," Rahul said.
"This is an ideological fight. On one hand (is) the Congress party ideology of brotherhood, love and bringing the public together. On the other hand (is) RSS-BJP-Narendra Modiji's ideology of dividing the people, spreading hate and weakening the state."

Critics, mainly the BJP, dismiss the younger Gandhi sibling as a seasonal campaigner whose ability to win votes for the party is largely untested