United States Can Be India's Best Partner: Barack Obama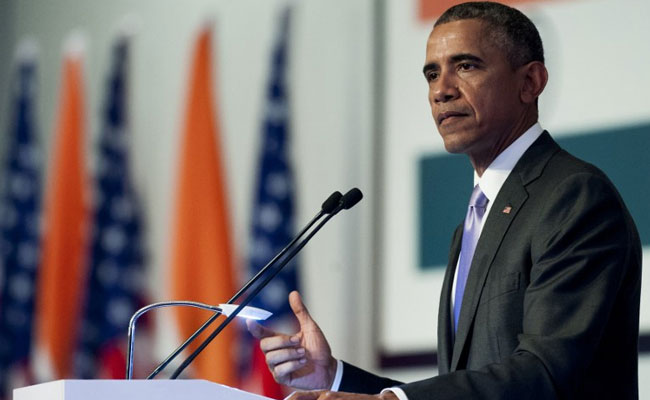 New Delhi:  Recalling the historic address of Swami Vivekananda, US President Barack Obama on Tuesday won over his audience by referring to them as "sisters and brothers of India" and said he firmly believes America can be India's "best partner" and together the two nations can bring more prosperity to their people.
In his final engagement in India, before flying to Riyadh and then home, the US president addressed a town hall-style meeting in Siri Fort auditorium, where he said: "India and the US are not just natural partners, I believe that America can be India's best partner, I believe that."
Addressing an invited gathering of young people, civil society and diplomats, the US president reached out to the audience with many Hindi words like "Namastey", "Dhanyavad" and even some references to Bollywood films, which had the crowd ecstatic.
He said he was "absolutely convinced" that when both the democracies stand together they can produce more jobs, opportunities and prosperity for their people. "I believe that," he said.
Recalling the historic address of Swami Vivekananda, President Obama began his town hall meeting with the invocation "sisters and brothers of India" and talked about how the philosopher-sage introduced Hinduism and yoga to America in a city that was his hometown.
He recalled Swami Vivekananda and his famous speech in Chicago, exactly 100 years ago, where he addressed the gathering as "sisters and brothers of America" and said he was going to address the audience likewise.
President Obama struck a personal chord with the mainly youthful crowd, saying he was very impressed with the daredevilry of the motorcycle contingent riding Royal Enfield bikes and wished he could ride a bike too.
"But the Secret Service does not let me ride motor cycles," he said, and also remarked that he cannot dance as well as his wife Michelle.
In a speech where he touched on the need for India and the US to work together on climate change, on how the US can partner India in its growth story, in defence cooperation and becoming partners in the security of the Asia-Pacific region, the American president also stressed on the need for the government to uphold the freedom of religion written in the constitution of both the countries.
On Tuesday, the Election Commission was responding to fresh complaints by the BJP and Congress, which had demanded the cancellation of Mr Kejriwal's nomination. Earlier, the two parties had complained to the Commission, saying Mr Kejriwal was violating the Model Code of Conduct.
The Election Commission took note of an undertaking by Mr Kejriwal that he respects the poll body and the law, and would stop making such appeals to voters if the Commission found his statements inappropriate.