Tamilnadu's new neta Rajinikanth. BJP may make inroads in Tamilnadu if Rajini sides with Lotus!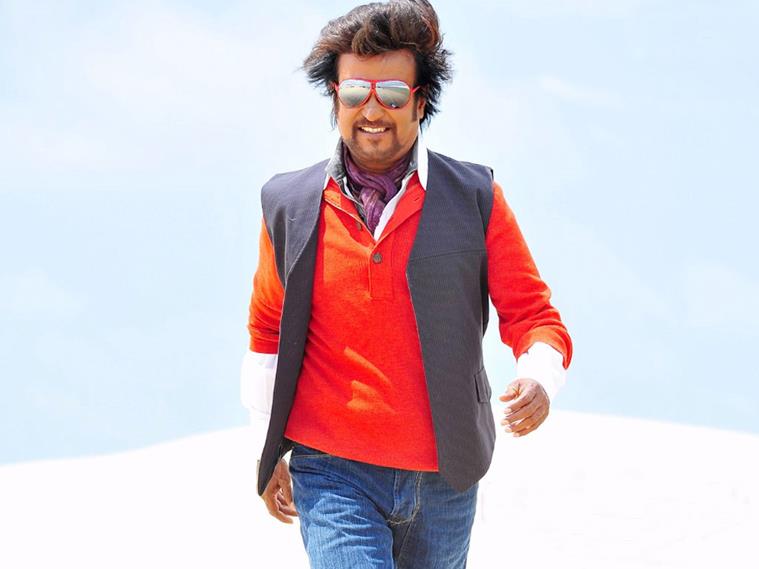 A super star like no other, his political debut has been speculated upon like few others. Given Tamil Nadu's gaping political landscape, Rajinikanth has chosen his entry well. The Indian Express on how the rest of the story may go.
What next but this in the Rajinikanth story? A bus conductor who joined films at 25. A super star who gave his first big commercial hit in his 25th film. The lone Indian to have acted in black and white, colour, 3D and motion capture. The 49-year-old credited with briefly supplanting Leonardo DiCaprio as heartthrob in Japan. The romantic hero to hide neither his bald pate nor greying beard off-screen. And now the 67-year-old making a political debut with a splash in one of India's most volatile states.
And yet, Rajinikanth, whose stardom has few parallels in India, has bid his time. It was in 1996 that the actor first lent his weight to a political party, and has since teetered on the edge of taking the plunge. But despite being pressed upon by fans, and wooed by parties from across the spectrum, he has taken 20-plus years to finally announce he is joining politics, on his own and across all 234 seats in Tamil Nadu — entering the arena when one titan (J Jayalalithaa) has exited, and the other (M Karunanidhi) is out of the picture.
Plus, behind the scenes, preparations have been on for six months, including assembling the Rajini fan clubs, figuring out vote banks, establishing a social media presence, and carving out a plank that could find space between the state's strong regional parties and its ambitious national contenders.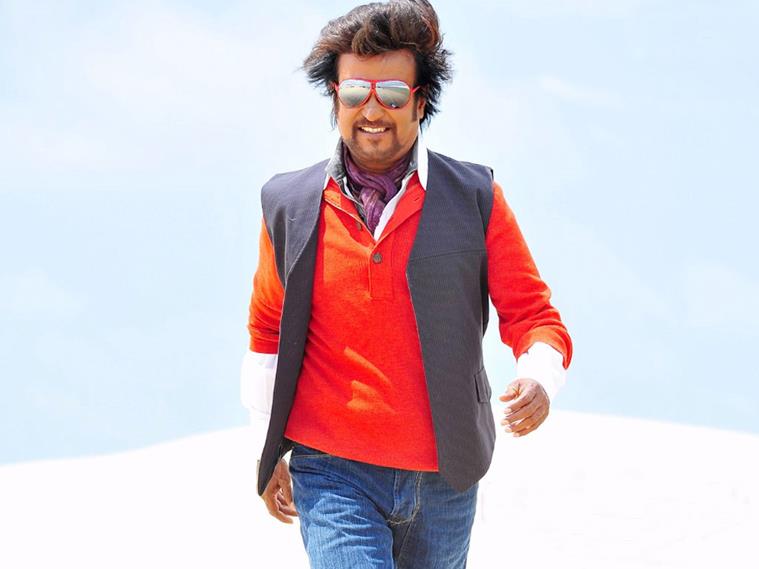 All those who know Rajinikanth swear to two sides of him: the shy, private, unassuming man, and the larger-than-life super star forgiven the incredible and the impossible. In his steady climb over 43 years in public life, both have come in handy.
The story of how Shivaji Rao Gaekwad, of Maharashtrian origins and born in Bengaluru, working first as a proofreader in a newspaper, and then a daily wage labourer and a conductor, became one of South Asia's biggest stars is now a legend. As is the time he repaid distributors after his film Baba (2002), based on his Himalayas-based guru Mahavatar Babaji, was a rare mega flop.
Veteran Tamil film distributor Kalaipuli S Dhanu remembers the summer of May 1978, when he put up 35-ft cutouts of Rajinikanth in Chennai ahead of the release of Bairavi, the first film to cast him as a hero, proclaiming him a 'super star'. The actor was mortified, but the tag never left Rajinikanth after this.
It also brought him to national attention, and Amitabh Bachchan, many of whose roles he reprised in the south, introduced him to Congress leaders such as Rajiv Gandhi.
Closer home, Rajinikanth always had a strained relationship with MGR, partly due to professional reasons. Then, under the Jayalalithaa-led 1991-96 government, ties with the AIADMK worsened, down to petty rows where he was often forced by her guards to get off his car and walk to his residence in the Poes Garden neighbourhood he shared with her. In 1996, he famously claimed that Jayalalithaa had lost the election due to him.
In the DMK, while Rajinikanth had a courteous relationship with Karunanidhi and M K Stalin, M K Alagiri was a good friend.
But while Rajinikanth's political ambitions were always speculated upon, the time has never been riper. Tamil Nadu has been in vortex since Jayalalithaa's death last December, with a resurgent BJP fishing in the AIADMK's muddy waters. The latest sign that things were far from settled was the defeat of the AIADMK candidate in the bypoll to Jayalalithaa's seat, by rebel leader T T V Dinakaran.
Viswanathan Srihari, a fellow devotee of Mahavatar Babaji, and one of Rajinikanth's best friends, says the actor feels for the "pavapetta janangal (poor people)… He says they have been exploited for long."
Satyanarayana Rao Gaekwad, the actor's 85-year-old brother, adds that Rajinikanth was all along against entering politics. "But the corruption and decay in politics in the past two years forced him to take this decision."
S Shankar, a journalist-turned-fan club leader of Rajinikanth, who runs a website for the actor, says he has been inching closer to the idea since his birthday in December 2012. "The final decision was taken about six months ago."
About his politics, Gaekwad says, Rajinikanth is both "spiritual" — a word the actor has embraced in his political role — and truthful. "He was always humble. Till he was 18, he visited the Ramakrishna Math near our Bangalore house every day."
This insistence on the spiritual was the marked feature of Rajinikanth's political launch. Making the announcement on December 31, he said, "It's time for political change. Time to change the system. We have to create a system which is spiritual in nature, without caste or religious barriers." As critics pounced on his "spiritual politics" remark, Rajinikanth clarified: "Spiritual politics is all about being truthful and honest."
However, it fell in with the other religious side of Rajinikanth. Apart from Chennai and Bengaluru, he is a frequent visitor to mutts in Andhra Pradesh and Tamil Nadu. Two of his films have been made on his gurus — Baba, based on Mahavatar Babaji, and Sree Raaghavendar (1985), on Raghavendra.
The final pieces are being put in place at Rajinikanth's home in Poes Garden — two-three houses down from Jayalalithaa's — and the Raghavendra Mandapam marriage hall that he owns in Chennai's Kodambakkam.
One of the first tasks on the agenda of the 50-odd, tight-lipped aides closeted with him, is uniting the Rajinikanth fans clubs across the state — 27,000 registered ones and nearly 50,000 unregistered (he stopped registration in 1991). The actor has now said he will bring the unregistered clubs on board. Each club has 200-250 members, with a fan base cutting across parties, Rajinikanth's camp claims.
A strategist working closely with Rajinikanth's new party (which doesn't have a name still), handling social media and securing support of political figures such as Tamilaruvi Manian, says they expect a minimum 10 per cent vote share for all Rajinikanth candidates in the Assembly polls. "Rajinikanth himself will win, probably from Chennai's Mylapore or Thousand Lights constituency, where he lives. If we get 10-15 per cent votes, we would have succeeded in our mission."
There is another reason for this confidence. Adds the strategist, "About 50 per cent of our candidates would be those who can afford to contest on their own — businessmen and industrialists with a clean past."
Another aide points out that there are three strong parties in the race — the DMK, supported by Dalit party VCK, Congress and Left; and the two AIADMK factions. "Getting even less than 25 per cent vote share would be enough to form a government, given that on average only 75 per cent vote."
The Rajinikanth camp believes it has a fair chance of getting that number in the next Assembly polls, which can be held anytime given the instability of the AIADMK government. "With the DMK slow off the mark and AIADMK rebel Dinakaran's 'popularity' clouded by the public perception against aunt Sasikala, Rajinikanth will emerge as a cleaner and better candidate," the aide says.
Tamilaruvi Manian, considered Rajinikanth's mentor, says the actor's "humility", "spiritual nature", and "truthful behaviour" would help him counter the challenge of not being a Tamilian, in a state that holds Tamil pride dear. Giving the examples of MGR and Jayalalithaa, neither natives of Tamil Nadu, he adds, "Even if people attack him for being a Kannadiga, he is seen as unaffiliated to any one local community."
Before he announced his political entry, Rajinikanth met fans (more than 5,500) over five days. They came from 15 districts, on their own, for a chance to meet the star and click photos with him.
Three days later, when he landed up at DMK patriarch Karunanidhi's Gopalapuram residence to seek his blessings, political watchers keenly watched the expressions of Stalin, who has waited years to take up the baton from his 93-year-old father, earning the title 'Thalapathi (General)' for his efforts. The next elections are to be Stalin's coming-out party, and with Rajinikanth seen as a roadblock, the DMK working president played down the meeting, saying Karunanidhi had shown basic courtesy. He also hit back, saying, "It is being heard that Rajinikanth has been launched in politics by some people to destroy Dravidian politics. Let me remind them that this is Dravidian soil, those who made such efforts in the past were defeated."
Also slamming Rajinikanth's "spiritual politics", DMK leader Duraimurugan asked, "Will his MLAs sing bhajans in the Assembly?"
The remarks were a jab at Rajinikanth's relationship with the BJP. The saffron party, whose vote share has never touched 5 per cent in the state and which last won here in 2001 (4 seats, in alliance with the DMK), is seen as trying to ride piggyback on the actor.
Rajinikanth has long shared good ties with the BJP, with his interest in godmen and his trips to the Himalayas bringing him to the RSS's notice. He is said to have access to all the Sangh Parivar bigwigs — from RSS chief Mohan Bhagwat and BJP president Amit Shah to Prime Minister Narendra Modi.
S Gurumurthy, the RSS ideologue who took over Cho Ramaswamy's Thuglak magazine after his demise last year, and his close aide 'Thuglak' Ramesh, are believed to be advising Rajinikanth in his political debut. Till recently, they were close advisors of Deputy Chief Minister and senior AIADMK leader O Panneerselvam. Says Ramesh, "The AIADMK will be the first casualty of Rajinikanth's politics. Due to Jayalalithaa's absence, their cadre will support Rajinikanth. Panneerselvam has lost his credibility as he accepted a Cabinet berth in the Edappadi K Palaniswami government. Besides, public perception against the Sasikala family will help Rajinikanth."
On the BJP and Rajinikanth, Ramesh says, "Rajinikanth is close to the heart of the BJP for many reasons, including his spirituality, his regard for the PM." Asked about the possibility of an alliance, he refused to comment.
BJP state chief Tamilisai Soundararajan, on the other hand, asserts that the actor will enter into a tie-up with them for the Lok Sabha polls, calling his "spiritual politics" similar to the BJP's. Criticising Tamil Nadu's rationalists and Periyarists who denounce the existence of God, BJP national general secretary H Raja also welcomes Rajinikanth's politics.
However, the BJP has denied a hand in his decision to enter politics.
What fuelled more speculation of BJP 'links' was the January 2 visit of Rajinikanth to Sri Ramakrishna Math in Chennai, which is known for strong links with top RSS leaders. In a leaked video of his meeting with senior priests, an aide could be heard remarking to the chief priest, "His is spirituality politics… not politics of so-called secularism."
Manian says the actor will take the final call on any arrangement with the BJP. "We never discussed the BJP in our meetings."
Shankar denies the possibility of any tie-up with the BJP. "His belief is beyond religion. I have seen him visiting churches and dargahs. His new party symbol, first used in Baba, had a lotus in it. It has been replaced with a snake now," he points out.
During a brief interaction with The Sunday Express on January 2, Rajinikanth spoke reluctantly about this symbol — a mudra encircled within a snake. The mudra, he said, was "Yoga mudra". The snake "indicated divinity". "Nothing else."
K Chandru, a former student and trade union leader who went on to become a Madras High Court judge, says Rajinikanth's talk of spiritual politics could be reflective of his years in Karnataka. "Unlike mutts in Tamil Nadu, weakened by the Dravidian movement, Karnataka mutts intervene in politics," he says.
Chandru also believes that a small section of rationalists of old are open to this. "Rajinikanth projects himself as one transcending all communities, castes and regions, a man of charity like MGR. He says he has made enough money and will never steal… For the common man, charisma matters, not intellectual debates on communalism."
He also warns that should Rajinikanth succeed, his politics might end up hurting the BJP's long-term plans, "like the DMK did to the Congress five decades ago". By keeping more seats for itself every time they had an alliance, the DMK gradually finished off the Congress in the state.
But more than anyone else, it is the smaller parties which have the most to lose from Rajinikanth's entry.
The PMK with its base among the OBC Vanniyar caste did not win any seats in the last Assembly polls (May 2016) but got a 5 per cent vote share. It has obstructed the release of Rajinikanth films in the past — fearing losing young supporters to the actor even then — and can expect a backlash. The PMK accused his film Baba, for example, of promoting bad habits.
Dalit leader Thol Thirumavalavan's VCK also fears that its youth cadre may move away. In the 2016 polls, the VCK had won no seat and lost deposits on 22 seats, despite being part of the People's Welfare Front (also comprising the CPI, CPM, TMC and MDMK).
VCK general secretary D Ravikumar was the first among the state political leaders to criticise Rajinikanth for his "spiritual politics" claim. "This is an assignment given to him by the BJP to divide Tamil Nadu politics, and prepare the soil for communal politics," he said.
The other major film star in Tamil Nadu politics, Vijayakanth, whose DMDK was the second biggest party in the 2011 Assembly polls, is ailing.
The one crucial challenge before Rajinikanth could be converting his fans into voters. His camp is reportedly planning to add two crore members to his fan clubs before the polls. Manian says that's good strategy, as unlike other actors who have tried politics, Rajinikanth's case is different. "He is beyond an actor in public psyche, like MGR. He transcends all ideologies and communities and regional factors as he has a larger-than-life image… Rajinikanth waited so long as he wouldn't have succeeded in politics when Jayalalithaa and Karunanidhi were active. Now he is the promising face."
But Rajinikanth runs the danger of turning some of his fans away with a BJP dalliance. "He says the system is corrupt, declares himself Tamil Nadu's saviour. Then why did he take the blessings of Karunanidhi and R M Veerappan (former minister of MGR and Jayalalithaa Cabinets)? When he is talking about corruption, where is the transparency in the money he makes? When he claims that his spirituality is beyond all divisive religions, how can he retain the highest regard for Modi?" asks a Rajinikanth fan and local Congress leader.
Funds for the party will be a lesser problem, as Rajinikanth is said to have begun talks with corporates and, some say, the BJP. Predicts Manian, "If he goes for online fundraising, the entire world will support him. The response would be double than that for (AAP's) Arvind Kejriwal."
Away from politics, Rajinikanth has two releases coming up — including 2.0, rumoured to be the costliest project in the country. "He may announce his retirement from films after that," says a source close to the star.
Meanwhile, another actor is hovering over the political horizon: Kamal Haasan, a long-time friend of Rajinikanth, who announced his political plans two months ago and has promised a party in three months.
Manian says there is a crucial difference. "Like Sivaji Ganesan, Kamal is an actor loved by people. But what happened to Ganesan will happen to Kamal too if he enter politics." However, a source close to Haasan offers a more tantalising alternative. "If Rajinikanth doesn't join hands with the BJP, a Rajinikanth-Kamal Haasan alliance may also be possible," he smiles.