Arvind Kejriwal gives a patient hearing to Baba Adhav, a working-class hero and his labour of love!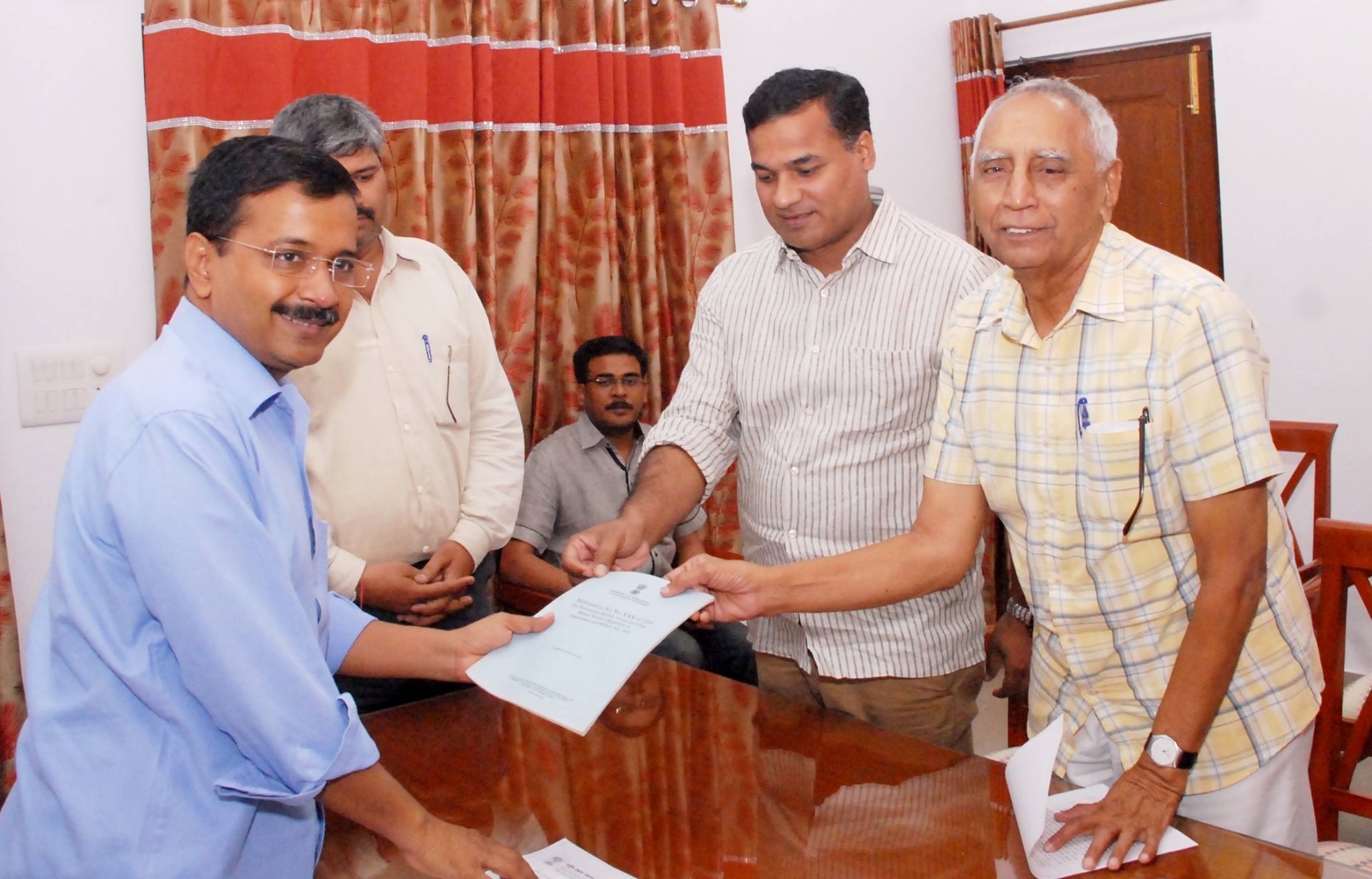 President of National Hamal Panchayat and known labour rights leader Dr. Baba Adhav called on the Chief Minister of Delhi, Mr. Arvind Kejriwal, on Saturday. Thetwo leaders discussed the problems of the head-loaders and porters engaged in heavy manual labour.Dr. Adhav requested the Chief Minister to pass a law for the welfare of such labourers on the lines of the law for them in Maharashtra. Dr. Adhav also handed over a memorandum and a copy of the Act for such labourers in Maharashtra.The memorandum said that the law, once enacted, would help the labourers get insurance, bonus, provident fund, gratuity, education for their children etc.Mr. Kejriwal assured him of acting on the issue soon. The CM told him that he would discuss it with the Labour Minister and see how the law can be enacted fast. "Keep guiding us on the issue, we will pass it," the CM told the visiting leader.Dr. Adhav also raised the issue of ensuring Minimum Support Price (MSP) for the agricultural produce. The Chief Minister said that the government will act on it and see to it that it is guaranteed in Delhi.On the issue of pension to the poor and welfare of old-age people, the Chief Minister told Dr. Adhav that the government is very serious on the issue.The CM said that we are addressing the issue of pensions in the Mohalla Sabhas started recently.He said, we are granting pension to the poor during Mohalla Sabhas and gave the example of the poor people who were given pension in the first Mohalla Sabha held in Delhi on April 19, 2015.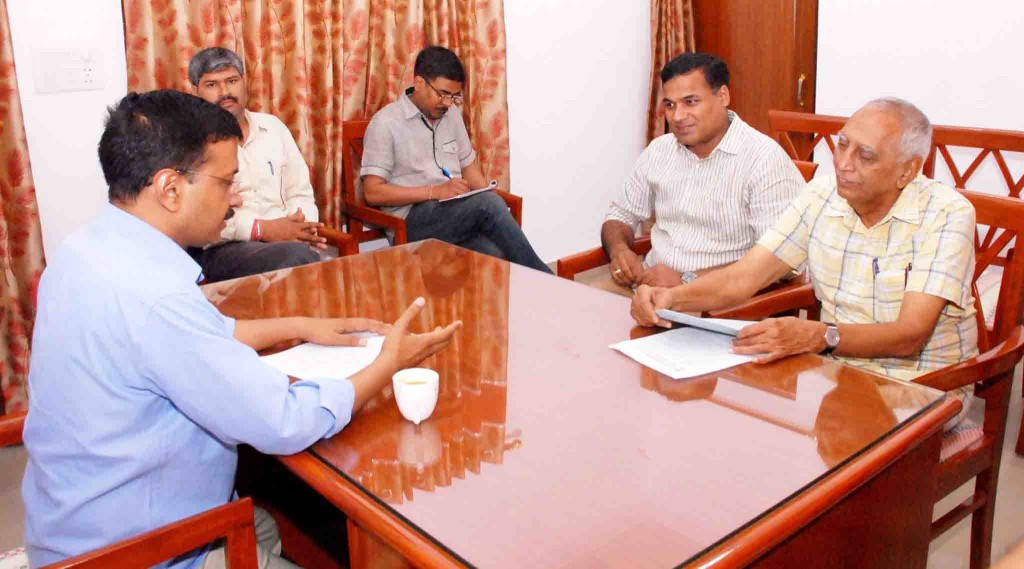 On the old-age people, the Chief Minister apprised him of the free health facilities initiated for the old-age people in Delhi by the government.The Chief Minister also enquired about the housing scheme for such labourers being run in Maharashtra and said that he would like to send a team to study how the Panchayat runs welfare schemes for the labourers in Pune.
……………………………………………………………………………………………………………………………………………………………………………..
@ArvindKejriwal @AamAadmiParty gives a patient hearing to Baba Adhav, a working-class hero featured @Indian_Affairs pic.twitter.com/vp0rhaKlEI

— Indian Affairs (@Indian_Affairs) April 26, 2015
Baba Adhav: A working-class hero and his labour of love
A parked autorickshaw and three sacks of grain outside Baba Adhav's office are sure signs that news of his being selected for TOI's Lifetime Contribution Award has got out. The autorickshaw's driver and the men who are transporting the sacks on their backs are inside, on a brief break from work, to congratulate him. Through the day, hawkers and rag-pickers will wish him. Even in his finest hour, Baba remains a true working-class hero.
Born Babasaheb Pandurang Adhav in 1930 in Pune, Baba, as he is known in every side-alley of Pune's working class areas, is a child of the freedom struggle. After a maternal uncle took him to a Seva Dal meeting while he was still in school, Baba became a committed activist, involved in many of the country's major political upheavals. In 1952, he joined a satyagraha against high prices and food rationing during a drought, and went to jail — for three weeks — for the first time. "I have been (to jail) 52 or 53 times after that," he says with a toothy chuckle. His most recent incarceration was in May 2008 when he served 14 days in judicial custody for protesting against, yet again, rising prices.
Trained as an ayurveda doctor, Baba began his practice in Pune's Nana Peth, where he saw first-hand the hardships faced by hamals (headloaders ) who had no legal protection. Hamals, mainly from backward castes, came from all over rural Maharashtra to Pune's markets, unloading heavy sacks of grain or cement on their backs all day, with barely enough time off to find food, and no house, which meant they would sleep in the same market. Political parties worked only with organized labour, leaving hamals with no protection from exploitation.
Baba organized them into the "Hamal Panchayat". Navnath Binawde came to Pune from a drought-prone part of Solapur as a young boy, and recalls the days when he couldn't get work as a hamal. "Once the Hamal Panchayat came into force, the whole system was streamlined and everyone had equal opportunity for work," says Binawde, now the panchayat's secretary.
In 1956, the hamals went on their first-ever strike demanding decent wages. There were satyagrahas and arrests after which it was finally recognised as a trade union and minimum wages were fixed. After years of struggle, in 1969 the state government passed the Maharashtra Mathadi, Hamal and Other Manual Workers Act, the country's first piece of legislation for the social security of unorganized labour. It has become the rallying point for dozens of other unorganised labour movements seeking social security legislation.
In the decades since, Baba has been actively involved in similar struggles for auto drivers, ragpickers, hawkers, domestic workers and construction labourers. Each such collective has registered itself as a separate trade union.
Baba is also known for his social reform work, which is based on the ideology of Gandhi, Jyotirao Phule and Ambedkar. "Caste is the root of inequality in Indian society and without a cultural revolution, we will never achieve equality," says Baba, who set up the Vishamta Nirmoolan Samiti (Society for the Eradication of Inequality). "I realised a long time ago that people do not live for their stomachs alone. Where I disagree with Left parties is that they focus on economic structures alone," he adds.
The Hamal Panchayat has also created a free secondary school, medical clinics, and a housing colony. The unions/ organisations are all funded through contributions and from small economic activities. One such is 'Kashtachi Bhakar', conceived by Baba as a place for the working class to get a cheap nutritious meal, which today feeds an estimated 15,000 to 20,000 workers every day in Pune. The only exception to the no-donations rule is the "Samajik Krutughnata Nidhi" ( Social Gratitude Fund) which is a corpus formed from donations made by veteran Marathi actors, and used to pay a salary of Rs 1,250 per month to 50 young activists working for different organisations across the state. For himself, Baba made it a rule never to take a salary more than three times that of the lowest-paid employee. He owns no property.
Still sprightly, with a schedule that keeps him on the road for much of his time, Baba lives in Pune with his wife, Sheela (74), a retired nurse who has been his rock of support. He has two sons and three grandchildren.