Nagpur based Infrastructure giant SMS Infrastructure's Anand Sancheti to receive the prestigious Transformational Business Leader of the Year 2016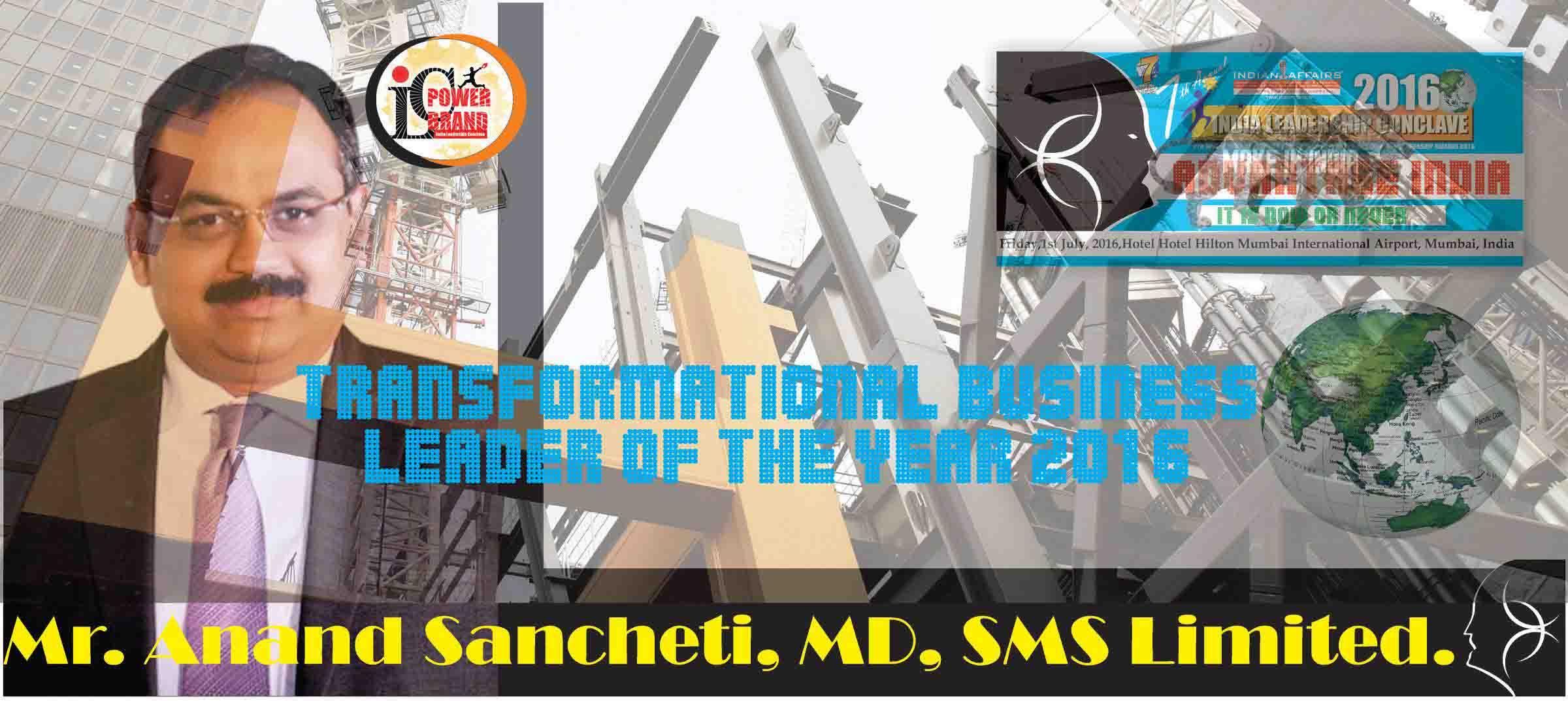 Nagpur based Infrastructure giant SMS Infrastructure's Anand Sancheti to receive the prestigious Transformational Business Leader of the Year 2016
India Leadership Conclave & Indian Affairs Business Leadership Awards 2016 declared Mr. Anand Sancheti, MD, SMS Limited in  the very prestigious category of Transformational Business Leader of the Year 2016 at the ILC Power Brand Awards 2016 to be held in mumbai on 1st july 2016.Mr Anand Sancheti was declared winner after the jury looked into the landmark achievements that he led to ensure SMS Group as one of the top company.
Over the years, some exceptional business leaders have been nominated by their peers – the leaders in the marketplace and workplace who have made their mark, inspiring and empowering those around them to develop their potential and reach their goals.India Leadership Conclave popularly known as "ILC Power Brands" are Asia's most prestigious & credible  recognition for those that have excelled in their respective industry. With more than 15 years of experience in conducing & executing world-class awards programs with the use of state of art technologies & research  has indeed gone from strength to strength distinguishing best in class organizations. The set of prestigious & coveted awards are from asia's most definitive & credible news media in mainstream journalism  is from the organisers of  Network 7 Media Group, the flagship media company of Indian Affairs's Annual Event, asia's most analytical news media is now celebrating its 7th successful & glorious years of achievement. Built upon a stringent methodology that is combined with a rigorous approach in selecting the best institutions operating within asia, the awards are adjudicated by an eminent panel of jury members who collectively have several decades' worth of evaluating industry awards in asia using the powerful research public voting mechanism. Those who also made it to the top list included people from cinema, corporate, philanthropy etc. Actor of the Decade ( Male)- Govinda, Actress of the Decade ( Female)- Karishma Kapoor, Film Maker of The Decade – Sanjay Leela Bhansali, Social Enterprise of the Year 2016 – Fulora Foundation, Emerging Talent & Debut Actress of Indian Cinema 2016 – Tina Ahuja, Indian Affairs India's Most Promising Yoga & Nutritionist Expert 2016 – Eefa Sharof, Indian Affairs millennium business leader in homeopathy medicine 2016 – Dr. Mukesh Batra, Chairman, Dr. Batras, Peace Leader of the year 2016 – Dr. Huzaifa Khorakiwala, CEO, Wockhardt Foundation & Executive Director, Wockhardt Ltd
Factfile
A Commerce Graduate with diploma in finance. He is looking after the management of the Company. Heads the finance division of group. Was involved in Project implementation for a period of more than 7 years. He was also involved in the successful implementation of first PPP project in Roads Sector, in India. Has closely worked in Professional Capacity with McKinsey SBI capital Market Ltd and National Highway Authority of India. He has been a faculty for structured Finance and Project finance at World Bank Knowledge Forum, State Bank of India, etc. He also holds various Management Positions within and outside Group Companies.
SMS Limited
Sustainable growth, Multi-sectoral presence, Quality, Innovation, Technical expertise, Strong financials and a socially responsible company since 1963, SMS Limited is Central India's largest Infrastructure Group. Company has Pan India presence with Corporate Office located at Nagpur. Employee base of more than 1800 with attrition of less than 2%, satisfaction of all clients and continued track record of timely completion with quality are the key attributable for the success of the company.
Roads: In Roads, Highways, Bridges and Airports the company has executed number of prestigious works. Country's first BOT project in Road was successfully executed in 1997 at a period when Power, Shipping, Telecommunication privatization had failed. The success of Durg-By-Pass is still the largest mentioned success story by the erstwhile Governments. Country's fifth highest density corridor was completed by the company in year 2004. Longest Twin-Tube tunnel in Sahyadri region with country's second highest viaduct was also completed by the company. The company has also completed various Road projects in Naxal infected areas contributing to the development of the region. Several Awards by Geotechnical Society, Builders Association of India, Concrete Society, Institute of Engineers, etc have been bestowed upon the company for its excellent performance.
Toll Management: Company has contributed significantly in establishing the user's fee and people's readiness to pay toll during the initial stages. At several platforms the company has shared its knowledge and helped in motivating people to pay for better quality roads. Company has operated and managed long stretches of roads in all parts of the Country. The Vidyasagar Setu toll collection provided an increase of 230% in revenue to West Bengal Government. Limca Book of records has recognized the efforts of SMS Limited for Highest ever Toll Collection reported. National Highway Authority of India has awarded Best Operation & Maintenance Contractor to SMS for a continuous period of two years.
Railway: With continued efforts to its contribution to the transportation sector the company has emerged as one of the largest Railway Contractor. Company has capability and has demonstrated its expertise at various occasions in complex Railway Projects. Railway tunnel in Himalayan terrain, Sahyadri region, Railway embankment protection works on the banks of Brahmaputra river, new railway line in thick naxal belt of mineral rich Chhattisgarh State and private railway embankments for Khaparkheda, Chandrapur, Sarni, Koradi Thermal Power Stations are the few landmark projects executed by the company. The company not only does the Civil work but is also actively involved in permanent way linking of Railway tracks, signaling and telecommunications, station buildings etc. The company has a motto that "You give us the land and we will provide you complete Railway line in sync with Indian Railways".
Urban Development: In its continued foray in transportation sector, Company has constructed Asia's largest underground Car Parking facility at Kamlanagar, Delhi. This engineering marvel has 9 floors of underground car park with capacity of more than 800 cars. Mumbai's largest radio fleet taxi – TabCab is promoted by the Company and is successfully running despite the disruptive app-based aggregators flooding the market.
Irrigation: Water is the driving force of all Nature. The company having recognized its importance, SMS Limited is a leading Irrigation contractor having its works Pan India. We have successfully completed several dams, barrages, reservoirs and all types of water retaining structures. For transportation of water the company has executed kilometers of main canal, distribution canal, tunnel and pipeline. For low-lying areas company has executed lift irrigation schemes. For drinking water supply we have executed intake wells, pipelines and tap connections to hundreds of villages.
Water Reuse: Use of wastewater is the need in the era of depleting water table and dearth of water resources. Realizing this, the company has participated in India's largest water reuse Sewage Treatment Plant with treated water to be used for Super Thermal Power Station through a 19-kilometer pipeline. Turnkey construction with Operation and Maintenance of 10 years is being carried out by the company. Company has equity stake in several Common Effluent Treatment Plants.
Waste Management: Waste management is a service to the Nation and its humble contribution to Nation. Company is managing Bio-Medical Waste Treatment plants at Delhi, Lucknow, Raipur, Ranchi, Aurangabad, Nasik, Kampala (Uganda) and Mumbai (Asia's Largest). Extension to BMW, Company also has the rights for transportation and management of Common Hazardous Waste Treatment and Scientific Disposal Facility at Pune and Butibori. Pune plant is a state-of-the-art project having visited by several companies from across the Globe. Company has bagged the project at Goa, Aurangabad and Bangalore for similar works. Several Awards have been bagged by the Company for its efficient waste management facilities.
Mining: In its contribution to the progress of the Nation, Company is Mine Development and Operation (MDO) for World's largest underground Uranium mine. The Greenfield project with complete mechanization is being executed by us. The world-class technology with skill development with local has been a subject for several research papers in the field. The Company owns largest number of plant and machinery used for underground coal extraction. Company contributes more than One Million Ton of underground coal in its endeavor to save environment from opencast mines.
Electrical: To provide electricity in the farther corners of this Country in the state of Bihar, Jharkhand, Chattisgarh, Tamilnadu, Rajasthan, Maharashtra etc. we are continuously striving. In last 5 years Company has provided connections to more than 3.5 lac households of Below Poverty Line. The infrastructure development like substations, lines, loops, switching stations, meters, etc. for continuous supply is undertaken by the Company in a large manner. Company has installed more than 18000 distribution transformers during last 5 years.
The robust financials have always complemented to the growth of the Company. Present Net-Worth of the Group is more than INR 450 Crore with enviable performance ratios. The external credit rating agencies have placed the Company in the 'A-' Category for its balanced financial management and well chalked out growth momentum.
On the CSR front Company has contributed largely in the development of a Cancer Hospital. Company is actively engaged in providing school uniforms and kit to thousands of children through 'CAFE' and Hostel and education facilities for AIDS infected children left by their parents through 'CARE'.Over last several years, the sole motto of SMS Ltd has been nation building. A strong nation rests on its robust infrastructure. With this vision, SMS Ltd started its business 52 years ago and today has become a giant in this filed. Our step by step progress in diversified segments have made us reach at a consolidated turnover of Rs. 1750 crore.
Innovation in engineering had been the driving force for the company and hence, the company had taken calculated risks in bidding for niche projects in various segments. We have never backed out of our projects even when faced with difficulties and have gone ahead with completing them.
At different times, we had brought globally renowned technologies to India by entering into consortium with foreign experts like Westinghouse Corporation, Proviron Technology BV, etc. to take our infrastructure to next level.
Describe the career highlights and top moments:
1997- Awarded first BOT Project of National Highways Authority of India
2007- Awarded mining contract for Asia's largest Uranium Mine
2008- Commissioned India's largest Plasma Gasification Plant converting waste to energy
2009 – Started Asia's biggest Bio Medical waste facility in Mumbai
2011- Launched Tab Cab, India's largest fleet of radio cabs
2012 – First introduction to India of low cost continues mining through blast free technology
2013- Commissioned India's first fully automated underground car parking system with 828 car park spaces in Kamla Nagar, Delhi
2014- Became India's second largest waste processor in terms of volume.
2015- Featured in the Fortune India magazine July 2015 issue.
Consistent Growth
Strong Order Book
Most Diversified portfolio
Multisectoral Presence
Only company to feature in Fortune India Magazine
Presence in sunrise sectors like underground Mining, Sewage Treatment, Electrical and Waste Management.
---
What is your vision and where you want to see yourself in the year 2020?
Infrastructure is the basic requirement for any nation to grow. By 2020, the country would have moved to a much advanced technology with optimization of resources. In next four year, the nation would be moving towards faster and economic transportation system, generating energy from untapped resources, aiming hygienic and cleaner facilities. Tolling would have shifted entirely on e-tolling. Bullet train in India is now a reality with Gatimaan express being launched. Many more bullet trains will be launched and we, already being in this segment, will be actively participating in it.
As resources are getting dearer, underground mining is scaling greater depths. Also, open cast mining would be a history due to issues relating to land acquisition and environmental clearances. We, being the only few underground miners in India are already poised for a big growth. We will not only be mining minerals, but will also be going for its beneficiation so as to give maximum yield.
As energy resources are getting dearer, the country will be moving more towards clean and renewable energy. We are already generating energy from waste. With pollution norms becoming more stringent, more projects for treatment of waste and generating energy from it will be coming.
With increase in on road vehicles, every big city is facing problems related to parking. Our state of art underground parking facility is the simplest option for this. Going ahead, every city will need multiple parking facilities and we will be surging ahead in this segment. Also, radio cabs, which earlier restricted only to metros, has now forayed in tier II cities. There is a great scope in providing luxurious and affordable public transport system to all.
In urban development, the company has already started its first multi specialty state of art hospital and research centre in Nagpur. This medical facility will be larges in central India and will come up with not only treatment of patients, but also providing world class rehabilitation facilities to old age persons.
We also intend to provide housing to persons of Low Income Group and affordable cost and will be coming up with such facility. We have a humble presence in hospitality sector with three restaurants. We plan to have our chain of restaurants across India giving a unique taste of Indian and continental dishes with our expertise to create fusion of the two.
We are confident that as infrastructure will grow, requirement of Roadside facilities will grow. We target at setting up safety rest areas, parking and toilet facilities alongside highways. This will be coupled with repair facilities for vehicles, basic medical and first aid and internet kiosk with Public Sahayta Kendra. Public Sahayta Kendra will cater to the commuters as well as the nearby villages.
Education is right of every child and we are already committed to it. The company is running two schools MHK Sancheti Public School and Dharampeth Kanya Shala. CAFÉ stands for Child Adoption for Education and CARE stands for Child Adoption for Rehabilitation and Education. The two NGOs are entirely adopted by SMS Ltd. Going ahead; we intend to bring in more schools under our net.
By 2020, SMS would be a public listed company achieving a CAGR of more than 10% on a yoy basis. SMS would be the leader in underground mining and waste management and would be working in overseas locations also.
Today, when the global economic scenario looks gloomy, India is the only hope for the entire world. Our economy has remained unaffected by the global slowdown. Besides, as the major population is young and working, the productivity of the country will always be marching northwards.  Our Prime Minister, Shri Narendra Modiji had also quoted several times that the development infrastructure is the basic requirement to take our country to the next level.
Aligning ourselves with this vision, we intend to create best infrastructures for the nation. We intend to touch every Indian and make a positive difference in their lives, maybe on our toll booths, maybe in our taxi or maybe in our hospital or our any other project.
The Background
Infrastructure sector is a key driver for the Indian economy. The sector is highly responsible for propelling India's overall development and enjoys intense focus from Government for initiating policies that would ensure time-bound creation of world class infrastructure in the country.
Infrastructure sector includes power, bridges, dams, roads and urban infrastructure development.
Market Size
India needs Rs 31 trillion (US$ 454.83 billion) to be spent on infrastructure development over the next five years, with 70 per cent of funds needed for power, roads and urban infrastructure segments.
The Indian power sector itself has an investment potential of US$ 250 billion in the next 4-5 years, providing immense opportunities in power generation, distribution, transmission and equipment, according to Mr Piyush Goyal, Union minister of coal, power and renewable energy.
The Indian construction equipment industry is reviving after a gap of four years and is expected to grow to US$ 5 billion by FY2019-20 from current size of US$ 2.8 billion, according to a report@ released by the Indian Construction Equipment Manufacturers' Association (Icema).
Foreign Direct Investment (FDI) received in construction development sector from April 2000 to December 2015 stood at US$ 24.18 billion, according to the Department of Industrial Policy and Promotion (DIPP).
Investments
India is witnessing significant interest from international investors in the infrastructure space. Many Spanish companies are keen on collaborating with India on infrastructure, high speed trains, renewable energy and developing smart cities
Airports Authority of India (AAI) plans to develop city-side infrastructure at 13 regional airports across India, with help from private players for building of hotels, carparks and other facilities, and thereby boost its non-aeronautical revenues.
The Asian Development Bank (ADB) and Government of India signed a loan agreement of US$ 80 million, which is the third tranche of a US$ 200 million financing facility under the North Eastern Region Capital Cities Development Investment Programme, and will be invested for improving water supply, solid waste management and sanitation in the cities of Agartala and Aizwal, the capital cities of Tripura and Mizoram respectively.
Maharashtra State Government plans to launch infrastructure projects worth Rs 73,367 crore (US$ 10.78 billion) in Mumbai and neighbouring areas in 2016, which include coastal road, Trans harbour link, metro rail, airport and road projects.
The Government of India has earmarked Rs 50,000 crore (US$ 7.34 billion) to develop 100 smart cities across the country. The Government released its list of 98 cities for the smart cities project in August 2015.
BNP Paribas Lease Group, subsidiary of BNP Paribas Group, has acquired 5 per cent stake in Srei Infrastructure Finance, by selling its entire 50 per cent stake in Srei Equipment Finance Limited (SEFL) to Srei Infrastructure Finance, thus allowing them to play a larger role in the infrastructure finance business.
Private equity giant Carlyle Group is planning to invest Rs 500 crore (US$ 73.36 million) in Feedback Infra, which could make the US firm a major shareholder in the Gurgaon-based infrastructure services company.
In the month of November 2015, among various areas of infrastructure spending by the government, the roads segment led in terms of tenders issued (59 per cent of total tenders) and contracts awarded, with an increasing shift to Engineering, Procurement and Construction (EPC) type of contracts#.
PTC India Financial Services (PFS) and India Infrastructure Finance Company Limited (IIFCL) have signed a Memorandum of Understanding (MoU) to jointly provide funding for infrastructure projects in India, particularly in the energy sector.
France has announced a commitment of € 2 billion (US$ 2.17 billion) to convert Chandigarh, Nagpur and Puducherry into smart cities.
The Construction Industry Development Board (CIDB) of Malaysia has proposed to invest US$ 30 billion in urban development and housing projects in India, such as a mini-smart city adjacent to New Delhi Railway Station, a green city project at Garhmukhteshwar in Uttar Pradesh and the Gangacleaning projects.
The Government of India has unveiled plans to invest US$ 137 billion in its rail network over the next five years, heralding Prime Minister Narendra Modi's aggressive approach to building infrastructure needed to unlock faster economic growth.
The Government of India has announced highway projects worth US$ 93 billion, which include government flagship National Highways Building Project (NHDP) with total investment of US$ 45 billion over next three years.
Government Initiatives
The Government of India is taking every possible initiative to boost the infrastructure sector. Some of the steps taken in the recent past are being discussed hereafter.
The Government of Japan, through Japan International Cooperation Agency (JICA), has committed to provide a soft loan of JPY 19.064 billion (US$ 161.2 million) to Government of India at an interest rate of 0.3 per cent per annum for the project of pollution abatement of Mula-Mutha river in Pune, Maharashtra under the National River Conservation Plan.
Government of India plans to use the new hybrid-annuity model for allocating contracts under the Public Private Partnership (PPP) projects in highways, Namami Gange and Railway Projects, which will help overcome the challenges faced by private developers in the Build-Operate-Transfer (BOT) Toll and BOT-Annuity models.
Budgetary allocation for Roads and Railways in the Union Budget 2016 has been increased to Rs 218,000 crore (US$ 31.98 billion) with an aim to boost the private investment cycle.
The Ministry of Road Transport and Highways plans to build five more greenfield expressways across the country, which are expected to reduce travel time and propel economic growth.
The Union Ministry of Urban Development has approved an investment of Rs 495 crore (US$ 72 million) under the Atal Mission for Rejuvenation and Urban Transformation (AMRUT) for FY 2015-16 which will be used for water supply, sewerage networks and septage management, storm water drains, urban transport and provision of green spaces in 13 cities spread over six states.
Prime Minister of India Mr Narendra Modi indicated that the government has rolled out stuck projects worth Rs 4 lakh crore (US$ 58.69 billion) in the past six months (ending November 2015), while stating that infrastructure development is the government's top priority in order to improve economic growth.
The Union Cabinet has approved several reforms such as allowing National Highways Authority of India (NHAI) to extend the concession period for current incomplete projects in build-operate-transfer (BOT) mode.
Government of India plans to launch the National Infrastructure Investment Fund (NIFF) with an initial corpus of at least Rs 40,000 crore (US$ 5.87 billion).
The Ministry of Urban Development has approved an investment of Rs 19,170 crore (US$ 2.81 billion) for improving basic urban infrastructure in 474 cities in 18 states and Union Territories (UTs) under Atal Mission for Urban Rejuvenation and Transformation (AMRUT) for 2015-16.
Department of Industrial Policy and Promotion (DIPP) has set up an online monitoring system for on-going projects under the Industrial Infrastructure Upgradation Scheme (IIUS).
The Ministry of Urban Development has decided to allow the use of construction & demolition waste up to 20 per cent in construction of load bearing items and up to 100 per cent for non-load bearing purposes. This provision is expected to significantly help in reuse of such waste, in line with ongoing efforts under Swachh Bharat Mission (SBM).
The central government has approved amendments to 'The National Waterways Bill, 2015' which will provide for enacting a central legislation to declare 106 additional inland waterways, as the national waterways.
The Government of India plans to award 100 highway projects under the public-private partnership (PPP) mode in 2016, with expectations that recent amendments in regulations would revive investor sentiments in PPP projects in the infrastructure sector.
The Reserve Bank of India (RBI) has notified 100 per cent foreign direct investment (FDI) under automatic route in the construction development sector. The new limit came into effect in December 2014.
The Government of India has relaxed rules for FDI in the construction sector by reducing minimum built-up area as well as capital requirement. It has also liberalised the exit norms. In fact, the Cabinet has also approved the proposal to amend the FDI policy.
In the Budget 2015-16, the capital outlays for roads, and railways have been increased by Rs 140.3 billion (US$ 2.05 billion) and Rs 100.5 billion (US$ 1.47 billion) respectively.
Road Ahead
Indian port sector is poised to mark great progress in the years to come. It is forecasted that by the end of 2017 port traffic will amount to 943.06 MT for India's major ports and 815.20 MT for its minor ports.
Along with that, Indian aviation market is expected to become the third largest across the globe by 2020, according to industry estimates. The sector is projected to handle 336 million domestic and 85 million international passengers with projected investment to the tune of US$ 120 billion. Indian Aviation Industry, which currently accounts for 1.5 per cent of the gross domestic product (GDP), has been instrumental in the overall economic development of the country. Given the huge gap between potential and current air travel penetration in India, the prospects and possibilities of growth of Indian aviation market are enormous.
Exchange Rate Used: INR 1 = US$ 0.0147 as on March 01, 2016