Indian Pharma Industry Needs a Big Investment Reforms & Push from Transformational Union Budget 2015-16 " – Dr. Rajendra Kamat , VC & MD, Dr. Datsons Labs Ltd.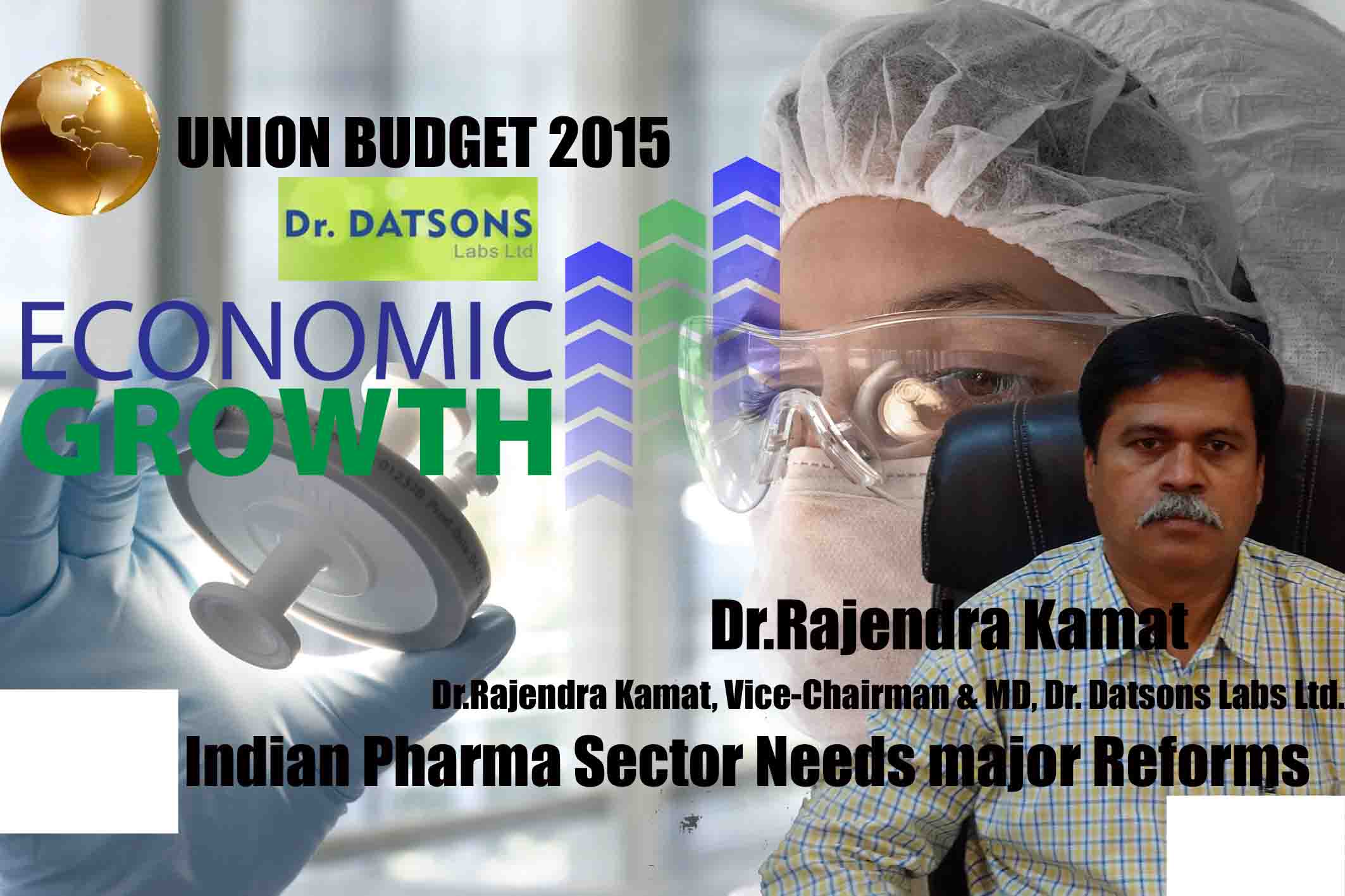 Indian Pharma Industry Needs a Big Investment Reforms & Push from Transformational Union Budget 2015-16 " – Dr. Rajendra Kamat , VC & MD, Dr. Datsons Labs Ltd.
Dr. Rajendra Kamat , VC & MD, Dr. Datsons Labs Ltd. expressed hope that the Finance Minister Arun Jaitley will  accord enhanced tax incentives for research and development (R&D) activities in the pharmaceutical sector in the forthcoming Budget to be announced on February 28. In its Budget proposals, the Commerce Ministry has sought "weighted average tax benefit of 400 per cent for R&D activities for the sector".
Midsized companies like us will look at more positive agenda & push from the forthcoming budget & clarity of direction on tax reforms & FDI.
"There is an urgent need to boost R&D in the pharma sector. India is the hub of generic medicines. It contributes significantly to the country's total exports," Dr. Kamat expressed that the industry will get fresh incentives as annually, India exports pharmaceutical products worth $10 billion. The market size of the industry is around Rs. 1 lakh crore.The need for special financial package for the pharma sector has been highlighted in various fora.The pharma sector is a capital intensive sector. Besides R&D expenditure, regulatory requirements require large funds. All quality investments should be treated on par with R&D to provide incentives to the industry," the official added.
Dr. Datsons Lab Ltd, formerly known as Aanjaneya Lifecare Ltd, BSE code (533412) is a vertically integrated company having state-of-the-art; WHO GMP approved facilities for manufacturing bulk drugs at Mahad and finished dosage forms at Pirungut near Pune. It is one of the largest contract manufacturers of codeine based cough syrups in India. The company exclusively manufactures the Codorex Brand of Zydus Cadilla and Codilite Brand of Tablets India Ltd. amongst others.The company raised about Rs. 117 crore from its IPO and the funds are being used to built new capacities along with the refurbishing of Research & Development centre. The new facilities being created as part of CAPEX are using eco friendly, recyclable material and will be rated by LEEDS once completed.The Facilities being established will comply with the latest European & US guidelines. With new capacities to be added in next 6 to 9 months the company will be expanding operations in emerging markets of South East Asia, Africa & South & Central America and its domestic operation in branded generics segment. The company with its manufacturing facilities –in Mahad, Hyderabad and Pune has to its credit many achievements. It is the world's third-largest manufacturer of quinine salts in the world . Only nine companies globally manufacture quinine salts.One of the largest codeine based formlulations manufacturer in the pharmaceutical sector. One of the largest manufacturer of multi- flavored Lozenges in  medical products in India. The company pioneered the recognition that lozenges represent a stable platform for the delivery of pharmaceutical and nutraceutical ingredients. Dr. Datson's Nicco Nil lozenge is a first-of-its-kind  hard boiled lozenge remedy for smoking de-addition; its Relacs is a first-time lozenge against insomnia and Arecta Plus, a lozenge variant for Erectile Dysfunction, is a first of its kind . The company has an expertise in opportunity spotting and innovation. The company's success has been built on a business model that integrates Research, Innovation and Knowledge. The company has invested in building proprietary Knowledge through research and acquisitions. Dr. Datson's competence has been validated through patents granted by international and Indian authorities. Production of Quinine Sulphate increased 30% in 2011-2012. Sales of Quinine Sulphate grew 45%. Exports increased 250% from Rs 10 Crore to Rs 31 crore. Added 35 international and 50 domestic clients. Completed trials for Bromexine(expectorant)a new API that will be launched in 2012-1023. Highlights 2011-2012 for Finished Dosage Forms. Launched 'Rancorex' an in-house codine based cough syrup brand for the first time in its history. received the Kenya PPB GMP approval from all facilities namely lozenges,liquids and ointments. Received registration for 'Arecta Plus'(a lozenge variant of Viagra tablets)from Sierrs Leone and Libya; received the first export order for this product to be executed in 2012-2013.