Arvind Kejriwal may inject fresh momentum in On Land Ordinance Fight Against Modi Government at Jantar Mantar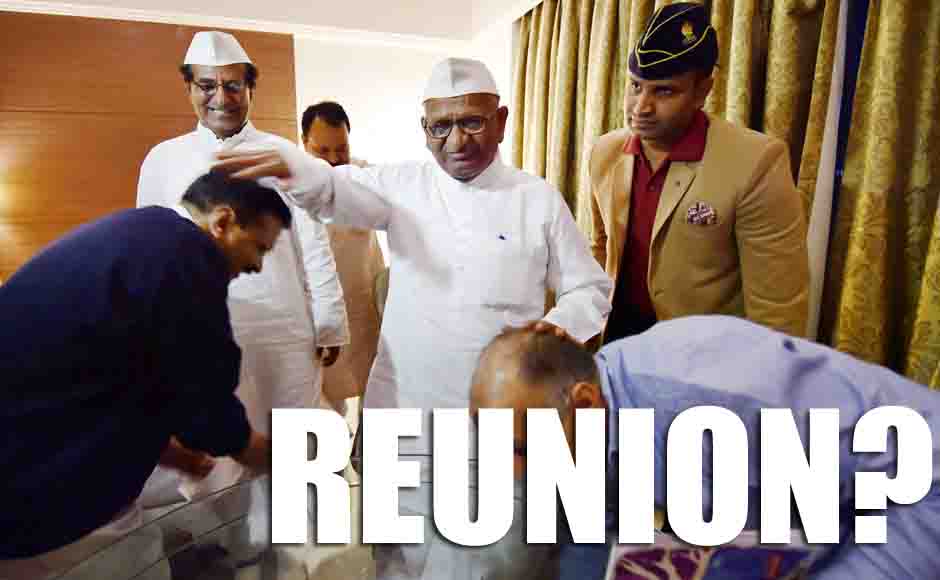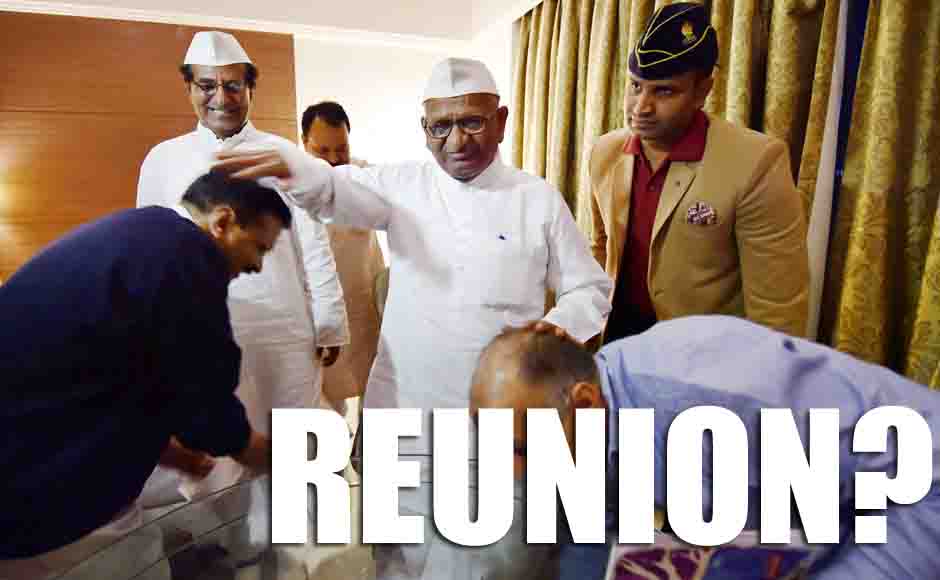 Arvind Kejriwal may inject fresh momentum in On Land Ordinance Fight Against Modi Government at Jantar Mantar.The much talked about meeting between the former India Against Corruption crusaders between Anna Hazaree & Delhi CM is widely seen in the political circle as a new chapter in Indian political movements as after the formation of AAM ADMI PARTY by Arvind Kejriwal, Anna Hazare had lambasted Kejriwal as oppourtunist, but the recent spate of events seem to have changed the mindset of veteran Anti Corruption crusader Hazare following series of betrayal by former members including Gen V K Singh & Kiran Bedi & Baba Ramdev teaming up with Anna Hazzare at Ralegan Siddhi where the current AAP Leader & Minister was reprimanded by Gen V K Singh at the meeting when Gopal Rai raised objection against Gen Singh's credibility only to prove later that BJP masterminded the series of events. It seems the veteran social activist has understood the motives of the people that surrounded him & Arvind Kejriwal's persistent efforts to reach out to Anna that politics was behind the mind. Interestingly Rahul Gandhi's absence in the capital & Parliament will demoralize the partry cadres in Congress giving AAP an alternative to counter Modi.
 Arvind Kejriwal will join Anna Hazare today in a protest against the central government's proposed changes in rules for land acquisition.The Delhi Chief Minister had called on the Gandhian activist at the Maharashtra Sadan on Monday evening and touched his feet. After an hour-long meeting, Mr Kejriwal's closest aide and Delhi minister Manish Sisodia told reporters, "Arvind and I will sit on dharna with Anna after the (Delhi assembly) session at 3 pm.". The reunion of the two most famous faces of the Lokpal movement is expected to draw hundreds of protesters to Jantar Mantar in the heart of Delhi for the sit-in. Many people gathered at the venue on Monday evening as news spread that Mr Kejriwal could visit Jantar Mantar to meet Mr Hazare.
Anna Hazare had earlier told NDTV that he would "welcome" Mr Kejriwal to join him, allowing his campaign to take a political turn for the first time."Arvind Kejriwal is a Chief Minister, he cannot be treated like any ordinary citizen. If all agree, I will welcome Arvind Kejriwal on stage as Delhi chief minister," the 77-year-old said on Sunday.Mr Kejriwal took charge as Delhi's Chief Minister on February 14 after his party won a landslide victory in the Delhi election.In the past few days, Anna Hazare has praised Mr Kejriwal more than once and sharply attacked Prime Minister Narendra Modi and his government."This government is trying to snatch land from poor farmers. They are like the British colonial rulers," he said today.
Anna Hazare and Arvind Kejriwal last campaigned together in 2011 for the anti-corruption Lokpal law. The two parted ways in 2012, when Mr Kejriwal formed his political party, a move that did not win his mentor's approval. Recently, when asked to comment on the poll rivalry between Mr Kejriwal and another former anti-corruption campaigner Kiran Bedi, Anna Hazare said he did not want to be dragged into "dirty politics." Almost three years after parting ways, Arvind Kejriwal will once again join social activist Anna Hazare at Jantar Mantar on Tuesday at a protest — this time against the Centre's land Ordinance. It will be Kejriwal's first protest after becoming chief minister.
In September 2012, the India Against Corruption (IAC) had split after Arvind Kejriwal, who was Hazare's lieutenant at the time, announced his intention of floating a political party. Hazare had refused to support Kejriwal's political ambitions.
On Monday, Kejriwal, accompanied by his deputy Manish Sisodia, met Anna Hazare at Maharashtra Sadan. Sisodia announced that Kejriwal would participate in Anna's protest on Tuesday. "We discussed the Delhi election results. We also talked about the Land Acquisition Ordinance and how AAP could extend support to him (Hazare)," Sisodia said.Senior AAP leaders said that while there was no "mass mobilisation", party volunteers and supporters will turn up in numbers at Jantar Mantar. "There is no need to mass mobilise because it is a one-day affair. If and when the jail bharo happens in four months, a decision will be taken then. But some supporters will be at the venue on Tuesday," a leader said.Another leader said that the "opposition to the land ordinance" was a large part of the campaign in the rural belt, which the AAP swept in the Assembly polls. "Much is being read into Arvind (Kejriwal) joining Anna on stage. But what is actually important is that Delhi's rural belt voted for us and our opposition to the ordinance was one of the factors," said one AAP MLA, who did not want to be named.Kejriwal's move is also politically symbolic, sending a signal that movements based out of Delhi require AAP's blessings. Leaders said after a low turnout on day one, an increase in numbers on day two when Kejriwal is there would convey that message. 77-year-old Hazare has been highly critical of the Modi government for making certain changes in the Land Acquisition Act through an ordinance.
On December 29 last year, the government had recommended promulgation of an ordinance making significant changes in the Land Acquisition Act including removal of consent clause for acquiring land for five areas of industrial corridors, PPP projects, rural infrastructure, affordable housing and defence.