Pharma & healthcare leaders, policy makers to address on "india @ 70, patient first" at the historic pharma leaders 2016!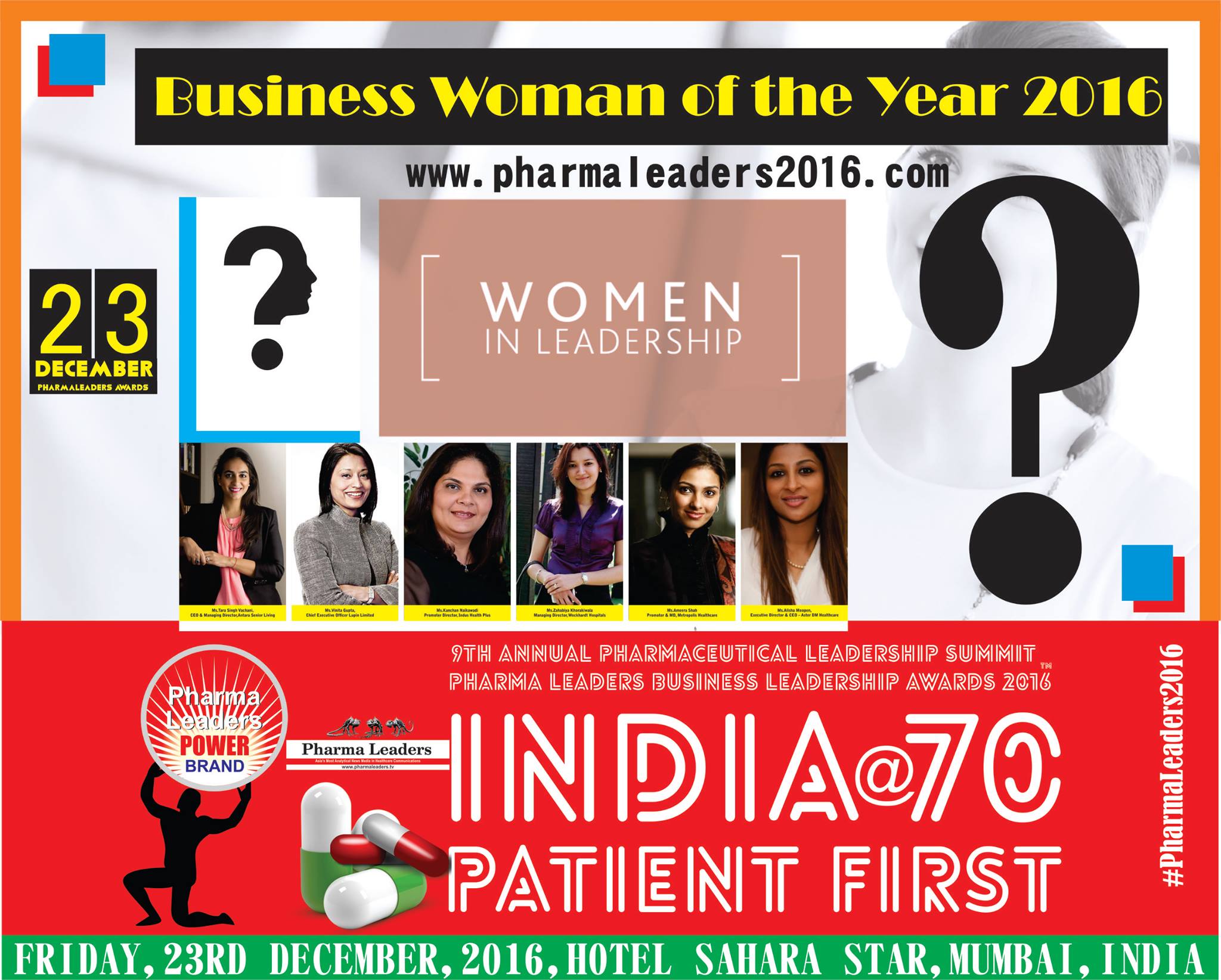 Pharma & healthcare leaders, policy makers to address on "india @ 70, patient first" at the historic pharma leaders 2016
Mumbai to host 9th annual pharmaceutical leadership summit & pharma leaders business leadership awards 2016, visionary pharma leaders to review healthcare progress & reforms post independence.
Pharmaleaders, asia's most analytical news media in pharmaceutical & healthcare communications today announced the much awaited & prestigious healthcare event of the calendar year 2016, the 9th annual pharmaceutical leadership summit & pharma leaders business leadership awards 2016 to be held in Mumbai on Friday,the 23rd december 2016. Pharma Leaders 2016 is debating on the theme "India@70, Patient First" where the nation's top leaders on healthcare, pharmaceutical, biotechnology will gather to listen from the healthcare thought leaders. Pharma Leaders vision 2016 Summit centers around the challenges of the accessibility, availability & affordability of healthcare in a country of billion population where the majority of the stakeholders, the vulnerable sections of the society are often deprived of basic healthcare. As the nation powers to stake its claim as a nuclear & defense power in the world, healthcare remains a big question mark. The $26 billion Indian pharmaceutical industry aiming to be on to be among the top 3 pharma markets by 2020, is expected to reach USD 55 billion in the next four years. Growing at a pace of 17.90 percent CAGR,the market size has expanded to USD 36.7 billion in 2016 from USD 6 billion in 2005. India is also the largest provider of generic drugs and has 20 percent global exports in terms of volume. Healthcare Policy is meant to empower patients & hence the reforms must be patient centric with focus on compassion, quality, integrity and respect, the release stated.
Lets make healthcare simple,affordable & accessible.India is second to none when it come to #innovation. Lets make #India better,stronger! pic.twitter.com/JFJurULv33

— Pharmaleaders (@pharmaleader) November 4, 2016
"India today is standing on the threshold of enormous opportunities where the global market is looking at us with much seriousness to invest & do business than ever before, the domestic healthcare scenario though presents serious challenges as patients safety & quality healthcare with affordable price has become a subject of tremendous concern. We as a nation must understand that healthcare is key to nation building, like defence, healthcare sector must be given a topmost priority", Said Satya Brahma, Chairman & Editor-In-Chief of Pharma Leaders Group while announcing the 9th annual edition of Pharmaceutical Leadership Summit & Pharma Leaders Business Leadership Awards 2016.
"Patient-centered care has now made it to center stage in current discussions of quality & patient care. Pharmaceutical Companies, Government & healthcare practitioners therefore must ensure that patient-centric healthcare delivery system is key to growth & there should be greater focus on patient satisfaction and engagement. Healthcare provider must focus on consumers in a way that encourages them to seek all care within the system, optimizing care management and patient engagement. While companies & hospitals are measured on their success through revenue and profit in recent times, the success also should be on compassionate healthcare & initiatives must focus on medical facilities to reduce patient suffering and meet patient needs".
More than 350 industry leaders, Policy makers, healthcare visionaries, political leaders, social activists, eminent doctors will be attending the historic pharma leaders 2016 in mumbai. Top voices from the pharmaceutical & healthcare leaders will be addressing the gatherings on topics of tremendous significance. Healthcare reforms, patient care, insurance, pricing, medical tourism, regulatory challenges, hospital management, digital healthcare, start-up healthcare are some of the key debates that will be deliberated in the summit proceedings. Pharma leaders power brand awards will also be conferred to the deserving companies & individual titles in more than 30 categories in the 9th annual pharmaceutical leadership awards 2016 in a glittering award night.
For further details on Registration, please cntact :
Network 7 Media Group
Plot 5, NS Road No. 12
Opposite Crepe station, JVPD, Juhu Scheme
Mumbai, Maharashtra, Pin 400049.
Email : debashish.mishra@network7mediagroup.com
URL : www.pharmaleaders.tv
Cell : ++ 91 8097667782
Web : www.pharmaleaders2016.com
www.pharmaleaders2015.com , www.pharmaleaders2014.com , www.pharmaleaderspowerbrand.com