Cosmetic & Plastic Surgery will be the top of agenda amongst the rising consumers spendings, China's cosmetic surgery industry is expected to double in value from 400 billion to 800 million yuan by 2019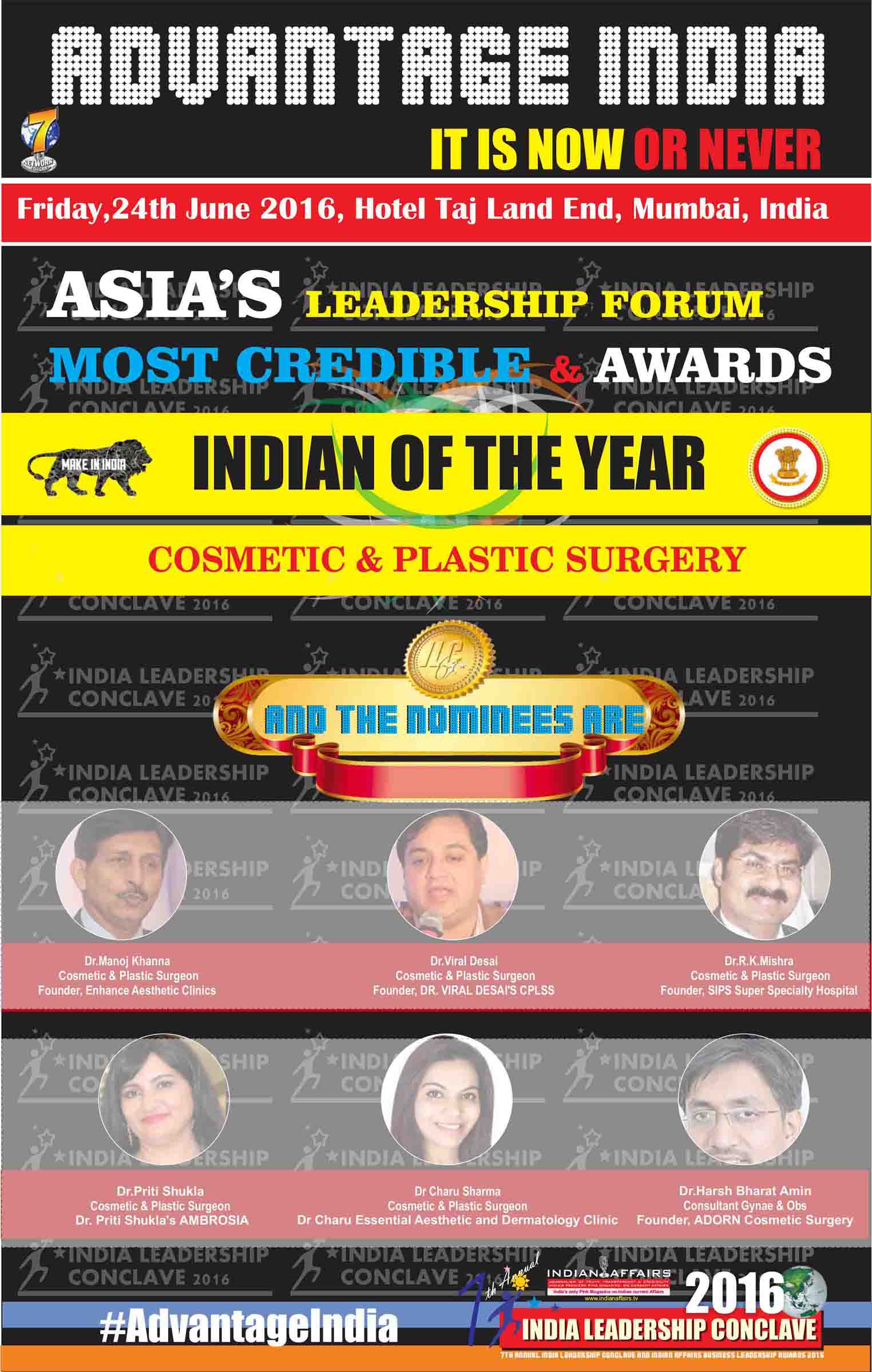 This prestigious award Indian Affairs Indian of the Year 2016 – Cosmetic Plastic Surgery will be reviewed  by an eminent panel of Healthcare Professionals & World Renowned Academia followed by an extensive selection methodology via public voting through Network 7 Research, the research wing of Network 7 Media Group will recognize outstanding innovative medicine expert leadership, civic involvement, exemplary patient care, and innovative surgical procedures.
The listing & final ten finalists will move on to the next round of voting & six nominees will enter into contest to the coveted recognition. The selection of ten names are based on various factors. Seniority, Experience, Innovations, Milestone Achievements & remarkable exhibition of breakthrough research even in short career are some of the key features of the study. The decision of the Juries are final & binding.
The Shortlisted Six Finalists who made it to the top Six from a list of more than 435 consultants are
Manoj Khanna, Cosmetic & Plastic Surgeon, Founder, Enhance AestheticClinics
Viral Desai, Cosmetic & Plastic Surgeon,Founder, CPLSS
Charu Sharma, Cosmetic & Plastic Surgeon ,Founder, Dr Charu Essential Aesthetic and Dermatology Clinic
Harsh Bharat Amin, Cosmetic & Plastic Surgeon,Founder, ADORN Cosmetic Surgery
Priti Shukla, Cosmetic & Plastic Surgeon , Founder, Dr. Priti Shukla's AMBROSIA
R. K. Mishra, Cosmetic & Plastic Surgeon, Founder, SIPS Super Specialty Hospital
---
About India Leadership Conclave & ILC Power Brand
India Leadership Conclave popularly known as "ILC Power Brands" are Asia's most prestigious & credible  recognition for those that have excelled in their respective industry. With more than 15 years of experience in conducing & executing world-class awards programs with the use of state of art technologies & research  has indeed gone from strength to strength distinguishing best in class organizations. The set of prestigious & coveted awards are from asia's most definitive & credible news media in mainstream journalism  is from the organisers of  Network 7 Media Group, the flagship media company of Indian Affairs's Annual Event, asia's most analytical news media is now celebrating its 7th successful & glorious years of achievement. Built upon a stringent methodology that is combined with a rigorous approach in selecting the best institutions operating within asia, the awards are adjudicated by an eminent panel of jury members who collectively have several decades' worth of evaluating industry awards in asia using the powerful research public voting mechanism.
The Background 
 Indian Cosmetic & Plastic Surgery is estimated at US $ 200 Million Industry while China's cosmetic surgery industry is expected to double in value from 400 billion to 800 million yuan by 2019
while buttock and breast augmentation remain the most talked about plastic surgeries, procedures such as facelifts, eyelid surgery, and ear and nose surgeries are among the most popular when it comes to maintaining a youthful appearance and reducing the effects of aging on the skin:
Whatever part of the world you live in, age, stress, sun damage, and other environmental factors contribute to a reduction in elasticity, deep creases, and blemishes on the face, BHP explains. When the skin loses its elasticity, it can create folds and fat deposits around the neck, as well as jowls around the jaw line; all of which can make a face look older than it actually is. A surgical facelift procedure can actually shed years from the facial skin by tightening up the muscles and skin in the face and neck. For those seeking a more temporary fix, Botox and facial fillers are also highly viable options.
Eyelid surgery, also known as blepharoplasty, is a plastic surgeon's tool at eliminating those dreaded crow's feet or sagging and bagging around the eyes. Just like the delicate tissue of the face, this skin around the eyes can lose its elasticity and further age the face, BHP notes. Fortunately, as the medical group explains, this surgical procedure can dramatically bring new life to the windows to the soul. Many people are surprised to learn that the ears and nose never stop growing, BHP notes. This is one of many reasons why many people seek out rhinoplasty procedures which can reshape or reduce these features and help breathe new life into one's facial appearance, the medical group notes. What's more, BHP notes, the surgery can be done in a remarkably subtle way, so that others might simply assume that the patient has enjoyed a long, relaxing holiday.It's probably no surprise that the number of plastic surgeries and cosmetic procedures continue to increase in the United States as they become more affordable and less stigmatized. But new data suggest Americans going under the knife are increasingly conscious of their derrieres. Male patients are also becoming a bigger part of a market once dominated by women. According to the American Society of Plastic Surgeons (ASPS), there were 15.9 million surgical and minimally invasive cosmetic procedures performed in the United States in 2015, a 2% increase since 2014. The organization published its findings in a report, which analyzed statistics from 2000 to 2015 to track trends across the $12 billion industry.
Butt implants were the fastest growing type of cosmetic surgery in 2015, with Americans undergoing 2,540 of these procedures, a 36% uptick from 2014. The number of butt lifts performed also increased by 36% to 4,767 total procedures in 2015. Another facet of the business that's changing is the patient base. Men are getting more plastic surgery and cosmetic procedures than ever, and for the first time, men accounted for more than 40% of the total 68,106 breast reduction surgeries performed in the United States, according to the report. That's a 5% increase over the previous year and a 35% growth in the procedure among men since 2000.
The X Factor
As plastic surgery is becoming more common and accepted in men, we're seeing more of them undergo procedures to tighten and tone problem areas, like the breasts," "This procedure is often done in younger men who face genetic challenges with the size and shape of their breasts, and when appropriate, surgery can make a big difference in their lives.. It is not uncommon for young women to approach a plastic surgeon and ask to be transformed for things like deep double-eyelids and a V-line face
CHINA
China will become the world's third largest cosmetic surgery market by 2019, with its market size estimated to double to 800 billion yuan from its current level due to people's growing wealth, peer pressure deriving from social media platforms, and the influence of Korean pop culture, according to analysts. In 2014, China's nascent cosmetic surgery industry was valued at 400 billion yuan, with more than 7 million people, most of whom are young women, having cosmetic surgery, according to the China Association of Plastics and Aesthetics (CAPA).
The industry group estimated China's cosmetic surgery industry to double to 800 billion by 2019, making it the third largest market in the world. So What's driving the demand in China's cosmetic surgery market?
Apart from growing wealth, increasing peer pressure through "powerful" social media platforms — such as mobile messaging app WeChat and Twitter-like service provider Weibo — are also prompting people to pursue physical beauty harder than before, analysts from HSBC noted.
"Beauty and cosmetic surgery apps, which have millions of followers, encourage people to look at their own image with an ever more critical eye," they said.
In addition, the "tremendous popularity" of Korean pop and lifestyle culture, known as Hallyu, is also changing the face of China's younger generation.
In 2014, around 60,000 of Chinese people chose to visit Korea for cosmetic surgery, up 45 per cent from a year earlier, statistics from CAPA showed.
The big sellers in the industry are simple procedures that require no anaesthetic and "can be done during the office lunch break", analysts said.
One of the most popular procedures is hyaluronic acid (HA) dermal filler, a simple non-surgical injection regarded as "safe and convenient" to help enhance facial contours, reduce wrinkles, hydrate and firm the skin.
China is a leading manufacturer of HA – which occurs naturally in the human body but diminishes as people age – and we expect HA dermal filler volume to increase more than 20 per cent annually over the next three years
The global plastic surgery market is categorized based on various surgical and non-surgical procedures. The surgical procedure segment is further sub-segmented into liposuction, nasal surgery, breast augmentation, eyelid surgery and tummy tucks surgeries. Non-surgery procedure includes photo rejuvenation and hair removal.
In terms of geographic, North America and Europe dominates the global plastic surgery market. This is due to rising aging population and high adoption rates of aesthetic products in these regions. The U.S. represents the largest market for plastic surgery followed by Canada in North America. In Europe, France, Germany, Italy, Spain and the U.K. holds major share of plastic surgery market. However, Asia is expected to show high growth rates in the next five years in global plastic surgery market due to increasing awareness about plastic surgery procedures and growing medical tourism industry. China and India are expected to be the fastest growing plastic surgery markets in Asia. In recent time, rising number of geriatric people along with growing demand for retaining young and beauty is key driver for the global plastic surgery market. In addition, technological advancement in surgeries and rising number of obese and over-weight people have also fueled the growth of global plastic surgery market. However, high cost of surgeries and stringent regulatory approvals are some of the major restraints for the global plastic surgery market. In addition, high risks of adverse effects associated with surgeries also obstruct the growth of global plastic surgery market. Increasing usage of plastic surgery biomaterials develops opportunity for the market. India is viewed as one of the most progressive countries for cosmetic surgical procedures and this trend is expected to continue in the near future. This is mainly due to the fact that cosmetic surgery has evolved beyond the traditional concept of being a 'risky or 'impractical procedure that was demanded by women who were overly conscious about their appearance. Today, people in India understand that cosmetic surgery is a highly specialized and advanced niche of plastic surgery that helps people attain happiness with fewer risks and greater affordability.
In the past, cosmetic surgeries in India were associated with celebrities and people of the affluent class. However, today, these surgeries are increasingly becoming popular and are being undertaken by the middle class. Increasingly, both men and women from the upper middle class group are opting for cosmetic procedures to look attractive in order to get lucrative jobs, best possible marriage partners and primarily get rid of any deformity that they feel impacts their self confidence and self-esteem. Moreover, traditionally, men and women in their late 20s and early 30s were the key clients of cosmetic surgeons. However, a new trend has emerged where teenagers are approaching cosmetic/ aesthetic surgeons to get some cosmetic procedure done.