Celebrity Cosmetic & Hair transplant Surgeon Dr. Manoj Khanna to throw new Discoveries of Cosmetic Innovations at Pharma Leaders 2015 Summit & Awards 2015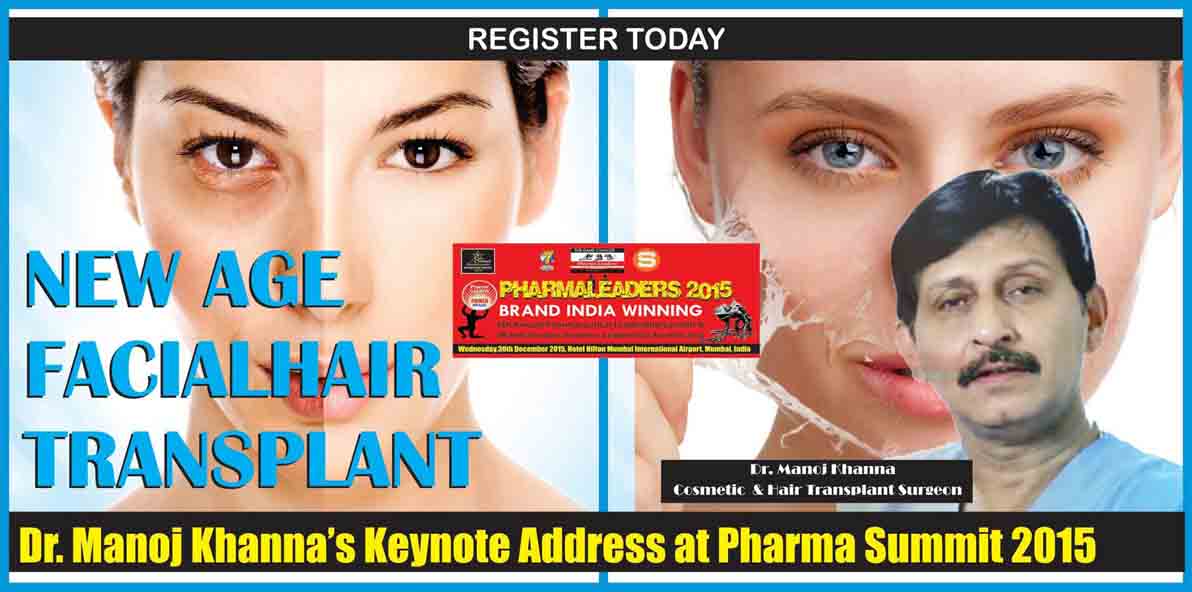 Celebrity Cosmetic & Hair transplant Surgeon Dr. Manoj Khanna to throw new Discoveries of Cosmetic Innovations at Pharma Leaders 2015 Summit & Awards 2015
India is fast emerging as the global hub of facial hair transplant which helps people improve the density of facial hair, Facial hair transplant is the solution for people who do not have proper density of hair on the body parts, where it is required. Under the facial transplant, the new hair grown is similar to the natural scalp hair. Dr. Manoj Khanna will address the latest innovations of cosmetic & hair Transplant procedures & remove the myth that are currently in practice & misleading the people at the Asia's Biggest Pharma Summit, the 8th Annual Pharmaceutical Leadership Summit & Pharma Leaders Business Leadership Awards 2015.
Dr. Manoj Khanna to throw new Discoveries of Cosmetic Innovations at Pharma Leaders 2015 pic.twitter.com/YjrgSv8gjL

— Pharmaleaders (@pharmaleader) December 7, 2015
Dr. Manoj Khanna is internationally renowned and one of the best cosmetic surgeons of the country who has successfully treated patients from over 65 countries for Hair Transplant and Cosmetic Surgery. With an extensive experience of 20 years in this domain, he has conducted over 4800 hair transplants with great finesse. Having treated celebrities, film stars and the who's who of the cricket fraternity, Dr.Khanna is a true epitome of excellence in his field of expertise and exudes exemplary professionalism and passion for his work. Dr. Khanna completed his Honors in Anatomy in First Prof MBBS exam in 1980, post which he went on to pursue his MS MCh (Plastic Surgery), DNB (Plastic Surgery), FICS (USA) and fellowship (Cosmetic Surgery USA). He is also associated with some of the famous global groups of the beautification domain. He is a member of the International Society of Aesthetic Plastic Surgeons (ISAPS), life-member and Executive member of Indian Association of Aesthetic Plastic Surgery (IAAPS), Life member of Association of Plastic Surgeons of India (APSI), life-member of Association of Surgeons of India (ASI), life-member of Indian Medical Association (IMA), and founder member of Association of Hair Restoration Surgeons of India (AHRSI).Dr. Khanna specialises in Hair Transplant and other cosmetic procedures like Liposuction, Tummy Tuck, Male Breast Reduction, Breast Augmentation/Reduction/Lift and Rhinoplasty to name a few. Providing patients with satisfactory and best-in-class results at fair prices, he has an excellent team of over 25 highly qualified cosmetic surgeons. His in-depth knowledge in the realm of cosmetic beautification and umpteen successful surgical procedures has won him innumerable accolades and awards.