In India, an estimated 20-40 percent of maternal deaths in India are due to anaemia.Pharma Leaders Brand India Winning to focus on the issue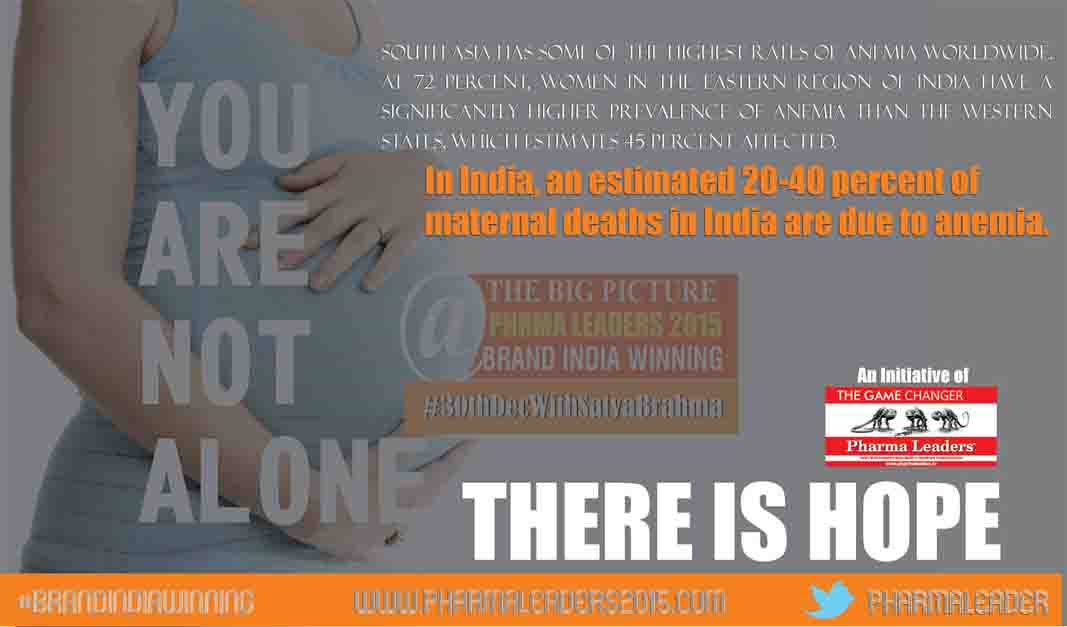 In India, an estimated 20-40 percent of maternal deaths in India are due to anemia.Globally, anaemia affects 1.62 billion people, which corresponds to 24.8% of the population. The highest prevalence is in preschool-age children (47.4%), and the lowest prevalence is in men (12.7%). However, the population group with the greatest number of individuals affected is pregnant women (41.8%) [3]. In women, anaemia may become the underlying cause of maternal mortality and perinatal mortality [4]. Nearly 50 per cent of women of reproductive age and 26 per cent of men in the age group of 15-59 years are anaemic. South Asia has some of the highest rates of anemia worldwide. At 72 percent, women in the Eastern region of India have a significantly higher prevalence of anemia than the Western states, which estimates 45 percent affected.In addition, a large number of Indian women suffer from anemia throughout the entirety of their lives. The deficiencies can start with low birth weight infant females and worsen during adolescence with the onset of menstruation. Pregnancy further worsens and taxes an already anemic body. Although a plethora of epidemiologic studies have been conducted on anemia in India, National Family Health Surveys and District Level Household and Facility Surveys have proven most useful in tracking the rate of anemia nationally.
Women and children from Eastern India are statistically shown to have higher risk factors for developing anemia. Social class, residence, age, and marital status all play indirect roles in anemia's prevalence.
Not surprisingly, high socioeconomic status lowered the risk of anemia in all demographics. Education, exposure to mass media, and consumption of milk, milk products, fruits and fish were other protective factors.Statistics also show that low-income urban women and adolescent married women had the highest chances of being anemic.In practical terms, low-income households suffer due to a lack of available resources, such as access to high-quality foods or medicines.
Culturally, there is also an inherent attitude towards providing for the males in the family first. This leads to girls and women being given leftovers or food less nutritional in value, especially if resources are limited in a family or community.According to the World Health Organization (WHO), if the community prevalence of anemia is greater than 40 percent, it is considered a high magnitude issue. Although both international and national development campaigns have sought to decrease the anemia burden in India, the real issue is the nutritional status of women throughout their lifespan.
The correlation of anemia and other nutritional deficiencies in this case seems extremely high. My mother—despite being educated as a dietician, from a higher socio-economic class, and someone who consumed a lot of milk and milk products until recently—has been anemic for most of her life. She was a little over a 100 pounds when she gave birth to a healthy, female baby, though she had to make a conscious effort to boost her appetite during her pregnancy. She has spent the majority of her adult life in the United States and not in India, and has remained anemic, on and off, despite how well she eats and maintains her body. It seems to be a childhood deficit that she has not been able to overcome despite her concerted efforts.Indian women in India are at a much greater risk for anemia, women everywhere are likely to be impacted by anemia throughout their lives.It is important to realize that proper nutrition is a life-long process, not a fad diet or one pill fix-all.From statistics, studies, and personal experiences with anemia, it seems clear that the overall nutritional status needs to be enhanced from the beginning of the life cycle.For example, in the current model, an anemic mother gives birth to an underweight female infant, who then becomes anemic as she grows up, and the beginning of menstruation further exacerbates the deficiency. That same anemic woman then goes through pregnancy, which further causes stress, and may lead to another infant who is anemic.It would be easier to narrow the focus of preventative measures to provide proper pre-natal care to pregnant women or to enhance the nutritional resources available to infants, as these are vital developmental stages. Maintaining an overall standard of nutrition, however, is more important and sizably more difficult throughout all stages of life.