Bollywood Diva Tina Ahuja Crowned "Emerging Actress of the year" at India Leadership Conclave 2015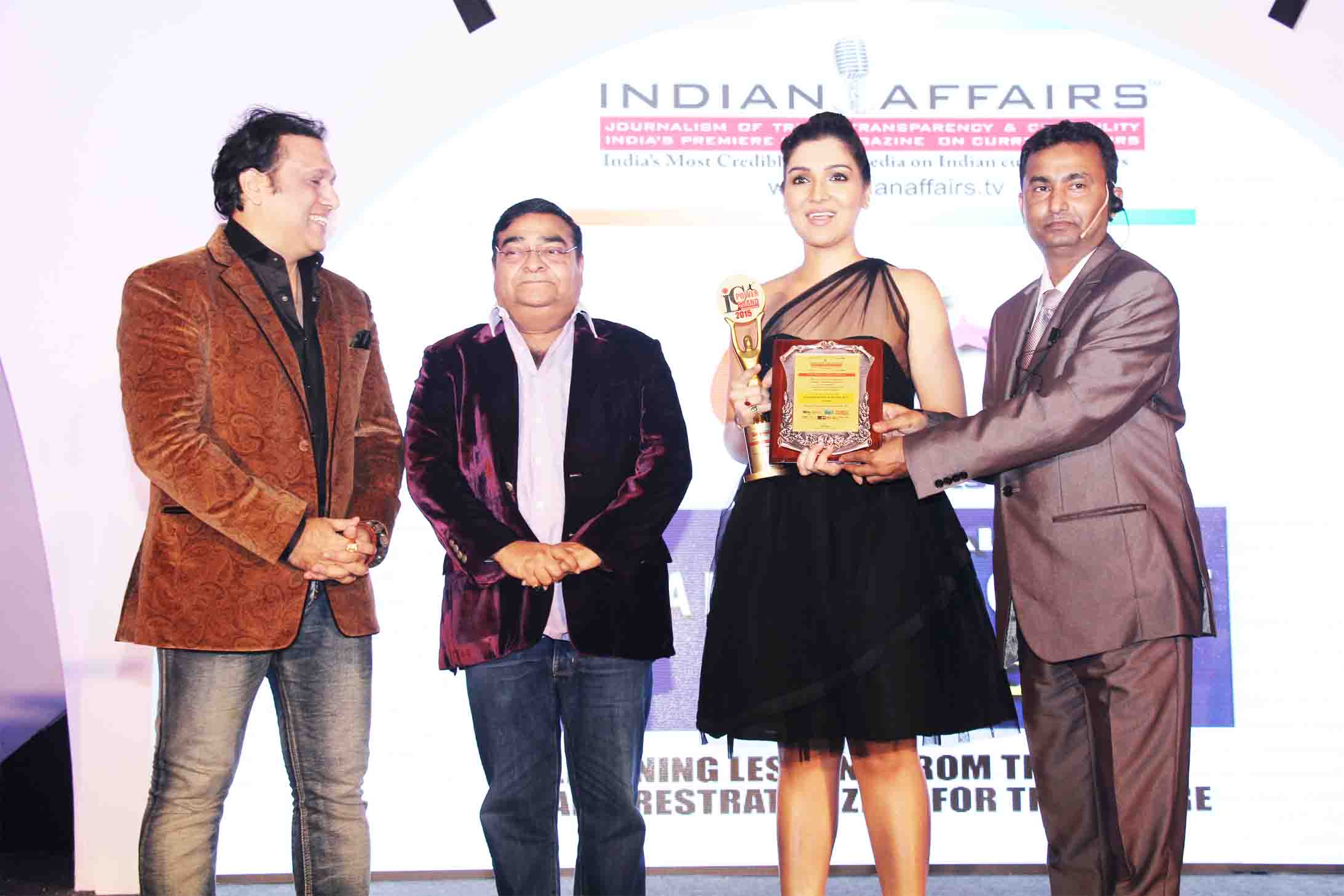 Bollywood Diva Tina Ahuja Crowned "Emerging Actress of the year" at India Leadership Conclave 2015
Tina Ahuja selected & Voted by the Network 7 Media Group Jury for creative acting prowess, Promising career &
 Tina Ahuja, the daughter of the legendary actor Govinda also known as India's first dancing sensation, had a memorable evening at the Asia's biggest Leadership Event, the 6th Annual India Leadership Conclave & Indian Affairs Business Leadership Awards 2015 organized by Indian Affairs, a Division of Network 7 Media Group, Asia's most analytical news media known for credible news delivery & opinion making.
While selecting the Award for the emerging actress to the very beautiful & vivacious actress who made her acting debut "Second Hand Husband" directed by Sumeep Kang , also featured Gippy Grewal, Dharmendra and Geeta Basra. , Satya Brahma, Chairman & Editor-In-Chief of Network 7 Media Group said
 It was a difficult task to choose amongst the dozen of of  Bollywood debuts made by the upcoming stars specially in the context of finding the real actress who could make a difference in the coming days in Bollywood, we were leaning more on acting prowess, innovations & creativity than fame & success. Tina Ahuja reflected a sense of magnetic touch that had the abilities of a super star in making in the very competitive Bollywood Industry. The idea was to pick someone who had the spark & connect to masses & the Jury felt Tina had these qualities, Said Satya in a release on how Tina Ahuja was selected for the coveted & prestigious recognition specially at the Leadership Conclave where Priyanka Chopra, Anushka Sharma, Rani Mukerjee, Shraddha Kapoor were the recipients of the honour in the past.
Satya Brahma, Chairman, India Leadership Conclave, Dr. Mukesh Batra, Chairman Dr. Batras , conferred the awards in more than 40 categories.
Commenting on the awards, Satya Brahma said "All the Award Winners at the 6th edition were screened in a detailed & meticulous methodology followed by a credible voting mechanism & a noted Jury Members. Our attempt is to recognize the shining stars & the leaders who are ignored due to the presence of the big players. Credibility in approach & transparency in selection process are key to the final winner added Satya.
The much awaited leadership conclave, the 6th Annual India Leadership Conclave 2015 witnessed the presence of top Business Leaders, Politicians, Social Activists, Women Leaders, Movie Stars & Rebel Leaders in a star-studded powerful gatherings at Hotel Sahara Star, Mumbai, India assembled to debate at title theme India @ 68 & received the prestigious Leaders. Among those who spoke at the conclave are veteran Healthcare Expert Dr. Mukesh Batra, Satya Brahma, Chairman of Network 7 Media Group, noted Cartoonist Aseem Trivedi, Datamatics Chairman Dr. Lalit Kanodia, Aam Aadmi Partry Leader Mayank Gandhi. More than 300 power packed leaders from the various spectrums of the society gathered in a single platform. Satya Brahma, Chairman of India Leadership Conclave in his opening address lambasted the slow progress of Reforms of the Modi government & stressed that instead of rolling out multiple, large & ambitious programs, the government lead by Modi must concentrate on fewer reforms & speedy implementation. "India has complex issues & the task of building the nation in paper are rosy, ambitious & commendable but india is not prepared for the implementation of multiple reforms under the Make in India Campaign due to the policy paralysis of the previous UPA Government marked with scams pushing the nation backward, the issue of implementation is key & not announcement of reforms!"