Will Indian Economy outpace world growth?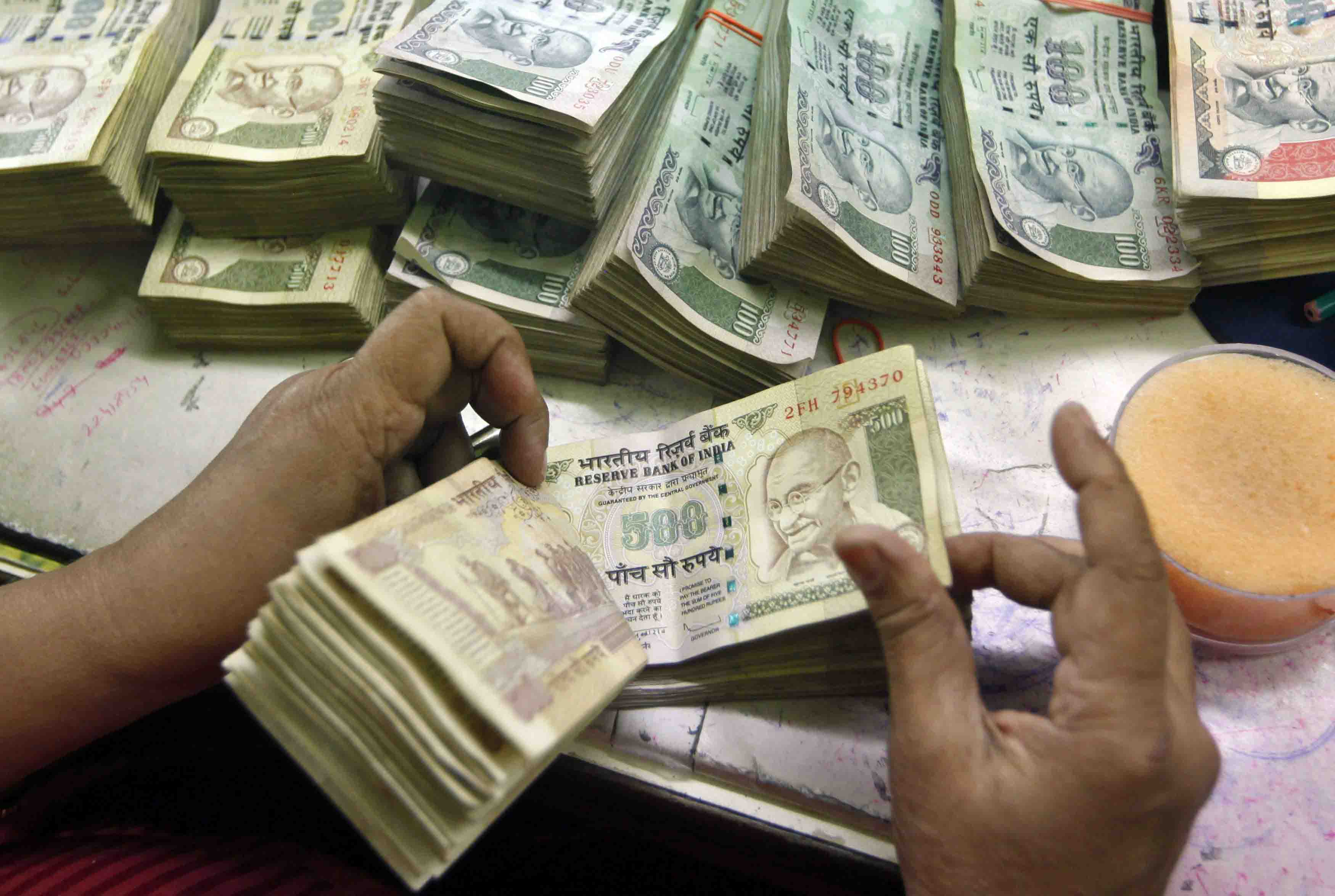 With India gearing up for rapid progress and all-round economic growth in the coming years and that too under a stable and development-oriented government, it undoubtedly seems to have the potential to emerge as the world's next miracle economy. Emphasizing that the country is set to record a 7.4% growth in fiscal 2014-15, the latest Economic Survey foresees India's GDP growth for 2015-16 hovering between 8.1% and 8.5%. It could even grow faster.The government report, compiled by Arvind Subramanian, a renowned development economist, has also asserted that the nation is on track to hit double digit growth rates in the coming years. Revealing that Asia's third largest economy was building up growth momentum, the survey has affirmed that our country is set to emerge as the world's fastest-growing big economy in the current year.
Meanwhile, former Reserve Bank of India (RBI) Governor D Subbarao has asserted India has what it takes to push past China as the region's economic powerhouse. The International Monetary Fund (IMF) and the Asian Development Bank (ADB) also seem to share similar views. While IMF foresees India emerging as the fastest-growing major economy as China's growth slackens, the ADB says India's efforts to eliminate entrenched bottlenecks will enable the country to improve its growth to 8.2% in 2015-16.Compared to China, India currently has two major advantages – a young workforce and a democratic political system. Furthermore, the election of the nation's most stable government in 30 years, easing inflation due to fall in international crude oil prices, improving public finances and other such developments augur well for India's economic lift-off.
The latest CII Business Outlook poll says business confidence of India Inc has lately improved on the back of Central government's pro-reform approach coupled with expectations of higher economic growth and moderate inflation. In another indication of macro-economic strengthening, around 72% of respondents foresee current account deficit (CAD) in FY15 to be lower than 2.5% of GDP.About 58% of respondents expect sales and new orders to surge during January-March 2015, up from 53% in the previous quarter. This expectation is rooted in optimism about the overall demand situation as confirmed by another sentiment indicator, the Consumer Confidence Index, which shows improving consumer sentiment and happier consumers.
As forecast, if India's economic growth accelerates to 8-8.5% during the current year, next year it will rack up 9-10%. Then in successive years, our economy will grow much faster. To make this happen, the latest Union Budget has promised higher investment in India's decrepit roads and railways. To attract private sector investments, our government has promised the carrot of tax cuts to global companies, while drawing out the stick of tighter rules to persuade Indian firms and business tycoons to invest at home rather than stashing their wealth abroad.Moreover, during its 10-month rule till date, the Modi government has brought a perceptive change in the system of governance by ensuring transparency and ending the reign of scams and policy paralysis, while also changing the political culture in the country.
Thus, if everything goes well as planned and predicted, then India will grow much faster than any other large country over the next decade and more. Rapid and sustained growth in a country of 1.25 billion people will be quite exciting, to put it mildly. It will do wonders on various fronts while also creating a better infrastructure and lifting hundreds of millions of people out of poverty.However, hardcore cynics are skeptical and they believe such forecasts are just not going to come true. According to them, India has a lot of catching up to do on various fronts. Innumerable reforms that will benefit business and industry would have to be enacted. Moreover, more than 110 million jobs will have to be created before 2025 for the job aspirants who will enter India's workforce over the next decade.
Taking into account the above facts, the Central government has already initiated efforts to create the stable expansionary macro- and micro-economic conditions coupled with the required framework and enterprise support policies under which business and industrial growth will flourish and ensure robust productivity. This will create lots of employment opportunities, which in turn will improve the purchasing power of those taking up new jobs.
These new workers will demand more housing, health services, transportation, financial services, entertainment, groceries, hospitality, education, etc, which in turn will generate more jobs across all segments. Thus the process of wealth generation and asset creation will commence as all of them will get paid for the work they do and also spend on goods they need. This additional spending and more demand will set in motion a virtuous cycle of economic expansion.Of late, everyone has started talking about how quickly the Modi government is moving on a host of sectors – from policy reforms to new program. And the way he is intent on making things more transparent and easier for businessmen. Moreover, several reforms that will give a major boost to business and economic growth have already begun to inch forward towards enactment.
For instance, the ambitious 'Make in India' program was announced first, promising the investors rapid response times and all help for new project clearances. Secondly, as soon as the Supreme Court came out with a decision on coal block cancellations, Modi government immediately announced that auctions would be held soon, and the ordinance that followed was widely appreciated by even those whose blocks had been cancelled.The government then unveiled labour reforms for small and medium industries, followed by self certification of documents by citizens themselves in lieu of attestations by gazetted officers. Announcements of irrigation projects, environmental clearances and others followed. It was not just an announcement a day without follow-ups. Some 40 projects that had been stuck for lack of environmental clearances got the nod. About 181 projects are now getting off the ground.
The Pradhan Mantri Gram Sinchai Yojana, which seeks to take irrigation water to each and every field in the country, has also been launched. It includes a soil health card for farmers that will have information on the status and production capability of the soil. These steps will enable farmers to transform their rain-fed fields with one crop a year to irrigated ones with three crops a year. This in turn could double India's agriculture productivity and boost farm income and food supply.Moreover, a uniform national sales tax called Goods and Services Tax would replace the confusing patchwork of state and local levies with effect from April 1, 2016. The government is currently trying its best to build a consensus on its land acquisition Bill that seeks to simplify and speed up sales of land for infrastructure, factories and so forth. Though the Bill has already been cleared by the Lok Sabha, it is now awaiting Rajya Sabha approval. In case the Ordinance lapses on April 5 due to opposition from different political parties, the NDA government plans to bring its amended Bill through a fresh Ordinance before Parliament convenes on April 20.Furthermore, with the aim of nearly doubling India's exports of goods and services to US$900 billion by 2020 from US$465.9 billion in 2013-14, the Union government has also unveiled its Foreign Trade Policy 2015-20. The five-year FTP, which lays down a roadmap for India's global trade engagement in the coming years, will provide several incentives to exporters and units in the Special Economic Zones in a bid to boost export of agriculture products and integrate Make In India and Digital India initiatives of the government.Thus, if one looks at its track-record so far, this government has been taking all the right steps. It is also undoing the many damages inflicted by the negative measures of the previous governments and taking positive steps such as deregulating diesel price, revision of natural gas prices, initiating reforms in the agriculture sector, addressing the issue of skills shortage, focusing on eliminating infrastructural bottlenecks and ensuring ease of doing business. Moreover, smart cities and other similar projects are likely to give a major fillip to housing.All the aforementioned measures will definitely help investment cycle to pick up again. Once that happens, India's GDP growth will accelerate. Since the current government is ready to change laws or tweak them if they hinder industry or prove business unfriendly, competitiveness and efficiency are bound to creep in to every sector. This augurs well for the Indian economy and offers our country its biggest opportunity to take centre-stage and become a force to reckon with. Hopefully, our country will capitalize on the many avenues that are currently opening up and manage to emerge as the next miracle economy.
Say hello to the world's next miracle economy: India. The nation has what it takes to push past China as the region's economic powerhouse, according to its former central bank governor.India's young workforce gives it an advantage over aging China and its democratic political system will save it the upheaval that probably awaits its larger rival, Duvvuri Subbarao said in an interview at a Credit Suisse conference in Hong Kong.When Subbarao's term ended in September 2013, India's currency was at a record low, growth was slowing and investors were fleeing. The election of the nation's most stable government in 30 years, improving public finances and easing inflation as oil prices fall has set the stage for an economic lift-off, he said.
"India can become a growth miracle of the 2020s," said Subbarao, who was succeeded at the Reserve Bank of India by Raghuram Rajan. "If you had the Japanese miracle, the East Asian miracle, the Chinese miracle, an Indian miracle is a tantalizing prospect and quite possible."
All the nations Subbarao mentioned rose to power and prominence due to export-driven manufacturing growth. India will have the world's largest labor force by 2030, according to projections from the United Nations, positioning it to boost factory output.China's pool of workers aged between 15 and 59 is seen shrinking by 61 million during the same period. That's about the equivalent of losing the combined working populations of the U.K. and France.Demographics will compel China to move up the value chain and raise wages, allowing India to pick up the slack, Subbarao predicted. The view is shared by David Mann, head of Asian macro research at Standard Chartered Plc, and India's Finance Minister Arun Jaitley, who said on Wednesday that interest is shifting to India due to high labor costs in China.
"We could see India take on the baton in the coming three to five years," Singapore-based Mann said in e-mailed remarks.They aren't alone in their optimism for India. The International Monetary Fund forecasts that India is poised to be the fastest-growing major economy as China slows, and the Asian Development Bank said on Tuesday that India's efforts to remove entrenched bottlenecks will boost growth to 8.2 percent in the fiscal year through March 2016.
Outpacing China
That would be faster than China, which is forecast to expand by about 7 percent in 2015 or the slowest pace since 1990. The projection is in line with the Indian government's forecast, although that's based on data that has puzzled policy makers including Rajan, who cut interest rates twice this year citing economic weakness.Rajan also said India mustn't focus on export-led growth as global demand slows. He's bulked up the nation's foreign exchange reserves, overseen the rupee's advance as one of Asia's best performers this year and convinced the government to adopt a formal inflation target.While Subbarao had dismissed inflation targeting during his time as central bank chief, he clashed with former Finance Minister Palaniappan Chidambaram, who called for the Reserve Bank to lower interest rates to support growth."He has been absolutely outstanding," Subbarao said on Wednesday, referring to Rajan's period in office so far. "I hope he will go places."
No Bragging Rights
Even if India does meet targets and fulfill its potential, surpassing China may not be the prize that some anticipate.The number of Indians living on less than $1.25 a day has dropped by 16 percent between 1994-2010 while China saw a decline of 81 percent during roughly the same period, World Bank data show.A maze of regulations and an inefficient bureaucracy is partly to blame for the lowest living standards among emerging markets, according to India's Prime Minister Narendra Modi, who swept to power last year on a pledge to create jobs. India has fallen to 142 of 189 countries on the World Bank's latest Ease of Doing Business Index, while China rose several notches to 90."We have to recognize that India growing faster than China doesn't give us bragging rights," Subbarao said. "Because in India, as some people have said, there's so much low hanging fruit that the tree is almost fallen to the ground."
Horrible toilets. Stagnant puddles buzzing with dengue-spreading mosquitoes. Collapsing masonry. Lax security. A terrorist attack. India's preparations for the 72-nation Commonwealth games, which are scheduled to open in Delhi on October 3rd, have not won favourable reviews. "Commonfilth", was one of the kinder British tabloid headlines. At best—assuming that the organisers make a last-minute dash to spruce things up—the Delhi games will be remembered as a shambles. The contrast with China's practically flawless hosting of the Olympic games in 2008 could hardly be starker. Many people will draw the wrong lesson from this.A big sporting event, some people believe, tells you something important about the nation that hosts it. Efficient countries build tip-top stadiums and make the shuttle buses run on time. That India cannot seem to do any of these things suggests that it will always be a second-rate power.Or does it? Despite the headlines, India is doing rather well. Its economy is expected to expand by 8.5% this year. It has a long way to go before it is as rich as China—the Chinese economy is four times bigger—but its growth rate could overtake China's by 2013, if not before (see article). Some economists think India will grow faster than any other large country over the next 25 years. Rapid growth in a country of 1.2 billion people is exciting, to put it mildly.
People power
There are two reasons why India will soon start to outpace China. One is demography. China's workforce will shortly start ageing; in a few years' time, it will start shrinking. That's because of its one-child policy—an oppressive measure that no Indian government would get away with. Indira Gandhi tried something similar in the 1970s, when she called a state of emergency and introduced a forced-sterilisation programme. There was an uproar of protest. Democracy was restored and coercive population policies were abandoned. India is now blessed with a young and growing workforce. Its dependency ratio—the proportion of children and old people to working-age adults—is one of the best in the world and will remain so for a generation. India's economy will benefit from this "demographic dividend", which has powered many of Asia's economic miracles.The second reason for optimism is India's much-derided democracy. The notion that democracy retards development in poor countries has gained currency in recent years. Certainly, it has its disadvantages. Elected governments bow to the demands of selfish factions and interest groups. Even the most urgent decisions are endlessly debated and delayed.China does not have this problem. When its technocrats decide to dam a river, build a road or move a village, the dam goes up, the road goes down and the village disappears. The displaced villagers may be compensated, but they are not allowed to stand in the way of progress. China's leaders make rational decisions that balance the needs of all citizens over the long term. This has led to rapid, sustained growth that has lifted hundreds of millions of people out of poverty. Small wonder that authoritarians everywhere cite China as their best excuse not to allow democracy just yet. No doubt a strong central government would have given India a less chaotic Commonwealth games, but there is more to life than badminton and rhythmic gymnastics. India's state may be weak, but its private companies are strong. Indian capitalism is driven by millions of entrepreneurs all furiously doing their own thing. Since the early 1990s, when India dismantled the "licence raj" and opened up to foreign trade, Indian business has boomed. The country now boasts legions of thriving small businesses and a fair number of world-class ones whose English-speaking bosses network confidently with the global elite. They are less dependent on state patronage than Chinese firms, and often more innovative: they have pioneered the $2,000 car, the ultra-cheap heart operation and some novel ways to make management more responsive to customers. Ideas flow easily around India, since it lacks China's culture of secrecy and censorship. That, plus China's rampant piracy, is why knowledge-based industries such as software love India but shun the Middle Kingdom.
India's individualistic brand of capitalism may also be more robust than China's state-directed sort. Chinese firms prosper under wise government, but bad rulers can cause far more damage in China than in India, because their powers are so much greater. If, God forbid, another Mao were to seize the reins, there would be no mechanism for getting rid of him.That is a problem for the future. For now, India's problems are painfully visible. The roads are atrocious. Public transport is a disgrace. Many of the country's dynamic entrepreneurs waste hours each day stuck in traffic. Their firms are hobbled by the costs of building their own infrastructure: backup generators, water-treatment plants and fleets of buses to ferry staff to work. And India's demographic dividend will not count for much if those new workers are unemployable. India's literacy rate is rising, thanks in part to a surge in cheap private schools for the poor, but it is still far behind China's.
Advantage India
The Indian government recognises the need to tackle the infrastructure crisis, and is getting better at persuading private firms to stump up the capital. But the process is slow and infected with corruption. It is hard to measure these things, but many observers think China has done a better job than India of curbing corruption, with its usual brutal methods, such as shooting people.
Given the choice between doing business in China or India, most foreign investors would probably pick China. The market is bigger, the government easier to deal with, and if your supply chain for manufactured goods does not pass through China your shareholders will demand to know why. But as the global economy becomes more knowledge-intensive, India's advantage will grow. That is something to ponder while stuck in the Delhi traffic.