Sulagna Panigrahi,Nushrat Bharucha,Kriti Kharbanda,Urvashi Rautela,Disha Patani & Ankita Shrivastav are in the race for the prestigious award title "Indian Affairs Most Promising & Emerging Actress of the Year 2018" at ILC Power Brand Awards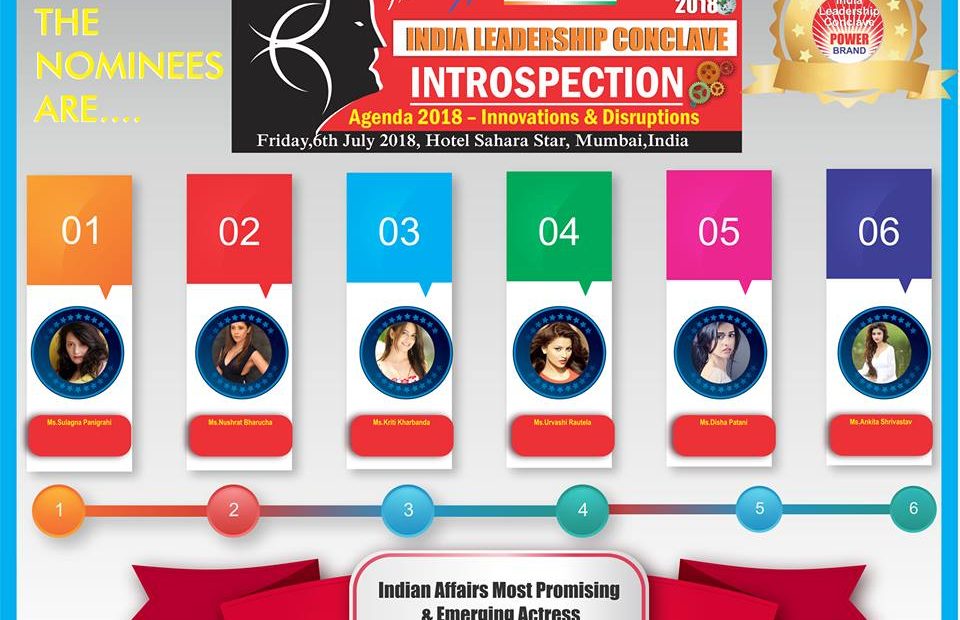 Sulagna Panigrahi,Nushrat Bharucha,Kriti Kharbanda,Urvashi Rautela,Disha Patani & Ankita Shrivastav are in the race for the prestigious award title "Indian Affairs Most Promising & Emerging Actress of the Year 2018" at ILC Power Brand Awards
This award season of Indian Affairs 2018 Annual Edition is set be one the most exciting with the set of 30 categories. The annual ILC Power Brand Awards is the only event dedicated to celebrating the very best in innovations & creative excellence, spanning multiple sectors from business, cinema, fashion, fragrance and fine jewelers to hotels, automobiles & others in india. The winners of these prestigious awards are selected by a panel of industry experts, headed up by persons of eminence in Network 7 Media Group, and are presented during a glittering ceremony held in the dream city of India in Mumbai.
This Year's top six actress screened from 75 odd names who made it to the top six finalists & nominees are as follows.
Indian Affairs Most Promising & Emerging Actress of the Year 2018
Ms.Sulagna Panigrahi
Ms.Nushrat Bharucha
Ms.Kriti Kharbanda
Ms.Urvashi Rautela
Ms.Disha Patani
Ms.Ankita Shrivastav
India Leadership Conclave is india's the Most definitive destination of leadership gatherings of the influential leaders of the country & abroad with a focus to continuously innovate & debate ideas that are complex & important. Over the last seven editions, India Leadership conclave has emerged not only as a leadership brand but also defied the age old practices of rules & traditions that are irrelevant, Indian Affairs, the flagship media brand of Network 7 Media Group   hosted the high profile 9th Annual India Leadership Conclave & Indian Affairs Business Leadership Awards, also known as ILC Power Brand in Mumbai on Friday,6th august 2018 at Hotel Sahara Star Mumbai, India in partnership with top govt agencies & apex trade bodies. More than 350 influential leaders of the country from politics to business, health to social & others attended. The conclave starts over a breakfast &  is debating on a powerful theme "Introspection" to be addressed by the business tycoons, rebel leaders, authors, social & healthcare reformers in recent times. The day long conclave culminated on the much awaited annual award ceremony in a glittering award night where who's & who's of india were present.
The most credible annual award ceremony being rated in asia as a top destination of assembly of powerful leaders from various fields. India Leadership Conclave & Awards, over the last seven years has emerged as a hub of leadership dialogue & dissemination of ideas. Maharashtra is the state partner of this year's annual event under the theme "Transformation". More than 400 thought leaders of the country will be present in full attendance like previous annual ceremonies. The last two years have seen remarkable changes in India's development paradigm. We have set forth on the Transforming India journey, with coordinated efforts by all Ministries to change the lives of citizens. India is in the spotlight globally and domestically significant steps have been taken towards social and financial inclusion to ensure holistic development of all sections of the society. The Transforming India microsite is a repository for sharing the impact of various governance initiatives with citizens in real time. This community based platform facilitates two-way communication between the Government and its people. We look forward to your continuous engagement in this journey of Transforming India.
For a detailed look of the online voting process, please visit www.indialeadershipconclave.info