Stop playing lives of people to increase market share & build competitive market edge, E-Commerce Major Snapdeal offices raided, FIR filed for selling prescription drugs!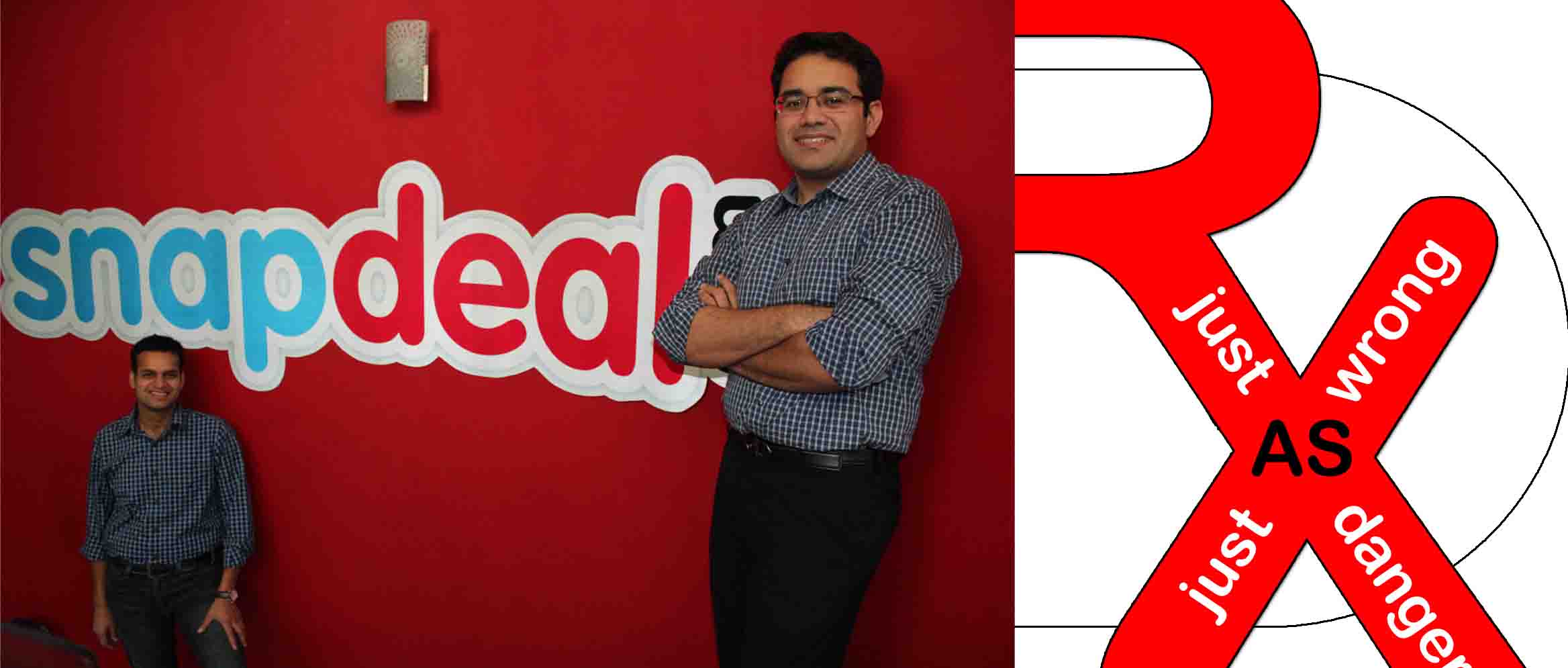 Maharashtra' Food and Drug Administration has ordered an FIR against eCommerce giant Snapdeal founders Kunal Bahl and other directors for allegedly selling prescription based drugs on the website. The FDA had asked the company to furnish documents pertaining to the distribution and sale of drugs."As per the law, license is required to sell any kind of drugs and that too on the basis of prescription of a doctor," said Harshadeep Kamble, Commissioner of Maharashtra FDA.The FDA has also asked the company to provide them with details of the companies involved, invoices generated and other crucial documents.It should be noted that the issue of alleged sale of drugs on the website came to light after the agency got a tip-off that Snapdeal was selling drugs online without the requisite license.The FDA investigating officials then hired people to pose as customers and place orders for specific drugs. The company delivered one of the orders following which; the agency raided the company's premises in Mumbai.
Stop playing lives of people to increase market share build competitive market edge, E-Commerce Major Snapdeal offices raided @SATYABRAHMA

— Indian Affairs (@Indian_Affairs) May 1, 2015
As per the law, only a licensed retailer can sell drugs, and that too on the basis of prescription of a doctor, Kamble said, adding such type of online sale of drugs is not allowed as self medication can be harmful.

Jasper Infotech Pvt Ltd, through Snapdeal.com offered for sale, exhibited for sale Vigora Tablets 100, a drug containing Sildenafil citrate, to be sold on the prescription of a registered medical practitioner – specialist endocrinologist, venerologist, psychiatrist, dermatologist,"

According to reports, at that time, the company had allegedly delisted the drugs from its website and was cooperating with the agency in their investigation. On contacting the company, the company spokersperson said that Snapdeal is an online marketplace that connects buyers and sellers to provide the widest assortment of products. "In this matter, we are assisting the FDA team in this investigation and we will continue to do so. We have already delisted the products and said sellers and also stopped payment, in addition to providing all information to the FDA team as required by them," stated the company spokesperson.

The spokesperson added, "The sellers selling online are retailers and distributors, small and medium business and large brands who typically sell offline too. Snapdeal acts as an intermediary between the seller and buyer of the products listed on the platform. Though we invest significantly in educating sellers on engaging in fair and safe sales on the platform and consequences of selling inappropriate products, at times sellers end up listing such products. Upon being notified of any such products, we delist the products and take appropriate action against such seller."
---
Here are the latest developments:
FDA commissioner Harshadeep Kamble said the FIR has been ordered against Mr Bahl and directors of the company. It is yet to be filed.
Two weeks ago, the FDA raided the premises of Jasper Infotech, the company which owns Snapdeal, at Goregoan, Mumbai, in connection with the case.
The FDA said it had received information about the alleged sale of a cough syrup, and certain tablets, both prescription drugs that can be sold only when prescribed by medical practitioner.
The FDA had issued a notice to the company asking it to delist the drugs and also furnish details of the drugs it offered for sale on the portal Snapdeal.com.
The FDA had also sought details of people, medical stores and companies involved and documents such as agreements, invoices, payment details, etc for the drugs it had listed on the site.
In a statement today, Snapdeal said they are assisting in the probe and have delisted the products.
"In this matter, we are assisting the FDA team in this investigation and we will continue to do so. We have already delisted the products and said sellers and also stopped payment, in addition to providing all information to the FDA team as required by them," the statement said.
The law mandates that only a licensed retailer can sell drugs, and that scheduled drugs must be sold only on a doctor's prescription, Mr Kamble had observed earlier, adding, "Snapdeal certainly cannot act like a doctor or pharmacist."
The FDA has said it is also checking to see if other e-retailers have sold drugs online.
Kunal Bahl, a Wharton graduate, launched Snapdeal in 2010. Snapdeal is India's second biggest e-tailer behind Flipkart.  Japan's SoftBank invested around $627 million in Snapdeal last year, the biggest investment by a single investor in the e-commerce sector in India…
---
The Possible Dangers of Buying Medicines over the Internet
The Food and Drug Administration wants to warn consumers about the possible dangers of buying medicines over the Internet. Some websites sell prescription and over-the-counter drugs that may not be safe to use and could put people's health at risk. So how can you protect yourself? FDA says that consumers should know how to recognize a legal Internet pharmacy and how to buy medicines online safely.
Don't Be Deceived
Buying prescription and over-the-counter drugs on the Internet from a company you don't know means you may not know exactly what you're getting.
There are many websites that operate legally and offer convenience, privacy, and safeguards for purchasing medicines. But there are also many "rogue websites" that offer to sell potentially dangerous drugs that have not been checked for safety or effectiveness. Though a rogue site may look professional and legitimate, it could actually be an illegal operation.
These rogue sites often sell unapproved drugs, drugs that contain the wrong active ingredient, drugs that may contain too much or too little of the active ingredient, or drugs that contain dangerous ingredients.
For example, FDA purchased and analyzed several products that were represented online as Tamiflu (oseltamivir). One of the orders, which arrived in an unmarked envelope with a postmark from India, consisted of unlabeled, white tablets. When analyzed by FDA, the tablets were found to contain talc and acetaminophen, but none of the active ingredient oseltamivir.
FDA also became aware of a number of people who placed orders over the Internet for one of the following products:
Ambien (zolpidem tartrate)
Xanax (alprazolam)
Lexapro (escitalopram oxalate)
Ativan (lorazepam)
Instead of receiving the drug they ordered, several customers received products containing what was identified as foreign versions of Haldol (haloperidol), a powerful anti-psychotic drug. As a result, these customers needed emergency medical treatment for symptoms such as difficulty in breathing, muscle spasms, and muscle stiffness—all problems that can occur with haloperidol.
Other websites sell counterfeit drugs that may look exactly like real FDA-approved medicines, but their quality and safety are unknown.
Signs of a trustworthy website
It's located in the United States.
It's licensed by the state board of pharmacy where the website is operating. A list of these boards is available at the website of the National Association of Boards of Pharmacy.
It has a licensed pharmacist available to answer your questions.
It requires a prescription for prescription medicines from your doctor or another health care professional who is licensed to prescribe medicines.
It provides contact information and allows you to talk to a person if you have problems or questions.
Another way to check on a website is to look for the National Association of Boards of Pharmacy's (NABP) Verified Internet Pharmacy Practice Sites™ Seal, also known as the VIPPS® Seal.
This seal means that the Internet pharmacy is safe to use because it has met state licensure requirements, as well as other NABP criteria. Visit the VIPPS website to find legitimate pharmacies that carry the VIPPS® seal.
Signs of an unsafe website
It sends you drugs with unknown quality or origin.
It gives you the wrong drug or another dangerous product for your illness.
It doesn't provide a way to contact the website by phone.
It offers prices that are dramatically lower than the competition.
It may offer to sell prescription drugs without a prescription—this is against the law!
It may not protect your personal information.
Know Your Medicines
Before you get any new medicine for the first time, talk to a health care professional such as your doctor or pharmacist about any special steps you need to take to fill your prescription.
Any time you get a prescription refilled
check the physical appearance of the medicine (color, texture, shape, and packaging)
check to see if it smells and tastes the same when you use it
alert your pharmacist or whoever is providing treatment to anything that is different
Be aware that some drugs sold online
are too old, too strong, or too weak
aren't FDA-approved
aren't made using safe standards
aren't safe to use with other medicines or products
aren't labeled, stored, or shipped correctly
may be counterfeit
Counterfeit Drugs
Counterfeit drugs are fake or copycat products that can be difficult to identify.
The deliberate and fraudulent practice of counterfeiting can apply to both brand name and generic products, where the identity of the source is often mislabeled in a way that suggests it is the authentic approved product.
Counterfeit drugs may
be contaminated
not help the condition or disease the medicine is intended to treat
lead to dangerous side effects
contain the wrong active ingredient
be made with the wrong amounts of ingredients
contain no active ingredients at all or contain too much of an active ingredient
be packaged in phony packaging that looks legitimate
For example, counterfeit versions of the FDA-approved weight loss drug Xenical, which contains the active ingredient orlistat, recently were obtained by three consumers from two different websites.
Laboratory analysis showed that the capsules that the consumers received contained the wrong active ingredient, sibutramine.
Sibutramine is the active ingredient of a different medicine called Meridia, a prescription drug also approved by FDA to help obese people lose weight and maintain weight loss. In addition, sibutramine is classified as a controlled substance by the Drug Enforcement Administration because of its potential for abuse and misuse.
Using medicine that contains an active ingredient that wasn't prescribed by your licensed health care provider may be harmful.
FDA continues to proactively protect consumers from counterfeit drugs. The agency is working with drug manufacturers, wholesalers, and retailers to identify and prevent counterfeit drugs. FDA also is exploring the use of modern technologies and other measures that will make it more difficult for counterfeit drugs to get mixed up with, or deliberately substituted for, safe and effective medicines.
How to Protect Yourself
Only buy from state-licensed pharmacy websites located in the U.S.
Don't buy from websites that sell prescription drugs without a prescription.
Don't buy from websites that offer to prescribe a drug for the first time without a physical exam by your doctor or by answering an online questionnaire.
Check with your state board of pharmacy or the National Association of Boards of Pharmacy to see if an online pharmacy has a valid pharmacy license and meets state quality standards.
Look for privacy and security policies that are easy to find and easy to understand.
Don't give any personal information—such as a social security number, credit card information, or medical or health history—unless you are sure the website will keep your information safe and private.
Use legitimate websites that have a licensed pharmacist to answer your question.
Make sure that the website will not sell your personal information, unless you agree.