India must respond to minimise Red-tapism & Rampant corruption to pave way for doing business in india, Scams bother Investors, so also the complex problems india has in combating corruption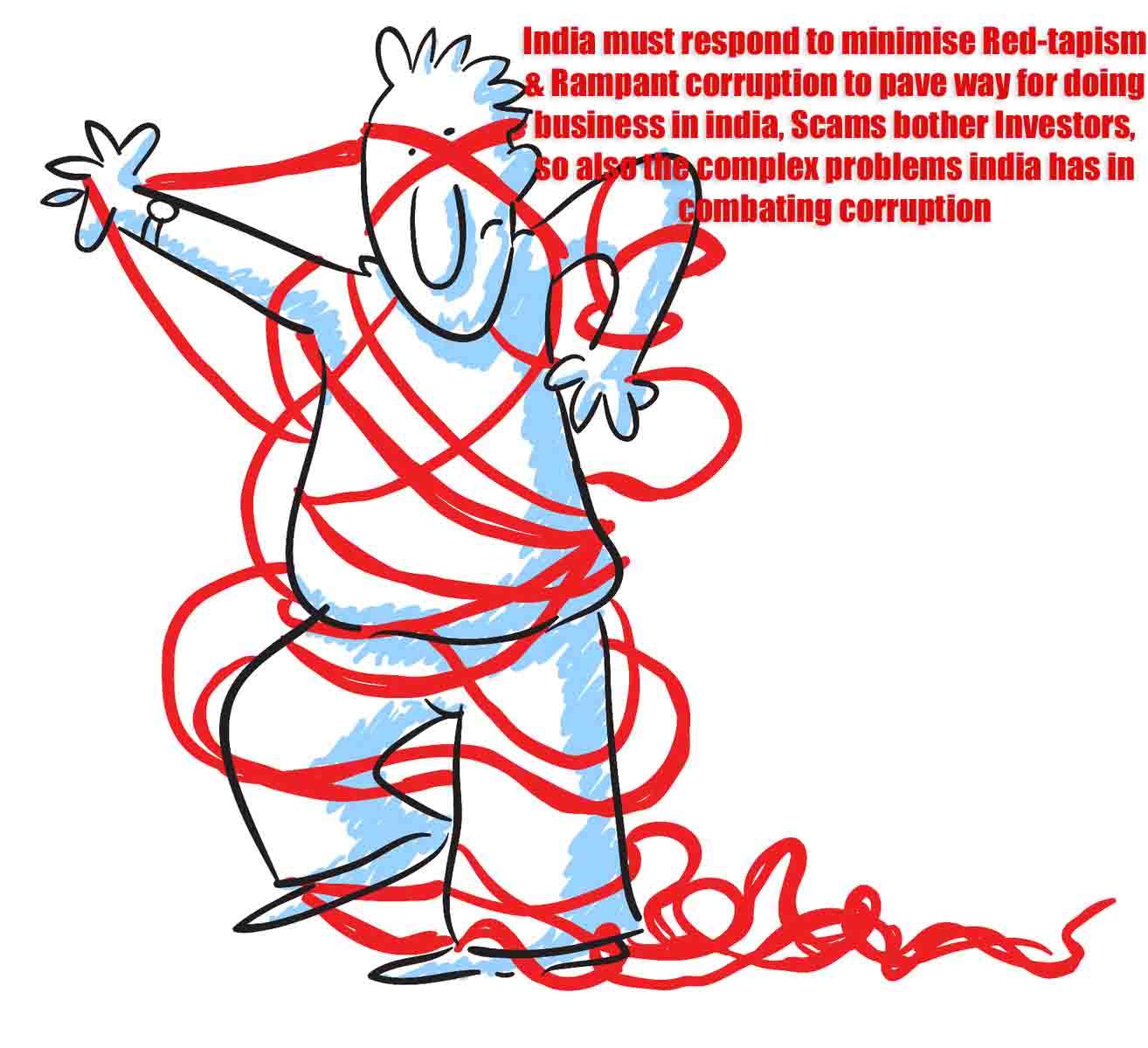 With BJP in government at the Centre and seven states, Prime Minister Narendra Modi now controls the political system in Delhi, the finance capital in Mumbai and growth impulses in major provinces. A historical opportunity therefore presents itself to Modi and the BJP leadership to qualitatively transform the tenor, idiom and objective of government-business relationship. This is needed to counter the growing public perception that vital national interests are being sacrificed by a self-serving nexus of politicians and businessmen.
The relationship between the political class and Indian business has changed over time. A number of leading industrialists were in the thick of the national movement. Nonetheless, political leadership maintained a visible distance from business houses. This distance became a virtual gulf during the socialist and centrally planned period presided over by Pandit Nehru and Indira Gandhi. This lasted until the mid-1980s.
Rajiv Gandhi, faced with opposition from the protectionist domestic industry, actively sought the cooperation of apex chambers of commerce and industry in pushing forward his liberalisation agenda. This marked the beginning of a closer and, some would argue, a cosy relationship between government and business.
Starting in mid-1980s and gathering pace after the 1991 liberalisation, an overt and visible cosy relationship has developed between government and big business both in Delhi and state capitals. Consequently, public discourse has become rife with talk of crony capitalism, policy capture by large business houses, and of active government and big business collaboration in determining India's negotiating positions.
This degenerated into an unethical nexus during 10 years of UPA's dispensation. The nexus was evident in, first, the large number of opaque allocations of natural resources to select companies, later exposed by CAG. Two, the award of PPP projects to a chosen few with hidden provisions for sweetening these deals post the award. Three, an ever-increasing incidence of political leaders or their direct and close relatives establishing large businesses themselves.
The political class, government and private business became a seamless continuum. This was further evident in large business delegations accompanying the president, prime minister and senior ministers on their foreign sojourns.
All this looks set to change under Modi. He has taken the right step of not taking business delegations with him. He has reportedly also advised his cabinet colleagues against publicly cavorting with select businessmen. Streamlining processes, rolling back inspector raj and improving the business environment will make him far more popular with genuine investors than photo-ops with them. As in Gujarat, this will benefit the entire business class, including foreign investors and not merely some select business houses.
So far big Indian business houses have enjoyed a huge competitive advantage of 'being on the inside track' and having the networks to successfully cut through the labyrinthine licensing and regulatory processes. This will hopefully change as governance becomes more transparent. SMEs will benefit enormously by the rolling back of inspector raj. Hopefully, it will also result in larger FDI and greater entry of multinational companies, attracted by the huge Indian market, declining transaction costs and greater regulatory transparency.
Large Indian companies would do well to start investing more in genuine R&D instead of spending large sums on election financing, government relations, and controlling business and industry chambers. This is done entirely to provide photo-ops and face time with political leaders and senior bureaucrats, which is seen as an integral part of staying on the inside track.
For changing the reality of crony capitalism and reversing the public perception of a self-serving political-business nexus, some measures are urgently needed. First, government should go beyond the top 100 companies, and encourage the next tier of businesses. These companies have real hunger for growth and for a larger share in global markets for which they need new technologies and joint ventures.
Second, FDI in employment generating export industries should be actively promoted. Our foreign missions can be charged with this responsibility. This will be in line with the prime minister's recent pronouncements. FDI brings with it additional financial resources, global marketing networks, and will help break entrenched domestic cartels that are ini-mical to innovation and growth. Third, as in Gujarat the government should focus on facilitating business and investment, and neither encourage nor be seen to encourage particular business houses.
Fourth, the government should encourage business chambers and industry associations to truly represent wider industry interests on the basis of in-depth and autonomous research. This will be quite different from the present situation in which chambers are used as event managers, often subsidised by taxpayers' money.
With these steps, Modi can transform the government-industry relationship and raise his government's effectiveness in promoting employment and growth.
India has been rocked by a spate of scams in the recent past. Here is an overview of some of the most infamous scams that have hit the country over the years. Tell us which of these scams has caused the most damage to the country?
2013 Chopper scam:
Better known as Choppergate, the scam involves several politicians and defence officers, who have been accused of having accepted bribes from AugustaWestland to clear a contract to supply 12 AgustaWestland AW101 helicopters to India.India had signed a contract to purchase 12 AgustaWestland AW101 helicopters in February 2010. The Rs3600 crore-scam came to light on February 12, 2013, when  Finmeccanica CEO Giuseppe Orsi was arrested by Italian authorities for  bribes allegedly paid to secure the sale of 12 helicopters to India.Finmeccanica is the parent company of AgustaWestland.Indian Defence Minister AK Antony ordered a CBI probe into the contract the very next day. Investigations revealed that three persons related to the then Air Force chief Shashi Tyagi had bended the rules in the tender to help AgustaWestland secure the contract.On March 13, 2013, the CBI had filed an FIR against the former IAF chief and 12 others for alleged cheating and criminal conspiracy in the Rs3600 crore VVIP helicopter deal.Tyagi is first chief of the Indian Air Force to be named in a corruption or criminal case by the CBI.The FIR also named brother of former Union minister Santosh Bagrodia, Satish Bagrodia and Pratap Aggarwal, Chairman and Managing Director of IDS Infotech in the case.According to Reuters, the investigation into the Italian firm Finmeccanica, which started more than a year ago, is one of a series of corruption scandals in defence dealmaking in India.
2012 Coal block allocation scam:
Dubbed as Coalgate by the media, the scam once again exposed corruption in the  higher echelons of power in the country. The scandal involves allocation of the country's coal deposits to public and private sector companies by Prime Minister Manmohan Singh.The office of Comptroller and Auditor General of India (CAG), in a draft report in March 2012, accused the government of allocating coal blocks in an arbitrary manner during the period 2004–2009, causing a loss of Rs1.86 lakh crore.
Initially the loss was pegged at over Rs10 lakh crore, but the CAG revised it to  Rs1.86 lakh crore after leaving out PSUs from its final report.The BJP lodged a complaint regarding the matter which led to a CBI probe into the scam and demanded Prime Minister Manmohan Singh's resignation.However, Singh read a statement in the Parliament on 27 August 2012 refuting the CAG's report.The scandal caused a lot of furor both inside and outside the Parliament due to its magnitude. The scandal got murkier when 43 files containing crucial information on how the coal fields were allocated to private firms went missing.Dr Manmohan Singh was in charge of the Coal Ministry between 2006 and 2009. Some of the files missing contain information on allocations of coal fields during this period.  After a lot of hammering by the Opposition, all except seven files were traced and sent to the CBI to further the probe.
2013 Railgate:
On May 3, 2013, CBI arrested  former Railway Minister Pawan Kumar Bansal's nephew, Vijay Singla, from Chandigarh for allegedly accepting a bribe of Rs90 lakh from Narayana Rao Manjunath and Sandeep Goyal on behalf of Mahesh Kumar, a member of the Indian Railway Board, in exchange of getting a higher ranking position on the Railway Board.Suspecting Bansal's involvement in the scandal, the CBI started scrutinising all recruitments, transfers, postings and promotions since October 28, 2012, the day Bansal took charge of the ministry.The probe revealed that during Bansal's term as finance minister in 2007, borrowings of Theon, a company owned by his wife and sons, from Canara Bank had gone up to Rs23 crore from Rs7 crore.As Congress higher-ups started feeling the heat of the scam, party president Sonia Gandhi  said that "the party would not "spare anybody mired in corruption".Following Gandhi's statement, Bansal was forced to step down on May 10, 2013. His nephew Singla and Mahesh Kumar were arrested after the investigating agency traced them with the help of  telephonic conversations between the two.
2011 Tatra truck scam:
Top officials of  Bharat Earth Movers Ltd (BEML), a defence public sector undertaking,  and the defence ministry siphoned off Rs750 crore in bribes and commissions over the past 14 years in the purchase of components for Tatra trucks.For over a decade, the BEML flouted defence procurement guidelines and sold Tatra trucks to the army at an inflated price.Flouting defence ministry guidelines, BEML, formerly Bharat Earth Movers Limited, a Rs3,500 crore company in which the government of India is the majority shareholder, has been buying components for the 6×6 and 8×8 trucks from a middleman in London.The defence procurement guidelines clearly mention that all purchases are to be made from the original equipment manufacturer (OEM).However, a DNA investigation revealed that  BEML, was dealing with Tatra Sipox (UK) Ltd, which is neither the OEM nor a subsidiary of the OEM.However, no action was taken by the government until former Army Chief General VK Singh, in an  interview, admitted that he was offered bribe of Rs14 crore for clearing the purchase of 600 substandard Tatra-all-terrain vehicles.
Following this revelation, Defence Minister AK Antony was forced to order a CBI probe into the scam.
2011 Antrix Devas deal:
The scam involves former ISRO chairman G Madhavan Nair and three other scientists who were responsible for a controversial contract between Antrix Corporation and Devas Multimedia Private Limited on January 28, 2005.Under the deal, Antrix was to provide 70 MHz of S-Band wavelength to Devas for broadcasting purposes. This was to be done  by ISRO leasing out S-band transponders in two satellites (GSAT6 and GSAT6A) to Devas.A CAG report revealed that the department of space (DoS) had violated rules and policies for approving the agreement. The audit report pegged the loss at Rs200,000 crore.It was revealed that the DoS got approvals to build  the satellites without disclosing the fact that they were to be utilised primarily for Devas' benefit.
2010 2G spectrum:
One of the largest financial scams in the country, the 2G scam involves undercharging by government officials to various telecom companies during the allocation of 2G licenses for cell phone subscriptions.
The telecom bandwidth tender was undervalued and offered to a preferred few on a 'First-Come-First-Served' basis instead of a transparent auction system, advised by the PMO.
While the CAG pegs the scam amount at Rs176,000 crore, the CBI estimates it at Rs30,984 crore.
Investigations revealed that 122 122 licenses were issued in 2008 during the tenure of then minister for communications & IT A Raja, who is the main accused in the case.
Raja was forced to resign on November 14. and has been booked under the Prevention of Corruption Act for accepting illegal gratification. Apart from Raja, daughter Tamil Nadu Chief Minister, M. Karunanidhi, MK Kanimozhi and late Pramod Mahajan have also been named in the case.
Other bureaucrats whose names surfaced in the case were former telecom secretary Siddhartha Behura, Secretary of the Department of Telecommunications PJ Thomas , bureaucrat Pradip Baijal and Raja's private secretary RK Chandolia.
2010 CWG:
Among all the scams in India, the CWG scam is perhaps the only one that drew the attention of media worldwide.
A day after the conclusion of the Games, the Centre announced formation of a special committee to probe allegations of corruption and mismanagement against the Organising Committee (OC).
During investigations, Organising Committee chairman Suresh Kalmadi's name surfaced as the main accused. Kalmadi has been accused of awarding a contract to install Timing, Scoring and Results (TSR) system for the 2010 CWG to Swiss Timing at inflated rates causing a loss of over Rs 90 crore to the exchequer.
The CBI has alleged that Kalmadi awarded the contract to the Swiss firm at a much higher bid despite having a cheaper option.
Apart from  Kalmadi, the CBI has named eight persons including OC former Secretary General Lalit Bhanot and former Director General VK Verma as accused.
Promoters of two construction firms, PD  Arya and A K Madan of Faridabad-based Gem International and AK Reddy of Hyderabad-based AKR Constructions are also accused in the case.
1996 Fodder scam:
Known as the mother of all scandals, though the Fodder scam had been going on for over two decades before it came to light in 1996 in the town of Chaibasa, Bihar.
The scam involved fabrication of fictitious livestock for which fodder, medicines and animal husbandry equipment was supposedly procured. The animal husbandry department is said to have embezzled Rs950 crore through the scheme.
Then chief minister of Bihar Lalu Prasad Yadav was forced to resign along with former chief minister Jagannath Mishra in the wake of the scandal.
2001 Stock market scam:
Ketan Parekh is a former stock broker from Mumbai, was involved in circular trading throughout the time period and with a variety of companies, including Global Trust Bank and Madhavpura Mercantile Co-operative Bank.
He was sent to jail with two others for swindling Rs48 crore from a unit of Canara Bank in a 1992. He has been debarred from trading in the Indian stock exchanges till 2017.
2009 Satyam Computer Services scandal:
In this biggest scam ever to hit India's IT sector, Chairman of Satyam Computers, B Ramalinga Raju, admitted to to doctoring the company's balancesheets.
In a letter written to the board, Raju admitted that he inflated the balancesheets to show Rs5,361 crore at the end of September 2008, which was over 300 crore more than the actual amount.
1992 Securities scam:
Popularly know as the Big Bull, stock broker Harshad Mehta engaged in a massive stock manipulation scheme financed by worthless bank receipts, which his firm brokered in "ready forward" transactions between banks.
Mehta was convicted by the Bombay High Court and Supreme Court of India for his part in a financial scandal valued at Rs50 billion which took place on the Bombay Stock Exchange (BSE). He was tried for 9 years, until he died in the late 2001.
1980-90s Bofors scandal:
The Bofors scam that took place between 1980s and 1990s had stirred a big controversy in the country as then Prime Minister Rajiv Gandhi and several others were accused of receiving kickbacks from the now defunct Swedish arms company Bofors AB  for claring a contract to supply India's 155 mm field howitzer.
In March 1986, a $285 million contract between the Govt of India and Swedish arms company Bofors was signed for supply of 410 155mm Howitzer field guns.
About a year later, in April 1987, Swedish Radio alleged that Bofors paid kickbacks to top Indian politicians and key defence officials to seal the deal.
The middleman associated with the scandal was Ottavio Quattrocchi, was believed to be a major player in the scam.
However, after years of legal battle, the Bofors saga came to an end on July 13, 2013 with Quattrocchi's death.
Adarsh Housing society scam:
The scam involves the Adarsh Cooperative Housing Society. The building, which was originally meant to be a six-storey structure for Kargil war heroes and war widows, was converted into a 31-storey highrise.
Built with the sole purpose of housing war veterans, the society now houses members including relatives of former Maharashtra chief minister Ashok Chavan and other politicians, military officials and bureaucrats, who got the flats at a lower price.
Former Army chiefs Generals Deepak Kapoor and NC Vij and former Navy chief Admiral Madhavendra Singh and Vice-Chief Gen Shantanu Choudhary also got flats in the society.
An inquiry by the CBI, IT department and the Enforcement Directorate unearthed Sushilkumar Shinde, Late Vilasrao Deshmukh and Ashok Chavan's involvement in the scam, leading to Chavan's resignation.
Hawala scam
The Hawala scandal or hawala scam was involved payments amounting to Rs1,000 crore allegedly received by politicians through four hawala brokers, the Jain brothers.It was alleged that terrorist outfits in Kashmir received funding by this means.
The scandal saw accusations being leveled against the country's top most political leaders including LK Advani, VC Shukla, P Shiv Shankar, Sharad Yadav, Balram Jakhar, and Madan Lal Khurana. However, no one was convicted after the hawala records were judged inadequate as main evidence in court.
2008 cash-for-votes scandal:
The scandal exposed the rampant corruption that prevails at all levels in the country. It involved the Sonia Gandhi-led UPA, which bribed MPs in order to survive a confidence vote on July 22, 2008.
The confidence vote was triggered in the Lok Sabha after the Communist Party of India (Marxist)-led Left Front withdrew support from the government, which wanted to pursue the Indo-US nuclear deal.
Bellary mining scam
The scandal in Karnataka, which led to the resignation of former chief minister BS Yeddyurappa,  involved mining barons, the Reddy brothers. It was alleged that
G Karunakara Reddy and G Janardhana Reddy had paid money to bag contracts for their mining company, Obulapuram Mining Company, in Bellary.
A report published by former Lokayukta of Karnataka, Justice Santosh Hegde said that Yeddyurappa and his family members had accepted bribes in the form of donations to  trusts from mining companies in exchange for issuing mining leases. The Karnataka government suffered a loss of Rs16,085 crore.
2013 Saradha Group chit fund scam:
The financial scam was caused by the collapse of a Ponzi scheme run by Saradha Group, a consortium of companies which was believed to be running a wide variety of collective investment schemes (popularly referred to as chit fund) West Bengal.
The group collapsed in April 2013, causing an estimated loss of Rs200–300 billion to over 1.7 million depositors. In the wake of the scandal, the Mamata Banerjee-led state government had set up an inquiry commission to investigate the collapse and also set up a fund of INR 5 billion (92 million USD) to ensure that low income investors are not bankrupted.
The Centre also launched a multi-agency probe to investigate the Saradha scam, as well as other similar Ponzi schemes.
Group chairman Sudipto Sen, in a letter to the CBI,  admitted that he had paid large sums of money to several politicians.
He also stated that Trinamool Congress leader Kunal Ghosh had forced him to enter into money-losing media ventures and blackmailed him into selling one of his channels at below market price. Sen fled after posting this letter on April 10.
He was arrested in Kashmir on April 23, 2013. His close aide Debjani Mukhopadhdhay was also arrested for her involvement in the scam.
2002-2003 Taj Corridor case:
In the scam, former Uttar Pradesh chief minister Mayawati and a minister in her government, Nasimuddin Siddiqui, were charged with corruption.
The Taj Corridor project was intended to upgrade tourist facilities near the Taj Mahal and was to be implemented during her tenure as Chief Minister.
The then BJP government at the Centre gave the Environmental Clearance required for the project near Taj Mahal. However, later on the BJP backed out and alleged that the project was not cleared by the Environment Ministry and blamed Mayawati for starting construction work near the Taj Mahal.
2013 Uttar Pradesh NRHM Scam:
Top politicians and bureaucrats are alleged to have siphoned off Rs10,000 crore from the National Rural Health Mission, a central government scheme, meant to improve health care delivery in rural areas.The CBI is investigating several former ministers of the Bahujan Samaj Party, the then ruling party, in the case.The scam came to the limelight after two Chief Medical Officers (CMO) were shot dead outside their houses. Deputy-CMO YS Sachan, who was suspected to have had a role in the murders, was arrested, but died mysteriously in prison.
Scorpene deal scam:
One of India's largest bribery scandals, in which Rs500 crore is alleged to have been paid to government decision makers by Thales, the makers of the Scorpene submarine.The amount was channeled via middlemen such as Abhishek Verma. Apart from him, the sacm also involved Ravi Shankaran, a relative of the then chief of navy staff Arun Prakash. He is also the prime accused in the Navy War Room spy scandal.
India must respond to minimise Red-tapism & Rampant corruption to pave way for doing business in india, Scams bother Investors & business.

— Indian Affairs (@Indian_Affairs) May 2, 2015