Donald Trump hails india visit highly successful & ties much stronger than ever before.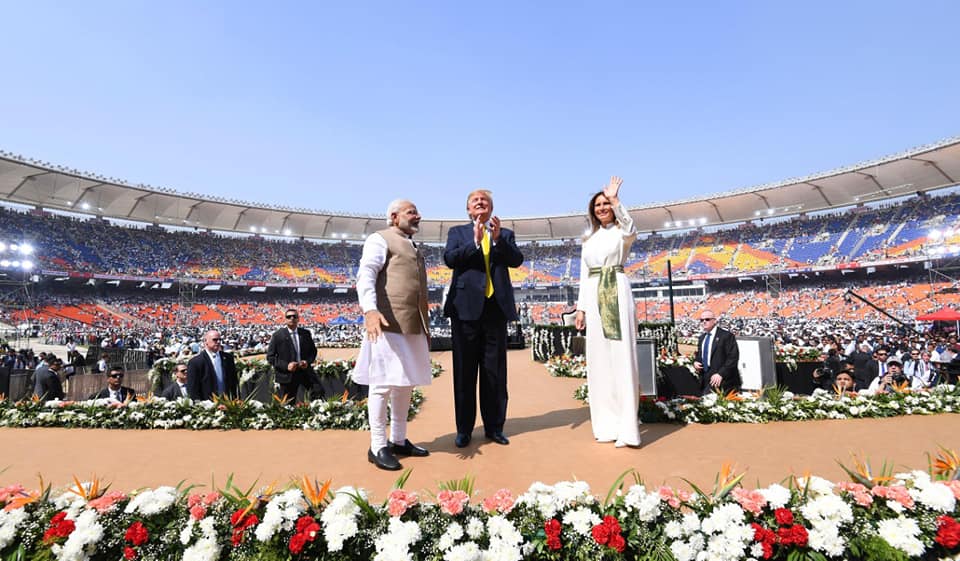 Prime Minister Narendra Modi has said US President Donald Trump's visit has been Path-breaking. President Trump and the first lady Melania Trump departed from Delhi last night after completing the nearly 36-hour-long visit to India.
Thanking Mr Trump for coming to India Prime Minister said in a series of tweets that he and Mr Trump covered great ground as far as strengthening bilateral relations are concerned. Mr Modi said, India-USA friendship benefits the people of two nations and the world.
Prime Minister said, he was delighted that Donald Trump and Melania Trump saw different aspects of Indian culture and hospitality. He said, people of India welcomed them with immense warmth.
Earlier, last night President Ram Nath Kovind hosted a state banquet at the Rashtrapati Bhavan for the last engagement of Donald Trump's two-day visit.
The forecourt of Rashtrapati Bhawan was decked up to its glory to welcome the visiting dignitary.
The banquet was attended by Vice President M Venkaiah Naidu, Prime Minister Narendra Modi, several of his ministerial colleagues, Chief Ministers of Assam, Haryana, Karnataka and Telangana.
Chief Justice of India S A Bobde, Chief of Defence Staff Bipin Rawat, Wipro founder Azim Premji, banker Kotak Mahindra, musician A R Rahman besides others also attended.
In his banquet speech President Ram Nath Kovind said that India is deeply committed to further deepen the strategic partnership with the United States. He said, Mr Trump is a valued friend of India and the 'Namaste Trump' event has brought him closer to the people of India.
The US President said, he was honoured to be in India. He said, a lot of productive work has been done in the last two days. Mr Trump said, US and India are working on major trade and military deals.
PM Modi, US Prez Trump to jointly address Namaste Trump event at Motera stadium
US President Donald Trump will arrive in Ahmedabad today on a two-day visit to India. He will be accompanied by his wife Melania, daughter Ivanka, son-in-law Jared Kushner and top brass of his administration. In Ahmedabad, he will visit Sabarmati Ashram and take part in a roadshow with Prime Minister Narendra Modi. The two leaders will jointly address over one lakh people at the Namaste Trump event at Motera cricket stadium.
A cultural extravaganza will be organised at the stadium during the Namaste Trump event. AIR correspondent reports that the US president along with PM Modi will participate in roadshows on his way from the airport to Sabarmati Ashram and from there to the newly-built Motera stadium. Huge billboards of the two leaders and replicas of historic places in Gujarat have placed along the roads where people will greet the two leaders.
Dance groups and singers from different parts of the country will perform on stages that are dotting the 22-km route of the the roadshow. Bollywood singers Kailash Kher and Parthiv Gohil, and Gujarati folk singers like Kirtidan Gadhvi, Gita Rabari, Purushottam Upadhyay and Sairam Dave will perform at the Motera cricket stadium.
US President Donald Trump on Wednesday said "India was great" and his whirlwind trip to the country was "very successful".
Trump was on his maiden official visit to India from February 24 to 25. He was accompanied by First Lady Melania and a high-powered delegation comprising senior US administration officials, including National Security Advisor Robert O'Brien.
They visited Ahmedabad, Agra and New Delhi before leaving for Washington on Tuesday.
"Just landed. India was great, trip very successful," Trump tweeted soon after he landed in the US after his 36-hour-long India visit.
As Trump left for the US, Prime Minister Narendra Modi on Tuesday night thanked the American President for coming to India and said the visit has been a "path-breaking one".
"India-USA friendship benefits the people of our nations and the world," Modi said in a series of tweets.
During the visit, India and the US on Tuesday finalised defence deals worth USD 3 billion under which 30 military helicopters will be procured from two American defence majors for Indian armed forces.
Trump landed in New Delhi on the evening of February 24 after attending the 'Namaste Trump' event in Ahmedabad and visiting the Taj Mahal in Agra.