Narendra Modi in Election mode, speaks 110 times as "Government of Poor People" to counter Rahul Gandhi's Suit-Boot-Ki Sarkar at Mathura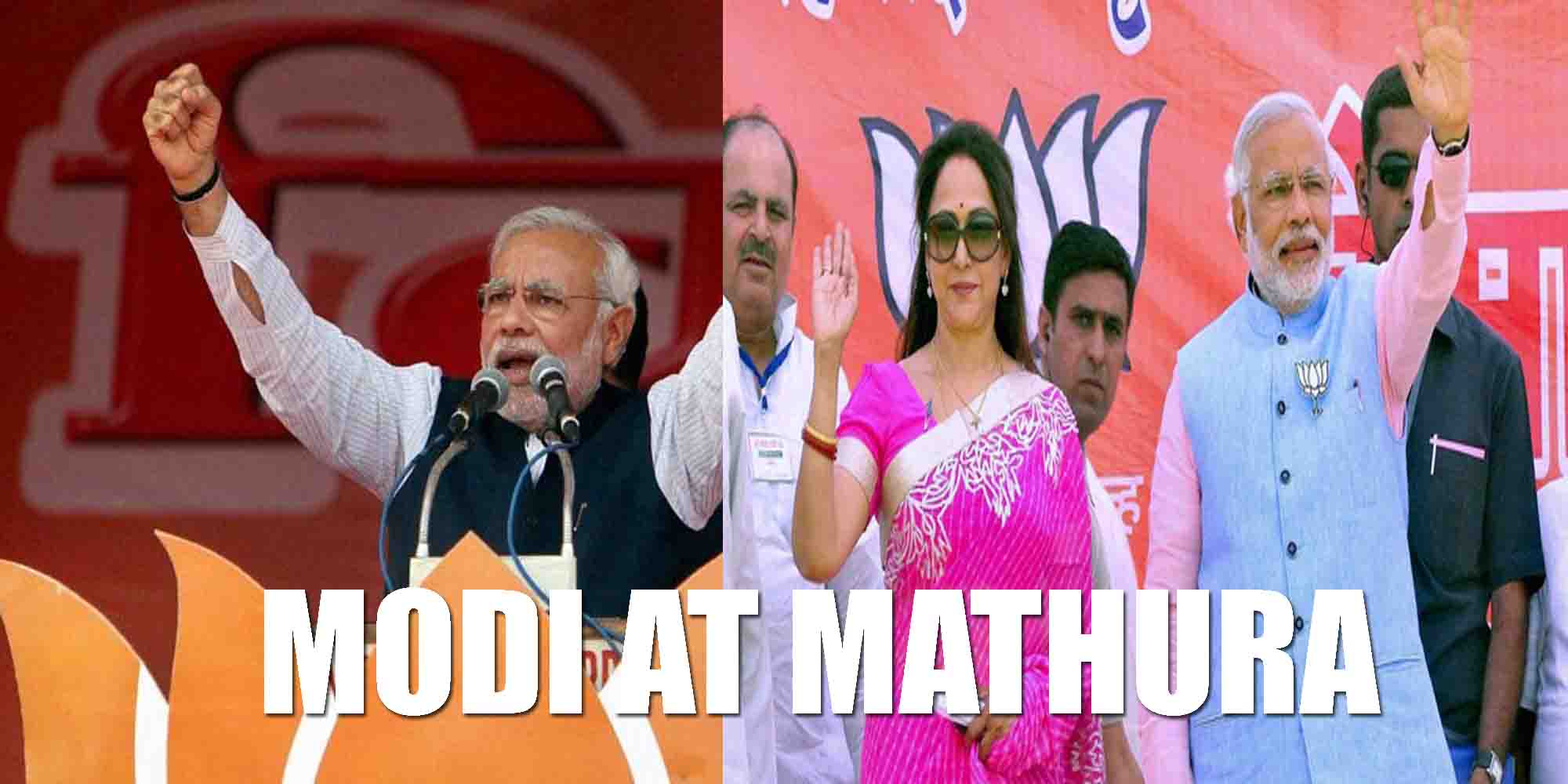 Narendra Modi in Election mode, speaks 110 times as "Government of Poor People" to counter Rahul Gandhi's Suit-Boot-Ki Sarkar at Mathura
As Narendra Modi government celebrates one year in office, industry body CII has said there has been no big-bang investments in the first year and issues on ease of doing business still need to be addressed.Stating that investments will gradually come in, CII President Sumit Mazumder termed as "ambitious" the government's aim of notching up the country's ranking to 50 on the World Bank's ease of doing business index.In an interview to PTI on the one-year performance of the Modi government, Mazumder said: "What has not shown is, no big bang investments have come on the ground. But that will take time."I would much rather see the government do a slow and gradual growth, scaled up gradually where all the structural issues are in place. How long it will take is difficult to tell, but based on my discussions with various people, we should definitely start seeing results by the third or fourth quarter of this year".The CII President said he would like to see much more action being taken on Ease of Doing Business, to cut out the red tape."I really want to see that red tape to red carpet happen. I don't just want it to be statement. So that the application forms, inspectors, rigour that one has to go through to set up an industry is addressed, along with digitization of forms so that everything is quick".
However, he said that reforms will pick up pace, going forward.Asked when the ease of doing business will percolate at the ground level, Mazumder said: "It will start percolating on the ground very soon. But it won't be a complete action until a couple of years".On big investments not coming in yet, he said: "Ease of doing business, until that is addressed, there is a great deal of reluctance because historically foreign investors have come here, tried for 3-4 years and gone back disenchanted."So, they must gain the confidence that the situation is different today. There is a time lag between the action being taken and investments coming in. I am hoping that by the third or fourth quarter we should start seeing results".Pointing out that in the last 4-5 years hardly any investments have taken place, Mazumder said it is a matter of concern even among Indian investors."Of course one reason that is given is the high interest rate, but I don't believe high interest rate is the only reason why investment hasn't come. It is because of the lack of confidence in the previous regime," he said.
---
As the Modi government completed its first year today, the stock market wealth has grown by over Rs 10 lakh crore in this period with conglomerates like Tatas, Adani, Bharti, HDFC and Sun Groups clocking huge gains.At the same time, the two Ambani groups, Vedanta, ITC and L&T groups have witnessed erosion in their respective market valuations during the first one-year period since the NDA Government, led by Prime Minister Narendra Modi, took charge on May 26, 2014.The other major corporates having added to their stock market valuations include Birlas, Mahindras, ICICI, Infosys, Wipro, HUL and HCL.Despite a sharp plunge in stock markets during the past couple of months, the stock market has managed to clock a gain of nearly 12 per cent for the first one-year period of the Modi government.The market benchmark Sensex has gained 2,950 points in this period, while the overall investor wealth — measured in terms of cumulative valuation of all listed companies — has grown by over Rs 10 lakh crore to Rs 1,02,52,461 crore.The Sensex had hit a record high over 30,000 points earlier this year, but a sharp meltdown thereafter has brought it down to 27,643 points.An analysis of market value changes in major groups shows that a large number of big corporate houses have added to their respective valuations in this period, while there are only a few exceptions that have suffered losses.Mukesh Ambani-led Reliance Industries group has seen its market valuation drop by nearly Rs 80,000 crore to Rs 290,000 crore — largely because of a nearly 20 per cent decline in the share price of flagship firm RIL.Anil Ambani-led Reliance Group has also seen its market value decline by nearly Rs 50,000 crore.Among other notable losers, Anil Agarwal-led Vedanta Group's market value has dipped by more than Rs 20,000 crore, while tobacco-to-FMCG conglomerate ITC has also suffered a similar notional loss in its valuation.L&T Group has lost nearly Rs 2,000 crore.However, the gains are much higher for many large corporate groups, Tatas being the most notable among them with a huge gain of nearly Rs 1.10 lakh crore (wherein TCS alone accounts for a gain of about Rs 85,000 crore). Tata group now commands a market valuation of nearly Rs 8.4 lakh crore.HDFC and Sun Groups have also seen their market valuation soar by more than Rs one lakh crore each, while Sunil Mittal-led Bharti Group has added over Rs 60,000 crore.Adani Group, led by Gujarati industrialist Gautam Adani, has seen its market value grow by nearly Rs 50,000 crore, despite a decline in the share value of Adani Power, as other two firms (Adani Enterprises and Adani Ports and SEZ) posted huge gains.Among other major gainers, Kumar Mangalam Birla-led Aditya Birla Group has seen its overall market value grow by about Rs 40,000 crore, despite a fall in the valuation of flagship firm Hindalco.
Besides cuts in state funding which is a critical area of concern, the BJP-led government's overall approach to education is destructive of autonomy, creativity and diversity.
Not a single Indian institution of higher learning figures in the list of top 200 universities prepared by The Times Higher Education Supplement. These dismal rankings are quite often taken as a measure of the crisis of higher education in India, notwithstanding the obvious limitations of the ranking exercise. But all is not well with Indian universities.So far, the Narendra Modi government has done very little to address the crisis in higher education. The government started on a controversial note. Prime Minister Modi's selection to head the Ministry of Human Resources and Development (HRD) raised questions about the importance of education under this dispensation as it showed scant regard for education in spite of the fact that the Sangh Parivar takes education very seriously.
Lower budgetary allocation
The government's first Budget has not delivered achhe din for higher education in the country. The Union Budget for 2015-16 has reduced funds for higher education to the tune of Rs.3,900 crore in its revised budget estimates for the financial year 2014-15. The government has revised the figure to Rs.13,000 crore, as against Rs.16,900 crore for the plan allocation. The overall education budget of the Modi government is down from Rs.82,771 crore to Rs.69,074 crore. The government has also revised allocation for the Rashtriya Uchchatar Shiksha Abhiyan (RUSA) — which is a Centrally Sponsored Scheme (CSS), launched in 2013 that aims at providing strategic funding to eligible state higher educational institutions — to Rs.397 crore as against Rs.2,200 crore in the original Budget.
Despite the trend of passing on the responsibility of education to the private sector, there is a strong case to expand state funding of education. The role of publicly funded education in the democratisation of access to higher education in India is indisputable. Treating the higher education system as a public good, the Indian state has been successful in providing access to institutions of higher learning to many groups which were hitherto not able to access it. This is only possible if there is adequate state funding and public regulation for the entire system of education from school to university. Far from expanding publicly funded universities with an increase in budgetary allocation of education, state funding is being steadily withdrawn from education in general and higher education in particular so that private capital, both Indian and foreign, can be encouraged. The privatisation of higher education is now an irreversible trend in India, where a majority of the institutions have been established by the private sector. In the midst of this trend, it is the arts and humanities that are being pushed aside.
Move towards centralisation
Besides cuts in state funding which is a critical area of concern, the Bharatiya Janata Party (BJP)-led government's overall approach to education is destructive of autonomy, creativity and diversity. The manner in which the state is intervening in higher education is causing concern among both teachers and students. There are alarming proposals to change the very nature of higher education. The most disturbing is the proposal to revive the Central Universities Act of 2009 which will require the Central universities to follow a common admission procedure and common syllabus. Even though the United Progressive Alliance (UPA) regime and the current National Democratic Alliance (NDA) government have been remarkably similar in their desire to introduce changes in the higher education system, most of the UPA's major proposals got drowned in the Parliament logjam which continued till the last session of the 15th Lok Sabha. Also, there was some debate and opposition within the UPA government which could be another reason why the government couldn't implement its agenda. This government is pursuing the reform agenda much more aggressively leaving little scope for dissent and disagreement.
The Central University (CU) Act seeks to replace the existing Central universities with one single Act which would require all universities to follow a "common" admission and "common" syllabus along with "transferable" faculty. India's higher education system, serving a large and heterogeneous population, should ideally support a diverse and decentralised system. However, the CU Act will do the opposite; it aims at centralisation and homogenisation, ignoring the specificities and uniqueness of each university. Each University's Act has a specific context and mandate, and each has developed its own pattern of knowledge production and reproduction. For example, the Delhi University Act (1922) was in response to the need to provide for the educational needs of an emerging India and incorporates a wide college network. The founding ideas of the Jawaharlal Nehru University, on the other hand are quite different from other institutions. The impulse for the Jawaharlal Nehru University (JNU) Act (1966) was to institutionalise the values and vision of "national integration, scientific temper, and humanism". These Acts have shaped their curriculum, academic ethos, teaching and research. Nullifying these Acts would be a blow against diversity and pluralism as well as to minimum autonomy without which a university cannot function and flourish. It will narrow the space for innovation and create a teaching culture where creativity and critical thinking will be curbed.
No academic logic
The Ministry of HRD's idea of "reform" is an egregious attempt to standardise higher education and research by introducing a common framework for Central universities based on the myth that uniformity will equalise quality and skills across universities. It is not at all clear that uniformity will help in upgrading new universities or the State universities, which is the ostensible aim of this exercise.
Some of the good universities such as JNU or the Ambedkar University, Delhi, are successful precisely because they value heterogeneity and variation so that creativity and innovation can thrive. Many Central universities reflect India's extraordinary diversity in their faculty composition and student body, and, above all, they offer very different syllabi and courses which has helped in their academic growth. The CU Act advocates transfer of faculty between universities. Nowhere in the world are "transfers" between institutions practised. There is no academic logic here. Besides, transfers increase the possibility of vindictiveness as it can be used as a punitive measure to silence dissent and independent voices.
It is evident that the government is eager to control and direct universities both at the Central and State level. For this the HRD Minister is pushing the idea of a Choice-Based Credit System (CBCS), first mooted by her predecessor, Murli Manohar Joshi, during the term of NDA-I, which would have a serious impact on the country's education system. The University Grants Commission (UGC) has formulated the new proposals for a CBCS, a common entrance test and a central ranking system ignoring the assurances given by the government and the UGC that it would hold wide consultations with all stakeholders before undertaking any subsequent educational reforms. A common syllabus is neither desirable nor feasible as this will diminish creativity and lower standards in order to conform to common standards. We need a university system that encourages diversity and decentralisation, not one that centralises authority or enforces lifeless uniformity.
Even as the government has set the ball rolling for unveiling a new national education policy, there is no public debate or consultation at the behest of the Ministry. Major changes are being initiated and pushed without actually consulting the professionals involved even though there is growing unease and opposition within Central universities to the new education policy and the manner in which the exercise is being done. So far, the MHRD's consultations have been limited to posting information and asking people to post comments and filling out a mygov.in survey on higher education on the Ministry's website. The public was given a period of one month for responding to the "major reforms". Would any half-serious attempt at reform of the education system treat such momentous changes in this manner?
The right-wing agenda
The common syllabi system has to be seen in the context of attempts to saffronise the education sector, particularly at a time when the Rashtriya Swayamsevak Sangh (RSS) is spearheading the agenda of the present government. Even though the right-wing intelligentsia has failed to provide a credible account of India's past and present, the Sangh Parivar is nevertheless busy reorganising educational syllabi to reflect a view of history and society gleaned from mythology and religious texts, in effect giving an open licence to fantasise history. Within weeks of forming the government, the RSS held a meeting with the HRD Minister where it pushed for introduction of moral education, correcting distorted history being taught in educational institutions and giving proper representation to forgotten idols of the country from the pre- and post-Independence era. RSS ideologue, Dinanath Batra, unambiguously stated this: Political change has taken place, now there should be total revamp of education. Activists of Batra's Shiksha Bachao Andolan are reportedly firming up recommendations for a revamp of education; they believe the formal education system needs some key changes: a greater emphasis on Indian knowledge traditions and a blending of the material and the spiritual in the curriculum.
Leaders of the BJP are on record announcing their intention to change the textbooks and syllabus. The larger Sangh agenda includes substantive changes both in the content of education and appointments in prestigious institutions. Their aim is to influence their working to reflect the Sangh's agenda by making key appointments of persons belonging to the RSS and affiliate bodies in various institutions like the Indian Council of Historical Research (ICHR), the Indian Council of Social Science Research (ICSSR), the Nehru Memorial Museum & Library (NMML), the Indian Institutes of Technology, the Central universities, the National Council of Educational Research and Training (NCERT) and the State Council of Educational Research and Training (SCERT), etc, who will loyally execute such changes. Many of them will exercise influence on public policy, and will do so not due to their scholarship, but due to their proximity to the RSS.
K.B. Dessai,
Margao, Goa
A choice-based credit system has some merit over the present system of education in universities. By having a common entrance test and common syllabus, there can be uniform standards. For instance, a post graduate from a Central university will be better equipped than a graduate from a State university in terms of skill-sets and techniques. When transfers are implemented at least once in five years, professors who are well-paid would be able to concentrate on their quality of teaching and research rather than be involved in politics and diversionary activities, so much a part of university campuses now.
T. Prabhakara Reddy,
Secunderabad
While Prof. Hasan may be right in expressing her dismay over the inability of even a single Indian university to gain a global ranking she must not forget that this sorry state of affairs has not emerged suddenly. The coma-like condition of Indian universities is the result of decades of neglect of education sector by successive governments which have only fuelled this by starving them of funds and allowing the reckless expansion of private institutes. The net result of such a faulty policy is the shocking commercialisation of higher education in which the managements are allowed to run educational institutions in order to profiteer. Teachers are treated like bonded labour, students are mere consumers, and higher education is now a saleable commodity. In such an atmosphere, how can we expect quality universities?
Rameeza A. Rasheed,
Chennai
The efforts to revive the Central Universities Act 2009 will certainly invite frequent and punitive inter-university transfers and ruin the very fabric of uniqueness of our institutions of higher learning. Can one even think of such a faculty shift in Harvard, Yale or Princeton? In fact, State universities like the Punjab Technical University seem to have taken the lead in this. The need of the hour is to encourage and incentivise diversity if India wants to figure in the international research map.
Mohan Singh,
Amritsar
India lacks an integrated, coherent, national education policy encompassing primary to tertiary education, research and development and innovation especially as all these are inextricably linked. If the BJP-led government wants its 'Skill India', 'Digital India' and 'Make in India' plans to fructify, it must think of creating a skilled and well-educated labour force that is able to grasp the nuances of innovation and research. India has an invaluable asset of vibrant youth. All it needs now is effective and prudent resource mobilisation.
Rahul Singh,
Jaunpur, Uttar Pradesh
Rote-learning, the absence of applied knowledge, a failure to revamp the curriculum, unqualified teachers, poor infrastructural facilities, a meagre allocation of funds for research programmes, next to nil recognition for teachers who produce credible results, a mushrooming growth of innumerable institutions, an absence of periodical checks on all institutions and a lack of interaction with leading and global academic universities are some of the age-old ills that have held back the growth of higher education in India.
E.S. Chandrasekaran,
Chennai
It is ironical that while a developed nation like Germany recently facilitated its well-off demography with free access to higher education, the poor and just above BPL class who constitute more than 50 per cent of our population continue to be excluded from mainstream quality education in India The more our policymakers deny the existence of this problem, the more problematic it will become to tackle the problems of dealing with an ill-equipped and unskilled workforce. The state should not only increase the budgetary allocation for education by at least two times from what it is now but should also establish a number of institutes of excellence such as the IITs in order to integrate India with the global knowledge economy of the future.
Meghana Patil,
Bengaluru
If not even a single Indian academic institution figures in the list of top 200 global universities then the fault lies with the educational policies and politics adopted so far. One cannot blame Prime Minister Narenda Modi for this. The fact is that we have got a Prime Minister and a government with a vision and definite policy after a long time. Therefore, allow them to implement their ideas. We will have ample time to discuss the pros and cons of their academic experiment, say after five or 10 years.
Wachaspati Pandey,
Ghaziabad, Uttar Pradesh
It is unfortunate that the writer seems to build a perception that all ills of the education system are due to the Modi government. It is true that Indian universities lag behind in global rankings, but who is responsible for this? If the new education policy appears to be "homogeneous" and "uniform" to some , it would be pertinent to ask what their so-called "plural", "diverse" and "creative" approaches have done so far to raise the standards of our universities. The article appears to be the outcome of left-wing intellectuals angry with the so-called "right wing agenda" of the government. It also seems to be more out of a Leftist fear of losing ideological status quo in the universities and now manifesting itself as frustration and subsequent pontification.
Indian Prime Minister Narendra Modi's first year in office has received mixed reviews but a look at some basic indicators suggests the economy is in much better shape now than when he took over.In the fiscal year ended March 31, the fundamentals of Asia's third-largest economy demonstrated a reserved but undeniable resurgence from the previous year when the Congress party, led by Prime Minister Manmohan Singh was in power.During Modi's first year, India's gross domestic product expansion rate zoomed past China's, inflation rates plummeted, interest rates fell, industrial production and car sales rebounded and stocks soared. The rupee was relatively stable and foreign direct investment rose.India's foreign exchange reserves expanded and its fiscal deficit as a percentage of GDP fell. Meanwhile India was able to raise a record amount of money by selling large stakes in government-controlled companies.Of the 12 indicators we looked at, only exports did worse under Mr. Modi than they had under Mr. Singh."There was a general environment of gloom," before the BJP took over in New Delhi, Finance Minister Arun Jaitley said last week. "This has been replaced by an environment of optimism."
Indeed an 11 to 1 score might suggest the acche din are here again but sceptics will be quick to point out that Modi can't take credit for much of the success and in terms of economic policy he has disappointed many of his biggest fans.India's big jump in GDP growth is in part due to a major revamping of how the number is calculated. The latest numbers show India's GDP surpassing that of China some time last year but they also suggest that the roaring recovery started under the Congress-led government.The two national budgets Mr. Modi's government has unveiled have both lacked the "big bang" reforms many optimists had been expecting. Some of the smaller reforms the BJP has tried to pass have been blocked in Parliament, despite the party's majority in the lower house.The surprise win over the country's stubbornly high inflation rate  has little to do with Mr. Modi's policies and can be largely attributed to the plunge in the price of oil and other commodities.Still, a lack of any new corruption scandal and a host of ambitious initiatives aimed at doing everything from cleaning the streets and building toilets to opening bank accounts for the poor and bolstering manufacturing, has many hoping the progress made in Mr. Modi's first year is just an appetizer for the main course that is yet to come."With expectations skyrocketing, the task was never going to be easy," Macquarie Capital Securities India  said in a report last week. "We believe it is premature to give up hope on the India story."