India@70, Patient First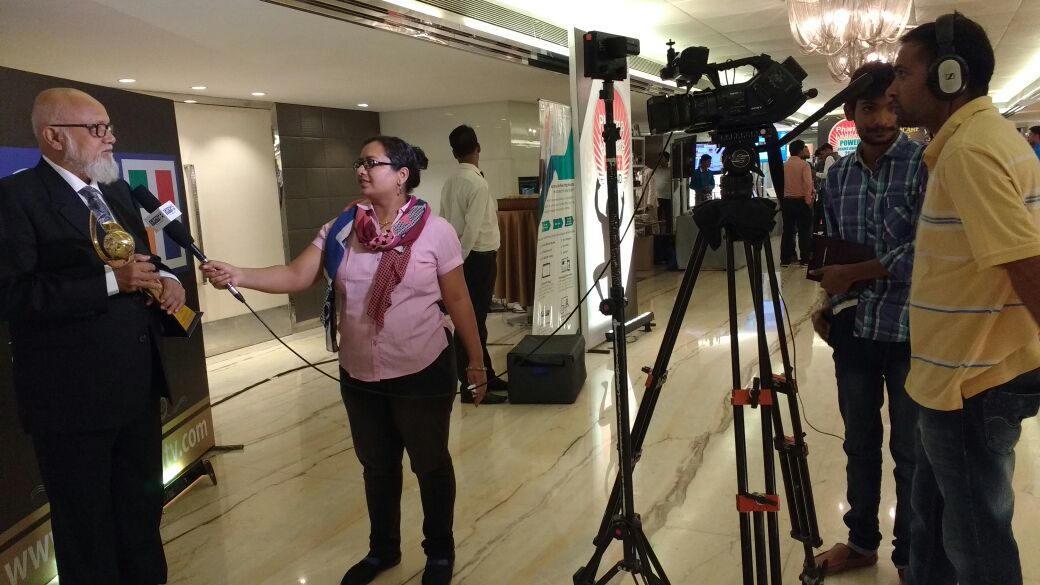 Satya Brahma*
Pharma Leaders Power Brand Awards (PLPBA®) is a top-ranked, global healthcare Awards meant to motivate & recognize the shining stars of the Indian pharma & healthcare industry developed by Network 7 Research's team & its team of talented researchers with a robust selection process & backed by years of Pharma Leaders experience in pioneering healthcare innovations through creative communications, initiatives & leadership drive. By leveraging the power of leadership to drive results that matter most to Pharma Leaders Professionals, Pharma Leaders Awards have been trendsetters transforming individual leaders, teams, organizations and pharma scientists. Pharma Leaders's array of cutting-edge healthcare solutions is steeped in extensive research and experience gained from working with hundreds of thousands of leaders at all levels in different aspects of the fields. Ranked among the asia's top healthcare leadership destination where talent meets with healthcare innovators, Pharma Leaders Power Brand Awards are much sought after healthcare titles & pharmaceutical healthcare recognitions in the industry today where conventional norms are sometimes broken to give space to budding & unsung healthcare leaders who are often seen performing tirelessly much from the media glare, under tough & challenging conditions making our country proud.
plsbrand
The Theme of the 9th Annual Pharmaceutical Leadership Summit & Pharma Leaders Business Leadership Awards is aptly coined as "India @ 70, Patient First". In an era where companies buy companies, brands acquired, collaborations formed, revenue models restructured, leadership strategies revamped, the brand india pharma is on the sound footing today. However, Healthcare innovations is meaningless unless access & affordability to the end user, the patients!.Patient First is thus the real need of the hour where 70% of Indian population can get medicines at affordable price & insurance is covered to all & not just to few pockets.
In a country where more than 70 % of 1.3 billion populations are still deprived of basic healthcare access & insurance, I wonder how we can discuss our competence as a global power-house despite our defense capabilities. Healthcare too is a very important wing like defence & there should be no second opinion on our priorities!.It is therefore high time the present dispensation at the central government should discuss comprehensive healthcare reforms by calling a special session of parliament to pass the bill that India has been waiting over the 70 long years encompassing total healthcare benefits through a universal healthcare policy where affordable medicine & quality healthcare & access are practiced in letter & spirit rather than mere sloganeering. Prime Minister Narendra Modi has been voted to power in india after a historic elections in 2014, must understand that people of india voted decisively to the present establishment because of Modi's reputation in good governance & people centric policy, in no way people will listen to the promises that can be made in achieving the healthcare mission in the pretext of 2019 general election if voted to power again. Since 1947, successive ruling parties at the centre have failed to deliver the long standing demands of "healthcare for all". Indeed, we are at the threshold of historic moments in present day where we can shape the future, empower the patients through healthcare access & help building a healthy nation.
Against the backdrop of the present state of healthcare affairs of the country, Pharma Leaders, asia's most analytical new media in healthcare communication is hosting a historic summit currently in its 9th successful annual editions under the theme "Pharma Leaders 2016 : India @70, Patient First" on Friday at Hotel Sahara Star, Mumbai, the 23rd December 2016. More than 400 leading stalwarts from the industry, veteran healthcare leaders, politicians, policy makers, social activists, change agents will gather to witness the most awaited event of the calendar year. Nation's top leaders & companies will also be conferred with pharma leaders power brand annual awards in more than 30 specialized categories. Leading lights of the pharmaceutical & healthcare sector will address at the summit on topics of tremendous significance followed by heated panel discussions.
Access to healthcare is influenced by whether or not people have health insurance, whether there is an adequate health provider workforce, how long the travel distances are to reach providers, and whether there are language and cultural barriers, and cost. Barriers in any of these areas can result in lack of access, delays in care, higher costs and worst outcomes. People without health insurance or without a primary care provider are less likely to get timely treatment, screening and preventive services, and are more likely to use costly emergency services resulting in higher emergency room and higher hospitalization rates which are witnessed in our country. This must be addressed with utmost seriousness. Intellectual property rights (IPR), better patent protection, locking horns on compulsory licensing, stricter trademark enforcement, pricing, regulatory frameworks are some of the areas that India must give a serious look. It is high time we must set our house in order before lecturing outside. Easing of business is a big area that will open up global players to look at India safely.
Indian pharmaceutical companies have ranked low at 19th position with an overall score of 59 out of 100 among in the Biopharmaceutical Competitiveness & Investment (BCI) Survey. The total spending on healthcare is around 4 per cent of GDP, while the government spends less than 1 per cent of the GDP on health, even as the insurance penetration remains low (industry experts talk of less than 20 per cent of the population having health insurance).
The World Health Organization also ranks India at a low 112 level out of 190 countries on healthcare systems. Even countries with demographics similar to India, seem to have fared better. India, despite being armed with a domestic industry that has made the country a leading producer of low-cost medicines in the world, is still having to grapple with issues of seasonal diseases like Swine Flu, which resulted in numerous deaths despite an available vaccine. The same was the case with some region-specific and cyclic ailments like Chikungunya and Dengue. Experts point out that India still lacks a stockpiling policy on vaccines (in cases where they are available) and in cases where the vaccines are not available, there is lack of government push or a national focus to aid research in select therapy areas.
The growth story of the Indian pharma industry into a mammoth industry is an impressive one marked with numerous important turning points. These turning points have typically stemmed from the issues faced by the industry and have changed the nature and mechanisms of the industry, and to a large extent have sculpted the trends in the industry.
The Indian pharmaceutical industry is expected to be among the top 3 pharma markets by 2020 on back of incremental growth, says an Indian Brand Equity Foundation (IBEF) report. The industry, currently valued at near USD 26 billion, is expected to reach USD 55 billion in the next four years. From 2005-16, the industry has seen a growth of 17.90 percent CAGR. The market size has expanded to USD 36.7 billion in 2016 from USD 6 billion in 2005. India is the largest provider of generic drugs and has 20 percent global exports in terms of volume. In recent times, the pharmaceutical sector had taken a beating over the stricter regulatory actions from the United States Food & Drug Association (USFDA) and a subdued global economy. Indian pharma companies will need to adapt their business models, organizations and processes to align with new environments. Leading global companies have adopted multiple levers to tap emerging markets for product portfolios, sourcing or innovation. However their ability to understand these markets and drive revenue growth will be the key determinant of the extent of their investment and participation.
India has skilled workforce and competent technical expertise in comparison to its peers. India has the second largest number of USFDA approved manufacturing plant outside the US and has 2,633 FDA approved drugs. While growth opportunities for the sector are expected to rise, growing competition and entrance of new players will be a major challenge for pharmaceutical companies. The bigger players with strong financial hold too will be a concern. Also, tightening of norms by regulatory bodies will be a challenge as the companies will have to improve and remain at the top-of-their-game.
A ban on hundreds of medicines in India because of concerns over health risks has brought into focus the drastic need for tighter regulation of the country's multibillion dollar pharmaceutical industry. India's government recently has put a ban on the manufacture and sale of more than 340 fixed dose combination drugs, resulting in major pharmaceutical firms including Pfizer's Indian division and Cipla taking the case to Delhi high court in an effort to overthrow the move.
India's pharmaceutical industry is ranked third globally in terms of volume and 13th in value, accounting for 10 per cent of production worldwide, according to a report by The Associated Chambers of Commerce of India (Assocham) and Yes Bank. It says that the industry in India is expected to grow to $48 billion by the financial year between April 2017 to March 2018, expanding at a compound annual growth rate of 14 per cent.India's pharmaceutical industry thrives on the production of cheap generic drugs, which are copies of off-patent medicines. India is estimated to produce one-fifth of generic medicines globally.
I see India as a potential pharmacy hub for the world, "If we make a few changes in the way we do and manage business in India, we can accelerate that process & confident that India could have a $300bn pharmaceutical industry by 2030.Technology will be a game changer in the manner in which healthcare services will be delivered in India. The private sector will be the major driving force behind technology adoption in the Indian healthcare segment. To optimize costs and effectively manage operations, IT solutions will become an integral part of process management, patient care and the management information system (MIS) in hospitals. With the health insurance sector poised for major growth in the coming decade, increasing demand from this sector for more efficient systems for storage and retrieval of information will put pressure on hospitals and other healthcare providers to imbibe technology to modernize existing infrastructure.
The author is Chairman & Editor-In-Chief of Pharma Leaders.