India votes Renowned Jewellery Brand Nakshatra as "India's Most Admired & Valuable Jewellery Brand 2015" at India Leadership Conclave 2015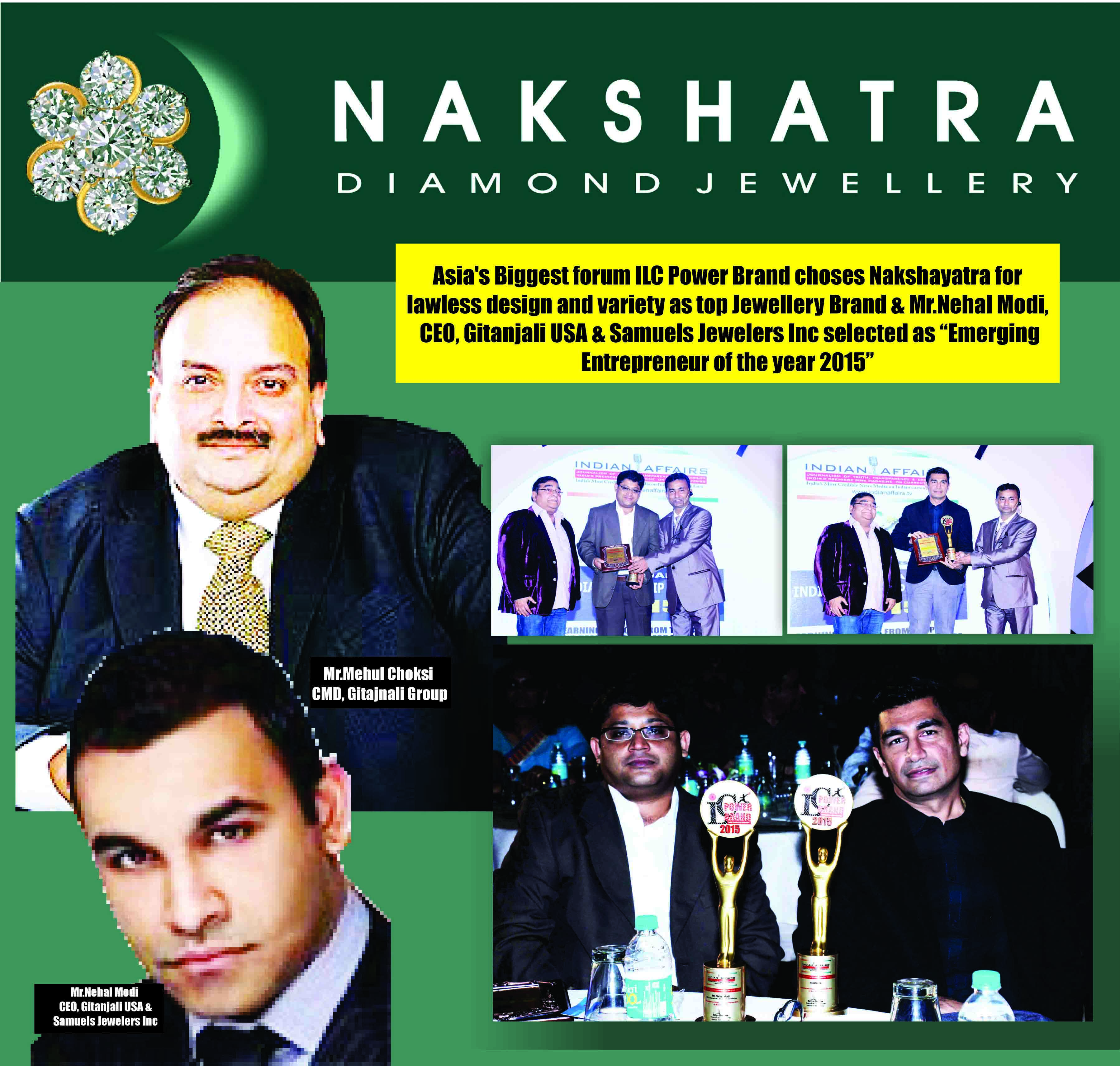 India votes Renowned Jewellery Brand Nakshatra as  "India's Most Admired & Valuable  Jewellery Brand 2015" at India Leadership Conclave 2015
Asia's Biggest forum ILC Power Brand choses Nakshayatra for lawless design and variety as top Jewellery Brand & Mr.Nehal Modi, CEO, Gitanjali USA & Samuels Jewelers Inc selected as "Emerging Entrepreneur of the year 2015"
The much awaited & most prestigious Leadership Conclave in Asia, the 6th Annual India Leadership Conclave & Indian Affairs Business Leadership Awards 2015 organised by the Media House Network 7 Media Group, Asia's most credible news media in mainstream news successfully concluded its 6th edition of its Annual Event marked by the presence of over 300 power packed top business leaders, social entrepreneurs, Politicians, diplomats, Movie stars & leaders from the various fields who had assembled to debate on a theme India@58. The leading faces of the finance, business, social& medical profession had  assembled  to address the Conclave on a wide gamut of subjects hitherto addressed lightly by the authorities. The Ceremony awarded top 40 leaders & Companies for their remarkable performances in their respective fields. Nakshayatra, Which was in open voting category for the title as  India's Most Admired & Valuable  Jewellery Brand 2015 was voted & declared Winner in a Nation wide voting poll conducted by the research wing Network 7 Research. The nomination was chosen by a selection committee review process that included representatives from government, the industry & the general public at large. The Six Finalists for the top recognition where Nakshayatra was facing were Tanishq, , Joyalukkas jewellery, Kalyan Jewellers, Amrapali Jewelry, Malabar Gold & Diamond.
Why will you purchase the collection of Nakshayatra?
Which brand that you own currently & are you satisfied?
Are you looking at buying an alternative Diamonds in near future, if yes, which Brand??
Royal Look, Price, Image, Brand & security – What drive you all to buy?
Which Brand will you gift to your Son/Daughter in his lifetime?
The questioners were posed to 1254 persons in tier 1 & Tier 2 Cities.
Speaking on the final selection, Mr. Satya Brahma, Chairman & Editor-In-Chief of Network 7 Media Group said "The real focus & areas that the juries looked at in 2015 Entries are innovations, initiatives & impact. While Network 7 Media Group looked at the big players & their continued dominance in the market, the selection equally looked at exemplary works by players  who remained aloof from the public glare due to the presence of big brands, Indian Affairs took every care to include the names that deserve top appreciations & selection to final nominations. Network 7 Media group is known for break the rules & stereotype conventions in traditional methodology as it often ignores the faceless Indians but the face of innovations", Said Satya Brahma.
While Nakshayatra was voted as "India's Most Admired & Valuable  Jewellery Brand 2015", It came as a double bonanza to the Gitanjali Group as Mr. Nehal Modi was selected & voted as Emerging Entrepreneur of the year 2015. Neeraj is the man behind taking the brand to the global level.
Mr. Nehal Modi, was elected for the award based on his dynamism, business acumen and global outlook. Based in US, he is on board of Gitanjali, managing retail and distribution businesses of Gitanjali Group. He has been instrumental in the growth of company business in USA since 2001. On behalf of Mr.Modi, Mr.Mehul Choksi, Chairman and MD, Gitajnali Group, added, "Nehal Modi is driven by his constant desire for innovation and redefining the standards for quality and creativity in jewellery design to establish India as the design destination hub. I would like to congratulate him on behalf of the group and am confident that he will achieve many such accolades."
NAKSHATRA – one of India's most reputed diamond jewellery brands, grew to heights within three years of its launch in 2000. Today, it is a leading diamond jewellery brand, patronized by women of fashion in almost all segments of society. Mr. Saurav Bhattacharya, Group President – Gitanjali Gems Ltd, said, "Nakshatra is truly a global brand of Indian origin that has defined standards of high quality, trust and design and set benchmarks in the diamond jewellery retail in India and we are proud to receive this recognition"

---
Rated by Experts & widely acclaimed by thought leaders, India Leadership Conclave Annual Affair is just not a leadership forum, it symbolizes the hopes & aspirations of the billion people reflected by the speakers at the forum. "ILC POWER BRANDS" has  been rated in Asia as the most credible & coveted Awards developed by Network 7 Media Group consisting of eminent jury members of the different verticals of the society &  is conferred to the Individuals & Companies in its annual meet at the Indian affairs India Leadership Conclave & Indian Affairs Business Leadership Awards. since the institutionalization of the Business Leadership Awards in 2010, India Leadership Conclave & Indian Affairs Business Leadership Awards has been India's most awaited & asia's most respected set of Awards conferred to Companies & Individuals who have made their mark through their remarkable performances despite all odds & has made India Proud!. Since the last five successful years, the platform has recognized, felicitated more than 300 fortune 500 Companies & towering captains & Leaders of the Country