Decoding China's interest & compulsions in protecting JeM chief Masood Azhar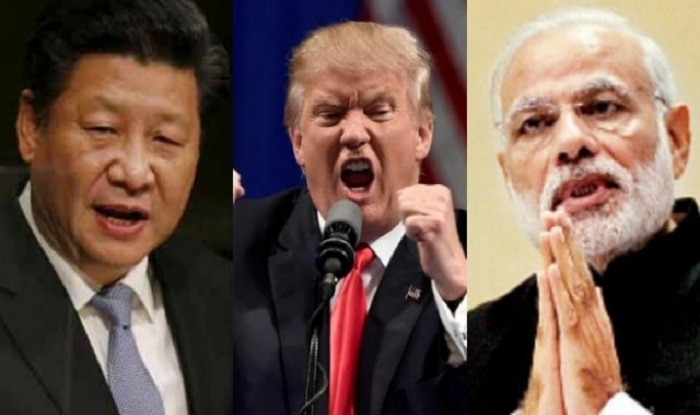 On the occasion of 70th years of the establishment of the people's republic of China, it is crucial to analyze the future direction of Chinese communist party under the new era of Chinese president Xi Jinping in the thirteenth national people's congress this week. The salient feature of the new era signifies how the defence spending rate is outpacing economic growth rate despite ongoing tariff war and rising debts in belt and road projects in many parts of the world.
As it is evidently clear that Xi is in no mood for the political reform, therefore, one can say it is ultimately going to lead an ideological competition between CCP led one-party authoritarian political system and US-led existing liberal democratic world order. By all accounts, Xi is determined to build a world-class military at earliest with the help of central military commission (CMC) the military wing of CCP, whose sole purpose is to maintain and safeguards the one-party authoritarian political regime at any cost. In this background, with utmost importance, one needs to analyse the implications of defence spending and economic growth rates for the year 2019 and beyond.
Recently, Chinese prime minister Li Keqiang announced a projected GDP growth rate between 6 per cent and 6.5 per cent in 2019. He himself, earlier on many counts, mentioned about the manipulation in provided provincial economic data and statistics. For this, perhaps Chinese meritocratic system needs to blamed, where the success of provincial leaders to climb the CCP hierarchy ladder is primarily based on the economic performance of their province.
Thanks to Brookings Institution which, in the latest report, mentions that in 2017, the actual Chinese GDP was $10.77 trillion with the GDP growth rate at 4.9 per cent. For the same period, however, the overstated official figures on Chinese GDP was $12.24 trillion with the GDP growth rate of 6.9 per cent.
Capital Economics one of the leading independent economic research companies recently reveals that China's actual growth rate will be around 4.5 per cent for the period of 2018-2022; 2.8 per cent for the period of 2023-2030; and 1.5 per cent in the following decade. Against this backdrop of economic slowdown, Xi is pursuing assertive foreign-economic relations to reclaim centre stage in world politics as soon as possible. In this regard, the two latest incidents are worth mentioning to understand the Chinese foreign policy decision-making process through a realist lens in world politics.
Sino-Indian relations have been always bumpy but, it seems that both countries somehow learned to safeguard their national interests in multilateral forums like the United Nations, World Trade Organisation, BRICS, and Shanghai Cooperation Organisation. Xi as a chairman of China Military Commission (CMC), however, is more assertive in using China-Pakistan military nexus as a balancer to contain the rise of India and for establishing Chinese supremacy in the Indo-pacific region. India is the first country, who refused to join Xi's signature project belt and road initiative (BRI) on the ground of sovereignty concern in China-Pakistan economic corridor (CPEC) and non-transparency in dual-use (i.e. civil and military) infrastructure investments. In response to Indian refusal to BRI, Xi tried to teach a lesson in 73 days long Doklam-standoff but failed to isolate India diplomatically in South Asia. One might argue that China is using terrorism as a foreign policy tool in the United Nations Security Council (UNSC) to maximise their bloody geopolitical gains at the cost of the brutal killing of innocent civilians e.g. China has put a technical hold fourth time on Pakistan-based UN-designated terrorist organisation Jaish-e-Mohammed (JeM) chief Masood Azhar.
Although Xi talked highly about China-Russia strategic partnership, all is not going well in their bilateral relationships too. In the latest event Gou Yunhai, a diplomat in the Chinese embassy of Moscow sent an offensive letter to the editorial team of Russian daily Nezavisimaya Gazeta (NG). In an attempt to curb the freedom of the Russian press, the diplomat demanded the immediate deletion of the published article regarding slowdown of the Chinese economy. Moreover, he also threatened the author of the published piece, Anastasia Bashkatova, deputy head of the economics department of the NG to put on the blacklist as a punishment to deny the possibility of any future visit to China. In the published piece, she mentioned about possible forthcoming social instability due to rising unemployment and poor health-care facilities in China. Then after referred the period between 2010 and 2018, where Chinese growth rate slowed down from 10.6 per cent to 6.6 per cent in accordance with the international monetary funds. Furthermore, she highlighted that due to fall in exports, unavailability of cheap labour and low domestic demands, this declining economic trend is going to be continued in the coming years too.
Another takeaway is regarding the official Chinese narrative of slowing defence spending when indigenous military modernisation programme is in full swing. In 2019, China's defence spending allocation is $177.5 billion in comparison with $750 billion for the US military budget. However, many believe that the actual Chinese defence spending is three times more than the official statistics for any given year. International Institute for Strategic Studies 2018 report mentions that China has launched more indigenous submarines, warships, amphibious vessels and auxiliaries than the total number of ships currently serving in the navies of Germany, India, Spain, Taiwan and the United Kingdom. An introduction of indigenous twin-engine J-20 stealth fighter has added another feather in the Chinese air power cap.
Russian daily Nezavisimaya Gazeta (NG) quoted Wang Yongfei, a Chinese defence expert that despite the ongoing tariff war, China will not cut the budget for 04 aircraft carriers scheduled to be deployed by 2022. Many Russian strategic experts believe that with such large-scale financing, almost four times Russian defence spending, China has the potential to overtake Russia in terms of military power in the foreseeable future.
In the backdrop of growing assertive Chinese military prowess, hence one must ask some important questions: To what extent, one party authoritarian political system, a closed Han-dominated political bureau standing committee of the CCP, have leverage in political interference of the liberal democratic world order? Does the Chinese Communist Party, pursuing a geo-economic policy of debt trap diplomacy, really need a military alliance to reclaim a centre-stage in world politics? Is China destined to fall into Thucydides' trap? What will be the status of freedom of navigation in south china sea, east china sea, Taiwan Strait and Indo-pacific region in the future? Indeed, interesting times are ahead however, at this critical moment one can conclude the uncertainty in world politics is the major takeaway for the liberal democratic world order.