Celebrity & Noted Fashion Designer Archana Kochhar set to receive the prestigious Fashion Designer of the Decade at 6th Annual India Leadership Conclave & Indian Affairs Business Leadership Awards 2015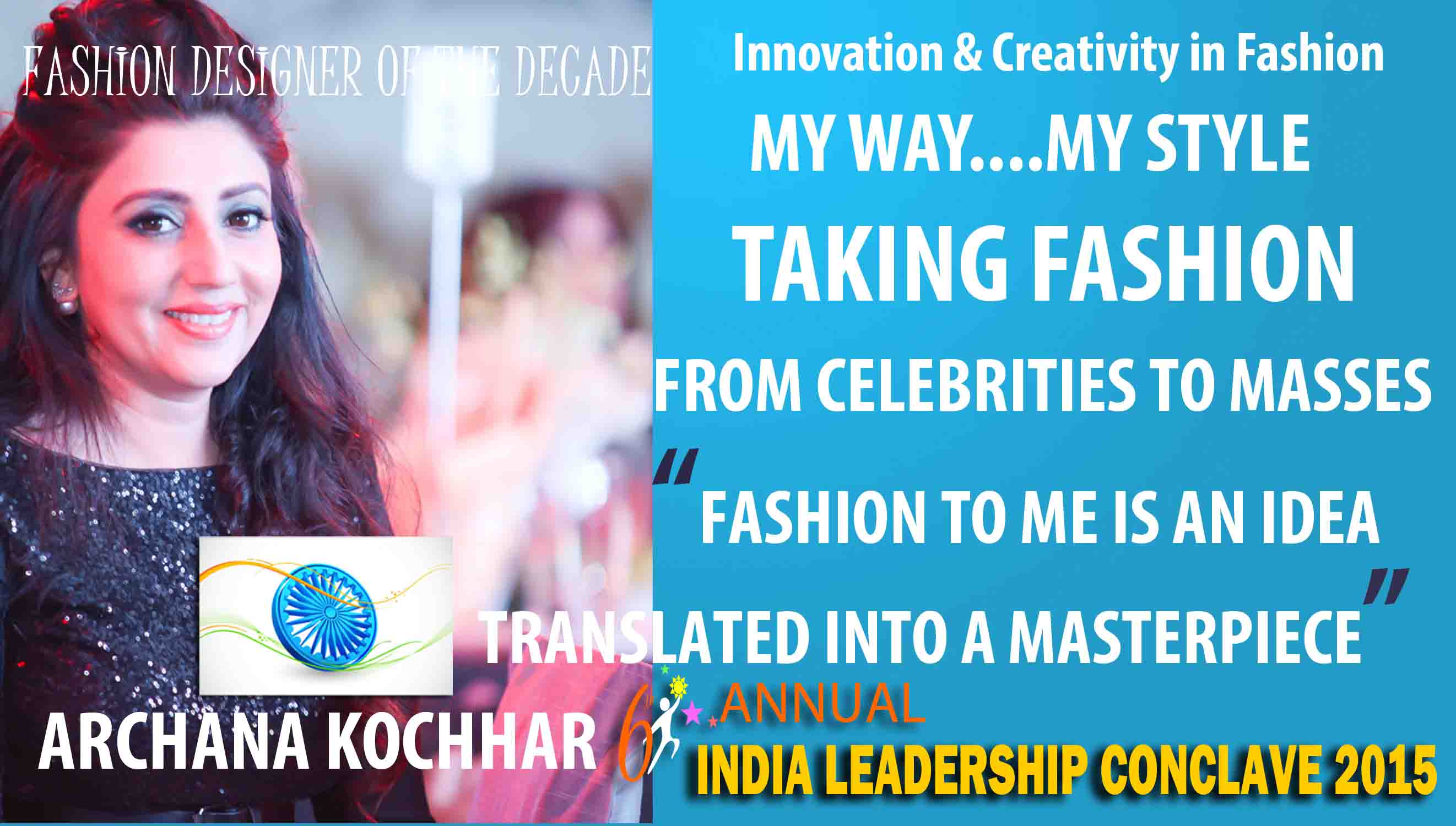 Celebrity & Noted Fashion Designer Archana Kochhar set to receive the prestigious Fashion Designer of the Decade at 6th Annual India Leadership Conclave & Indian Affairs Business Leadership Awards 2015
Archana Kochhar voted by the Network 7 Media Group Jury for revolutionary "Make in india" design.  
Network 7 Media Group, the flagship media outfit of Indian Affairs, asia's most analytical news media is hosting the high profile leadership event in its sixth consecutive years, 6th Annual India Leadership Conclave & Indian Affairs Business Leadership Awards 2015 in Mumbai, India on 21st Augst 2015 under the aptly theme "India @ 58 : learning lessons from the past and restrategizing for the future" where the who's & who's of nations thought leaders will be attending the event. Widely perceived as a top destination for exchange of ideas & a central debating point, the conclave will be addressed by top political leaders, social activists, rebel leaders, musicians, artists & leading business tycoons. Co-inciding with the Seminar, The Annual Event will be hosting its Business Leadership Awards also known as ILC POWER BRANDS  to the top achievers of the country in various categories.
Archana Kochhar, World renowned Fashion Designer known for making innovative outfits to some of the biggest names of the country will be receiving the top recognition at the Conclave. The previous recipients of the Awards include the iconic Manish Malhotra in 2013, stylish Babita Malkani in 2014 & the very beautiful & talented Komal Sood for India's Most Promising Fashion Designer title. Announcing the name of Archana Kochhar, Satya Brahma, Chairman & Editor-In-Chief of Network 7 Media Group said " Archana is one of the shining star of indian fashion designing & has carved a niche for herself by bringing top costumes making sure that end result justifies her creative efforts. Archana has indeed made  notable contribution to the Indian fashion design & continued innovation to bring excellence in the industry, We the jury members at the India Leadership Conclave & Indian Affairs Business Leadership Awards 2015 are absolutely convinced of Archana's  remarkable accomplishments as a trendsetter with a global outlook  specially the areas for her quest for the Designer emanating  from the strong adherence to quality innovations that stimulate the creation of innovative garments that reflect the cultures of india & world, expose promising and accomplished Designer like her" . Satya added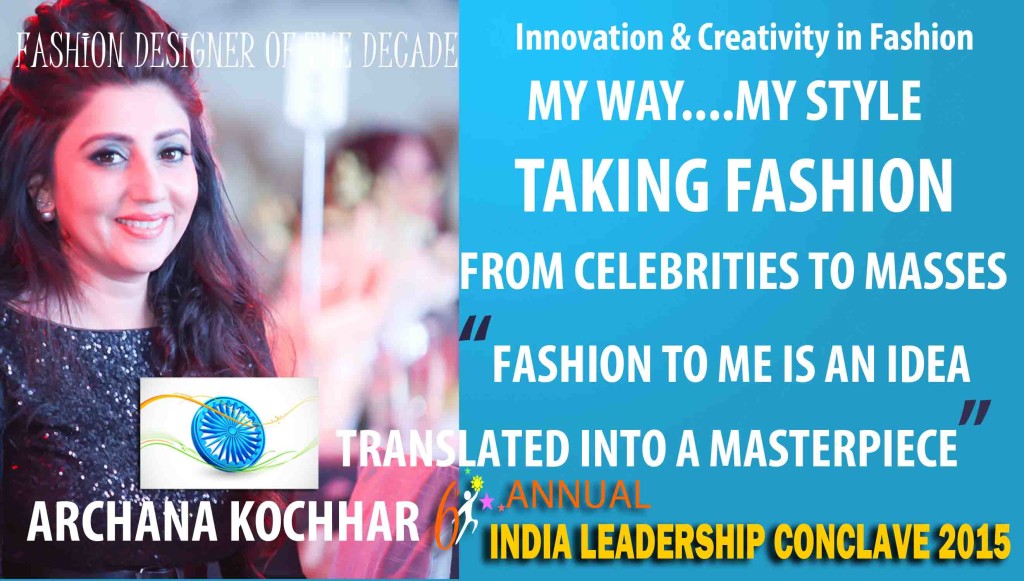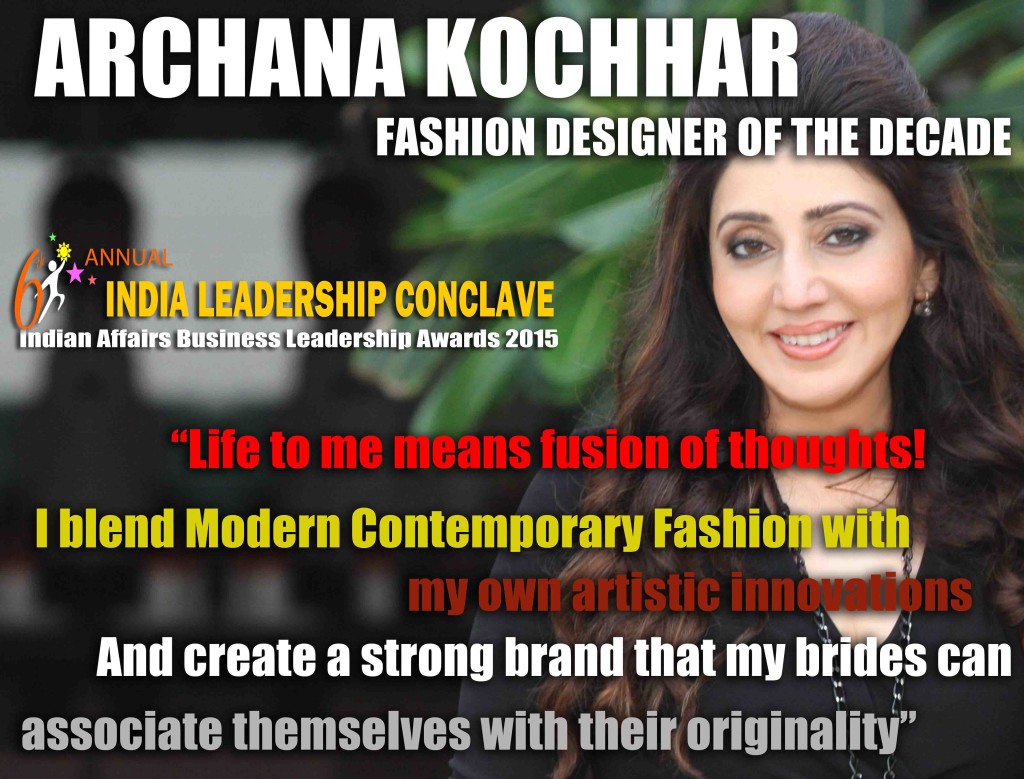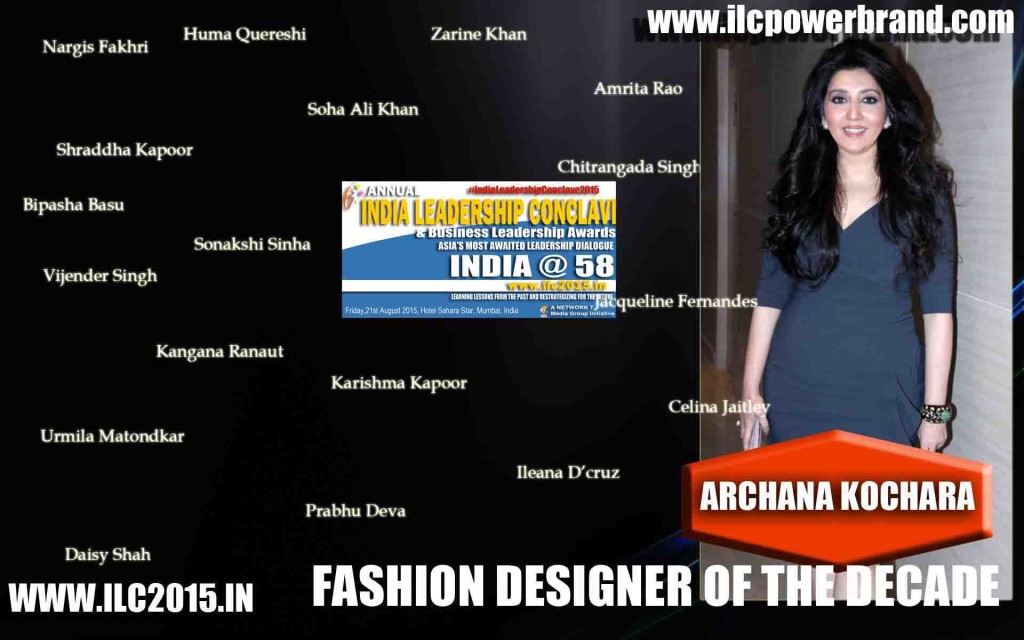 India Leadership Conclave platforms over the last six years of successful uninterrupted editions has felicitated many top iconic Bollywood stars such as Late Yash Chopra, Rani Mukerjee, Priyanka Chopra, Anushka Sharma, Fashion Designers Manish Malhotra, Babita Malkani & Shraddha Kapoor.
---
Archana Kochhar's Journey in Fashion Designing
Archana Kochhar is an internationally acclaimed Indian fashion designer with a creative approach to deal with the ever evolving fashion designing innovations blending a fine amalgamation of exquisite embroideries, nouveau texturizing techniques and new technologies like digital printing, all of this traditionally rooted. Going back to her initial days, Archana got into the world of Fashion way back in 15 years to make a foothold in Design, creative illustration of fine textile imprints using the state-of-art technologies like digital printing, fine arts & craftsmanship. Today, Archana is a much sought after name in Bollywood, Hollywood, bridal, cocktail prêt, resort and men's wear. Archana's fashion creativity & costumes are often seen in the high profile fashion shows, Red-Carpets & top event destinations. In an era where competition is intense & manifold where the demands for fine collections with a different look are sought after by the elite celebrities to cater, Archana has truly demonstrated & exhibited as a unique professional to redefine "Fashion Design" in the world. Archan's flagship store located in the commercial capital of india in Mumbai, has reinvented itself over the years as a most trusted & reliable place to shop & try out different costumes. Creativity in Fashion design is about what you don't see as well as what you do, the inside of a dress is as important as the outside. From the embroidery to the construction techniques, to the handwork that goes into them. Every single detail is thought about completely in Archna Kochhar's fashion Library.
In the words of the gorgeous Fashion Designer Archana Kochhar, "fashion is an art that becomes artistic with each design. Subversive, creative design must remove itself from the standard, from what is known, and challenge society, while remaining recognizable enough that people can still understand and interpret it. So they can glean an experience from it. So it can stand as inspiration. It is this that imbues a fashion design with the potential to eventually become the new norm – the new standard. Creative subversion is necessary for the movement and evolution of society, not just in fashion, design and art, but for the development of social norms and the progression of intellectual thought. We are indebted to the creative, for without them we would be wallowing in the stagnation of popular, accepted thought, all modes the same and unchanging. Subversive creators play a role in our society, not as tastemakers, but as enlighteners. They challenge our minds and souls, the values we hold dear, our known interpretations of the world, of popular culture and the art and design that preceded it. They can both divide and unite people. They are simultaneously our history makers, our storytellers and our visionaries".
Bollywood's glitterati who have adorned her creations are some of the biggest names in Bollywood, Sports as well as modeling like  Shraddha Kapoor, Sonakshi Sinha, Kangana Ranaut, Bipasha Basu, Karishma Kapoor, Chitrangada Singh, Urmila Matondkar, Nargis Fakhri, Jacqueline Fernandes, Prabhu Deva, Rajneesh Duggal, Vijender Singh, Randeep Hooda, Ileana D'cruz, Soha Ali Khan, Amrita Rao, Huma Quereshi, Daisy Shah, Celina Jaitley, Zarine Khan, Divya Khosla  etc walking the red carpets and runways around the world.
Creativity can be an ecstasy of both pleasure and pain for the artist. Inspiration, when it strikes, is a powerful force that its recipient has little control over. The best fashion designers are held up by their industry as the veritable geniuses of our time. Whilst knowledge and training play one part in their creative passion and output, for centuries, theorists have wondered whether there are certain innate qualities that set artists apart, and put them in a unique position of creative ability.
Archana Kochhar's care for the society is evident from the fact that as an Educationalist, Mentor & a guest Lecturer, Archana Kochhar  is a visiting faculty to more than a dozen of colleges & is often seen in mainstream newspapers through her writing.  Archana Kochhar  has been invited by Galleries L'fayette Paris to showcase her spectacular collections under her label with international design houses like Armani, Versace, Kenzo, Ungro and Nina Ricci. She is a Goodwill Ambassador for Smile Foundation, working for the upliftment of the girl child and women empowerment. As a brand, Archana Kochhar is associated with many corporates due to her international design appeal and specialization in customizing each project that she curates ranging from interiors, jewelry, upholstery, weddings and fashion events with corporate giants like Reliance, Aditya Birla Group, Gitanjali, Sahara, Mahindra, to name a few. Over the years the brand Archana Kochhar has created a niche for itself and revolutionized the bridal arena with Archana Kochhar's craftsmanship, detailing and expertise in her art. It has also made a mark globally and is well acclaimed not only in India but also in London, Dubai, Hong Kong, Bangkok, Canada and many other cities around the world.  In Prime Minister Narendra Modi's 'Make in India' campaign, few designers were chosen to revived the 5 dying arts , eminent Designer Archana Kochhar was one of them and she was bestowed by the Textile Ministry with the honor of being a brand ambassador for the revival of five dying arts of Maharashtra. Archana Kochhar was invited by the PARIS HAUTE COUTURE FASHION WEEK & the NEWYORK MERCEDES BENZ FASHION WEEK 2015 to showcase her collection in the international Fashion week Platform. Archana has been associated with SMILE foundation for Ramps for Champs & Cook for a Smile with Vikas Khanna. Exclusive designing of uniform  for CLUB Mahindra.  Lakme Fashion Week S/S 2014 had olympic silver medalist and Padmabhushan awardee Vijender Singh as showstopper. Jacqueline Fernandes launched Archana Kochhar's summer/resort range in Dubai for Label 24. Chitrangada Singh & Urmila Matondkar launched Archana Kochhar's Wedding range in Dubai.  Nargis Fakhri walked for Archana Kochhar in the London Fashion Week Show in London.  Kangana Ranaut walked for Archana Kochhar at the India Resort Fashion Week.  Aditya Birla Group & Archana Kochhar launched and curated together the new viscose yarn with Soha Ali Khan. Archana Kochhar & Zarine Khan launch Gitanjali Jewels Nizaam range in Mimbai. Archana Kochhar launches her Chokhi collection at Lakme Fashion Week  A/W 2013.  Bipasha Basu walks for Archana Kochhar at Atlantis, Dubai. Shriya Saran walks the ramp for Archana Kochhar for the opening of India Jewellery week in Delhi.  Prabhu Deva and Shahzahn Padamsee walked the ramp for Archana Kochhar for Lakme Fashion Week S/S 2013.Prime Minister Mr.Narendra Modi's 'MAKE IN INDIA' campaign, few designers were chosen to revive some of the dying arts of India , eminent Designer Archana Kochhar was one of them and she was bestowed by the Textile Ministry with the honor of being a brand ambassador for the revival of five dying arts of Maharashtra. Designer Archana Kochhar is the Good Will ambassador of the organization "Smile Foundation" a charity cause for the Girl Child Health and Education in India. She believes in giving back to society and  has helped in raising funds through her Charity events and shows for the Smile Foundation organization.
The beautiful Fashion Designer Archana Kochhar will be crowned as "Fashion Designer of the Decade" in a glittering award ceremony where some of India's finest creative genius will be recognized in various categories. Rated by Experts & widely acclaimed by thought leaders, India Leadership Conclave Annual Affair is just not a leadership forum, it symbolizes the hopes & aspirations of the billion people reflected by the speakers at the forum. "ILC POWER BRANDS" has  been rated in Asia as the most credible & coveted Awards developed by Network 7 Media Group consisting of eminent jury members of the different verticals of the society &  is conferred to the Individuals & Companies in its annual meet at the Indian affairs India Leadership Conclave & Indian Affairs Business Leadership Awards. since the institutionalization of the Business Leadership Awards in 2010, India Leadership Conclave & Indian Affairs Business Leadership Awards has been India's most awaited & asia's most respected set of Awards conferred to Companies & Individuals who have made their mark through their remarkable performances despite all odds & has made India Proud!. Since the last five successful years, the platform has recognized, felicitated more than 300 fortune 500 Companies & towering captains & Leaders of the Country.