Annaswamy Vaidheesh, Dr. Manoj Khanna, Dr. Sudhansu Bhattacharya, Dr Huzaifa Khorakiwala, Binish Chudgar, Rajendra Gupta among others awarded at pharma leaders 2016 annual pharma leaders power brand awards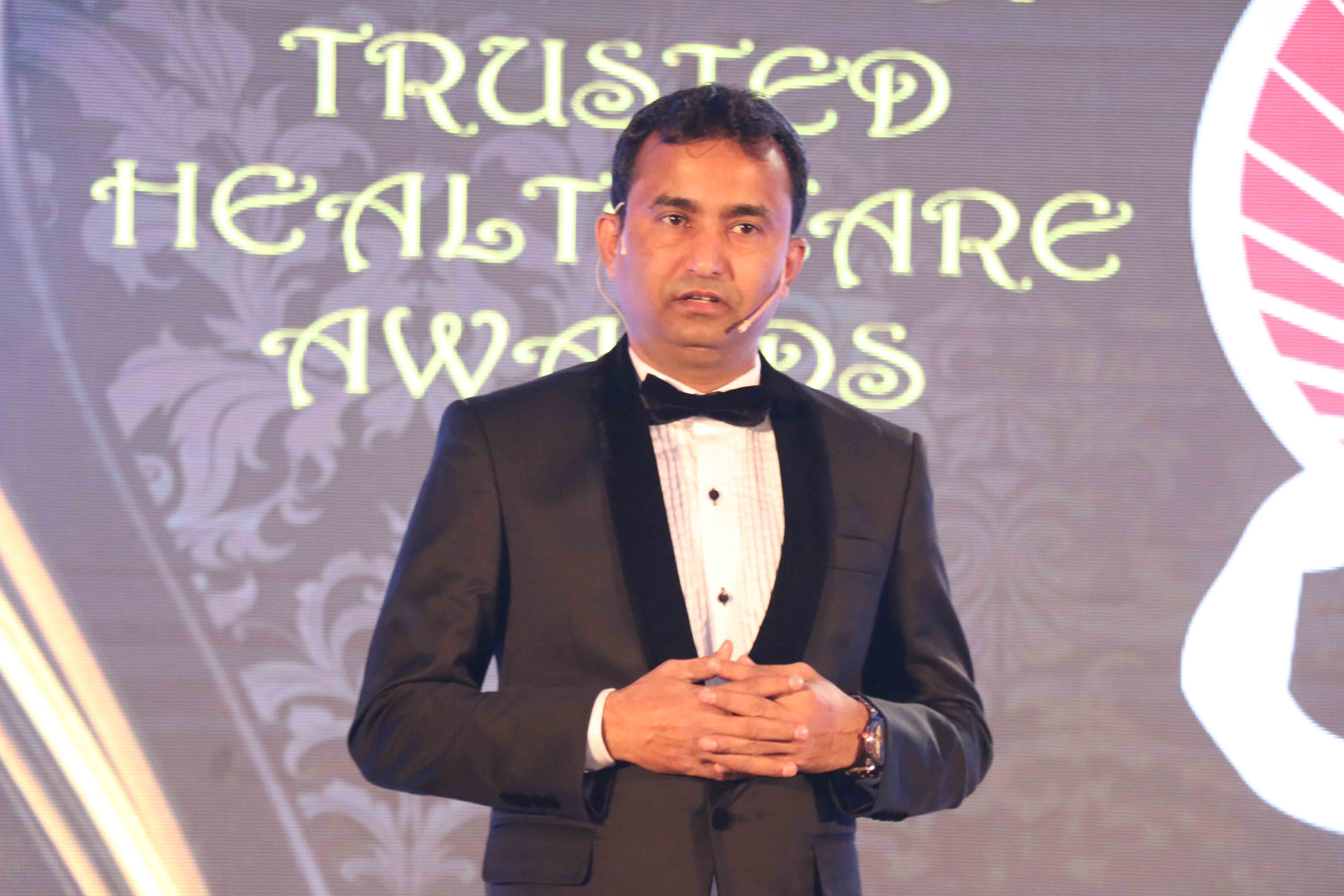 Annaswamy Vaidheesh, Dr. Manoj Khanna, Dr. Sudhansu Bhattacharya, Dr Huzaifa Khorakiwala, Binish Chudgar, Rajendra Gupta among others awarded at pharma leaders 2016 annual pharma leaders power brand awards
Pharma Leaders 2016 power brand awards conferred to top companies & accomplished healthcare leaders
Nation's top healthcare leaders, pharma experts, policy makers, renowned doctors, social activists, bureaucrats & professionals of the Indian pharmaceutical & healthcare leaders assembled to witness the 9th annual pharmaceutical leadership summit & pharma Leaders business leadership awards 2016 organised by Network 7 Media Group's Pharmaleaders, asia's most analytical news media in healthcare communications. The theme of the Summit India@70, was presented by Annaswamy Vaidheesh, Managing Director – India & Vice President South Asia, GSK Pharmaceuticals India. Mr. Krishnakumar Subramaniam, Vice President, Business Development, India, Africa & Middle East, Glenmark Pharmaceuticals Ltd gave an opening Address & moderated the summit analyzing the speakers viewpoint.
Satya Brahma,Chairman & Editor-In-Chief – Pharma Leaders Group in his opening address said "the change of guard in America with Donald Trump becoming US president, the impact of healthcare/pharma business will have a significant impact as Trump win might mean opportunities for Indian pharma.Trump had proposed to lift entry barriers for drug makers that offer safe, reliable and cheaper products. India contributes to nearly a third of all drugs sold in the US and this is unlikely to change for now, given the thrust of both Democratic and Republican parties on affordable health care. The US market will, however, continue to see pricing pressure as a result of consolidation of hospitals and insurance companies". Increasing focus on Patients safety & concerns by hospitals & pharma companies will be key to healthcare innovations said Satya Brahma. The other notable speakers included Mr.Rajendra Pratap Gupta, Policy Maker, Researcher, & advisor to  Minister of Health & Family Welfare , Govt. of India addressed on "Digital Healthcare Innovations – Challenges & Opportunities". The focus on healthcare delivery was evident as Health care in rural India– How technology can be leveraged for improving health care in Rural India was presented by Mayank Handhi, Social Activist in a interactive debate with Satya Brahma of Pharma Leaders. Dr. Manoj Khanna, Founder and Chairman, Enhance Clinics, Globally renowned Hair Transplant & Cosmetic Surgeon spoke on "Cosmetic Surgery Industry in India – Achi Din kya Aayenge?". Vipin Pathak, Co- Founder & CEO, Care 24 addressed on Elder Care: Changing landscape, India and global. The highlight of the Summit at Pharma Leaders 2016 debate was on panel discussion moderated by Satya Brahma where top minds of the medical profession & healthcare addressed on "Is healthcare a commodity or a basic human need?". The esteemed members of the panel discussion were Dr. Kishore Kumar, Consultant Neonatologist, Chairman,Cloudnine Hospital,Dr. Sudhansu Bhattacharyya, Head of Department of Cardiac Thoracic Surgery,  Bombay Hospital,Dr. Mudit Saxena, Group CEO Care Hospitals, Anand Garg, Former Chief Executive Officer, Seven Hills Health,Dr. Manoj Khanna, Chairman, Enhance Clinics,Dr. Debraj Shome, facial plastic surgeon and director, The Esthetic Clinics,Chandrashekhar Pandey – Founder and COO at Smile Merchants,Dr. Mannan Gandhi, Founder, The Integral Ayurveda,Rushi Trivedi – Founding Director & CEO at Smile Merchants
Here are the List of Winners at the Pharma Leaders 2016 Power Brand Awards
---
Business Leader of the year 2016
Mr.Binish Hasmukh Chudgar,Vice Chairman & MD,Intas Pharmaceuticals Limited
Business Woman of the year 2016
Ms.Ameera Shah,Promoter & MD, Metropolis Healthcare
Emerging Pharma Leader of the 2016
Mr. Sandeep Singh,Jt.Managing Director,Alkem Laboratories Ltd.
Best Company to Work For  2016
Microlabs Limited
CEO of the year 2016
Mr. Prabhat Agarwal,CEO, Alkem Labs Ltd
India's Most Valuable & Admired Health Insurance Company 2016
Star Health and Allied Insurance Co Ltd
India's Most Promising Face in Diet & Nutrition 2016
Ms.Kinita Kadakia Patel,Founder,MEALpyramid
India's Most Promising Home Healthcare Service Provider 2016 ( Joint Winners)
India Home Health Care
Care 24
Dynamic Entrepreneur of the year 2016
Dr. Akshay Batra,Managing Director, Dr. Batra's
Dynamic Enterprise of the Year 2016
Syngene International Ltd
Innovative Woman CEO of the year 2016
Dr Rupali Basu, President and CEO(ER), Apollo Hospital Group
Innovative Face in Cosmetic Dermatology 2016
Dr.Simal Soin, Founder & Cosmetic Dermatologist,Aayna
Pharma Professional of the Year 2016
Mr.Rami Reddy Gundala, Managing Director, Adcock Ingram Limited
Emerging Company of the Year 2016
Bioderma India
Pharma Leader Executive of the Year 2016
Mr.Ambarish Chatterjee,General Manager,Laboratorie Bioderma
Dynamic Women Entrepreneur of the Year 2016
Dr.Reema Das Mallik,Director And Founder, Illumis Aesthetic Clinic
Clinical Leader of the Year 2016
Veeda Clinical Research
Woman Healthcare Leader of the Year 2016
Ms.Ranjeeta Vinil, Founder Director, Saarathi Healthcare Pvt Ltd
India's Most Promising Healthcare TPA of the Year 2016
Good Health TPA Services Ltd
Vidal Health TPA Private Limited
Most Promising Dental Healthcare Service Provider 2016
DentCare Dental Lab Pvt.Ltd
India's Most Admired & Valuable Dental Clinic 2016
Smile Merchants, The Dental Clinic
India's Most Promising Eye Care Hospital 2016
Asian Eye Hospital and Lasik Laser Institute
Biotech Leader of the Decade
Mr.C L.Rathi, Managing Director, Advanced Enzyme Technologies Ltd
Best CSR in Pharma 2016
Wockhardt Foundation
Healthcare Leader of the Decade
Mr. Rajendra Pratap Gupta, Advisor to Health Minister, Government of India
India's Most Promising Hospital of the Year 2016
Sunshine Hospitals
India's Most Promising Orthopedic Surgeon of the Year 2016
Dr. A. V. Gurava Reddy, Managing Director & CEO, Sunshine Hospital
Pharma Professional of the Decade
Mr. Annaswamy Vaidheesh, MD, Glaxosmithkline Pharmaceuticals Limited
Most Promising & Innovative Cosmetic Clinic 2016
The Esthetic Clinics
Best Hair Transplant Surgeon in india 2016
Dr. Manoj Khanna, Founder and Chairman, Enhance Clinics
Contract Manufacturing Company of the year 2016
Adcock Ingram Limited
India's Most Valuable LEED Platinum Certified Hospital
Kohinoor Hospital
India's Most Admired Neonatologist 2016
Dr. Kishore Kumar, Chairman, Cloudnine Hospital
India's Most Admired Hospital Chain in Value & Customer Satisfaction 2016
Cloudnine Hospital
Visionary Entrepreneur of the Year
Mr. Sujit Kumar Singh, CMD, Shreya Lifesciences Limited
India's Most Admired Surgeon 2016
Dr. Sudhansu Bhattacharya
Most Valuable Youngest Dermacare company 2016
Adroit Biomed Limited
Inspiring Business Leader of the Year 2016
Sheel Kumar Singh, Director, Shreya Group
Innovative Healthcare Initiatives in Providing Community Healthcare by Apollo Group
 Dr.Sandeep Chatrath, Regional Chief Executive Officer, Apollo Hospitals
---
Rated & widely acclaimed by the industry experts & analysts as a credible award platform known for selecting top leaders through a meticulous methodology & stringent selection process involving research inputs & credible voting process by noted eminent juries, pharma eaders today is india's only dedicated celebration of excellence in healthcare innovation, pharmaceutical & medical excellence and brand transformation. Pharma Leaders™  as you will be  aware since its inception in 1999, has so far awarded more than 800 top pharma entrepreneurs, medical professionals, research scientists & government academia.