Indian Business Woman of the year 2016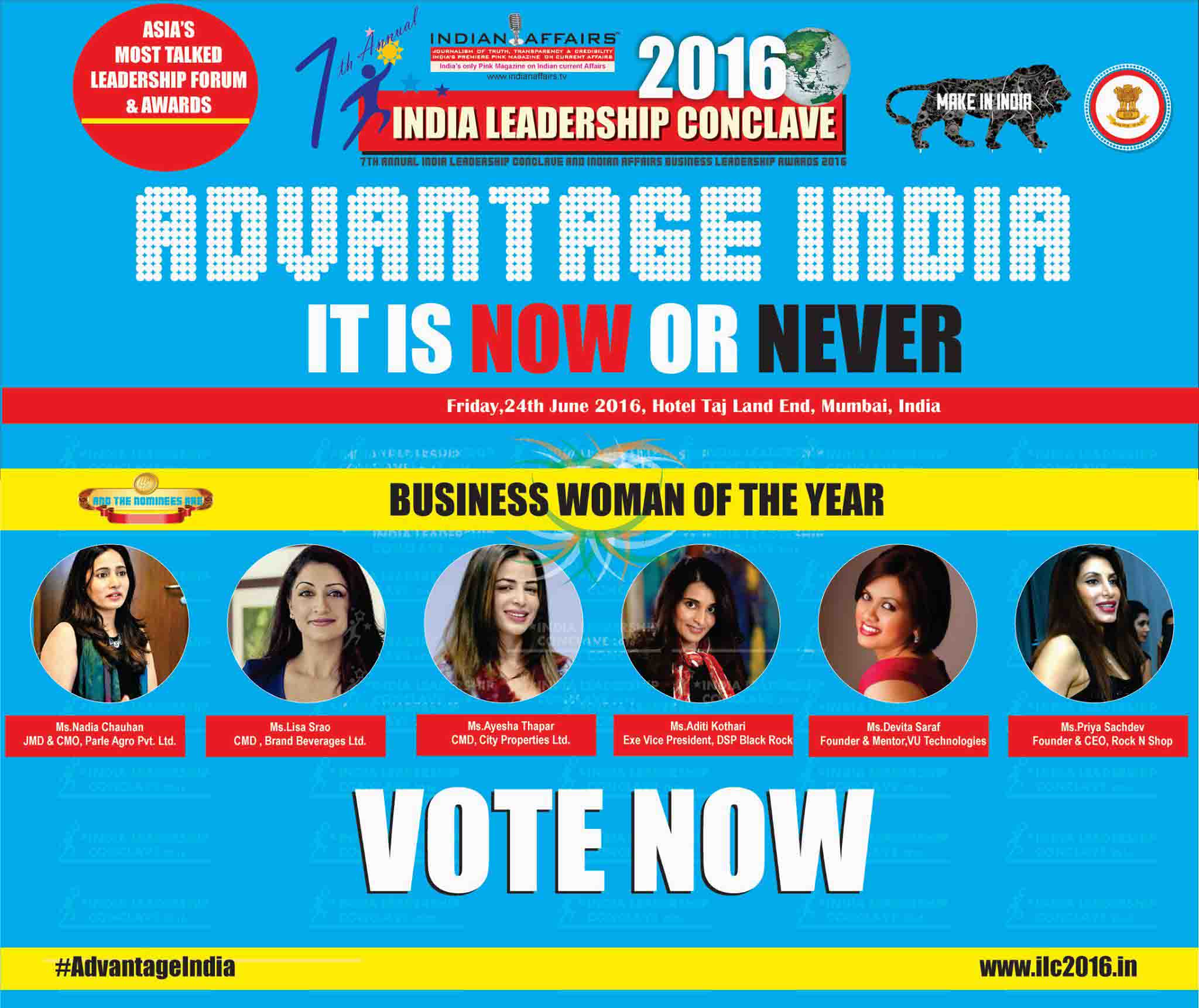 Business Woman of the year 2016
1.Ms.Nadia Chauhan, JMD & CMO, Parle Agro Pvt. Ltd. (Code 07)
2.Ms.Lisa Srao, Chairman and MD, I Brands Beverages Ltd. (Code 08)
3.Ms.Ayesha Thapar, MD, Indian City Properties Ltd. (Code 09)
4.Ms.Aditi Kothari, Executive Vice President , DSP BlackRock. (Code 010)
5.Ms.Devita Saraf, Founder & Mentor, VU Technologies. (Code 11)
6.Ms.Priya Sachdev,Founder & CEO, Rock N Shop. (Code 12)
The Objective & Award Title Importance
---
The Businesswoman of the Year Award is Network 7 Media Group's most prestigious & coveted  award for women achievers in business.  Since its inception, the award category has gained momentum becausde of its transparent process of selection & stringent methodology powered by Network 7 Media Group's eminent panel of jury members.. Over the last six editions, the Businesswomen of the Year Award has grown in prestige and stature. It has become the premier event of its kind in the country and a notable part of the Country's business calendar. This valuable award has national, regional and global recognition and is awarded in the Corporate and Entrepreneurial categories.
In the Awards' 6 year history, the principles and objectives have remained consistent:
To create a mechanism for applauding and celebrating women's contribution to the economy.
To recognise the success of women leaders in business, thereby creating a cadre of female role models whose achievements will inspire other women to raise their sights and reach their goals.
to be an iconic figure to the succeeding generations to emulate & influence..
Over the years, some exceptional business women have been nominated by their peers – women in the marketplace and workplace who have made their mark, inspiring and empowering those around them to develop their potential and reach their goals.

---