Narendra Modi asserts leadership in key decisions!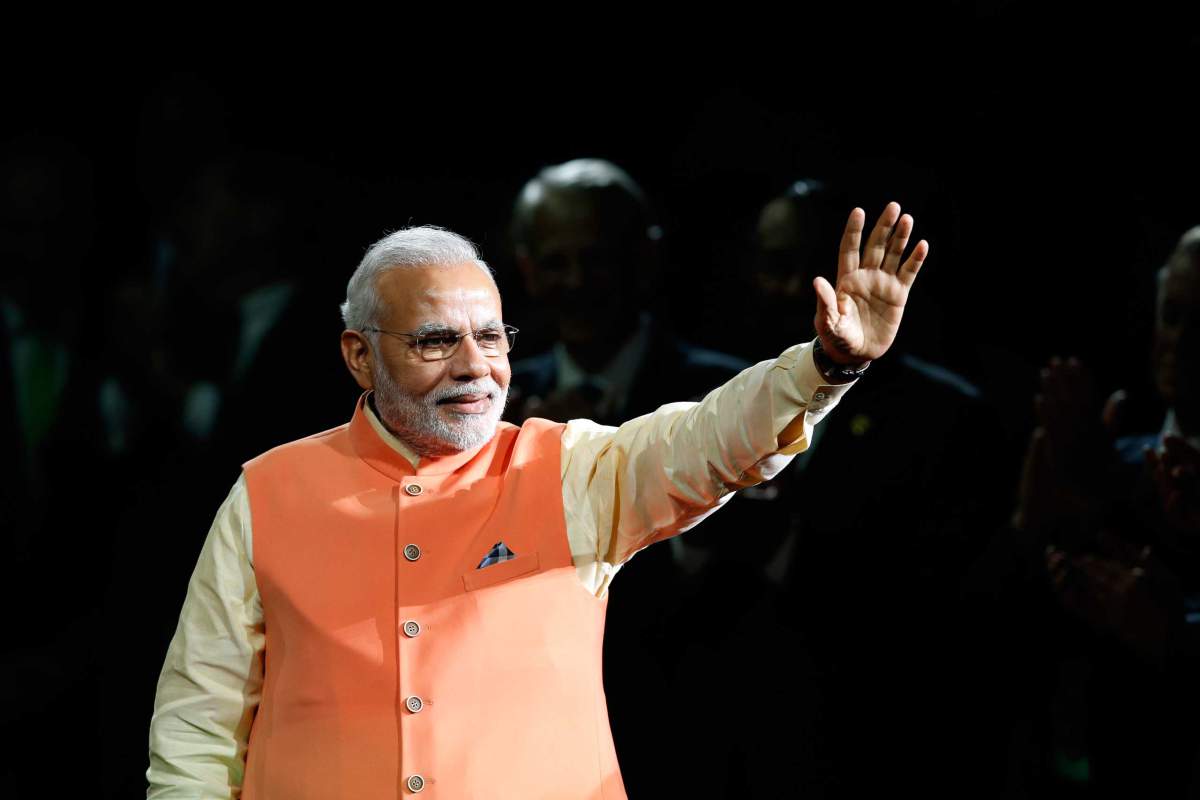 When R.S. Sharma took charge of India's biggest energy explorer in 2007, he found that classified internal documents were appearing on a for-profit website.Even worse: Oil & Natural Gas Corp. paid tens of thousands of dollars a year to subscribe to the site — Indianpetro.com — and even advertised on it. Sharma warned its founder, Santanu Saikia, to stop posting the confidential information even while joining most other major Indian oil companies in paying him to access the material."I told Saikia what you're doing is wrong — someday you'll get into trouble," Sharma, who retired in 2011 as ONGC's chairman, said in a phone interview. "Saikia said his business would stop if he revealed his sources. He seemed casual and confident."
Two months ago, Saikia ended up in jail awaiting charges along with employees of some of India's biggest companies, whose share prices have slid in that time. The probe, part of an anti-corruption drive by Prime Minister Narendra Modi, has shone a light on a business culture in which government secrets could be bought for the right price.
Narendra Modi asserts leadership in key decisions! pic.twitter.com/iCPruhzk2N

— Indian Affairs (@Indian_Affairs) April 20, 2015

Since Feb. 17, Indian authorities have arrested at least 19 people in New Delhi and Mumbai for buying and selling stolen documents from government ministries on everything from foreign investment proposals to the management of natural gas pipelines, according to reports by police and the Central Bureau of Investigation. Many ended up on websites such as Indianpetro.com.
'Tighten its Grip'
"The new regime at the top wants to tighten its grip, wants to stamp its authority," said N. Bhaskara Rao, chairman of the New Delhi-based Centre for Media Studies, a policy research group. "The crackdown has the potential to clean up the way business is done in India. It also creates an undercurrent of uncertainty. These files can be reopened at a later date if the government wants to turn the screws."
While nobody has been convicted, the probe is already changing the way the bureaucracy interacts with companies. The Coal Ministry started a website last month that allows private miners to track progress on investment applications, part of a shift to make key documents accessible online.
"We're making everything in this ministry open and transparent," Anil Swarup, the ministry's top bureaucrat, said on March 26. "When there's nothing to hide, there's nothing to steal."
Saikia, who previously worked at local newspapers, set up Indianpetro.com about 15 years ago, according to his website, which is now inaccessible.
'Bonafide Journalist'
"Our trade data is made available to clients on an as-of-yesterday basis," according to Indianpetro.com, which said its clients included multinational energy companies. A pile of newspapers, the oldest dated Feb. 21, lay outside its vacated south Delhi office on a recent visit.
Neeraj Chaudhari, Saikia's lawyer, said he collected the information on the website as part of his work as "a bonafide journalist" with a valid press card.
"He didn't do any illegal act," Chaudhari said, referring to Saikia. The material on the website was made accessible to all for one day, and Indianpetro.com only charged for archive access. Chaudhari said he didn't know the cost of a subscription.
Asked whether Saikia gave cash to sources for information, Chaudhari said: "I don't believe he paid." Those who stole the documents acted independently, according to Chaudhari.
"It's basically an attack on the freedom of expression," he said of the investigation.
Bail Rejected
A similar website operated by Prayas Jain, who ran energy consulting firm Metis Business Solutions Pvt., is also inoperable. It provided "exclusive premium datasets — current and historical — not available in the public domain in a compiled and analyzed format," according to its website, which listed 83 local and overseas companies as clients.
Like Saikia, Jain was arrested on suspicion of buying stolen documents. Vibhor Garg, his lawyer, declined to comment on his case.
Police must file formal charge sheets within 60 days of arrest, which is in a few weeks for most of the defendants, none of whom have received them yet. Those arrested haven't submitted any pleas, and all bail requests have been rejected.
The group includes employees of Reliance Industries Ltd., the Reliance Group, Essar Group, Cairn India Ltd. and Jubilant Energy NV. The companies have seen their share prices drop since the investigation began, with Jubilant Energy losing about 23 percent, Cairn India down 14 percent and Reliance Industries falling 1.5 percent.
'Zero Tolerance'
In a Feb. 23 statement, Reliance Group said it was fully cooperating with authorities and doesn't support unlawful activity. Cairn India said in February it was cooperating with the probe, while Essar Oil said the same month that it has "zero tolerance" for illegal acts and was conducting an internal investigation. Reliance Industries said March 3 that it complies with all laws and was also conducting a probe.
Representatives of Reliance Industries, Reliance Group, Cairn India, Essar Group and Jubilant referred to previous statements or didn't respond to e-mails seeking further comment.
India ranked 85 out of 175 nations on corruption last year, on par with Burkina Faso and Zambia, according to Berlin-based Transparency International. The score indicates a prevalence of bribery and lack of punishment for corruption among other impediments to a healthy work environment.
No Spoon-Feeding
Access to even the most basic data is difficult in India, creating a market for websites that give subscribers information not found in the public domain and sometimes obtained by bribing clerks and junior officials at the various ministries, according to Mohan Guruswamy, a former finance ministry official.
Weeding out corruption from government and corporate corridors is crucial to Modi's goal of attracting overseas investments and transforming India into a global manufacturing hub. Modi has pursued an aggressive foreign policy since he took charge in May, telling potential investors he's making the nation a clean and easy place to do business.
"Our job is to run a policy-driven government," Modi said in an interview with Hindustan Times published on Thursday. "My job is not to spoon-feed anyone."
Not everyone is convinced. The investigation is unlikely to net any top executives, according to Paranjoy Guha Thakurta, who wrote a book on crony capitalism in India.
Bleeding Heart
"Modi is going out of the way to convey the impression that his heart is bleeding for the poor," he said. "He's trying to portray this inclusive image of himself and his government to counter criticism of his opponents who say he's bending over backwards to accommodate the interests of the corporate sector."
Modi's investigation began late last year after a broken door and a confidential document left in a photocopier at the petroleum ministry set off alarm bells. Following a tip-off, police waited outside the ministry at 11 p.m. on Feb. 17 and arrested three people along with copies of documents, forged identity cards and duplicate keys. Two other ministry employees were detained the same night.
Oil Minister Dharmendra Pradhan said the Modi government's investigation has followed a "natural process," adding that he didn't know why nobody took action in previous years.
"I saw things were wrong and I complained," he said in a March 17 interview. "People can't reach into my pocket and take things out."
$61,000 Subscription
The probe has widened since the initial arrests. CBI investigators arrived with sniffer dogs at the finance ministry on March 12, scanning computers, blocking Internet connections and arresting two more people, who are among those still detained and awaiting charge sheets.
The CBI said in a March 13 statement that the finance ministry official arrested had sold confidential documents to a consultant in Mumbai, who passed them to unidentified companies. D.S. Malik, a finance ministry spokesman, didn't respond to calls seeking comment on the CBI investigation.
In addition to ONGC, state-run energy companies Indian Oil Corp. and GAIL India Ltd. also advertised on Indianpetro.com's website. E-mailed questions and multiple phone calls to the press teams of Indian Oil and GAIL India weren't answered.
ONGC subscribed to Indianpetro.com, paying 3.8 million rupees ($61,000) for the year ended March 31 for 100 passwords to access the site, according to a company official who asked not to be identified because the information is confidential.
Essential Information
Pallab Bhattacharya, a spokesman for ONGC, didn't respond to multiple e-mails and telephone calls seeking comment on Sharma's statements and how much it paid for a subscription.
Sharma, ONGC's former chairman, said he complained to ministry officials that the website routinely published stolen documents, including board meeting decisions. Even so, he never filed a police complaint because an investigation "couldn't have happened without the government signing off on it."
"The information on his website was very useful and accurate," Sharma said of Saikia, explaining why ONGC still subscribed to a site that displayed its internal documents. "Everybody thought we must have this information."