Governance Agenda & Ram Temple, Can Narendra Modi curb the growing voices of Sangh Parivar for Ayodhya Ram Temple!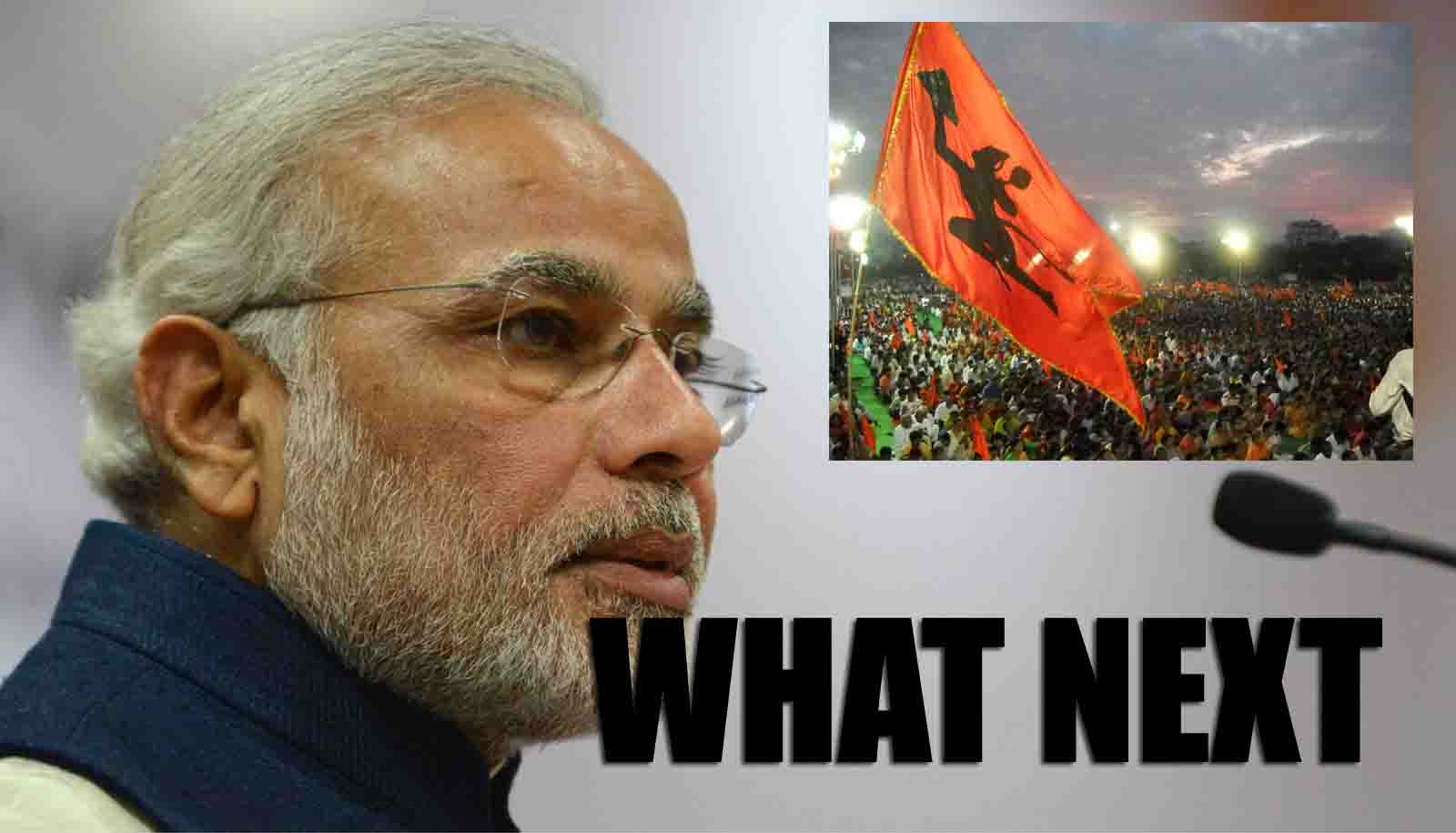 It is very clear that Narendra Modi Government has scored a victory in terms of its foreign relations as Modi's mission of bringing FDI is clear given the tours he has undertaken, it however is not clear & tested, if these signeds MOU's can become a reality!. Narendra Modi is a rock star & not a great staesman like Dr. Manmohan Singh or Atal Bihari Vajpeye. There is a great degree of optimism in india that Narendra Modi will be a transformational Leader, but given the turbulent domestic issues & communal tensions, it will be difficult for Modi to convince the RSS & Sangh Parivar. There is no denying the fact that Narendra Modi will be the happiest person if Ram Temple is built at Ayodhya but given such a fluid political situations, Modi has preferred to be silent but india will be tested the orataor Modi can become a curator PM!
Dealing with India's foreign office needs a high-degree of patience, a foreign envoy posted in Delhi said recently. Given New Delhi's track record, many Indians would second him. An agreement with Bangladesh to exchange border conclaves takes 32 years, an MoU to develop the Chahbahar port in Iran takes a decade to seek cabinet approval and so on. But observers believe that things might finally change with impatient prime minister Narendra Modi, shunned by world capitals in the past and now out to put his stamp on the global diplomacy map.Modi's fast track diplomacy over the last year has taken him and his ministerial colleagues to 115 countries while he himself has averaged about one trip each month, visiting 17 world capitals. All of this has kept mandarins at the ministry of external affairs (MEA) on their toes.
@breakfastnewstv Governance & Ram Temple, Can Narendra Modi curb the growing voices of RSS for Ayodhya Ram Temple! pic.twitter.com/Cs68dEA0hu

— Indian Affairs (@Indian_Affairs) June 4, 2015
Aimed at developing an alternate route to Afghanistan and Central Asia, keeping in view Pakistan's repeated denial to provide transit access, an agreement on the strategic Chahbahar port has finally been inked. Agreed to in 2003, it was only in 2013, the last year of the UPA government, that the Manmohan Singh-led Cabinet gave its mandatory approval to the port. But, it was only last month in April that road transport and highways minister Nitin Gadkari visited Tehran to formally sign an agreement.
Though many MEA officials attribute the delay to US-led sanctions, this is, of course, not an isolated case where strategic gains have been frittered away by both the ministry and the Prime Minister's Office (PMO), which has been supervising foreign affairs – during Manmohan Singh's tenure and now during Modi's leadership too.
Observers cite Modi's recent visit to Mongolia as another case of this government pushing the foreign policy agenda, perhaps obsessively. It was more than four decades ago in 1973 that India committed to partner development programmes in far-off Mongolia. But while past governments were putting aside a paltry Rs 2.5 crore a year, Modi has gone ahead and announced $1 billion aid to the country. Significantly, Mongolia is perhaps the only country which has allowed the external intelligence agency Research and Analysis Wing (RAW) and the National Technical Research Organisation (NTRO) to operate and analyse the cyber data traffic to keep tabs on cyber attacks from China against Indian computer networks.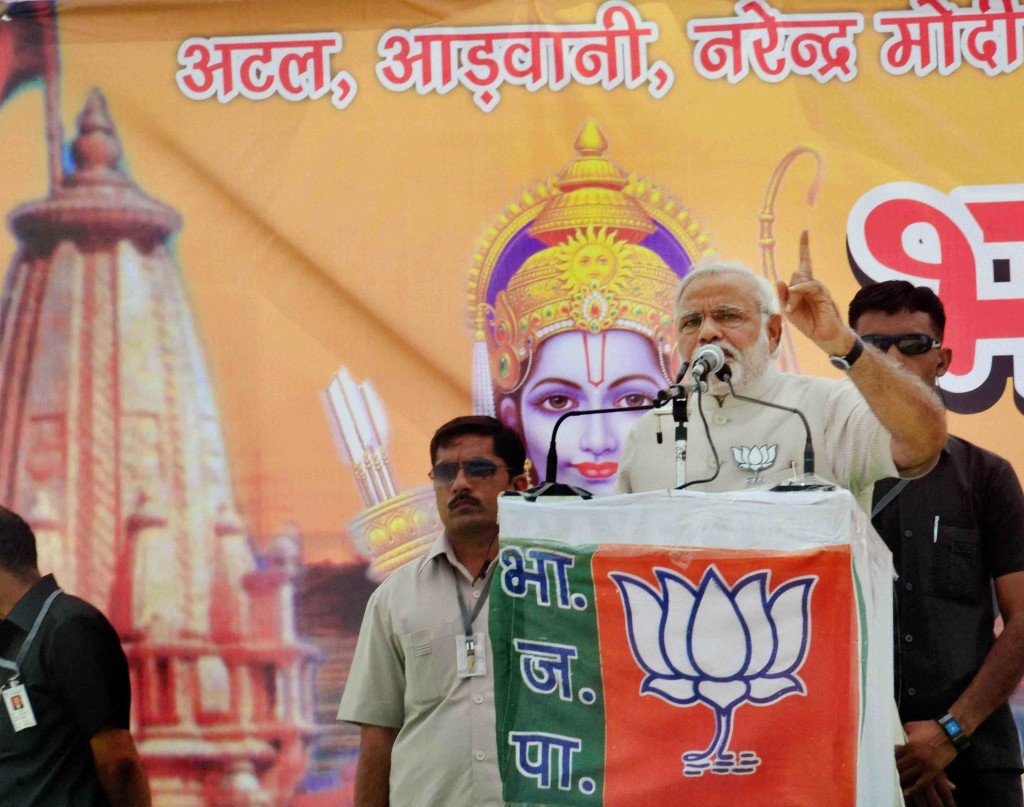 The peripatetic prime minister
Officials say Modi listed his priorities as soon as he took over. The directive were clear — act east, link west, re-integrate South Asia, and do business with affluent nations. His itinerary is therefore carefully planned by keeping his priorities in mind. Over 100 foreign dignitaries have so far met him, because he enjoys a certain level of curiosity in foreign capitals. During his tours, particularly to China, Japan, US and Canada, he has got commitments of nearly $100 billion in investments.
"Either he is on tour or we are engaged in planning his next destination," was a senior official's cryptic reply when asked what had changed between the UPA and the NDA.
The last year has seen Modi – who as Gujarat chief minister had been denied a visa by several countries including the US – spend a record 53 days outside the country. He may round up 2015 with six more foreign visits, including Bangladesh, Russia and Turkey. In contrast, NDA's previous prime minister, Atal Bihari Vajpayee, had made just three visits covering four countries over seven days in his first year in office. His successor Manmohan Singh, though more active in international affairs, spent 28 days outside India during his six visits to seven countries.
Given embarrassments like the government saying in Parliament that it had no idea about Dawood Ibrahim's whereabouts and flip-flops on foreign direct investment (FDI) in multi-brand retail as well as domestic issues such as crop failure and farmer suicides, the Opposition has had a field day in taunting Modi for his foreign jaunts.
But former external affairs minister Natwar Singh, a key member of the Congress until his fallout with the leadership, believes otherwise. "At the moment, our standing in the world is high — much, much higher than it was during the United Progressive Alliance-II. The current prime minister is a leader. His immediate predecessor was not. What Modi says carries weight. Never in the past have so many presidents, kings, prime ministers and foreign ministers come to India as in the last 12 months."
Style of functioning
Natwar Singh's only grouse is that Modi has not been taking external affairs minister Sushma Swaraj on most of his trips. "This is an unnecessary departure from established diplomatic practice, not only in India but the world over," he said.
Former foreign secretary Shyam Saran believes though Modi has by and large continued in the direction set by earlier governments, both the NDA led by Atal Bihari Vajpayee and the UPA led by Manmohan Singh. He has, however, introduced some fresh nuances and pursued foreign policy objectives with a vigour and determination that was missing in the past few years. "There is also a difference in leadership style and a greater preoccupation with public image and perception. It may be worthwhile to consider each key element in Modi's foreign policy and gauge the extent of continuity and what, if any, are its novel features," he maintained.
One sign of primacy according to foreign policy is the fact that Modi's day in office usually begins with meeting foreign secretary S Jaishankar or his second in command if he is away, and officials directly under his control.
But all decisions are the prime minister's alone. On crucial decisions like granting e-visas to Chinese and purchasing 32 ready-to-fly Rafale aircraft, the home and defence ministers were not consulted. And there are many instances, where even Sushma Swaraj has been bypassed, critics have pointed out.
Modi didn't take kindly to former foreign secretary Sujatha Singh attempting to question him, officials said. The tipping point came when the Gujarat government invited Danish prime minister Helle Thorning-Schmidt for the Vibrant Gujarat summit. The visit failed to materialise because MEA refused to budge from its stand that no high-level contact was allowed unless they resolved the issue of Kim Davy, a fugitive in Purulia arms drop case. Sujatha Singh is believed to have cited convention and policy to not deal with Copenhagen until it either hands over or prosecutes Davy.
Sujatha Singh got her way and Thorning-Schmidt did not come. However, she soon lost her job to Jaishankar, who was the man behind the breakthrough in the commercialisation of the 2008 nuclear deal between India and the United States, which had been almost abandoned.
Modi's diplomatic acumen will be tested next year, when he may have to travel to Pakistan to attend the SAARC summit. Vajpayee had used the occasion in January 2004, months before he lost elections, to pave a roadmap for settling skewed disputes. That path was followed by Manmohan Singh, but the plan got buried in the debris of the Mumbai bombing.
However, Modi has moved decisively to improve relations with smaller neighbours like Bangladesh, Nepal and Sri Lanka. He has connected directly with the political classes and people in the neighbouring countries and shown the will to resolve long-pending problems with them
Where there are many in the BJP already comparing Modi with India's first prime minister Jawaharlal Nehru, the threats to internal peace and the controversial statements not by fringe elements but by top leaders of his own party are being closely watched in world capitals.
Western ambassadors in Delhi say in confidence that Modi's battle to seek investments and earn goodwill will be in vain if he fails to control elements that threaten minorities and attack churches. History has shown while Nehru was given a world leader status, all his diplomatic gains were nullified by the Chinese aggression and his flip-flop on the issue of Jammu and Kashmir. Nehru never recovered from this debacle.
Maybe there's a lesson for the prime minister there.
……………………………………………………………………………………………………
Even though the Narendra Modi government has completed a year in office, the nomination of two Anglo-Indian members to the Lok Sabha is yet to be decided.
This, despite several reminders from members of the Anglo-Indian community and its organisations.
"The process to nominate two members of Anglo-Indian community to the Lok Sabha is still on. We have received some names from the community but no decision has been taken yet," Minister of State for Minority Affairs Mukhtar Abbas Naqvi told IANS.
"Appropriate persons will be nominated soon," he added.
According to Article 331 of the Constitution, the President may, if he is of the opinion that the Anglo-Indian community is not adequately represented in the House of the People, nominate two members of the community to that House.
Cabinet minister for Minority Affairs Najma Heptulla had earlier written a letter to the prime minister after a delegation of Anglo-Indian Associations of India met her three months ago urging her to nominate the members. The assosiation had suggested some names to the minister.
The association had also submitted a memorandum to the president, the prime minister, the home minister and BJP president Amit Shah seeking their urgent intervention to nominate the members "without delay".
The Anglo-Indian members in the last Lok Sabha were Charles Dias from Kerela and Ingrid Mcleod from Chattisgarh.
Expressing dissatisfaction over delay, Dias, who is also the president of Anglo-Indian Associations of India, told IANS from Kerela that this is "cruelty" to the community, adding: "We will go to any extent for our constitutional right."
He said the governmenthad not even responded to their request. "This is a very serious issue. The government should make its stand clear soon," he added.
Dias said that the "unjustifiable delay" had caused one-fifth of the period to pass without the members.
In all previous Lok Sabhas, including during NDA rule under prime minister Atal Bihari Vajpayee, the nominations were made soon after a new government was voted in. The Vajpayee government had nominated Beatrix D'souza and Denzil B. Atkinson.
Frank Antony and A.E.T Barrow were the first members from the community to be nominated to the first Lok Sabha.
…………………………………………………………………………………………….
Union home minister Rajnath Singh said in Ayodhya on Sunday that the NDA government couldn't bring in a legislation to construct the Ram temple as it didn't have a majority in the Rajya Sabha.
"The BJP doesn't have a majority in the Rajya Sabha, so this time it's not possible to bring a motion in Parliament to make law for the construction of Ram temple," the home minister said – he was in Ayodhya to take part in a programme hosted by senior VHP leader Nritya Gopal Das.
Rajnath's admission follows RSS and VHP saying they favour giving time to the Modi government until it has a majority in the Upper House. Last year, Nritya Gopal Das, who is also Ram Janmabhoomi Nyas president, said although the Centre is agreeable to temple construction, it should be given time.
Rajnath refused to clarify whether the Modi government would bring in a law for Ram temple construction once the party has the numbers in Rajya Sabha.
"It's a hypothetical question," the home minister said when asked if it would bring in a legislation if it gets an RS majority. The BJP has 45 members in the Upper House and is unlikely to will have adequate numbers in the House of 243 during its current tenure.
While the BJP not only rose to power for the first time riding the Ram wave in the '90s, it failed to fulfill the promise of temple construction citing alliance government as the reason.
On Sunday, when asked about underworld don Dawood Ibrahim, Singh said he would speak "some thing on Dawood in a day or two in Parliament." The government was recently left red-faced for its contradictory reply in Parliament on the whereabouts of Dawood Ibrahim.
THE HARD LINE
Vinay Katiyar, Rajya Sabha MP from BJP and a face of the Ram Temple movement, said on Tuesday that the Ram Temple issue is as important as the country's economic development. Stating that the government should bring a legislation to resolve the issue forever, he cautioned that if the issue is ignored, "the anger of Ram bhakts might erupt as a volcano". While speaking to The Indian Express at his residence here, Katiyar said: "Is mudde ko abhi bhi ignore kiya gaya to Ram bhakto ka gussa Jwalamukhi bankar phoot sakta hai." When reminded that the issue is pending with the Supreme Court, he said the apex court might take time to come to a decision and added that since the BJP has got full majority, this is a "good time" to pass the law in the Lok Sabha based on the Allahabad High Court order declaring the disputed spot as the birthplace of lord Rama. Katiyar was speaking in reference to BJP chief Amit Shah's recent statement that the ruling BJP does not have adequate support in Parliament to address core issues like the Ram Temple. "We have not got enough mandate to address core issues. We need 370 seats, according to the Constitution, to address these," the BJP president had said.Earlier last month, Home Minister Rajnath Singh had said in Ayodhya that the government would not be able to enact a law on this issue since the NDA did not have a majority in Rajya Sabha.
Without mentioning Shah or Singh, Katiyar said the issue was pending since many decades and reminded that earlier governments led by V P Singh, Chandrashekhar, P V Narasimha Rao and Atal Bihari Vajpayee had tried to solve the issue through dialogue between the two communities. He also said "Ram bhakts" have many expectations from the present government in which BJP has a clear majority. "Vajpayee ji ne bahut kosish ki, lekin BJP ka bahumat nahi tha isliye bahut kuchh nahi kar paaye (Vajpayee ji tried his best but he was helpless because BJP had no majority on its own)," he said.When reminded that the Narendra Modi government was elected not in the name of Ram Temple but in the name of good governance, development and fight against corruption, he said, "Is masle ko suljhana utna hi jaroori hai jitna arthik vikas karna. Supreme Court ke faisle ka intzaar kiye bina sarkar ko baatcheet aur kanoon ka sahara lekar mandir banwana chahiye (Ram temple is as important as economic development. Without waiting for apex court judgment, government should take steps to construct the temple through dialogue and legislation)."
Congress Attack
Accusing the BJP-led central government of betraying the people's mandate, Congress leader Jairam Ramesh on Sunday said the Narendra Modi government was characterised with violent cuts in social security schemes and murder of democracy.
"Modi got a decisive mandate making huge promises, but his own party is now calling these promises as poll gimmicks. (BJP chief) Amit Shah has described these promises as jumla, which means poll gimmick in English. So, Shah should seriously consider renaming BJP as Bharatiya Jumla Party," he told reporters.
The former union minister was referring to Bharatiya Janata Party chief Shah's recent comment in an interview that the promise of depositing Rs.15 lakh in each Indian's account from the black money that will be brought back was just a political 'jumla' (idiom).
Commenting on the Modi government's one year, Ramesh said repackaging existing schemes, murdering democracy and violent cuts in core sectors were the characteristics of the current regime.
"Modi's first year in office can be described as murder of democracy. He has completely bypassed parliament in the last one year – 53 bills have been passed and only five of them have been referred to a standing committee," he noted.
"He has not called a single all-party meeting, there is a vicious hounding of NGOs, and this government is yet to appoint the central vigilance commissioner or the central information officer," said Ramesh.
"The BJP came to power giving the slogan of maximum governance and minimum government, but in reality it is one-man governance and maximum arrogance. All his ministers and the MPs are non-entities," said Ramesh.
Alleging that the NDA government has been repackaging the schemes of the erstwhile UPA government and taking credit for them, Ramesh also charged Modi with making U-turns on lot of issues.
"As the Gujarat chief minister, he opposed the GST, the nuclear deal with the US and supported the UPA's land bill. But now, he has made a series of u-turns and is now batting for a land grabbing bill," said Ramesh.
"Another feature of this government is brutal cuts in funds-education, health, sanitation and drinking water, agriculture and women and child welfare, there have been cuts in all core sectors. This is the report card of Modi's one year," he said.
He also took a jibe at Modi's foreign tours.
"In his first year, the prime minister has been an occasional visitor to India. When Atal Bihari Vajpayee was the foreign minister he used to be called Gagan Bihari Vajpayee for his foreign travels. But Modi has become Brahmand Bihari Vajpayee, going round and round the world," added Ramesh.