Ek Tha Tiger Salman Khan wounded in 2002 hit-and-run case, Session Court reprimands Ashok Singh's late presence to save Salman, awards 5 years punishment!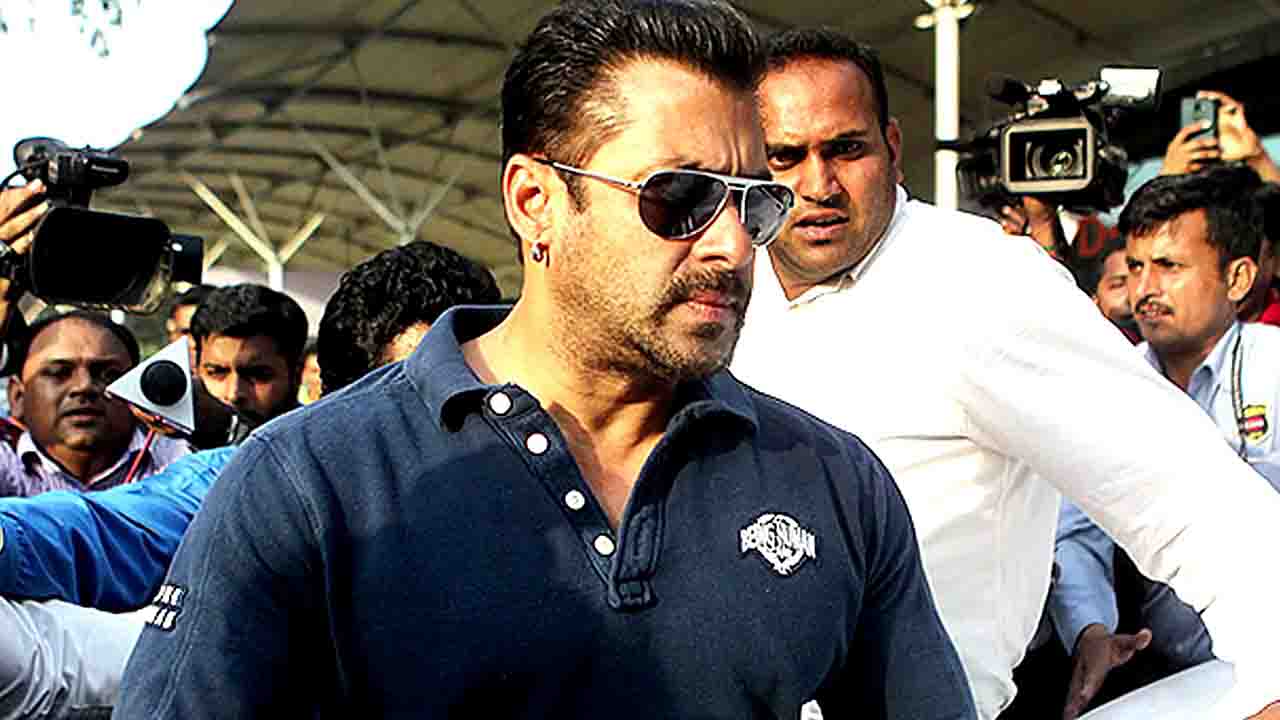 Actor Salman Khan was today convicted and sentenced to five years' rigorous imprisonment for culpable homicide in a hit-and-run case in which a man sleeping on a pavement was killed in 2002.However, like many of the characters he enacts with gusto on screen, India's most bankable star raced against time and exercised his constitutional right to secure interim bail for two days in the blink of an eye.The sessions court remained open for two hours beyond its closing time – a work culture that ensured all formalities were completed and he could go home in the evening.Salman had stepped into the court at 10.35am – well ahead of the 11am set by D.W. Deshpande, the Bombay civil and sessions court judge.Then followed the sequence of events whose twists and turns can keep pace with many movies graced by Salman.Around 11.10am, the judge takes his seat. He turns towards Salman who is standing in the witness box.The judge leans towards the Dabangg star, looks at him and says quietly: "You were driving the car."
Salman looks whiplashed.
(Salman had said in his deposition that his driver Ashok Singh was driving the Toyota Land Cruiser on the night of September 28, 2002, when Nurullah Mehboob Sharif was run over and four were injured.)
Salman stands ramrod-straight, staring at the judge.
The judge carries on: "You did not have a licence."
(He had told the court that he lost the licence. The RTO records have proved otherwise. The licence Salman now holds traces its roots to 2007.)
Salman grabs the railing of the witness box.
The judge drives it in: "You were drunk."
(Salman had claimed he had ordered and consumed water at the bar he had visited with his friends and brother before driving back.)
The judge looks up and delivers the verdict: "All charges proved."
It is 11.15am – and it dawns on the packed courtroom that the superstar had been convicted.
The actor's lawyer Shrikant Shivade gets up: "Your honour, this is so disappointing."
As the judge and Shivade speak to each other, Salman looks at his family and friends scattered around the courtroom filled with reporters, policemen, lawyers and onlookers.
Salman's eyes well up – he looks up, then down and closes his eyes. It appears he is battling to control his emotions. He takes a minute but succeeds.
His sisters, Alvira and Arpita, are in two different rows. They begin to cry.
His brothers, Arbaaz and Sohail, and his brother-in-law, Atul Agnihotri, sit frozen in the third row.
(Arbaaz, Alvira and Arpita were the first family members to reach the court in the morning. They had entered the court near the Churchgate station through the front gate, as had Sohail and Atul. Salman had taken the rear gate. The star had been driven in his white Mercedes by Ashok Singh, who had taken the blame in court during the hearing.)
The defence lawyer seeks permission to begin arguments pleading leniency of sentence.
Sohail and Arbaaz get up and leave the courtroom – they have received word that their mother Salma has taken ill after getting to know that Salman has been convicted.
"Don't take too long – wrap this up soon," Judge Deshpande tells Shivade.
But the lawyer carries on for an hour although the judge reminds him to finish off quickly a couple of times.
Shivade refers to some high-profile hit-and-run cases. "In none of these cases, the court has given more than three years," he tells the court, pleading for an equivalent sentence for Salman.
The judge looks on.
"We are ready to give any amount of compensation to the victims, my client has already given Rs 19.5 lakh to the court as compensation for victims," says Shivade.
(The amount is yet to be disbursed among the victims and their families.)
Salman looks tired. There is no chair in the box. He shifts his weight from one leg to other.
The defence begins listing Salman's charitable acts. Salman looks uncomfortable, gesticulates at Shivade.
Shivade now changes tack and tells the court Salman is ill. "He has an earache," the lawyer says.
Salman looks utterly taken aback.
"What are you doing?" he asks his lawyer.
The lawyer persists with the ill-health argument. He produces a doctor's prescription dated November 2014. Then he tells the judge Salman is a heart patient and a neurological patient – so he deserves a lenient sentence.
Salman now looks fed up – he stretches his hand and asks his lawyer to stop. His words are lost in the courtroom din.
Around noon, the drone gets louder – the lawyers and the judge cannot hear each other now and the judge brings down his hammer for order in the courtroom. Hordes of onlookers have entered the courtroom, displacing many people who were authorised to view the proceedings.
The judge stops proceedings, asks the police to throw the intruders out, bring the authorised people waiting outside into the courtroom and shut the door. The court is now an oven. Salman sweats profusely, so do others.
It is time for the prosecution's arguments on the quantum of sentence. The judge hurries up the prosecutor, too.
"Your honour, you gave the defence one hour. Give me 15 minutes," says the prosecutor and then presents an aggressive plea for the maximum sentence of 10 years.
Judge asks Salman: "You have anything to say?'
"I was not driving the car," he replies.
His sisters cover their faces and sob. Salman gestures to them not to cry.
At 12.30pm, the arguments end. The judge announces he will deliver the sentence at 1.10pm after a break. Salman and his family move out of the courtroom with their lawyers.
At 1.10pm, when the court reconvenes, the lights go out in the courtroom. It is a power failure.
Onlookers again enter the courtroom. The judge again throws them out and shuts the door.
In the semi-dark, packed courtroom, lights come in through a couple of slim windows. The atmosphere is oppressive in more ways than one – the wait and the heat are killing. Salman's siblings surround him to keep him closeted from the media and others, while the judge waits for electricity to return.
When power does not return even after 20 minutes, the judge returns from his chamber and announces the sentence.
"Charged under all sections," he says. Salman is handed a sentence of five years in jail.
The court doors open. Many move out. Salman and his family stay on.
The actor looks war-beaten, forlorn. He runs his hands repeatedly through his hair and face, wipes sweat. Speaks to his family.
A rush begins in the defence team to get Salman bail from the high court – the sessions court does not have jurisdiction to do so in cases in which the sentence is over three years in jail.
Outside, a man dressed as Salman Khan cries.
A group of Tamil protesters celebrate the conviction.
(Salman had supported then Sri Lankan President Mahinda Rajapaksa, during whose tenure Tiger supremo Velupillai Prabhakaran was killed, and participated in his election campaign. Actress Jacqueline Fernandez, said to be close to Salman now, is counted as a friend of Rajapaksa's son.)
Rushing to secure bail, Salman's defence team led by Supreme Court lawyer Harish Salve – who has flown down from Delhi for this – manage to bring up a petition before Justice A.M. Thipsay of Bombay High Court.
Salve mentions Salman's ill-health and the unavailability of the conviction order while seeking interim bail.
"A person cannot be arrested on the basis of a summarised court order," Salve says.
Justice Thipsay replies: "He has been out on bail these past 12 years."
The judge grants Salman an extension of the bail by two more days.
The high court will hear Salman's bail plea on May 8.
It is a rush against time – the bail document has to be produced in the sessions court before Salman can go home.
The courts close at 5pm. But the court stays open for two more hours today.
The legal formalities get over at 7.15pm. Salman leaves for his seaside home in Galaxy Apartments at Bandra.
He is driven by the same Ashok Singh.
Expert Talk
Ashok Singh took the witness stand on March 30, 2015, almost 13 years since the fateful night when his employer's car had rammed into a Bandra bakery, killing one person and injuring four others. As the judgment copy is awaited, legal minds say the driver's sudden presence at the trial was the twist that swerved the case towards conviction.Singh, Salman Khan's driver, told the court that he was driving the Land Cruiser when it crashed into the bakery's shutters on the night of September 27-28, 2002. His deposition was contrary to what deceased witness and Khan's former police bodyguard Ravindra Patil, who was present in the vehicle at the time of the incident, had said. Patil had given two statements to the police and stood by his second statement that he had warned the actor, who was allegedly drunk, to slow down, but to no avail. Patil died in 2007 after deposing before the magistrate in Bandra, where the actor was earlier facing the less serious charge of causing death due to rash driving, which attracts up to two years in jail.
A senior lawyer from the prosecution said the introduction of the driver at a belated stage may have been an adverse turning point for the actor. "Which logical or prudent mind would believe the driver's claims?" special public prosecutor Pradip Gharat had asked in court while making his closing submissions in the trial as he called Singh a "self-condemned liar deposing falsely on oath." Singh said Salman's father Salim Khan asked him to finally depose, although he had wanted to do so even earlier. Gharat had asked, "Can it be accepted that Salman's father waited with a calm mind and tolerated the sufferings his son was put through by the driver all these years, till the turn of the defence witness came in the trial, even as the driver continued to serve with the family?"
The case boiled down to who was at the wheel, the prosecutor had said. Gharat called the driver 'unbelievable' as a witness and said thus the prosecution's claim that Salman was at the wheel should be believed, given the lack of any other plausible alternatives. Lawyers outside the court on Wednesday also said the driver's statement ought to have been made much earlier, in 2002, both when Salman was arrested and later when he was tried for rash driving in the Bandra magistrate's court.
Senior counsel Nitin Pradhan said to prove his case, perhaps Salman could have first sought to depose as a witness, placed himself for cross examination, which he didn't, before bringing the driver as a defence witness.
The judge held that the prosecution proved its case against the actor, but did not bother with Gharat's submission to initiate perjury proceedings against Singh in the case.
……………………………………………………
A case to Remember
In recent times, every time the box-office gave a thumping endorsement to Salman Khan's star power, residents and close family members of the first-floor apartment of Galaxy Apartments would break into a celebratory cheer. The only one who'd wear a worried crease on his forehead was the star's father, Salim Khan.
"How can I sit back peacefully while two court cases against Salman are going on?" he'd offer as an explanation for his unease.
Salim, who will soon be an octogenarian, had the wisdom to acknowledge that an undercurrent of tension played spoilsport every time the bubbly was poured at home. "Until these cases are behind us, how can I ever relax?" he asked.
On Wednesday, Salim's sleeplessness was justified when his son was sentenced for five years. In the last 24 hours, primetime TV and front-page headlines have dissected Salman's A-1 Bakery accident ad nauseam, desperately playing up bites from the most insignificant players of the entertainment industry.
Characteristically, while everybody's talking and tweeting for months on end, there hasn't been a peep from the subject himself. That is Salman Khan.
Whether it's jubilation over a film that has broken all records or a jail sentence that's the cause celebre of the day, everybody else talks, not Salman. Whether it's Arbaaz Khan hitting a goldmine with Dabangg, or sister Alvira raking in the big bucks with Bodyguard, or close buddy Sajid Nadiadwala setting himself up as a director with Kick, Salman Khan has himself never boasted about his box-office magnetism.
Everybody else around him does the verbal strut, not the actor.
Even a competitor like Aamir Khan doffed his hat to Salman's star power when he said that while he needed a good story and a strong director, Salman could turn a film into a hit by merely playing with the buckle on his belt.
You'd be hard put to find Salman himself talk thus about his stardom or box-office appeal.
So there is some substance to the man who's (perhaps deservedly) in the docks today. Salim once analysed his son's myriad escapades and remarked: "Have you noticed that every time he's in a spot, it's only because of his drinking?"
Many years ago, when Subhash Ghai (who could be quite obnoxious/arrogant after one too many) and Salman had a row in the washroom at a socialite's party, Salim was certain that his son would see reason once the sun came up. In fact, once he'd woken up sober, Salman himself had sheepishly told his father what had transpired between him and the filmmaker the night before. Of course, they'd both been roaring drunk.
"Do you think what you did was right?" Salim had asked him, fully aware that the much-older Subhash was as much to blame for the incident as his son. Before it could blow up into headlines, Salim had sent Salman across to shake hands and make up with Ghai. But Salman the extremist then went several extra miles when he also agreed to work in Subhash's Yuvvraaj even though he firmly believed that the filmmaker had lost his touch.
Most of the episodes about Salman and his women, too -they've ranged from pouring cola over Somy Ali's head at a night spot to banging on Aishwarya Rai's door at midnight – have all happened after a tryst with the bottle. His famous spat with Shah Rukh was also at a party where both Khans had been drinking.
Salim's observation about Salman is bang-on. One can't recall a single untoward incident that featured a sober Salman. His five-year sentence is, therefore, like a comeuppance. Because it has come to him not for negligent or rash driving (as some of his "supporters" are wont to believe) but for the tragic consequences of driving under the influence of alcohol.
As soon as the sentence was pronounced, a WhatsApp message tittered, ' Madhuri Dixit ke dono Saajan jail mein'. But it's not funny that Sanjay Dutt and Salman Khan, the two anointed bad boys of the film industry, have shared a somewhat similar trajectory.
Apart from being found on the wrong side of the law, they have also been known to live and work by their own rules. Many a producer has been ruined because of Sanjay's unprofessional lifestyle. Salman too, functions like a 1970s' star. Like Dharmendra or Rajesh Khanna, Salman needs a coterie around him and after he fetches up for a shoot, he'll take his own time in the makeup van before emerging to give a shot.
Both actors have displayed good qualities too – they turned gymming and body-building into fads that a nation full of star-struck young boys followed. They also came to be known as soft-hearted do-gooders who did much for the underprivileged.
But the truth is, Salman is the better of the two men. Once the film industry turned professional, he became far more reliable as a celebrity.
Reshma Shetty who has been managing his business affairs for a long time now, could strike a deal on his behalf and be assured that he would fulfil all his commitments without embarrassing her. However, the same Reshma couldn't handle Sanjay Dutt's unpredictable ways when he was her client for a very short period.
On their religious beliefs too, Salman is more secular than Sanju could ever be. Perhaps this has much to do with Salim and Salma's truly secular beliefs which have influenced Salman to a great extent.
Incidentally, there's another point of difference between them. While 49-year-old Salman is an obedient son to his father to this day, Sunil Dutt always found Sanju quite unmanageable.
Salman doesn't talk, doesn't crow, doesn't boast. And therefore, few know that along with his renowned flaws which have brought him the grief he faces today, he has redeeming qualities too.
That's why, unlike Sanjay Dutt who will always retain his swagger, once Salman Khan has finished with lawyers and serves his sentences (the black buck case is still dragging on), he will emerge a stronger and a nicer man.
Unless alcohol does him in again. Right, Salim?
……………………………………………………………………….
The Actor Salman Khan
I take my life's lessons from Salman Khan's films. Okay, I don't, but surely many young boys must have when they whistled aloud as love-guru Salman Bhai offered them gyan on wooing women in Wanted (2009): "Ladki ke peechhe bhagega, ladki paise lekar bhagegi. Paise ke peechhe bhagega, ladki tere peechhe bhagegi (Run after a girl, she'll run away with your money. Run after money, she'll run after you)." Applause!
Wanted, a remake of the Southern hit Pokiri, was a turning point both in Salman's career and for Bollywood in the short-run. At a time when cinema audiences were split between multiplexes with super expensive tickets and semi- urban 'single screen' theatres, the commercial success of Wanted through single screens alone surprised most producers over how much they could still rake in by merely eyeing the cheaper seats. Big budget productions thereafter with loud dialoguebaazi, athletic dance numbers, along with songs of brooding romance with a redundant heroine and a ready-made script aesthetically inspired by the South gave many middle-aged heroes and even younger ones a chance to resurrect their careers: Akshay Kumar (Rowdy Rathore), Ajay Devgan (Singham), Shahid Kapoor (R…Rajkumar), Shah Rukh Khan (Chennai Express)… Such films work on us like comfort food. Audiences enjoyed these 'formula films', with or without Salman. Although, given the genre, nothing succeeds like Salman.
The urban middle-class would have ignored these movies altogether. But they ran the risk of being branded snobs. By the late 2000s, they were getting used to watching mainstream movies in plush multiplexes with realistic, vulnerable characters delivering dialogues that were more conversational than bombastic. Credit for this change is often attributed to Dil Chahta Hai (2001), which was Farhan Akhtar's first film as writer-director. Farhan is also an actor now. Salman's first story idea as a writer was Baaghi: A Rebel for Love (1990). His last script was Veer (2010). As an actor, Farhan can't look beyond Robert De Niro. In an interview, Salman came across as a Sylvester Stallone fan. He'd just watched and been floored by The Expendables.
Bollywood's bodybuilding revolution in some ways is a throwback to 80s Hollywood when Stallone and Schwarzenegger ruled the scene. Salman Bhai's most discernible contribution to popular culture is the creation of a male fan-base that aspires to hit the gym and build a body like his, slipping into T-shirts that fit like bras around the chest. I suppose this is admirable for a nation of paunchy men. These fans are often called 'Bhai-sexuals'. Observing the strangely homoerotic hysteria generated in the theatre when Salman takes his shirt off in Ready (2011) and Bodyguard (2011) was by itself worth a movie ticket for me. Those films defied description. Salman's newest offering, Kick, defies a review, which would be true of all his movies of late, barring Dabanng (2010) and Ek Tha Tiger (2012).
Salman, by self-admission, is not much of an actor. His body movements and expressions are rather stiff. But that's not even the point. Most Salman or Rajinikant fans are as much proper film-buffs, in a purist sense, as most Sachin bhakts in India are genuine connoisseurs of cricket. Mass entertainment works a lot like organised religion that way. It's led by collective feelings and personal faith.
On screen, Bhai projects himself as a well meaning but wronged and misunderstood hero who has anger management issues and is prone to breaking into violent somersaults and punches. But he's a nice man. I can see this being particularly alluring to a hot-headed young man with self-image issues. Off screen, he appears as an unpredictable sort of public figure—full of swagger, often erratic, even funny in his responses, totally unmindful of the attention on him. This is instantly appealing to a middle-class that is tired of public figures who seem either politically correct or publicity hungry. He's cool because apparently he doesn't care. No doubt, he has a strong female following. All good-looking male stars do.
But I'm sure he derives his greatest respect from his male fans for being the enviable, eternal bachelor boy at 50, having dated some of India's most beautiful women and romancing women half his age on screen. This is the ultimate male aspiration in a country that weds in its twenties. He gives them precious advice on love. Dumping his girlfriend (Jacqueline Fernandes) in Kick, because she wants him to "settle down" and lead a boring life, he tells her, "Main tumhare saath boodha hona chahta hoon. Tumhari vajah se nahin. (I want to grow old with you, not because of you!)" Priceless!
…………………………………………………………
The verdict against Salman Khan makes no difference to at least two of the four men injured in the hit-and-run in Bandra in 2002. The jail term to Salman "will not fill the stomach", says one of them.
"The verdict doesn't really affect us in any way," Mohammad Kaleem, 35, tells The Indian Express from Sultanpur. "How do we benefit if he is sent to jail? I received Rs 1.5 lakh in compensation but it was spent on my treatment. We're poor and the jail term won't fill our stomachs."
Mumbai, Abdullah Rauf Shaikh, another of the victims hailing from UP, echoes Kaleem. "What's the point of getting the judgment after such a long time? I had to quit my previous job." Rauf now still works at a bakery in Mumbai and received Rs 3 lakh as compensation, out of which, he says, he had to give Rs 1.2 lakh to his lawyer.
Kaleem says he still suffers the effects of the injury. "My back aches if I stretch it. I still have to take medicines when it becomes unbearable," says Kaleem, who was under 23 when Salman's vehicle hit him, fracturing a leg and injuring him in a hand and the back. "My livelihood was affected and I can't earn anymore. My younger brothers take care of me now."
Mohd Kaleem in Sultanpur. (Source: Express) Mohd Kaleem in Sultanpur. (Source: Express)
"Kaleem came home to recuperate. When he returned to Mumbai, his back continued to ache and he could not work. So he returned to Gonda for good and since then he has been staying at home, occasionally driving a taxi," says his brother, Haleem.
"Kaleem used to support us when we were young, and now we are supporting him. We are also looking after his 12-year-old daughter Tayyaba Bano," Haleem says.
Brothers Haleem, Kaleem and Mohammad Oleem stay in Sultanpur. A fourth, Mohammad Aleem, works at a bakery in Mumbai. "We are poor people, we'd rather earn money than fight a case."
Mohammad Muslim, yet another victim hailing from Gonda, had fractured his thigh and after claiming he had seen Salman get down from the right side of the car, backtracked on his statement.
Abdul Shaikh, 36, whose right foot came under the vehicle's wheels, skipped work at Mumbai's Steaval Bakery Wednesday. His colleague Mohd Aziz says the cost of his treatment was taken care of "anonymously".
"He can walk properly now. He still does not know who paid for his treatment," Aziz says. Asked if Shaikh has ever spoken against the actor, Aziz says, "I do not remember him saying anything like that."