Congress demands Sushma Swaraj's Head, says playboy Lalit Modi is a fugitive & India does not give favours to fugitives!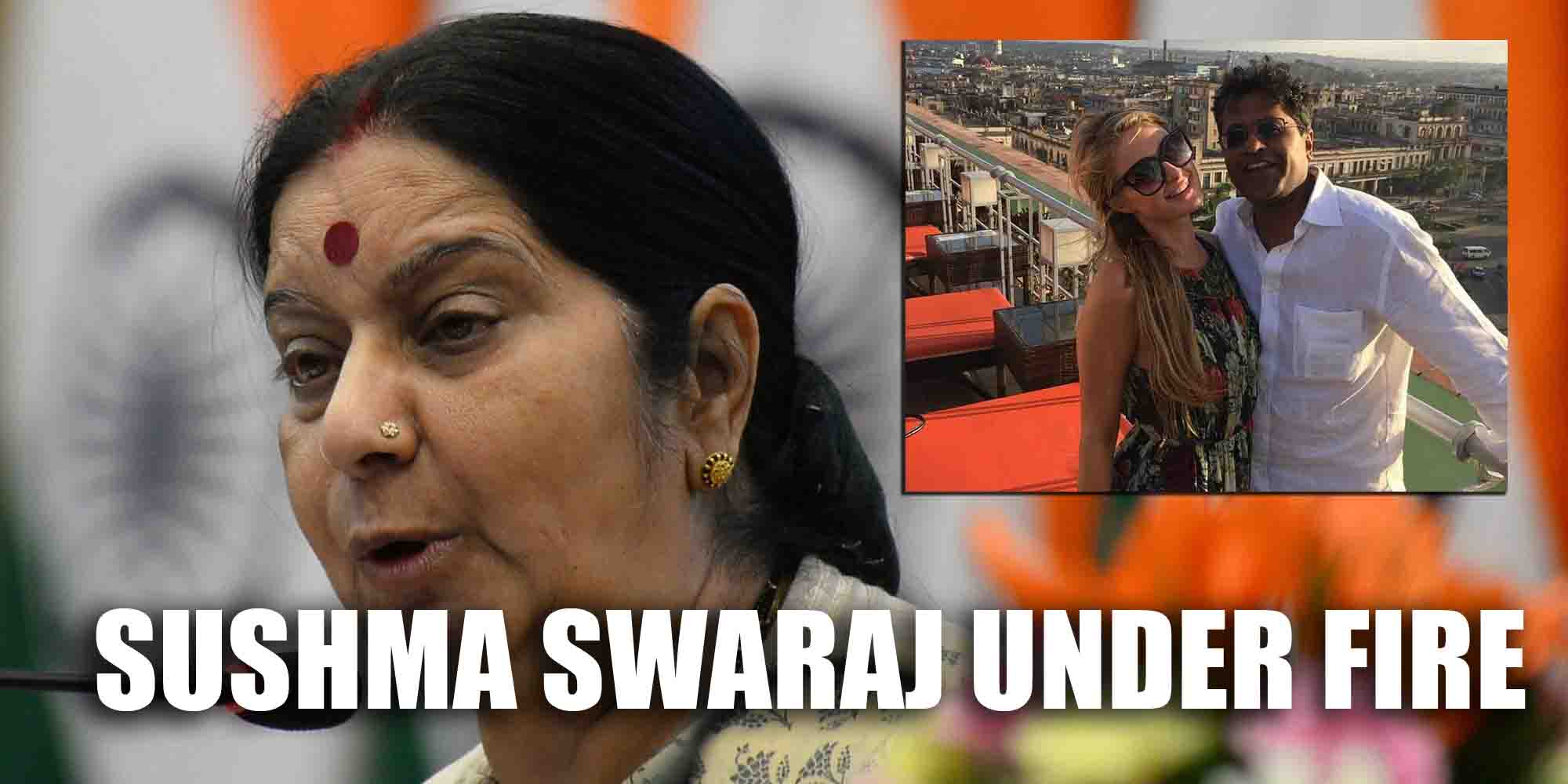 Congress demands Sushma Swaraj's Head, says playboy Lalit Modi is a fugitive & India does not give favours to fugitives!
External Affairs Minister Sushma Swaraj triggered a controversy on Sunday by defending her recommendation to the U.K. last year to provide travel documents to former Indian Premier League chief Lalit Modi to visit his wife, undergoing treatment for cancer in Portugal, if the rules permitted.The Union government and the Rashtriya Swayamsevak Sangh came out in full support of Ms. Swaraj. Bharatiya Janata Party president Amit Shah said the recommendation was made on "humanitarian" and not "moral" grounds. Mr. Lalit Modi's passport was revoked in 2010 and restored by the Delhi High Court last August.Ms. Swaraj tweeted that she had told the U.K. that "giving emergency travel documents to an Indian citizen cannot, and should not, spoil relations between the two countries". The Minister said she had conveyed to the British government that India would not object if the British authorities acceded to Mr. Lalit Modi's request. There was a need, she said, to take a "humanitarian" view.The government's sharp defence followed a discussion between Prime Minister Narendra Modi and Union Home Minister Rajnath Singh. Mr. Singh said, "Whatever she has done is right. We justify it and the government completely stands by her."
Ms. Swaraj is learnt to have spoken to the Prime Minister.
RSS says Sushma guided by nationalistic spirit
BJP president Amit Shah took a swipe at the party saying this matter was different from allowing Bofors scam-accused Ottavio Quattrocchi or Union Carbide chief Warren Anderson to "leave" the country.RSS leader Indresh Kumar said Ms. Swaraj had been guided by her "humane" nature and "nationalistic" spirit.The Opposition parties alleged a conflict of interest after reports said that Ms. Swaraj's daughter had represented Mr. Lalit Modi in court.They even asked if Ms. Swaraj's husband provided legal counsel to the ex-IPL commissioner.Ms. Swaraj tweeted: "After his [Lalit Modi's] wife's surgery, he came back to London. What is it that I changed?" "What benefit did I pass on to Lalit Modi — that he could sign consent papers for surgery of his wife suffering from cancer?"
The controversy broke out here shortly after the British media reported that Labour MP Keith Vaz had recommended to immigration officials in the U.K. to grant travel documents to Mr. Lalit Modi, based on his consultation with the Minister, something that Ms. Swaraj has confirmed.Mr. Lalit Modi on Saturday posted on his Twitter handle the photographs of his wife and family members at a wedding in Venice.
---
MP says his actions were guided by humanitarian considerations.
Keith Vaz, the senior Labour MP of Indian origin, used the name of Foreign Minister Sushma Swaraj to put pressure on Sarah Rapson, the head of UK visa and immigration, to grant IPL founder Lalit Modi travel papers for the United Kingdom.In a follow up to its first expose carried last Sunday on Mr. Vaz's role in facilitating Mr. Modi's entry into Britain in August 2014, today's Sunday Times cites leaked correspondence from Mr. Vaz to the Home Office, invoking the names of Ms. Swaraj and Sir James Bevan, the British High Commissioner to New Delhi in an effort to expedite Mr. Modi's case. The newspaper alleges that less than 24 hours after Mr. Vaz — then the chairman of the powerful House of Commons home affairs select committee — called Ms. Rapson, Mr. Modi was granted his travel papers.Mr. Vaz reportedly phoned Mr. Modi and said "From the horse's mouth! I will do a thank you [letter to Ms. Rapson]. We will need her again," the Sunday Times says.Mr. Vaz has strongly denied allegations of conflict of interest that have been made against him. Mr. Modi is not a resident of his constituency of Leicester East (which could have justified his intervention). Secondly, the home affairs select committee scrutinises and holds to account Ms. Rapson's department, a fact that put pressure on Ms. Rapson to concede Mr. Vaz's request.
Mr. Vaz said he treated Mr. Modi's request as he would have the hundreds of other requests he received in his capacity as chairman of the committee. He went the extra mile for Mr. Modi on humanitarian grounds as his wife needed cancer treatment abroad.In last week's expose, the Sunday Times revealed that not only did Mr. Vaz write to Ms. Rapson, he also wrote to another Home Office official, claiming that Mr. Modi also had the support of the Prince of Wales, and Prince Andrew. In his letter to Ms. Rapson, Mr. Vaz said: "The Foreign Minister of India has spoken to me, making it very clear that the Indian government have no objection to the travel document being granted. Mrs. Swaraj has also spoken to Sir James Bevan who, even though he was on leave, said he would speak to the relevant person in the Home Office. Frankly, everyone has been involved in this apart from Ban Ki-moon," the newspaper quotes him as saying.