Top Cardiologist Dr. Kaushal Pandey honored at Pharma Leaders Super Brand Awards 2015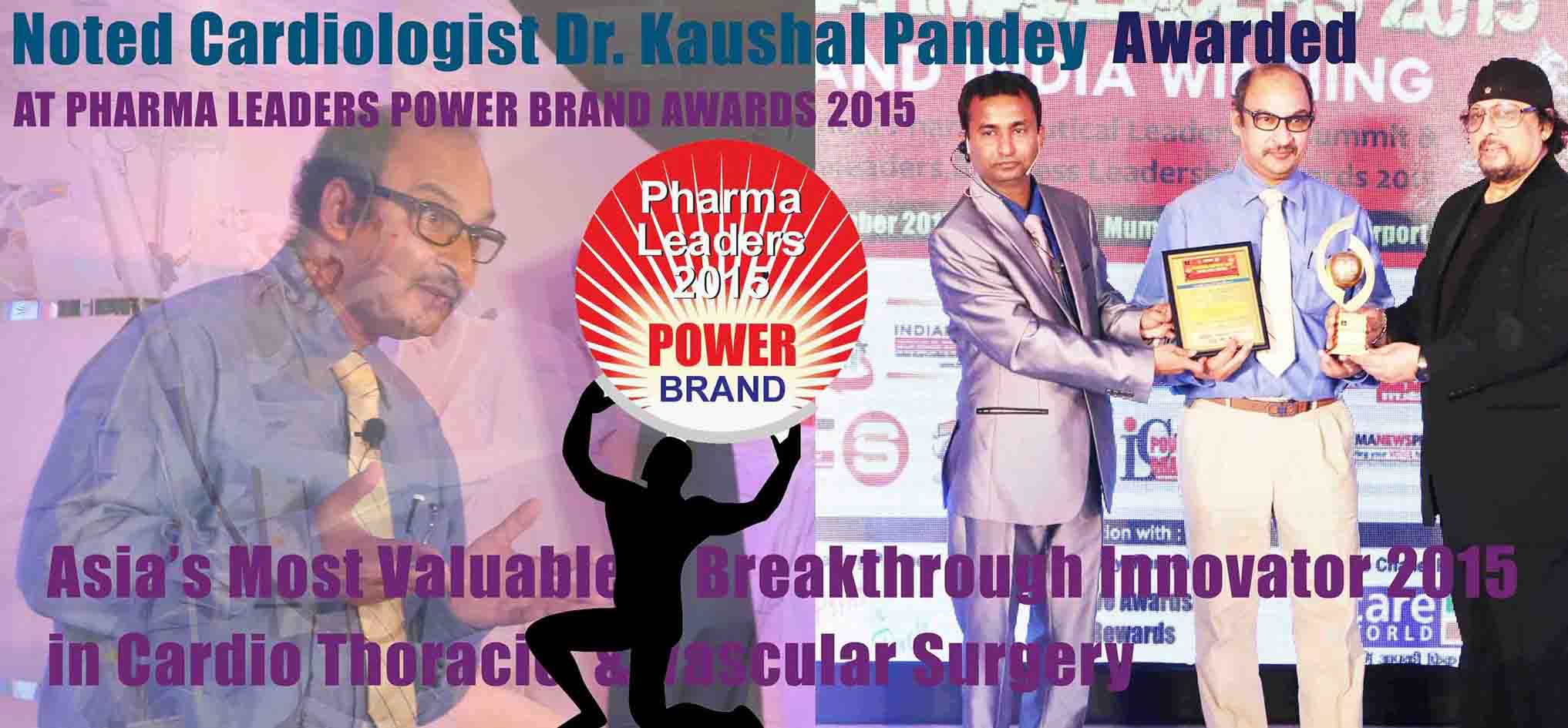 Top Cardiologist Dr. Kaushal Pandey honored at Pharma Leaders Super Brand Awards 2015
Asia's Most Valuable & Breakthrough Innovator in Cardio Thoracic  & Vascular Surgery 2015 Award Conferred to Dr. Kaushal Pandey, Cardio Thoracic and Vascular Surgeon
The 8th Annual Pharmaceutical Leadership Summit & Business Leadership Awards was successfully concluded at the financial capital of india in Mumbai at Hotel Hilton today where more than 300 top leaders of the healthcare industry had gathered to be the part of the historic debate on  "Pharma Leaders 2015, Brand India Winning". Widely acclaimed in the healthcare industry as the pioneer in recognizing the leaders of today & tomorrow, Pharma Leaders brought together veteran healthcare leaders under one platform. The leadership Summit in the afternoon session debated crucial topics such as Healthcare Insurance, Medical Tourism, Challenges of Indian Pharma Industry. Hinduja Hospital CEO Mr. Gautam Khanna debated on the challenges of Indian Healthcare Insurance while Padma Sree Prof Dr. Shashank Joshi addressed on Brand India.
@DrKaushalPandey @WellnessMumbai #Dec30thWithSatyaBrahma#PharmaLeadersAwards #Pharmaleaders2015#BrandIndiaWinning pic.twitter.com/yClqIabTWf

— Pharmaleaders (@pharmaleader) January 8, 2016
Dr.Kaushal Pandey made a passionate presentation on World Class Individuals : mediocre institutions: & failing medical education. The Award Winning Cardiac Surgeon stressed the need for qualatative improvement of healthcare services in the country to make healthcare accessable to the indian masses.
Expressing concern over the falling standard of education in both public and private medical colleges affecting patient care and healthcare quality in the country, Dr Kaushal Pandey, one of the renowned consultant cardiovascular surgeons associated with P. D. Hinduja National Hospital & Research Center, has stressed on the need for a major overhaul of the medical education system to produce quality doctors to ensure high quality healthcare.
"India produces around 50,000 MBBS doctors annually as compared to 18,000 doctors in USA but training of our doctors are not up to the mark as compared to doctors abroad. In India, the MBBS students do not get enough exposure to clinical materials and surgical procedures during the course to become well trained doctors, and there are a chunk of students who don't have aptitude to become a doctor but they join a medical college just because their parents manage to secure seats for them in the medical college. Such doctors are risk for patients. The quality of the faculty in medical colleges is also not up to the mark," said Dr. Pandey.
There is no legal compulsion for doctors to undergo re-training in the country. There is no system to audit the doctors on any quality of care measures which provide them freedom to do whatever they want after the basic qualification is secured. In absence of scrutinisation and monitoring to ensure accountability of doctors in public hospitals in both urban and rural areas, absenteeism among doctors has become common sight leaving scores of needy patients in lurch. It is not the case with private hospitals which have a stringent monitoring system to make doctors accountable to patient care, he said.
"If the government is really worried about people's health and if the country is to stay competitive globally, it has to exercise its authority to introduce reform to medical entrance test so that students having aptitude to become a doctor get admission to medical colleges. Commercialisation of medical education flooding the market with poor quality doctors should be stopped at the earliest without any loss. The exorbitant capitation fees charged by private medical institutes from students should be regulated to make education affordable for deserving and needy students and steps need to be taken to overhaul the regulatory framework pertaining to quality of instruction, faculty development and curbing private practice," noted cardiac surgeon said.
In order to overcome the shortage of quality faculty members in public medical colleges, the government needs to revive the old honourary system attached to healthcare in the country where talented, renowned doctors used to conduct classes for students in government medical colleges for two-three days imparting them theoretical and practical insight into the course. They used to charge nominal fees for it, he added.
He said that the government also needs to make integrated protocol-based diagnoses and treatment systems into the teaching programme for medical students and make them take a test after a certain period to ensure their skills updation and encourage use of technology with applications like clinical decision support systems to improve the quality of healthcare delivery.
Geographical location and infrastructure facilities should be taken into account in starting an AIIMS like institutes in the country by the government to ensure maximum optimisation of such facilities, he concluded.
Of the 4,000-odd multi-crore infrastructure projects in the country, only nine (0.21%) – with a total investment of Rs 938 crore – are in the health sector, according to data published by the finance ministry.The public-private partnership (PPP) projects range from diagnostic centres to super-specialty hospitals. Investments in the health sector are far lower than those in the transport and energy sectors. The lack of health facilities in India's villages reflects the low investment.About 20% (35,389) of the 182,709 public health facilities in rural areas do not have their own premises, according to a 2014 rural health statistics report. There was a shortage of 6,700 (23%) public health centres and 2,350 (33%) community health centres as of March 31, 2014, according to data tabled in the Rajya Sabha.Government spending on health has come down from Rs 37,000 crore ($5.5 billion) in 2013-14 to Rs 30,000 crore ($4.5 billion) in 2014-15. India spent $69 per capita on health in 2013, the lowest among developing nations. Even poorer economies like Indonesia and Mexico did better, according to data published by the Organization for Economic Co-operation and Development
---
Dr.Kaushal Pandey received the prestigious award title "Asia's Most Valuable & Breakthrough Innovator in Cardio Thoracic  & Vascular Surgery 2015from the hands of the iconic music composer Louis Banks who has often  been referred to as the Godfather of Indian Jazz  in the presence of Satya Brahma, Chairman & Editor-In-Chief of Pharma Leaders Group.
Dr.Kaushal Pandey is one of country's top cardiologist & is much respected & admired in the healthcare profession.Dr.Kaushal Pandey specializes in Cardiovascular & Thoracic Surgery & his area of Interest are in Bilateral IMA and Radial Artery Grafts for CABG, LV Aneurysm and CABG in poor L V function,Bio Prosthetic Valve Replacement,Redo Valve and Redo CABG Surgery,Infective Endocarditis and infections in Cardiac Surgery & his Key Achievements include among many are winning  P. K. Sen Memorial Oration award at Indian Association of Cardiovascular thoracic Surgeons Conference, 2006, Dr. K. N. Dastur Memorial Oration award at IACTS CON 2012. Dr.Kaushal Pandey is credited with performing of over 14500 open-heart surgery procedures in Mumbai since 1991,Over 50 major presentations and articles in national and international conferences and journals.In the year. Pharma Leaders crowned him as Incredible Medical Expert of the Decade in the year 2013 & Indian Affairs ( A Division of Network 7 Media Group) felicitated the accomplished cardiac surgeon as India's Most Promising Face in Cardiology at the 3rd Annual India Leadership Conclave & Indian Affairs Business Leadership Awards 2015.
---