Luxury car sales are predicted to triple, Mercedes-Benz,Audi,BMW,Jaguar Land Rover,Lamborghini,Rolls Royce Motor Cars in race for India's Most Admired & Valuable Luxury Car Company 2015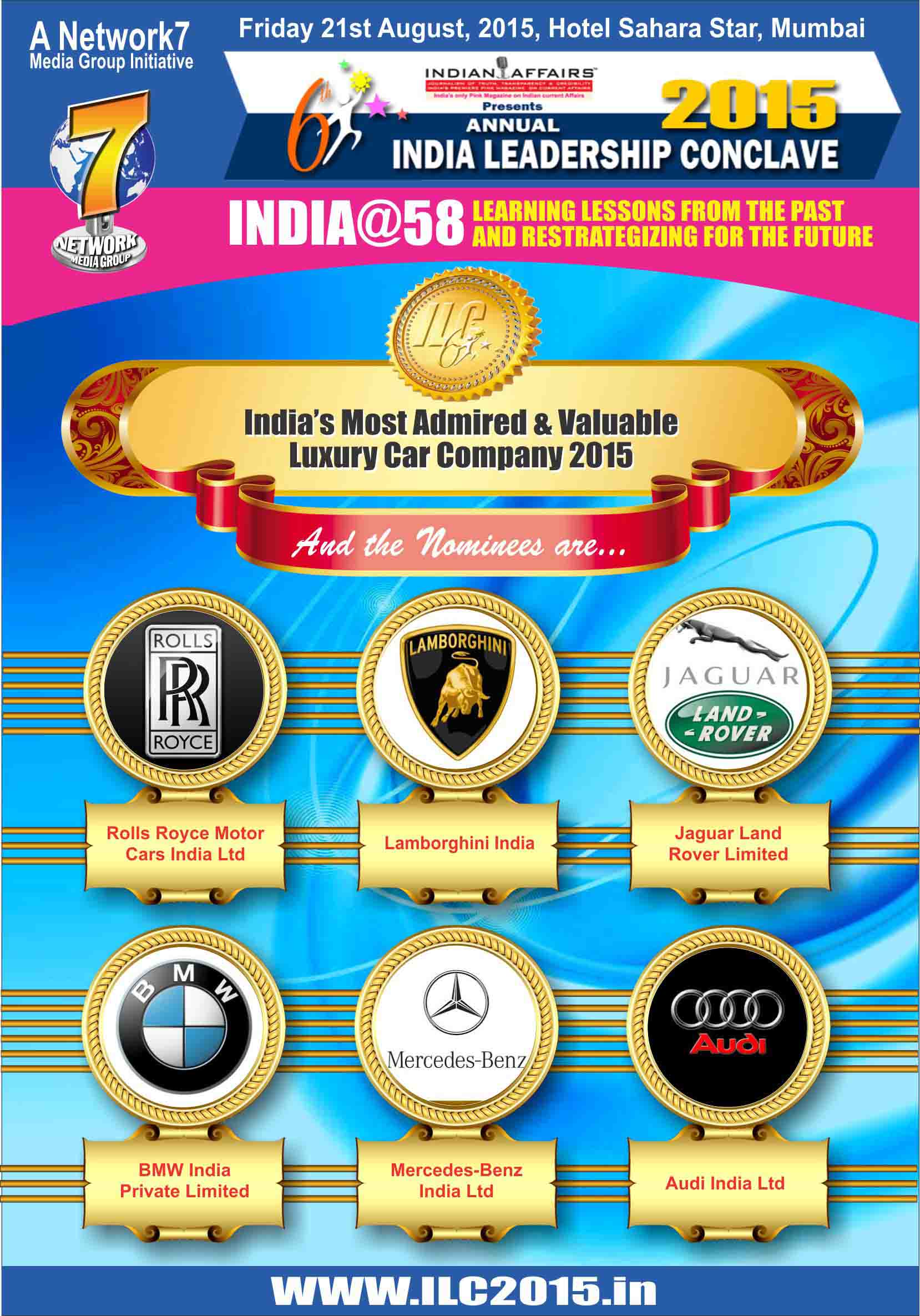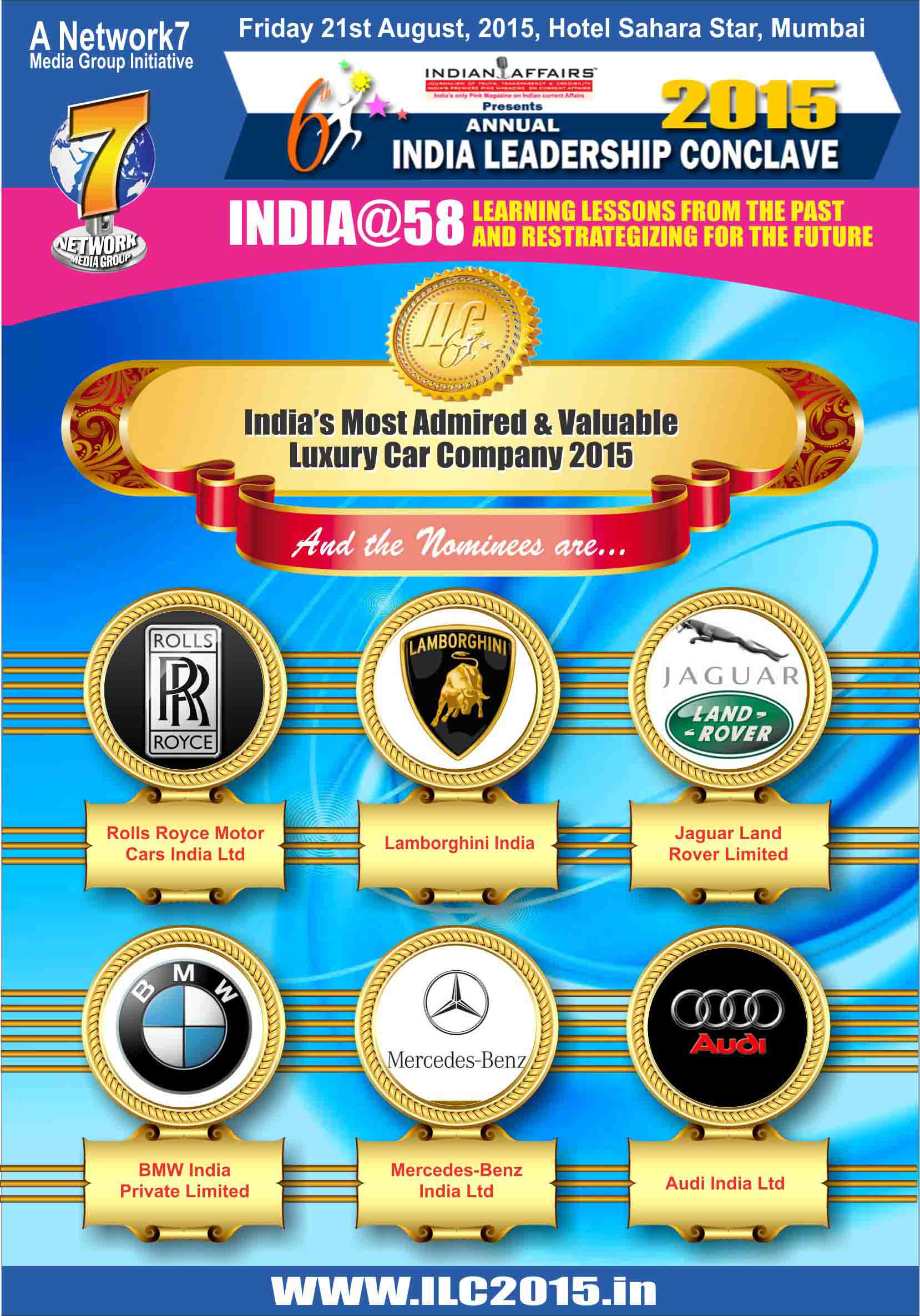 Russia and China are having their day, but we may now be entering "India's decade," according to a new report by wealth intelligence agency Wealth-X.Following India's election of a new reformist government, there are three main factors propelling its rapidly growing luxury market. Luxury market in India is gradually gaining attention. Though the 'buzz', this sector is generating is disproportionately high in comparison to the size of the market, but it shows that the global luxury brands do recognize the high potential of the Indian luxury markets. Till a decade back, luxury retail was only meant for the with just a few luxury brands available and that too in five star consumption of elites hotels. Over the years, India's increasing urbanization rate has monetarily empowered the consumer which has further helped luxury market to set a firm foot for itself.
The luxury market is growing at a rapid pace in India with a compounded annual growth of 25%. At US$4.76 billion, the luxury market in India is set to touch three times its current size at US$14.72 billion by 2015. The country has become the prime destination for top-notch global brands, while many high-end luxury brands have quickly set up their shops here.
Out of the all luxury segments in India, the Luxury Car segment acquires the major share.
Its millionaire population is growing like crazy.
The number of millionaires in the country has risen from 196,000 to 250,000, an increase of 27%, in the past year. Wealth-X predicts 437,000 India-based millionaires by 2018, and double that amount by 2023.The key indicators for India's future economic growth are its new reformist government, well-defined legal system, and entrepreneurial spirit, according to Wealth-X.The report also notes that luxury consumption and economic inequality is more acceptable in India than in China or Brazil, on account of the country's now-defunct caste system.
High-end retail space will double and luxury imports are already on the rise.
Recent years have seen an increase in luxury consumption in India. Notably, Champagne imports have risen by 6%, while general imports into the country have remained relatively flat.Retail space for luxury brands is set to double in the next three to four years, according to a report by CBRE Group, the world's largest commercial real estate firm. Developments in major cities like Delhi, Mumbai, Chennai, and Bengaluru will add an expected 16 million square feet of commercial space, with luxury retailers taking an estimated one to two million square feet.
Luxury car sales are predicted to triple.
Luxury automakers are also projected to pounce on India's burgeoning upper middle class. Car sales are set to triple from 33,000 a year to over 100,000 by 2020, according to a report by credit agency ICRA.The report says it finds "a strong correlation between incremental affluent households and luxury car sales," and as India generates more affluent households, luxury cars sales will also climb.It's not just incessant rains that are flooding the roads this monsoon. Triggered by tumbling demand, luxury-car makers are offering freebies and steep discounts that shave off more than Rs 5 lakh from the price of popular models such as the BMW 5 Series, Audi A3 and the Mercedes-Benz E-Class. Customers can buy their favourite cars without making a down payment or avail of interest-free finance in a market that has stagnated for the past three years. A sluggish economy has aggravated worries for Mercedes-Benz, Audi and BMW, which dominate the market and are now doling out innovative schemes to arrest a steep fall in inquiries and sales. "It is perhaps the toughest time for luxury cars," said a dealer of luxury cars. "Traffic of customers is down 20-25% for the past two months over the past year, creating a panic and forcing us to double our monsoon season discounts."
---
India's Most Admired & Valuable Luxury Car Company 2015
@MercedesBenzInd @AudiIN @bmwindia @JLRIndia @JLRPR @LandRover @rollsroycecars @RollsRoyceMedia who will win? pic.twitter.com/hJWGUEgNYr

— Indian Affairs (@Indian_Affairs) July 24, 2015
1. Mercedes-Benz India Ltd. Voting Code (19)
2. Audi India Ltd. Voting Code (20)
3. BMW India Private Limited . Voting Code (21)
4. Jaguar Land Rover Limited. Voting Code (22)
5. Lamborghini India. Voting Code (23)
6. Rolls Royce Motor Cars India Ltd. Voting Code (24)
---
How You can Vote :
Via Online at www.ilc2015.in
Via SMS – Type Your Code & send it to ++ 91 8097667782 ( Example if your code is XX, than type XX & send it to ++ 91 8097667782. This is a standard Indian Number & only standard sms charges will apply & those who has free SMS on the plan, no cost will involve. There are no premium charges. Only one SMS will be accepted at one vote & one category & repeated smses from one number will not be counted)
All brands have been hit. Tata Motors-owned Jaguar Land Rover is offering down payment of Rs 11.25  lakh, a three-year maintenance package, one-year free insurance and financing of balance amount on its Jaguar XJ sedan. Audi has come up with a bullet payment for its A3 sedan and the Q5 SUV, assuring 55% buyback value on vehicles after three years of use, besides direct cash benefits to the tune of Rs 4 lakh. Mercedes-Benz, which posted 41% growth in the first half of the year on demand for newly launched models, is also offering discounts. It assures customers of 50% buyback value at after three years and a discounted EMI of Rs 57,777 on its C-Class, while its GLA-Class comes with first-year insurance paid, a Rs 1 lakh exchange benefit and a discounted 8.99% finance option. "We are aware of the high discounting and price cuts prevalent in the market. We are focused on our strategy by giving fully featureenriched Mercedes-Benz vehicles. We offer innovative financial packages, special insurance products from Mercedes-Benz Financial Services to ensure better value for our offer ..
India's millionaire population has grown by 27% in the past year, and it's just getting started