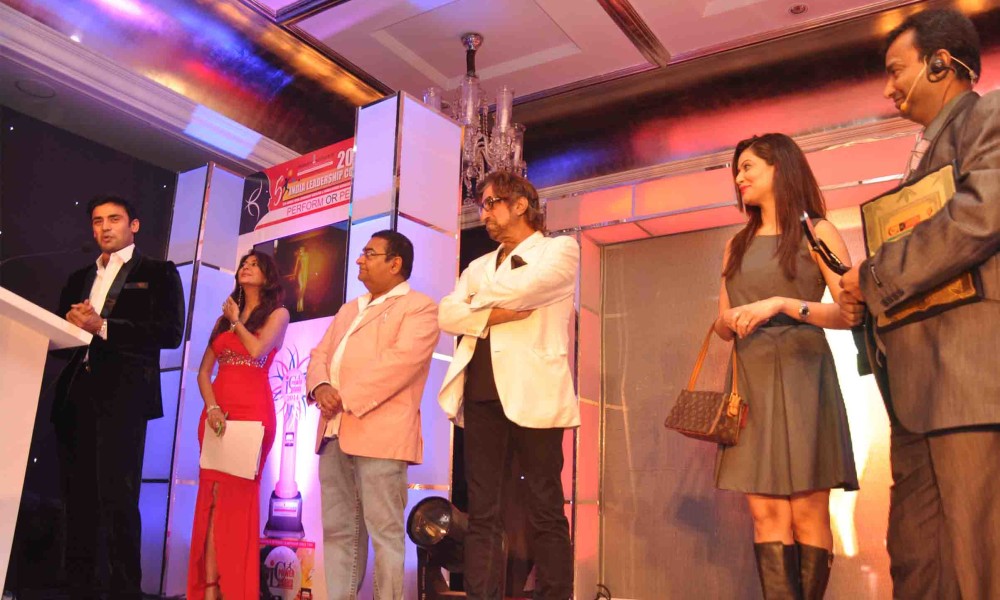 Anil Ambani , Naresh Goyal, Arvind Kejriwal,Dr Mukesh Batra, Sangram Singh, Shraddha Kapoor, Dr. Jayprakash Narayan, Aishwariya Nair, Komal Sood, Dr.Shashank Joshi, Dr.Dr.Jothydev Kesavadev,Nisha Jamvwal among others shined at Asia's Biggest India Leadership Conclave Awards 2014
India's Most Eagerly Awaited & Prestigious 5th Annual Indian Affair's India Leadership Conclave & Indian Affairs Business Leadership Awards 2014  were announced in a glittering award program as Nation's noted personalities & achievers were awarded on Friday, 18th July at Hotel Hilton Mumbai International Airport 2014 hosted by Network 7 Media Group's biggest media outfit Indian Affairs. More than 300 influential & thought Leaders of the Country in business, politics, social, cinema, sports, diplomats, media were present in full attendance to witness the historic leadership Event at the ILC Power Brand 2014(www.ilcpowerbrand.com ).
Announcing the Winners, Mr Satya Brahma, Chairman & Editor-In-Chief of Network 7 Media Group said"Indian Affairs Business Leadership Awards 2013 are set of prestigious awards developed by the eminent Juries & bestowed to the deserving Leaders & Enterprises after a through screening of their landmark achievements for their significant accomplishments in their own fields who have performed under tough conditions imbibing innovation in their business approach. Indian Affairs ( www.indianaffairs.tv ) is known in the industry to break rules & give prominence to the hidden talents, big or small as we believe that top leaders should not always be given importance. It is mix of experience, innovation & risk taking abilities that drive our nomination process".
The prestigious & coveted Awards were presented in a glittering award ceremony with a full house power packed audience to felicitate & honour the Leaders who made india proud, each time they performed in their field, Indian Affairs watched them closely & did not let it pass as their name appeared as top contenders & were put to public votings & were declared winner on the award night on Friday 18th july 2014. Legendary Bollywood Actor Mr. Shakti Kapoor, Dr. Mukesh Batra, India's most-renowned homeopath & Padma Shri Awardee & Mr Satya Brahma presented the Awards to the successful Enterprises & Individuals in their respective areas.
India's top two social media firms such as Simplify 360 partnered this event as a Digital Social Media Partner & Social Samosa as the Social Opinion Partner.
The Full List of the Award Winners
1          Indian Affairs Indian of the year 2014 Business Leadership
Mr. Anil Dhirubhai Ambani
Chairman, Anil Dhirubhai Ambani Group
Indian Affairs Indian of the year 2014 Political Leadership
Dr. Jayaprakash Narayan
President, Lok Satta party
Indian Affairs Indian of the year 2014 Sports Leadership
Mr.Sangram Singh
4          Indian Affairs Indian of the year 2014 Public Service
Mr.Arvind Kejriwal
5          Indian Affairs Indian of the year 2014 Healthcare Leadership
Dr Mukesh Batra
Chairman, Dr Batras Positive Health Clinic
6          Indian Affairs Indian of the year 2014 Cinema
            Ms.Shraddha Kapoor
7          1.Social Enterprise of The Year 2014
ARGHYAM
8          Transformational Leader of the Decade
Aditya Bafna
Executive Director,Shree Shubham Logistics Limited
 9          Millennium Business Leader of the Decade
Mr. Shiv Nadar, Founder Chairman, HCL Technologies Ltd 
10       Global Indian of The Year 2014
Mr.Shailendra Singh, Joint Managing Director
11     Fashion Icon of The Decade
Ms.Babita Malkani, Fashion Designer
12       Healthcare Visionary of the Year
Dr. Shashank R Joshi, Consultant Endocrine & Metabolic Physician
13       Lifetime Achievement Award – Aviation
Mr. Naresh Goyal, CMD, Jet Airways Ltd.
14       India's Most Promising Anti-Aging and Regenerative Medicine Specialist 2014
Dr Deepak Chaturvedi, Physician Endocrinologist,Diabetologist & Antiaging Speciliast
15       India's Most Promising Firm in Computer Education for Masses
Mr.Jesus S. M. Lall,Chairman & CEO.Universal Education
16       India's Most Promising Columnist & Luxury Brand Consultant 2014
Ms.Nisha JamVwal, Luxury Brand Consultant & Columnist
17       India's Most Admired Diabetologist 2014
Dr.Gaurav Sharma, Diabetologist & Life Style Doctor, CMD, DrG Wellness Pvt Ltd. 
18       Entrepreneur of The Year 2014
Mr. Dilip Surana, CMD, Microlabs Ltd
19       India's Most Promising Skin, Hair & Laser Enterprise 2014
Dr. Chytra V. Anand, CEO, KOSMODERMA & Consultant Cosmetologist 
20       India's Most Promising Agri-Logistics Company 2014
Shree Shubham Logistics Limited
21       CEO of The Year Pharmaceuticals
Mr. Girdhar Balwani,CEO & MD, Menarini India Private Ltd
22       India's Most Promising Industrial Enzyme Company 2014
Advanced Enzymes Technologies Ltd
23       India's Most Respected Software Company in Corporate Governance
Datamatics Financial Services Ltd
24       First Generation Entrepreneur of the year
Aditya Bafna
Executive Director,Shree Shubham Logistics Limited
Voting Category
………………………………………………………………………………………………..
25       Business Leader of The Year 2014
Dr G.S.K. Velu, Founder,CMD, Trivitron Group of Companies
26       Business woman of the Year 2014
Ms.Aishwarya Nair, Head – Food & Wine Consulting/Merchandising ,The Leela Palaces, Hotels & Resorts
27       India's Most Valuable 4 Wheeler Company of The Year
Force Motors Ltd
28       CEO of the year
            Dr. PKC Bose, MD & CEO, Saertex India Private Limited
29       First Generation Entrepreneur of the year
Dr. Rajaram Samant, CEO & MD, Akumentis Healthcare Ltd
Company of the Year 2014
            Infozech Software Pvt. Ltd
31       India's Emerging Company of the Year 2014
Knowlarity Communications Pvt. Ltd
32       India's Most Promising Retail Electronic Company of the year
            NEXT Retail India Ltd
33       India's Most Reliable Payment Gateway Company 2014
Atom Technologies limited
34       India's Most Promising Healthcare Chain 2014
Dharamshila Hospital & Research Centre
35       India's Most Promising Aviation Services Firm 2014
            Aviators India Pvt Ltd
India's Most Promising Company in Healthcare Innovations 2014
Forus Health Pvt. Ltd
37       India's Most Promising Company in Lifestyle & Wellness Programs
DrG Welllness (P) Ltd
38       India's Most Valuable Public Bank 2014
            Bank of India
39.      India's Most Valuable Private Bank
Ratnakar Bank
Medical Expert of the Decade
Ashwinikumar D. Kudari, Surgical Gastroenterologist, Sumati Hospital
India's Most Admired Cardiologist of the year 2014
Dr.B Somaraju, CMD, Care Hospitals Group
Fashion Designer of the year 2014
Ms.Komal Sood, Fashion Designer
India's Most Promising Debutante Face in Indian Motion Picture Award 2014
Ms Pooja Sree ( Pooja Singh)

About Network 7 Media Group

Network 7 Media Group is the flagship media of SB Brand Network & is a new age digital media company based in India. In an era where world's biggest personalities & brands are heavily focused on building the image through digital media world, Network 7 Media Group is an attempt by a group of passionate & crazy professionals. Since its inception, the initiatives of Network 7 Media Group has always been out of the blues, unconventional & path-breaking. We believe that unless we are charged & not given a electric shock in our mission to achieve something new, we don't feel like taking up the assignments as we believe that uniqueness in the product & original in its concept are the twin mantras that drive us, while we may be mocked & often criticized by others of being 'risky & unthinkable', only to prove them wrong once we finish the assignment in style & perfection with success. We are often leveled by our critics of being 'unimaginable mindset' & 'unconventional player'. We take these criticism as compliments & feel proud to break the laws to create a new innovation & ideas that are trendsetting. We attempt to create a new mindset of thought process. We convert ideas into actions, challenges into opportunities & dreams to realities. Network 7 Media Group has given birth to some of the excellent media properties in the form of a news media & are widely acclaimed for its independent & unbiased journalism. We have been in the limelight for bringing a change in approach, attitude & a new way of looking. We dont follow a fixed set of rules, regulations, rather we innovate our thinking to experiment with the truth often neglected by the established players. We are fearless, strong & independent.

<!-comments-button-->