Time for india to respond a tough action against rapists!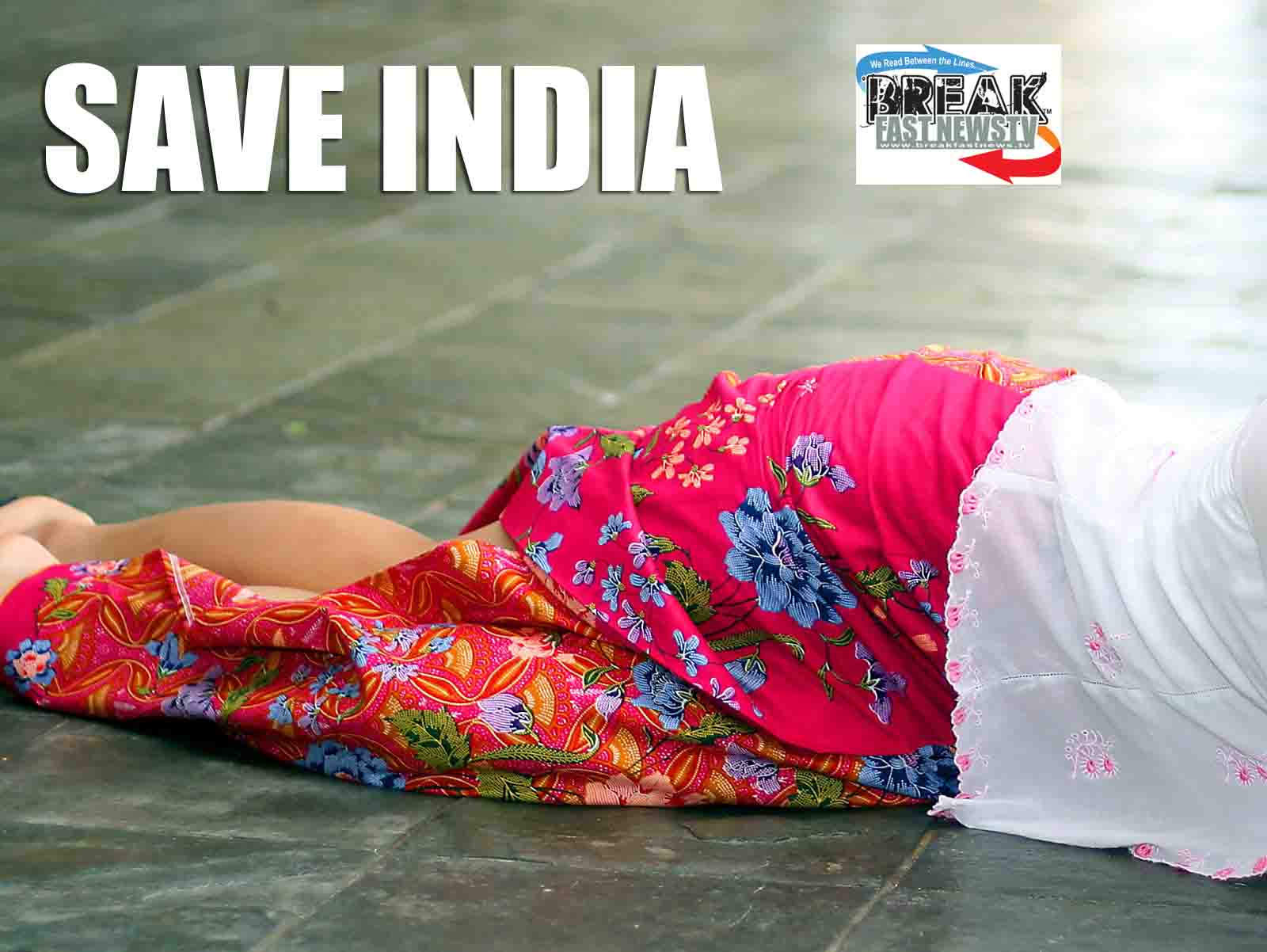 We live in a world filled with hypocrites. Yes, women included. India is a particularly hypocritical society, and we're not just making this up. A recent video by Video Talkies titled 'My Family Raped Me' proves just how much hypocrisy runs in our blood. Probably in yours and mine, too. We've all faced similar ugly situations at some point in our lifetime. The question is what would you do about it? Would you raise your voice against the people you love or would you just keep silent? It's easy to hate on strangers but what happens when abuse comes closer home?
This video by Teen Pathar talks about how rape in India is over-rated and over-hyped. We think the idea is just preposterous! One lady in the video even goes on to talk about the number of false rape charges in India with serious statistics. But don't we already know how victims are pressurised to drop their cases?
If, even after so much exaggeration or hype about rape by the media, the government of India hasn't taken serious steps to make women feel safer in our country, what's left? After the most heinous Delhi gang-rape case, the accused are still just serving jail time and yet to be convicted, aren't they? Is that justice? How then can we say rape in India is over-hyped?
@Indian_Affairs @breakfastnewstv India's tough message to the world – Cant be a silent spectator @socialmedia2day

— breakfastnewstv (@breakfastnewstv) April 25, 2015
It is true that India is not the only country where rapes take place. In fact, there probably are a lot of other countries where the rape statistics are far worse. But should that be a reason for us to stop talking about the issue? Should we not stand up and fight till we see the laws of our country change to protect rape survivors rather than the perpetrators?
Do we really need to compare ourselves with other nations before we take serious action?
Yes, you may be looking at a women's safety awareness video or a news story about molestation or eve-teasing every corner you turn, but that doesn't make it any less of an issue! Let's not give up our fight because someone thinks rape in our country is over-hyped!
https://www.youtube.com/watch?v=oWaCMel2FLg
Rape was the fastest-growing crime among juveniles, 86% of teens arrested for various crimes come from poor families, only 6% were homeless and less than 6% were girls, reveal crime data for 10 years.Arrests of juveniles in the age group 16-18 increased 60% from 2003 to 2013, the highest among all three juvenile age groups, according to data from the National Crime Records Bureau (NCRB), a division of the home ministry.Juvenile arrests for rape rose 288% over this period and arrests for theft increased 68%, the data showed.Contrary to popular belief that juveniles from broken homes commit the most crimes, 81% of teens arrested in 2013, lived with their parents, the data reveal.The figures lend perspective to an unfolding national debate around a cabinet decision to enact a law that proposes trying juveniles as adults.The demand for such a law arose after a 17-year-old was sentenced to three years in a reform facility, after he and five other men gang-raped and battered a physiotherapy student in a Delhi bus on December 16, 2012.The proposed law provides, in the case of heinous crimes allegedly committed by adolescents aged 16 to 18, for examination by a Juvenile Justice Board to assess if the suspect should be regarded as child or adult.
——————————————————————————————————————————————————————————————————————————–
Americans are reading with horror as sexual assault after sexual assault unfolds in India. It's easy to wonder, "What's wrong with that country?" But we should be asking what's wrong with the United States, too.
Rape and violence against women are a massive problem in India. According to the country's National Crime Record Bureau, crimes against women have increased by 7.1 percent since 2010. The number of rapes reported has also risen. Nearly one in three rape victims in India is under the age of 18. One in 10 are under 14. Every 20 minutes in India, a woman is raped.
And yet India only ranks third for the number of rapes reported each year. What country ranks first? The United States. In India, a country of over 1.2 billion people, 24,206 rapes were reported in 2011. The same year in the United States, a nation of 300 million, 83,425 rapes were reported. In the United States, every 6.2 minutes a woman is raped.
Even if sexual assault in India is dramatically underreported, which most likely it is, the statistical difference is still striking—as is our uniquely American inclination to dismiss such monstrous human rights violations as problems that other countries face. Not only is violence against women a global pandemic but the United States may be leading the pack.
Oh, but you think, women who've been sexually assaulted in America are better treated. Rape victims in India, especially in rural villages, are often subject to shaming and considered unfit for marriage. But meanwhile, in Steubenville, Ohio, two young men who were convicted of raping a 16-year-old girl too intoxicated to consent continue to be defended as upstanding football players while the reputation of the young woman is smeared. When the verdict was announced, a CNN reporter came close to portraying the rapists as passive victims: "These two young men that had such promising futures, star football players, very good students, literally watched as they believed their lives fell apart." Other media coverage seemed equally sympathetic to the perpetrators.
Meanwhile, the victim was blamed. Early on, one of the 19 coaches of the Steubenville High football team said the victim was just making up the rape. The victim and her family had to get police protection due to the level of threats against them. Two weeks ago, a prominent local activitist in Steubenville spoke about the "alleged victim" (even though the allegations had turned into a conviction) and suggested, according to a reporter, that the victim "might have been a willing participant". Meanwhile, the woman who broke the story of the rape—she is a local blogger—has been harassed and threatened.
Isolated incident of smearing and shaming the victim? Afraid not. Just weeks after the Steubenville story broke, two high school football players in Torrington, Connecticut were accused of raping a 13-year-old girl. The response? Dozens of people from the town took to social media to berate and blame the 13-year-old accuser. Mallika Dutt runs Breakthrough, an organization that works to build human rights culture in India and the United States. Dutt says the differences between the two countries are more perceived than real. "There's an assumption that [in America] we're more evolved, that we're more civilized, that the status of women is waaaaay better than the status of women in India or any other part of the world," says Dutt.
That's untrue, says Dutt, and the false comfort may do Americans more harm than good. "It's always easier to ascribe negative attributes to the other than to than yourself," she says. But such denial means we focus on the problems elsewhere to the detriment of improving conditions here in the United States as well. Violence against women anywhere should be a reminder to scrutinize injustice everywhere, including right here at home.
The encouraging fact is that while the U.S. still ranks first in the world for reported rapes, the number is declining here while statistics suggest India is moving in the other direction. In the U.S. the rate of reported rapes decreased by over 12 percent between 2002 and 2011. Over the last two decades, rates of domestic violence have dropped by more than 50 percent. And while only half of Americans in 1987 said it is "always wrong" for a man to beat his wife with a belt or a stick, a decade later 86 percent said it is wrong. That's progress. But from Dallas to Delhi and everywhere in between, there's still much more progress to be made.
Rape is a terrible crime, a case where the victims are overwhelmingly women and the perpetrators overwhelmingly men. Every rape carries with it a personal story of trauma. To use statistics to speak about rape appears to dehumanize it into a number. Yet, when the mainstream news media is branding India into a "rape capital", it is worth a pause. Maria Wirth, a German émigré to India wrote on how she found German TV disproportionately reporting a rape incident in far-away India, while a local rape was a small inside item. Similarly, a rape in a Cab in New Delhi made it all the way into the New York Times while an estimated 700 rapes on that day in the US merited no mention. This begs the question—is disproportionate coverage of rape in India justified? Or is it driven by an agenda?
First, a look at the numbers. If we go by reported rape statistics, India has one of the lowest rates of rape in the world, sensationalist coverage notwithstanding. Here are the top 15 countries of the world by rapes per 100,000 people. (Source: Nationmaster.com)
We find that South Africa tops the chart in per capita rapes and Australia and the United States are in the top fifteen. (Note some of this data is from different years, based on available statistics. )If we just use the year 2010, the United States in the top 10 countries in the number of rapes. So is Sweden, right up there with Suriname.
Now, it is reasonable to question the figures based on reported rapes alone since there is considerable under-reporting of rapes. However, every country has problems with under-reporting. In Islamic countries under-reporting is a severe problem because of the difficulty of getting rape convictions in Islamic law. While the US is among the top countries in reported rape, still a majority (60%) of sexual assaults go unreported. Based on data collected by the US organization RAINN, factoring in unreported rapes, only 3% of rapists in the US would spend even one day in prison.
While low conviction rates and the difficulty of getting justice is given as one reason for low reporting of rapes in India, convictions rates are fairly low worldwide. The rate of rape conviction in the UK is only 6.5 percent in England and Wales, with a shocking low of 2.9% in Scotland. With such a low chance of conviction, women would be increasingly reluctant to go through the trauma of a rape trial and reporting rates would be depressed. India, by contrast, has a significantly higher rape conviction rate. While many countries, including UK and France, have shown a decline in rape conviction rate, India's rate, despite a decline, is still several times higher than the UK at 26.4% with Delhi having a whopping 41.5% rape conviction rate, despite India's notoriously inefficient justice system. A high chance of conviction would also have a positive affect on higher reporting. Thus the comparison of reported rape statistics cannot be dismissed out of hand, even though there are likely differences in reporting rates across countries. Given that caveat, let us see where India stand in reported rapes per capita in the table where the US is in the top 15.
India is near the bottom, at number 94, right next to Canada. (Total number of countries in this list, where statistics were available, was 119). Canada and the US are also a study in contrast. Though they are neighbors, and are superficially similar, their rape rates are a study in contrast. If countries were low in the list simply because of differences in reporting rate and not actual crimes, we would need to explain why the reporting rates between Canada and the US are so dramatically different. If not, we have to accept that the rank in this table, at least to some extent, reflects the actual rape rate. Along with India, Buddhist Japan and Hindu Nepal also find themselves near the bottom of the list.
Why then this huge preoccupation with rapes in India in Western media and the Indian media echo box. A clue is found on this website aveiloftearsmovie.com. This is a Christian evangelical site, releasing a major film on "A Veil of Tears," the plight of Indian women. The movie starts by dramatic accounts of the Delhi gangrape and starts to list a litany of ills in the "persecution" of India women and how it was important to save them. The agenda? The website is clear. They are explicitly marketing the movie to Church groups to collect funds and their partner is "Gospel for Asia."
"While the film, "Veil of Tears", brings into focus the truth behind a dark reality existing in the world today, we are excited to highlight the hope being given to countless millions of women each day through the work and ministry of Gospel for Asia…
We invite you to take a moment to learn more about the mission of Gospel for Asia and how you can be a part of our movement to rescue generations of women from persecution and rejection and into the hope of Jesus Christ."
The plight of Indian women is a marketing tool for the Global evangelical movement, that are shown explicitly using this to ask for money.
Indian itself is the biggest target country in the Joshua Project, aimed at converting people between the 10-40 parallels. The missionary work is done on a war footing with detailed statistics about "unreached people," every city and village with tribe and caste affiliations. India is the biggest and softest target. Most Islamic countries limit Christian missionaries, as does China. India is a unique place with the highest number of people to convert, the easiest access and the most naivete about the conversion war.
Can this influence news reporting? As I point out in my research into the Conversion War, we have to remember the size of the money involved. The one-year revenue of institutionalized Christianity is estimated to be $260 billion dollars (2001) figures. iAbout a fifth of this, $47 billion, are allocated to global mission work every year.
Missionary activity is also well organized and coordinated with deep reach into the media. There are coordinating groups for Christian and Christian-friendly media persons in India. The Shankracharya "murder" story was broken in one of these coordinated attacks. We, the heathen "target group" is, of course, blind to all these activities.
A $250 billion corporate force with the support of the most powerful countries on the planet can create a lot of influence. People in India are especially susceptible to regarding Christianity as a benign force and the Christian narrative dominates the media. The demonization of India for rapes is part of this propaganda war. US missionaries are the biggest funders of evangelical activities in India and are pushing the narrative that Christianization is necessary to "save" Indian women from the "oppressive native culture." Unfortunately Indian media is complicit in this global campaign. This when the US has 16 times the rape rate of India. Even if we consider that the actual Indian rape rate is 4 times what is reported, and the US reports every rape (research indicates it barely reports half), women in the US would still be 4 times more likely to be raped that in India. Whose culture needs saving? Why is the rape rate in Christian US so high? These are questions worth exploring.
Meanwhile, we should shun the hyperbole created by Indian and international media on this issue that does little to help Indian women. Rather than hyped up culture-blame article with no solutions (other than the implicit one that women have to be liberated from this oppressive culture, ideally by White Christian knights in shining armor), it is better to take incremental non-sensationalist steps. This includes police sensitivity training on handling rape victims and reports and tools for women and men including education and safety tips to reduce rape. It is the Indian media and television channels that are part of the exploitation of this issue for sensationalist coverage. They have not been part of the solution. Rather the media's own role in commoditization of women's bodies for selling products, newspapers and channels should be under the scanner.
Source: World Christian Encyclopedia, 2nd Edition. Oxford University Press. 2001
---
Disclaimer: Opinions expressed in this article are the author's personal opinions. Information, facts or opinions shared by the Author do not reflect the views of Niti Central and Niti Central is not responsible or liable for the same. The Author is responsible for accuracy, completeness, suitability and validity of any information in this article.
 Children living with parents committed most crimes
As mentioned earlier, juveniles living with parents accounted for more than 80% of arrests, 35,244 in 2013, according to an NCRB report. No more than 2,462, or 6%, of juveniles arrested in 2013 were homeless and 5,800 lived with guardians.77% of juveniles arrested in 2013 belonged to poor families, with annual incomes up to Rs 50,000.As many as 8,392 juveniles arrested were illiterate, and 13,984 had gone to primary schools.
When juveniles arrested are beyond the lawAs many as 379,283 minors were arrested in the period 2003-13 under the Indian Penal Code (IPC) and special and local laws, according to the NCRB.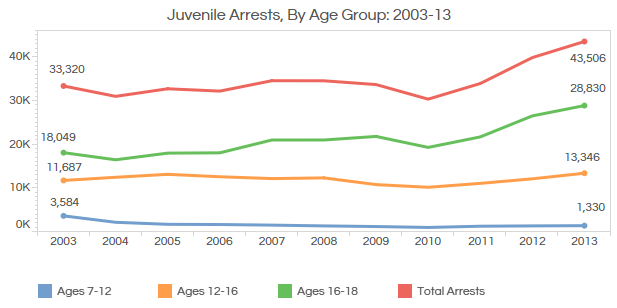 Source: NCRB
In 2013, 28,830 kids between the ages of 16 and 18 were arrested under IPC and special and local laws, comprising 66% of juvenile arrests in India.Of 43,506 juveniles arrested in 2013, 1,867 (4.3%) were girls. Over 10 years from 2003 to 2013, 357,935 boys and 21,348 girls were arrested.Madhya Pradesh, Maharashtra lead in teen arrests
From 2003 to 2013, Madhya Pradesh reported 75,037 arrests of juveniles followed by Maharashtra with 72,154 arrests.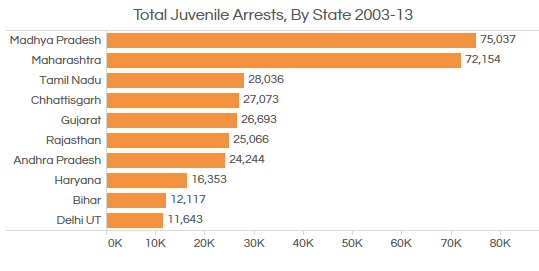 Source: NCRB/Data.gov.in
In 2013, 43,506 juveniles were arrested. Maharashtra with 8,012 juvenile arrests ranked first, followed by Madhya Pradesh (7,365), Tamil Nadu (3,142), Andhra Pradesh (3,133) and Rajasthan (2,882).
The fastest-growing crime: rape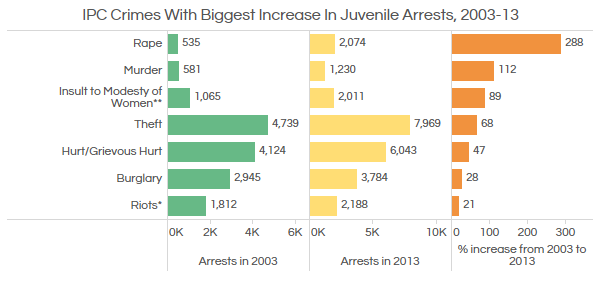 Source: NCRB/Data.gov.in; *These are combined arrest figures for cases registered under sections of IPC relating to riots, viz. Sec. 143-145,147-151,153,153A,153B,157,158,160; **Arrest figures have been combined for cases registered under Sec. 354 (assault on women with intent to outrage her modesty) and Sec. 509 (insult to modesty of women) of IPC.The number of juveniles arrested on rape charges rose 288%, as we said, from 535 in 2003 to 2,074 in 2013. As many as 10,693 juveniles were arrested on rape charges over 10 years from 2003 to 2013.Similarly, arrests on the charge of assaulting a woman "with intent to outrage her modesty (Sec. 354 IPC)" and "insult to modesty of women (Sec. 509 IPC)" rose 117% compared to the previous year.Most juveniles were arrested for theft in 2013: 7,969 were arrested that year.

Over to Parliament

Parliament will now decide if juveniles can be tried as adults. One of the major amendments include removal of a clause in the law that relates to the trial of a person above the age of 21 years as an adult for committing serious offences when the person was between the ages of 16 and 18.The amendment also increases the period of preliminary inquiry by the Juvenile Justice Board in case of heinous offences committed by children aged 16 to 18.The amendment to the Juvenile Justice (Care and Protection of Children) Bill, 2014, will be introduced in the current session of Parliament.

How the law treats juveniles in the USA, UK and China

 United States: The upper and lower age of juvenile court delinquencydiffers from state to state. In the majority of states, the lower age is not specified (NS) and the upper age is 17. For example, in California, the lower age is NS and the upper age is 17; in New York: lower-7, upper-15; in Texas: lower-10, upper-16.China: The general age requirement for bearing criminal responsibility under Chinese law is 16.  A person aged from 14 to 16 bears criminal responsibility in intentionally committing serious criminal offenses spelt out in the criminal law, including homicide, rape and robbery.  An offender aged from 14 to 18 is given a lighter or mitigated punishment. There is no criminal punishment for an offender under the age of 14.United Kingdom:  The minimum age of criminal responsibility in England and Wales is currently 10. Those below this age are considered incapable of forming criminal intent. Children arrested for crimes in England and Wales and held in custody, must be separated from the adult population of the jail. The general principle for children charged with crimes is that they should not be held in police custody but instead be taken care of by social services in local authority accommodation.