Noted Plastic & Cosmetic Surgeon Dr. Viral Desai to address on "Patients First in Healthcare : the challenge of creating a new and improved Medicare"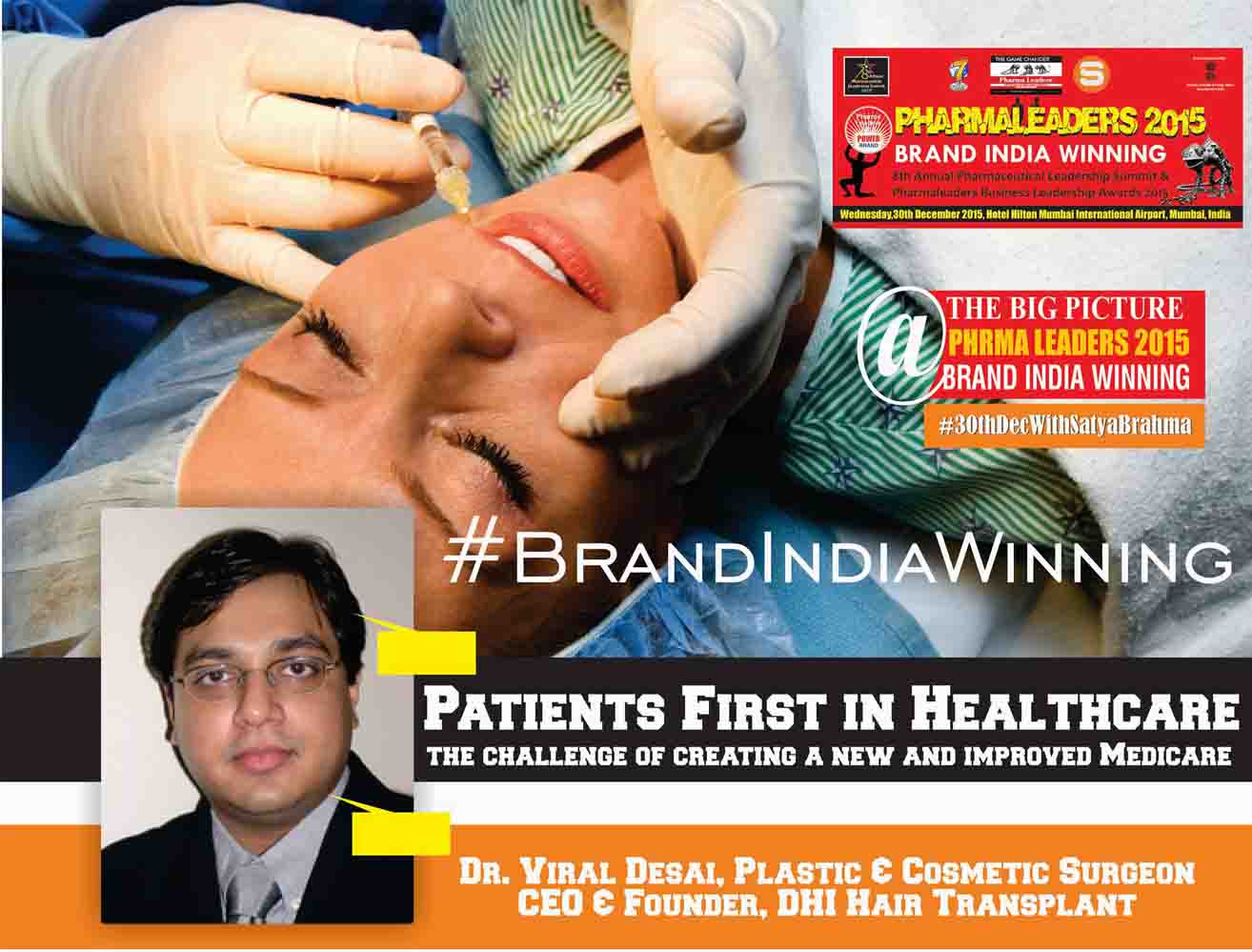 Award Winning Plastic & Cosmetic Surgeon Dr. Viral Desai is al set to floor the delegates at the Asia's most awaited healthcare Summit, the Pharma Leaders 2015 Summit which is debating on Brand India Winning theme. Dr Desai will be throwing lights on the state of affairs of the Indian healthcare system.
@cplssMumbai #DrViralDesai to address on Patients 1s tin Healthcare challenge of creating new and improved Medicare pic.twitter.com/laJDZwfQeR

— Pharmaleaders (@pharmaleader) December 18, 2015
Widely perceived by the industry Leaders, Healthcare Professionals, Policy Makers, Pharma Leaders 2015 edition too will have a significant brand thrust in view of india's rising power as a top destination for quality manufacturing, research & generic drugs. Announcing the 8th edition of Pharmaleaders Summit & Awards, Satya Brahma, Chairman & Editor-In-Chief of Pharma Leaders said " Pharma Leaders 2015 theme will deliberate on Brand India & its winning spirit as a global power, growing at a growth rate of 13 to 14th % per Annum, the Pharmaceutical Market in India is ranked 3rd in terms of volume and 10th in  terms of market value & clearly the industry is showing the signs for a bigger space in the world market. The issue within India however has complex issues as the key to any reforms & growth are attributed to a strong internal healthcare focus which has many challenges. Healthcare Insurance, access, reach & affordability remain key challenges in india due to a lack of a universal healthcare policies where the patients should be the real beneficiary in any system said Satya Brahma in the news release.
The health system in India today is a mishmash of successes and failures.
The successes
India has successfully gone polio free;
The forecast for the health care industry in India is very bullish. The industry has been growing at 12% and is expected to be around US 240 Billion by 2020. This means an average compounded annual growth rate of over 20%.  The key drivers will for foreign investment, medical tourism, demographics, economic growth and GoI promotional policies like tax holidays & investment in tertiary care institutions.
The challenges
Urban India is showing rapid increase in lifestyle diseases like cardiovascular complaints, diabetes and cancer.
Rural India is seeing a sharp increase in non-communicable life style diseases like Respiratory Tract Infections.
Poor in urban and rural India are faced with communicable diseases like tuberculosis, Sexually Transmitted Diseases (including HIV/AIDS), dysentery and typhoid.
Access to health services is severely limited as health infrastructure proves to be grossly inadequate. This is especially acute in the rural areas where secondary and tertiary care is available with great difficulty.
My views on healthcare reforms
Realignment of approach to public health – move away from top-down programmes to respond to demands of the people;
Independent monitoring of performance of the Public Health System;
Increased investment in secondary and tertiary care, especially in rural &peri-urban areas;
Stronger laws to identify and deal with unlicensed practitionersthat wreak havoc in absence of a decent health care system;
Open out the medical insurance sector – make it easily available and affordable; extend group insurance policies for the poor (this has started in some States) and also make the sector accountable for its practices and policies.
Dr. Viral Desai is among India's leading plastic and cosmetic surgeons. He is a qualified M.S., M.Ch, and DNB, and has successfully transformed the lives of his patients for nearly a decade and a half. He is the founder and Medical Director of DHI India, the world's best technique for hair restoration. He is assisted by a team of super-specialist doctors. CPLSS is among the most premium clinics in India in terms of surgical technique, facilities and in-clinic experience. It is the preferred clinic of celebrities from across the fields of glamour, business, sports and politics. Every field needs role models and so does medicine. A doctor can become a role model usually by publishing in renowned journals, becoming an expert in a specific area, to or by teaching peers at medical conferences. Dr. Viral Desai has achieved all these milestones at a relatively young age. With an excellent academic background, Dr. Viral Desai started his career at a time when there were many misconceptions surrounding plastic surgery. With each passing day, Dr. Desai strove to educate his patients about the intricacies of cosmetic surgery and demonstrate his expertise of the craft at the operating table. Today, after about 15 glorious years of practice, Dr. Viral Desai stands out as the doctor who is most trusted by celebrities and the common man alike for his dedication to the case of his trade and for the excellent results that he continues to deliver in the field of plastic and cosmetic surgery.His dedication and determination to apply himself to the cause of his calling makes Dr. Viral Desai a role model not only to his own team of doctors, but also to doctors and medical students across India.
While working with Dr. Wu, Dr. Desai has fine-tuned the art of various surgical procedures such as Liposculpting, Breast Implants, Eyelid Surgeries, Nose Jobs, Chin Implants, etc. Dr. Viral Desai is today an advanced BOTOX and Fillers user and trainer in India, and has the distinction of performing the maximum number of Botox and Fillers procedures over the latest few years. He also is the pioneer of Non-Surgical Facelift (WAPTOS), Threadlift (APTOS) in India. Dr. Desai has conducted various training workshops in Advanced Botox and Fillers for doctors and has been a faculty for lectures at various medical and non-medical fraternity gatherings.
Dr. Desai is known for communicating with his patients to understand their real needs. "I talk to them at length to get a grasp of what they want". He likes to screen his patients for "realistic expectations", and is being prompt to tell patients if their expectations are unrealistic. He believes in giving his patients accurate and complete information of the procedures. Dr. Desai developed his sense of aesthetic surgery as a natural extension of his interest in art and drawing – having done Elementary and Intermediate courses in Art. Most important in a plastic surgeon, he feels, are "common sense and a good artistic inclination".Dr. Desai is the Medical Director of CPLSS Mumbai and the founder, promoter and Medical Director of DHI in India. All DHI doctors in India are trained and certified by Dr. Desai. He is also the Director of Sarla Hospital and ICU and of Desai Hospitals Pvt. Ltd. In recognition of his achievements in the field of plastic and cosmetic surgery, Dr. Desai was awarded the Icon of Plastic and Cosmetic Surgery in India Award in 2010 at the national level.