Modi's Power Game at India@68 forum at India Leadership Conclave 2015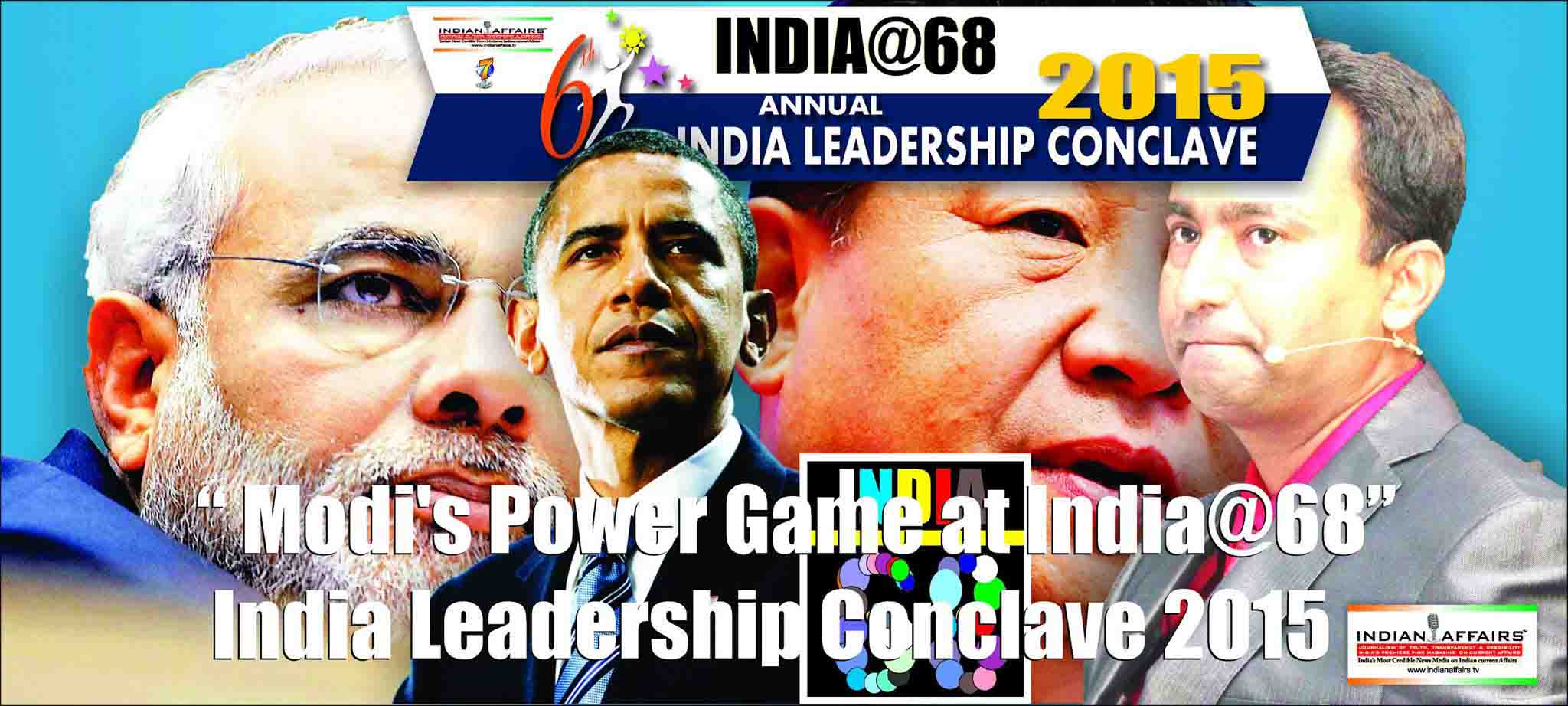 Prime Minister Narendra Modi will increasingly embark on strategies to keep both China & United States busy at guessing India's Mind. Both President Barack Obama & Chinese President Xi Jinping are aware of Modi's rising popularity in the world as a Global Leader. Given India's current home grown problems concerning economic growth, investors' confidence, political issues, Modi will be unfazed & will continue to embark on globe-trotting mission to win confidence feels Satya Brahma, Editor-In-Chief of Indian Affairs. Post Bihar Election & am emphatic win ( If it happens), will make Modi much in the news abroad as a conqueror, however, Modi's real test would be to convince the United Nations that Kashmir is not a subject of discussion at UN, rather the much deepening issues like combating terrorism, global peace & economic co-operation. India Leadership Conclave will be discussing the issues at the panel discussion titled Time to Click Selfie with India!
India@68 @SATYABRAHMA in panel discussion with @mayankgandhi04 @jaavedjaaferi at India Leadership Conclave! pic.twitter.com/kv1WGLluty

— Indian Affairs (@Indian_Affairs) September 10, 2015
Asia's third-biggest economy, India, will play a bigger role in bringing engagement and confidence building and mutual understanding amongst nations!
India's involvement in the region could give Southeast Asian nations a further buffer against China as that country seeks to enforce its claims to the majority of the South China Sea and push back against decades of U.S. military dominance in the Pacific. China is also looking to build a maritime trade route linking a network of ports through the Indian Ocean with Europe via the Suez Canal, a prospect that has unnerved India.
Thirty years ago China launched economic reforms that would transform the country and its place in the world. At a speed no one could have predicted even a decade ago, the nation has re-emerged as a global player on multiple fronts.Consider China's progress in technology. As the Annual Meeting of the New Champions 2008 was getting underway in Tianjin, a Chinese astronaut was making the nation's first-ever space walk. On the diplomatic front, Beijing's hosting of the 29th Olympic Games in August was regarded as a major success, despite some critical overseas coverage at the outset. But it is in the arena of economics that China's gains are most apparent.Prior to travelling to Tianjin to deliver the opening address at the Annual Meeting of the New Champions, Premier Wen Jiabao spoke before the UN General Assembly in New York of China's ongoing efforts to fulfil the Millennium Development Goals. "China has brought down the number of people in absolute poverty from 250 million to 15 million in less than 30 years," he said. With its economic achievements well certified, China now stands as a haven of economic stability at a time when the US and other developed economies are engulfed in financial turmoil and entering what could be a prolonged recession.More important, its longer term economic outlook appears strong, underpinned by an expanding middle class and growing investments in technology. China's export-led economy is certainly not immune to a global slowdown that originates from the US credit crunch and liquidity crisis.
Liu Mingkang, Chairman of the China Banking Regulatory Commission, predicted GDP growth could slide from 11% to 9%. However, even if exports fall, Chinese firms can expect to profit from the country's growing consumer market.One of Beijing's top priorities in recent years has been to wean the economy off its reliance on exports and encourage the growth of the domestic market. As Alibaba Chairman and Chief Executive Officer Jack Ma Yun said, "the future of China is domestic demand and consumption.".The government is also seeking to transform China from a country best known for its low-cost manufacturing to one respected for its innovative capacity. "The most important thing for China is human intellectual capital," said Guo Shuqing, Chairman of China Construction Bank."In the coming 10 to 20 years, we will have to transform to an innovation-driven growth model." China has already emerged as a preferred destination for R&D investment, both foreign and domestic. Beijing has set a goal to increase national spending on R&D from 1.4% of GDP in 2005 to 2.5% by 2020. Domestic technology leaders predict that in the next decade, China will for the first time create globally relevant technology standards. China's sturdy economic fundamentals and high ambitions are all the more striking against the current backdrop of financial turbulence in the West.
In light of the nation's nearly US$ 2 trillion in foreign reserves and its US$ 200 billion sovereign wealth fund, it is no surprise that some foreigners perceive China as a potential economic saviour amid deepening global troubles. Indeed, one near-term challenge for China will be managing international expectations about just how much help it will be able to provide to the rest of the world.Its own leaders view China still as a developing country that needs time to mature – a nation hardly prepared to assume the mantle of global leader. They are also wary of the political blowback that can come with any attentiongrabbing moves. But those who point to China's rapid ascent up the global economic rankings are less patient as they see the country as possessing characteristics of both an industrialized and developing economy.
There is perhaps no better indicator of China's growing clout than the recent calls for it to become more active in global governance institutions. "I think with this flat world in which we live, China has a bigger role to play in line with its current position as one of the leading countries of the world," said Publicis Group Chairman and Chief Executive Officer Maurice Lévy. Some have gone so far as to argue that China risks becoming a "free rider" on the international stage, reaping the benefits of its growing international influence without playing as active a role in shaping the global financial and geopolitical agenda as it should.That said, the Group of Seven economies has yet to expand its roster to include on a permanent basis major emerging economies such as Russia, Brazil, India and China in its regular deliberations on global economic governance.Yet there also remains a strong consensus among Chinese elites that the nation is not yet ready to take up the responsibilities of the developed world. In their view, maintaining stability at home remains top priority. Presiding over the next stage of reforms in this highly complex and diverse country is task enough for now. "What China can do is maintain the momentum of sustained growth and avoid ups and downs," said Premier Wen Jiabao. "That would be our most important contribution to global stability."
…………………………………………………………………………………………………………………..
China released its 9th White Paper on defence issues recently. These have been issued in alternate years since 1998, although it had called the latest paper as the first such paper on 'China's military strategy'.Many of the paper's positions are well known and sometimes have been repeated from the previous papers. However, one major direction of the paper signifies that China is contesting the United States global and regional dominance by openly advocating 'protection of its interests abroad' — a phrase frequently seen in US documents.Firstly, as the major beneficiary of globalisation process by which today China had become the 2nd largest economy in the world and largest trading partner for 128 countries, it realises that it is invariably tied to the global economy. Yet, in the light of the United States' global dominance, China's challenge is to create a niche for itself, without at the same time becoming a target of the US bipolar ire that cost the Soviet Union dearly. The white paper made it clear on this issue thus: "International competition for the redistribution of power, rights and interests is tending to intensify".China's recent initiatives on the Silk Road and Asian Infrastructure Investment Bank and others make it clear that today the country is knocking at the gates of international levers of power. This is a signal that the current leadership in China is moving away from Deng Xiaoping's dictum of "taoguang yanghui" [keeping a low profile] to exhibiting capabilities. China realizes it is facing "increasing external impediments and challenges" and yet it wants to expand its global and regional imprint.At times, China also had revised its fear of domestic democratisation issues by accusing others of 'instigating a colour revolution' — referring to the phenomenon in Kyrgyzstan, Ukraine and Myanmar in the 1990s.More critical are the targets outlined for the armed forces of the country. This is a clear indication where the armed forces of China are tasked to play a crucial role in projecting power. With an estimated official defence allocations of over $142 billion (but could be more than double these figures), China is clearly nudging its armed forces to play bigger role.
The white paper is unequivocal on this count. It orders "the armed forces will …effectively secure China's overseas interests." The armed forces will "safeguard China's security and interests in new domains" and "maintain regional and world peace".With more than half of the economy of China now dependent on exports and imports mainly coming from the seas, the naval forces are now ordered to "protect the security of strategic sea lines of communication and overseas interests". As a power projection force –as the previous 2012 white paper acknowledged — the naval forces are now singled out for strategic and global missions with increased outlays.Not only will the country's navy operate expeditionary forces henceforth but also contribute to the maritime might of the country. China's two ocean strategy — in the Pacific and the Indian Oceans — forward bases in the South China Sea, Arabian Sea and in the Gulf of Aden will provide the navy with power projection in addition to the hardware it is acquiring recently.   Another major thrust of China is in the cyber and space domains — clearly an issue that has raised concerns in the world today. While the air force of the country will restructure to include space missions the country is making efforts to "secure its space assets". China is also all set to establish cyber forces.In the case of India, there are no specific references in this white paper. However, there are several takeaways for India. Both land territorial and oceanic security issues were raised in the white paper. India and Bhutan are the only two land neighbours with which China had not resolved its territorial dispute, despite over three decades of talks. Referring to the periodic transgressions on the borders and the ensuing security issues, despite the recent arrangements on confidence building measures, the white paper cautions China's military that "Certain disputes over land territory are still smouldering."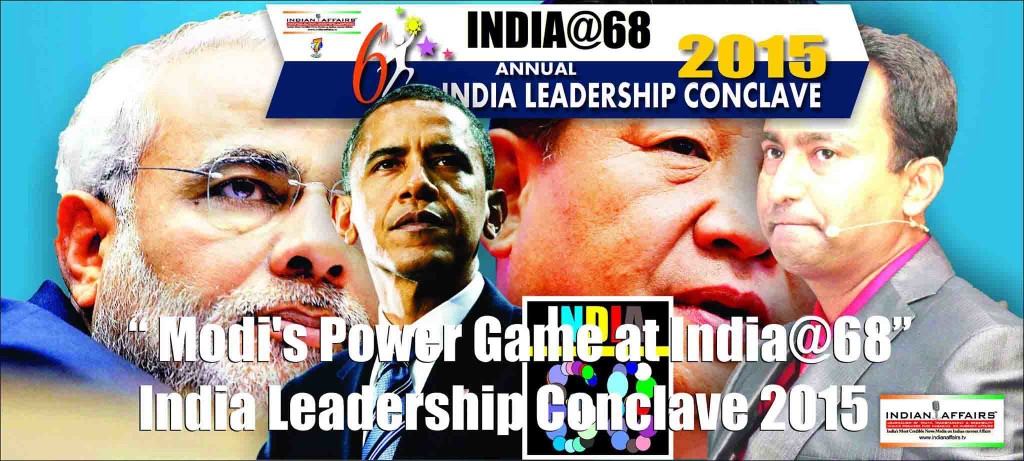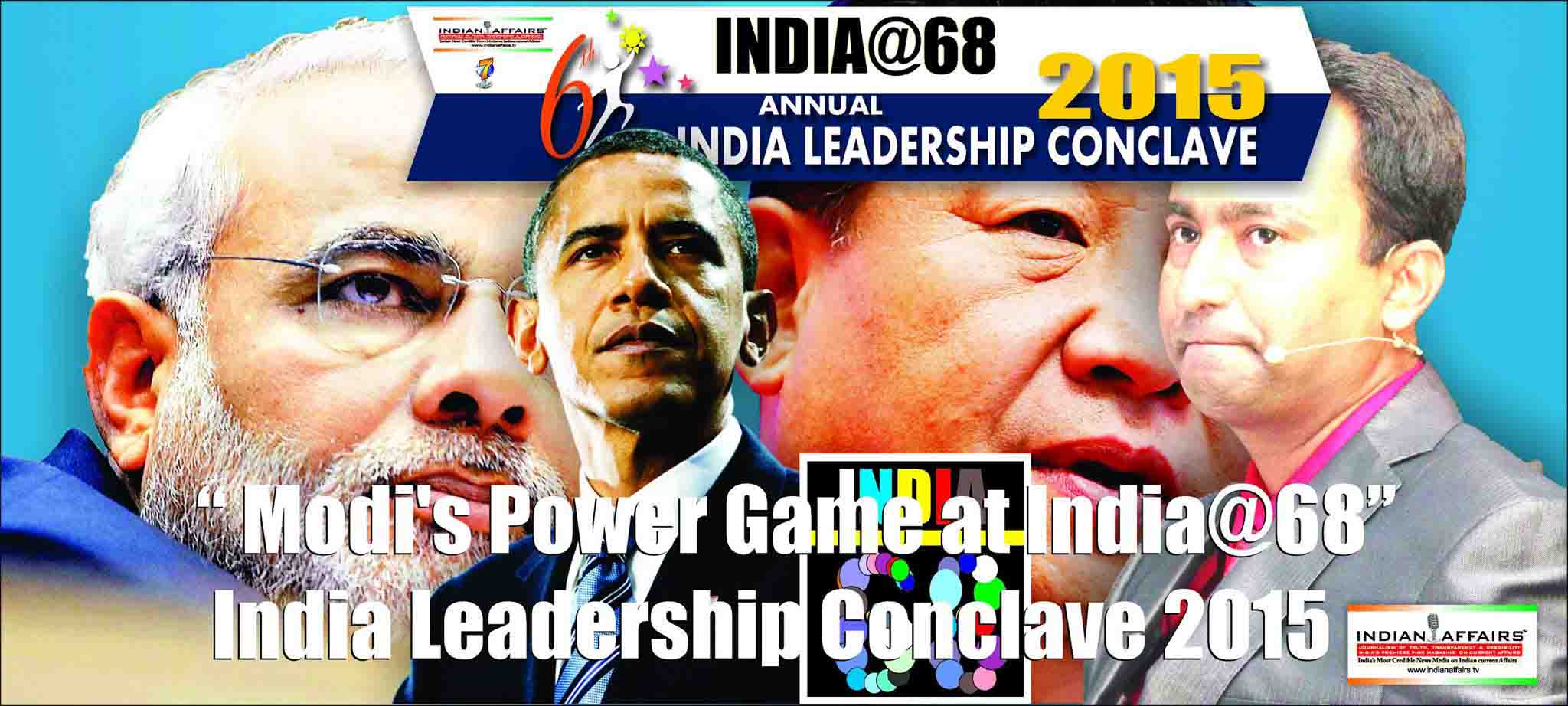 Here the white paper's injunctions to the country's army to conduct swift pan-theatre mobilisation of troops suggests that China had not given up the option of using force in one way or the other to resolve its territorial disputes.   After 19 naval contingents sent to the Gulf of Aden since 2008, and the successful evacuation of Chinese nationals from war-torn Egypt, Libya, Syria and Yemen recently, China today feels confident in "open seas protection" in the Indian Ocean region as well. While China still lacks tactical air support and assured logistics supplies in sustaining naval operations in the region, the country had major strides in exploring bases abroad such as plans for Gwadar and Hambantota and planning to build four more aircraft carriers. India then needs to watch these twin developments on the borders as well as in the oceanic domain.  More uncertainty is to prevail in the nuclear domain. While India has now been engaged in low-key level discussions on this issue with Beijing, China through this white paper suggests that it is going to enhance its nuclear deterrence capabilities.  India also needs to learn from the higher command-led reorganisation process being undertaken in China, specifically demobilisation of support troops, modularisation and jointness between armed services. For, while China demobilised its troops ten times so far and reduced infantry and support troops so as to make the forces lean and mean, India never attempted such efforts.
…………………………………………………………………………………………………………………
What do Central Asia, the South China Sea, the Internet, and outer space have in common? All of these are parts of China's expanding perimeter of national interest.
Over the past decade, the People's Republic of China (PRC) has demonstrated a willingness to use its increasing economic influence to pressure neighboring countries in physical geographic disputes and to strong-arm foreign companies wanting to enter the Chinese economy. These efforts are part of a comprehensive, coordinated, and integrated strategy to protect China's national interests through economic, diplomatic, political, and even cultural elements in addition to military means.
The extent to which China executes its strategy successfully is a matter of great concern to the U.S. The U.S. needs to respond with an agenda focused on increasing economic freedom at home and abroad, which will meet China's challenge.
China's Expanding Influence
When outsiders observed China in the early 2000s, the general view was that the PRC was on a course to extend its influence without arousing concerns among its neighbors.[1] One analyst concluded in 2005 that China had embraced a policy of reassuring its neighbors while improving bilateral ties.[2] Chinese participation in the inaugural East Asia Summit (EAS) in 2005, coupled with the 2004 Sino–ASEAN free trade agreement, was seen as advancing China's position in Asia, especially in Southeast Asia, while the United States appeared virtually moribund. Compared with President George W. Bush, then-Chinese leader Hu Jintao seemed to be more adept at maintaining current relationships and building new ones while tamping down concerns of "China's rise." "From Indonesia to Brazil," observed Fareed Zakaria, "China is winning new friends."[3]
A decade later, China's ties with the rest of the world have only expanded and deepened. In 2013, China became the world's largest trading power, with some $3.87 trillion in imports and exports.[4] The latest effort is the "One Belt, One Road" program, also known as the "Belt and Road Initiative," with China pushing the development of a "Silk Road Economic Belt" extending from China through Central Asia and the Middle East to Europe and Russia, complemented by the "21st Century Maritime Silk Road," encompassing the sea-lanes from China through the South China Sea and the Indian Ocean to the Mediterranean, as well as the sea-lanes to the South Pacific.[5]
Yet even as China is expanding its economic ties, it has demonstrated a willingness to use economics in support of other goals. In 2009, Chinese tour groups reportedly cancelled visits to Kaohsiung, Taiwan, after the Dalai Lama visited there. In 2012, during the Scarborough Shoal incident, the number of Chinese tourists to the Philippines fell precipitously, while Philippine banana exports to China (less than 2 percent of Philippine exports to China by value but with potentially disproportionate impact on local communities) were subjected to extended customs inspections.[6] Perhaps most conspicuous was the Chinese decision to drastically reduce exports to Japan of rare earth minerals, which are essential for electronics and guidance systems, after the 2010 Senkakus imbroglio.
However, China's exploitation of economic ties to further other interests is not limited to physical geographic disputes. Beijing is also using its market position to demand that foreign companies interested in selling financial software to Chinese banks hand over the source code and requiring foreign telecommunications companies to allow backdoors and hand over encryption keys (to forestall terrorism) before being allowed to operate in China.[7]
New Historic Missions
These moves into the realm of cyberspace reflect a larger Chinese view that their interests now extend far beyond their borders, physical and otherwise. This more expansive view is reflected in the "New Historic Missions" with which Hu Jintao charged the Chinese People's Liberation Army in December 2004, arguably marking the beginning of the end of the Chinese charm offensive. Hu made clear that the PLA's missions included preserving the Chinese Communist Party's hold on power and maintaining China's interests beyond its borders. These included the maritime, cyberspace, and outer space domains.
In the ensuing decade, China has demonstrated significant advances in all of these areas. The growing capabilities of China's navy have been extensively discussed, most recently in the Office of Naval Intelligence's latest report on the People's Liberation Army Navy (PLAN). Chinese naval forces, the report notes, now regularly exercise in the South China Sea, where China is busily converting various reefs and shoals into full-blown islands through a "Great Wall of Sand." It should not be a surprise to anyone that many of these new "islands" come complete with air strips, fortifications, and military installations.[8]
Meanwhile, a recent FireEye report revealed a decade-long Chinese cyber espionage effort aimed at Southeast Asian states. This report followed on the heels of the 2013 Mandiant report, which outlined similar Chinese efforts by a different unit.[9] China reportedly has developed an anti-satellite (ASAT) capability that can reach targets in geosynchronous orbit and has demonstrated ASATs against lower orbiting satellites in 2007 and since then.
At the same time, China has also demonstrated that, just as it can employ soft power in hard ways, it can apply hard power with a softer touch along the projected paths of the One Belt, One Road. On the eve of Chinese President Xi Jinping's visit to India, a Chinese submarine and submarine tender called on Colombo, Sri Lanka, even as Chinese troops prepared to cross the border into India. The Chinese air force has exercised with its Turkish counterparts, and Beijing has reportedly sold advanced surface-to-air missiles to Ankara.[10] Chinese naval forces have been evacuating citizens of a number of countries from war-torn Yemen while the U.S. State Department argues that any American action, including dispatching forces to evacuate its own citizens, is too risky "given [that] the situation in Yemen is quite dangerous and unpredictable."[11]
The American Response
China's actions highlight not only China's expanding view of its interests, but also its integrated, holistic view of those interests. For the Chinese leadership, the concept of "comprehensive national power" means that China's security cannot be obtained only—or even predominantly—through military means, but rather requires economic, diplomatic, political, and even cultural elements. Moreover, these are coordinated and integrated, complementing each other by working in tandem.
The extent to which China can pull this off—that is, insofar as it can effectively train these elements on specific national strategic interests and obtain the intended effect—is a matter of great concern for the U.S.
However, the U.S. cannot address the challenge by mirroring the Chinese model. Beyond the obvious diplomatic and political differences, emphasizing state "guidance" and direction of comprehensive national power is not something the U.S. can or should do. America's greatest economic assets are private. They cannot be dictated by the government toward national political objectives. To attempt to do so would lead to industrial policy, mercantilism, inefficiency, waste of government resources, and economic underperformance, as well as fundamentally jeopardizing American political and economic liberties.
The U.S. can counter China's economic moves by vigorously pressing an agenda focused on economic freedom, including opening markets abroad and at home, in order to maximize opportunity for all players. If American or other investors choose to take advantage of the opportunities presented by expanded liberal markets, which they will, the political influence that China derives from its economic investments—which are often fixated on growth rather than benefiting the population—will be diluted and limited.
More specifically, the U.S. should:
Encourage regional trade liberalization. China's ability to influence its neighbors begins from its economic position, not its military posture. Yet the United States, not the PRC, remains the world's largest economy by a still-substantial margin. The U.S. can be a powerful force for economic freedom. This entails breaking down trade barriers not only for the United States, but across the region from India to Chile. However, this would be an act of inclusion, not exclusion. Establishing a genuine free trade zone would reduce tariff barriers, subsidies, and non-tariff barriers for all players, benefiting the entire region and establishing mutually agreed-upon rules that all players would follow. There is no inherent reason that the PRC could not eventually join such a region, but only if it were willing to play by the same rules.
Improve interagency coordination. The United States has a vast portfolio of interactions with the nations of the Indo–Pacific region. Many are private, ranging from academic exchanges to business dealings. The U.S. government has little role to play in these dealings and should not interfere, but some efforts—such as law enforcement operations against human trafficking, drug trafficking, and intellectual property violations—are within the purview of government, and government needs to improve internal coordination in these areas.[12] A good starting point might be for Congress to request a complete compendium of non-military U.S. government interactions with the various states in the region and a regular (perhaps biennially updated) report on how those efforts are being coordinated and how successful they have been. In addition to a country-by-country survey, the report needs to include a broader assessment of how the U.S. government's efforts affect the region as a whole. Myopic focus on bilateral relations neglects the potential for broader synergies.
Strengthen defense ties. The Department of Defense, through Pacific Command (PACOM), arguably has the most holistic view of the region west of Hawaii and east of Islamabad. The U.S. military has a network of bases and conducts a variety of bilateral exercises with nations in the region. This combination of the "presence" mission and multilateral exercises, such as the Rim of the Pacific (RIMPAC) international maritime exercise, affords it an opportunity to maintain a wider field of vision on a day-to-day basis while maintaining granularity. The intentions underlying the "pivot to Asia" recognized the importance of the defense component, but resources have been lacking due to a combination of shrinking defense budgets and sequestration.
……………………………………………………………………………………………………………………..
Ever since the conclusion of the India-US nuclear deal, policymakers have wondered what the next "big idea" in transforming bilateral ties might be. Though no successor initiative could ever replicate that accord, there exists an opportunity that holds the promise of making new waves in bilateral collaboration if only Washington and New Delhi are imaginative enough to grasp it: jointly developing India's next-generation aircraft carrier.
Working together to develop this vessel promises to substantially bolster India's naval combat capabilities, fend off the emerging Chinese challenge to India's control of the Indian Ocean, and cement the evolving strategic bond between the United States and India for many decades to come.
During President Barack Obama's January 2015 visit to India, the two nations agreed to "form a working group to explore aircraft carrier technology sharing and design." Prime Minister Narendra Modi, disregarding the reservations of some of his advisers, boldly chose to accept the US offer of partnership.
In so doing, Modi was guided by a clear recognition of the importance of the Indian Ocean for both India's prosperity and its security—and his conviction that a strong Indian Navy, with the most capable sea-based aviation possible, was essential for the realisation of India's strategic aims.
These aims, which include preserving secure maritime frontiers, are on the cusp of challenge by the People's Liberation Army Navy (PLAN).
Thanks to its anti-piracy patrols in the Gulf of Aden, Beijing has already taken the first steps towards maintaining a near-continuous presence in the western Indian Ocean. Chinese nuclear and conventional attack submarines have recently undertaken their first operational cruises in the wider basin, and since 2012, Chinese ships have systematically conducted oceanographic and bathymetric surveys, almost certainly as a prelude to major (and perhaps extended) deployments in the future.The prospect of a major Chinese naval presence in the Indian Ocean, therefore, promises transform a hitherto secure rear into a springboard from which coercive power can be brought to bear in new directions against the Indian landmass.In this context, the future appearance of a Chinese aircraft carrier and its associated escorts in the Indian Ocean would signal a major shift in the regional balance of power.Because aircraft carriers make a qualitative difference to a country's power projection capabilities, the likelihood of such a Chinese presence, especially during a crisis or a conflict, justifies developing the requisite Indian capabilities necessary to neutralise it.While attack submarines and land-based air power are important components of such a defence, carrier capabilities are highly desirable as well because they would complicate PLAN operations by forcing the Chinese fleet to guard against attacks from their seaward side, even as they coped with offensive operations emanating from the Indian peninsula.In preparing for such contingencies, cooperative development of the Indian Navy's next large-deck aircraft carrier is a very big deal—industrially, operationally, and strategically. No country today has the technical capacity to design and build aircraft carriers like the United States. And no country today would profit as much from collaborating with the US in carrier design and construction as India.Consummating this aspiration will require partnering in everything from vessel design to physical construction to sea trials. The Indian Navy, undoubtedly, will lead this effort, which is already underway: its Naval Design Bureau has completed the technology assessment, feasibility studies, and analysis of alternatives, and is now deeply immersed in activities relating to engineering design. At this point, therefore, there is a quickly closing window of opportunity for a comprehensive partnership with the US Naval Sea Systems Command and, as appropriate, with US private industry.Partnership with these entities in all the major functional areas associated with ship design would permit the Indian Navy to build the most formidable man-o'-war possible. What the Indian sea service should not do in any case is to succumb to the temptation of making the bilateral partnership merely an exercise in procuring specific technologies: that would deny New Delhi the potential of developing the most effective aircraft carrier imaginable and it would represent a lost opportunity to further deepen the India-US strategic partnership.Beyond technical assistance, shared doctrine, training, and intelligence are equally vital for ensuring the continued superiority of the Indian Navy over its Chinese counterpart in the Indian Ocean.To assure this outcome, the current pattern of military-to-military interactions ought to be bolstered further. The US and Indian navies should plan an ambitious schedule of small and large exercises that specifically involve carrier battle groups on both sides, paying particular attention to honing their respective skills in anti-air, anti-surface, and anti-submarine warfare.These activities should not be restricted to bilateral interactions alone but, as has slowly become the norm in recent years, should involve all the key regional partners such as Japan, Australia, Singapore, and eventually, even Vietnam.If the United States were to partner with India now in developing its first indigenously constructed supercarrier, it will have contributed mightily to aiding the Indian Navy to meet the emerging Chinese naval threat while simultaneously becoming a "net provider of security" in the Indian Ocean.It would send a powerful signal that India-US defence cooperation is intended to advance their highest mutual interests, including preserving, as former Secretary of State Condoleezza Rice once phrased it, an Asian "balance of power that favours freedom." And, finally, it would signal to important—but still sceptical—Indian audiences, especially in the military, that the United States can collaborate with India on vital projects of strategic import in ways that only Russia and Israel have done thus far.