Why Women excel in work compared to Men, are never reported!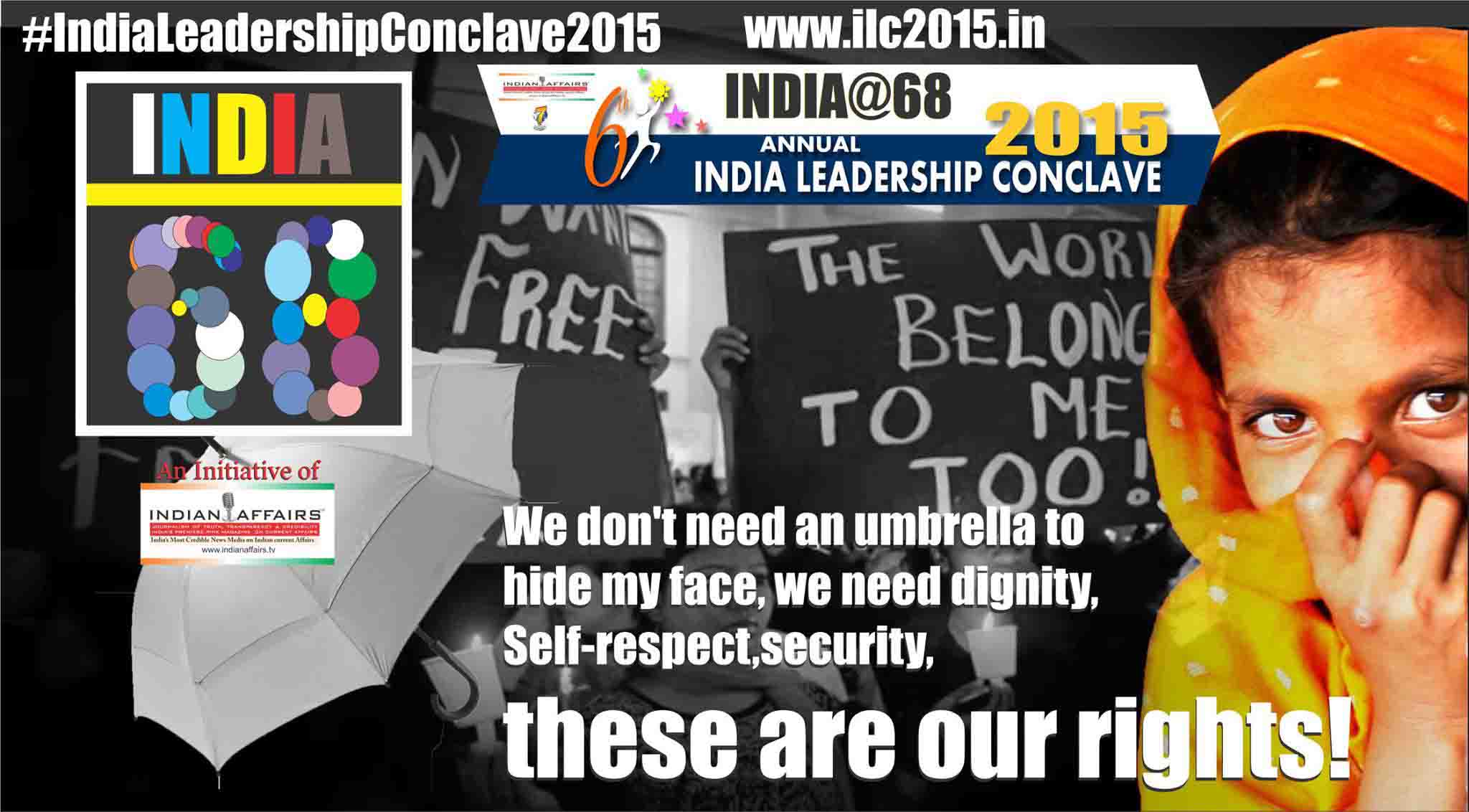 Around the world, women continue to fight for equal rights. March 8, International Women's Day, is a dedicated opportunity to call for greater equality. On MAKERS, we recognize women who better the world, whether they're providing resources for women in war-torn countriesor teaching girls to code. By highlighting their stories, we hope to empower the next generation of women leaders to aim higher, go further. Why? Because we still have a lot of ground the cover.
Raising issues that are universal,but very few speak about it. #IndiaLeadershipConclave2015 @SATYABRAHMA pic.twitter.com/BxxjHzrBcu

— Indian Affairs (@Indian_Affairs) September 3, 2015
Below, learn statistics that show the incredible inequalities we have to tackle, and discover the organizations that are working to change them. In parentheses, find the statistics source and a link to more information. This International Women's Day, how will you support women around the world?
1. In 2015, only half of the world's working-age women are in the labor force, compared to 77 percent of working-age men. Microlending programs like Kiva help women start and sustain their own businesses. (Department of Labor)
2. Women with full-time jobs still earn only about 77 percent of their male counterparts' earnings. Talk about how much you earn, and report inequality. Learn about how to file a charge of discrimination with the EEOC
3. African-American women earn 64 cents and Latina women earn 56 cents for every dollar earned by a Caucasian man. Lean In offers resources for negotiation in the workplace. (White House)
4. 62 million girls are denied an education all over the world. #UpForSchool wants to change that. Sign their petition
5. Every year, an estimated 15 million girls under 18 are married worldwide, with little or no say in the matter. Girls Not Brides studies the problem and is working to find workable solutions. They know that education and empowerment for girls are the first steps. You can help by sharing the facts or donating to projects making a difference.
6. 4 out of 5 victims of human trafficking are girls. The Malala Fund raises awareness and funds for girls to get out of this cycle and into school. (Malala Fund)
7. According to the UN Foundation, "At least 250,000 maternal deaths and as many as 1.7 million newborn deaths would be averted if the need for both family planning and maternal and newborn health services were met."
8. On average, 30% of women who have been in a relationship report that they have experienced some form of physical or sexual violence by their partner. The National Coalition Against Domestic Violence offers volunteer opportunities, and you can support them at their events by checking their calendar
9. Female genital mutilation (FGM) affects more than 125 million girls and women alive today. It is recognized internationally as a human rights violation. Equality Now offers specific points that will help you take action against FGM worldwide. (WHO)
10. American women serving in Iraq or Afghanistan are more likely to be raped by a comrade then killed by an enemy.The Service Women's Action Network helps achieve equal opportunities, protections and benefits for women in the military. Learn about their mission. (Pentagon)
11. In Saudi Arabia, women aren't allowed to drive and are discouraged from working jobs that would put them in contact with men. The unemployment rate for women is 34 percent for women, 7 percent for men.
12. At least 1000 honor killings occur in India and Pakistan each annually. Honor based crimes are distinguished by the fact that they are often carried out by a victim's family or community. The Honour Based Violence Awareness Network includes resources for victims and allies. (HBVA)
13. As of August 214, 74 colleges in the United States had pending Title IX sexual violence investigations. Learn how you can help stop sexual assault at It's On Us. (NPR)
14. Women around the world aged 15-44 are more at risk from rape and domestic violence than from cancer, car accidents, war and malaria. The United Nations has a list of suggestionsto help change this statistic, improving the lives of women and girls. (UN)
15. Around the world, only 22 percent of all national parliamentarians are female. That's double the number in 1995, but still a marker of slow change. Running Start is an organization that helps bring young women into politics. Learn about their programs and events here. (UN)
16. By 2018, there will be 1.4 million open technology jobs in the U.S. and, at the current rate of students graduating with degrees in computer science, only 29% of applicants will be women.Girls Who Code aims to educate and expose at least 1 million girls to computer science by 2020. Learn more about what they do here. (Microsoft Research)
17. 1 in 5 women on US college campuses have experienced sexual assault. End Rape on Campus offers resources for survivors and supporters, working to bring more cases to court and raise awareness. (AAUW)
18. Women currently hold 24, or 4.8% of CEO positions at S&P 500 companies. Mentorship programs like Step Up help keep girls in school, getting them that much closer to an executive position. Learn how you can play a part. (Catalyst)
19. More than 43 million people around the world are forcibly displaced as a result of conflict and persecution. Half of all refugees are women. Zainab Salbi founded Women for Women International to help women in war-torn countries build their own futures. (UN)
20. Only 30% of the world's researchers are women. Google has a program to inspire the next generation of tech innovators. Learn how to help girls gain exposure to careers in science and technology. (UNESCO)
21. 1 in 3 women worldwide have experienced either intimate partner violence or non-partner sexual violence in their lifetime. Amnesty International pushes for laws that recognize this statistic, and its website has a list of ways to get involved in the change. (WHO)
---
WOMEN IN BUSINESS tells the story of the exceptional women—past and present—who have taken the world of business by storm. Told by female business leaders themselves, this is a candid exploration of what it takes to make it and a celebration of the extraordinary individuals who, over the course of 50 years, have proven—on Wall Street, in corporate America or business empires of their own—that a woman's place is wherever she believes it to be. Some of the featured business leaders include Ursula Burns, the CEO of Xerox and the first African-American woman to head a Fortune 500 company; Sallie Krawcheck, Wall Street powerhouse and current owner of the global networking platform for women, Ellevate (formerly 85 Broads);  Indra Nooyi, CEO of Pepsi Co; and Sheryl Sandberg, COO of Facebook, whose provocative book, Lean In, ignited a national conversation about women, feminism and equality in the workplace. Women in Business is narrated by Julianna Margulies.
WOMEN IN POLITICS profiles the long, slow fight for female political representation over the last century, from the first woman elected to Congress in 1916 to a young woman running for Detroit City Council in 2013. Trailblazing leaders like Hillary Clinton, Senator Barbara Mikulski, Olympia Snowe, the youngest Republican woman ever elected to the House of Representatives, and Shirley Chisholm, the first African-American woman to serve in Congress, provide a backdrop for younger women like Rashida Tlaib, the first Muslim-American woman elected to the Michigan House. Today's leaders in Washington, includingElizabeth Warren (D-MA), the first female Senator from Massachusetts, Susan Collins (R-ME), who led the Senate in shaping a deal to end the government shutdown, and Rep. Tulsi Gabbard (D-HI), currently the youngest woman serving in Congress, are also represented. Narrated by Alfre Woodard.
WOMEN IN WAR looks at American women's increasing participation in war—from Vietnam to the present—as nurses, soldiers, journalists, diplomats and spies. Among those featured are Linda Bray, the first woman to lead troops into battle, and Valerie Plame, whose career was sabotaged after she was "outed" as a high-level spy. Viewers hear from war correspondents like Molly Moore about life on the battlefield. The film shares the stories of military leaders who have broken through gender barriers, like General Angela Salinas, at her retirement the highest ranking woman serving in the USMC, and Vice Admiral Michelle Howard, the highest-ranking woman in the history of the U.S. Navy. Produced and directed by Rachel Grady and Heidi Ewing. Narrated by Christiane Amanpour.
WOMEN IN HOLLYWOOD showcases the women of showbiz, from the earliest pioneers to present-day power players, as they influence the creation of one of the country's biggest commodities: entertainment. Audiences hear from actress-producer-activist Jane Fonda, television powerhouse Shonda Rhimes, who created Grey's Anatomy and Scandal; screenwriter Linda Woolverton, who re-imagined the traditional Disney princess by making Belle (Beauty and the Beast) a self-possessed, strong-willed young woman; writer-director-actress Lena Dunham, who mines comedy and drama gold by exploring what it's really like to be a young woman today, and six-time Academy Award nominee Glenn Close. The film is narrated by Julia Roberts.