Why india is making a big noise on net neutrality,India is to grow its mobile internet user base to 173 million by June 2015!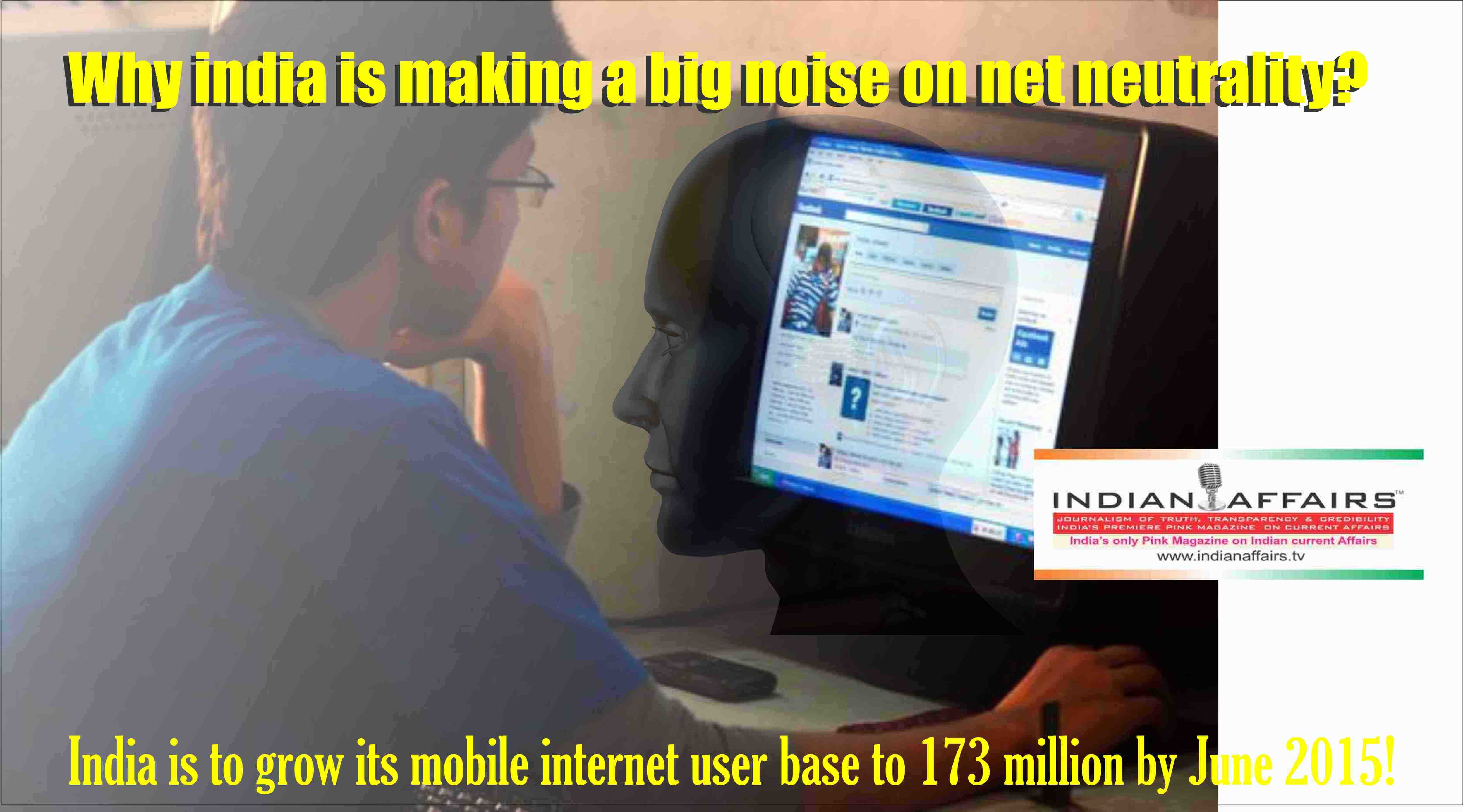 Why india is making a big noise on net neutrality,India is to grow its mobile internet user base to 173 million by June 2015!
The debate continues
The debate on net neutrality in India is playing out on the internet, social media, television and newspapers. On one side, there are telecom service providers who believe in services such as zero rating and sponsor-enabled free access to the internet for consumers; on the other, there are proponents of free and fair access to the internet who consider variable access as a violation of the principles of net neutrality.The Telecom Regulatory Authority of India (Trai) has launched a consultation paper, inviting views from the public to analyse the implications of the growth of internet services, apps, over-the-top services (OTTs) and consider changes required in the current regulatory framework. To get both sides of the argument, Forbes India spoke to Rajan Mathews, director general at the Cellular Operators Association of India, and Pranesh Prakash, policy director at The Centre for Internet & Society (CIS), a Bangalore-based, non-profit, research and policy advocacy.Q. How are zero rating and net neutrality linked? And if they are separate issues, what differentiates them?
Rajan Mathews: Zero rating and net neutrality are two separate issues. Net neutrality is about not denying access, and about the absence of unreasonable differentiation on the part of network operators in transmitting internet traffic. Zero rating is when operators subsidise tariffs as a result of commercial arrangements with application providers who do not discriminate against the customer, but provide a benefit. Zero rating is not a net neutrality issue since access to all content and applications remains open. Such arrangements increase social welfare by transferring the cost of internet access from consumers to content providers. If a content provider deems its revenues to be substantial and wishes to engage in distribution arrangements with last-mile access providers to subsidise access to its services, it should be allowed to do so. Zero rating should be the customer's choice.

Pranesh Prakash: The issues of net neutrality and zero rating are intrinsically linked. Zero rating is the practice of not counting certain traffic towards a subscriber's regular internet usage. The motivations for zero rating are many. Unbundling is one. For example, a consumer wishes to use a WhatsApp pack as opposed to accessing WhatsApp through the regular internet pack. Self-interest is another: Showcase the internet's value through cheap or free packs of certain internet services so that customers graduate to higher data packages.
All forms of zero rating—zero-priced, fixed-priced, subscriber-paid or internet service provider (ISP)-paid, content-based or content provider-based—have one thing in common: They are instances of discrimination on the network. This links it to net neutrality, which, at its core, is a question about discrimination by ISPs.
We shouldn't only be focussed on the existing models of zero rating while regulating it, but also on the models that may emerge in the future.
Q. Zero rating is seen as an attempt to give internet access to millions of Indians who can't afford an internet connection. Is there a different, but net-neutral, way to do this?
Mathews: Zero rating is [offered] in the nature of a subsidy, which is prevalent and practiced in all forms of businesses. For example, MS Office is available at different rates to different consumers such as homes and businesses, students and enterprises. It is for the consumer to choose which version to buy. The same should be applicable to telecom services as well.
Prakash: Just because something provides access to the bottom of the pyramid doesn't make it something we should have. For example, predatory pricing is something that might benefit all subscribers in the short term but, over time, it harms the market, competition and consumers. Suppose all ISPs are mandated to provide internet for free to everyone; in the short run, everyone will get free internet but it's not a sustainable business practice for ISPs.  If free internet can be sustainably provided, that's not harmful. The current debate is to evaluate if we can ensure a method where we can have competition while providing access to the bottom of the pyramid.
Q. Europe has different guidelines for net neutrality, while the US has its own version. Should India borrow the best of both regions or frame its own norms?
Mathews: We should refer to all the practices in various countries. However, the norms for the same [in India] need to be developed in consonance with the rules and regulations of the land, cultural practices and other factors pertinent to India. Trai is already working on the issue and the department of telecom (DoT) has formed a committee to evaluate, assess and provide its recommendations, which would be passed through the Telecom Commission, and eventually approved by the Cabinet.
Prakash: We can't mix and match guidelines from other countries. While the principles that are invoked as we try to counter unjust discrimination by networks are, and should, apply equally throughout the world, how those principles apply to any particular region depends on a variety of criteria.
Net neutrality is, at the heart of it, a financial and economic issue. It might have important repercussions on freedom of speech and expression, and on privacy. Net neutrality is about the issue of settlement [of payment for data transfer] on the internet; it is the question of who should pay who and how much for transferring bytes.
And since the root conditions leading to network discrimination keep changing, our implementation should not be static; it should be periodically reviewed.
People have been discussing net neutrality since 2004-05, but today it has become a big issue worldwide because of the rise of video content providers like Netflix and YouTube.

Q. Do you believe that Trai should be the nodal body to decide on net neutrality, or should there be an autonomous body consisting of representatives of consumers, OTT players, internet and ecommerce companies, ISPs and telecom players who work with the DoT?
Mathews: Trai is a competent authority and has the requisite expertise to reconcile varied inputs from different stakeholders and come out with a balanced and effective recommendation on net neutrality. Further, a robust process is being put in place by the government to ensure that the matter is assessed with due diligence and in consideration of the Indian context, by reviewing the process at three stages—through the DoT, the Telecom Commission as well as the Cabinet. The joint efforts would be adequate to address this issue.
Prakash: Frankly, I don't see the difference as the latter is precisely what the regulatory body is supposed to be doing. There are some who believe that Trai has been captured and is not a fair regulator anymore, and for those who have that view, they would see a clear difference. But if one doesn't see Trai that way, these two are essentially the same situations. Lastly, while Trai might be the right body to regulate net neutrality (which, essentially, is a regulation of the actions of ISPs), it is not the ideal body to be regulating content providers (OTT players).
Q. We want internet access to be fair and free, but there is still ambiguity on the privacy and security issues related to information app creators and OTT players collect from users. Should this also be brought into the ambit of Trai consultation?
Mathews: Yes, it is essential to have these vital issues under the regulator's authority. In its consultation paper, Trai has covered the issues of subscriber privacy and concerns regarding security. Further, all interested stakeholders are invited to provide their inputs to Trai which will evaluate them. We are hopeful that the same would be a part of Trai's recommendations as well as the policy adopted by the government.

Prakash: No, they should not be brought under the ambit of Trai because they operate on a different layer. We, at CIS, had suggested that a separate office of a 'Privacy Commissioner' be set up in India to address some of these issues. Trai should not get into issues of content and content providers, etc, which it's not well-equipped to regulate. It should stick to regulation of the carriers of telecommunication and not the regulation of what is being carried through the pipes. Unless there is a strong enough argument that it makes, which I haven't seen so far, of functional equivalence of a few services, it is difficult to justify Trai getting into content regulation.
The Overview
"If you're an Internet Service Provider (ISP), then your job is to get the Internet to people. The Internet should be neutral, and you should not degrade any traffic, or charge more for any traffic, or prioritise any traffic." Prasanna Gokhale couldn't have said it in simpler terms if he tried. At a time when India is seeing widespread debate around net neutrality, the words of Gokhale, CTO of Bengaluru -based ISP ACT Fibernet, sound very reassuring as a customer.Ever since Airtel first announced its plan to charge extra for 3G data used for VoIP services like Skype, people have been paying more attention to the issue of net neutrality. So far, the debate has mostly centred on mobile Internet access. This has partly been because the Telecom Regulatory Authority of India (Trai) had been working on a set of draft guidelines for Over The Top (OTT) services – what we'd call apps and websites – and presented these for feedback last month.Over a million responses later, we are still no closer to a final resolution on the issue. However, many of the concerns that are being raised about wireless providers are equally applicable for wired broadband. Companies like Airtel and Reliance – for example – both have DTH networks and video distribution platforms, therefore in theory at least, something like YouTube affects their business in the same way.Because of this, it's all the more important that our broadband providers make their position clear on the matter before things come to the same pass in that industry. Gokhale is very clear when talking to us that ACT Fibernet supports the idea of net neutrality. The only kind of traffic management he says the company supports is data usage packages (called fair usage policy or FUPs by some ISPs) – where your maximum access speed is throttled after you have used a certain limit of data."It is a standard model for India, and one that is well understood by the customer," says Gokhale. "We are able to give people a good service at a reasonable cost by doing this." And compared to most other companies' packages, ACT's broadband packages are actually much more affordable.
Aside from ACT Fibernet, so far one other ISP has also spoken out in support of net neutrality. In its feedback to Trai, Citycom networks (better known as Spectranet) outright states that it is too early to regulate OTTs, argues that if regulation and interference is kept to a minimum then we will see more innovation from OTTs and thus greater revenue from data. It's a fantastic response, and well worth reading in its entirety.Compare that to the responses companies like Airtel, Vodafone, Idea or Reliance Communications have stated in their responses to Trai's draft proposal, and you can see that most Telecom Service Providers (TSPs) are not on the same page as Gokhale.ACT Fibernet itself is unfortunately not so well known in many parts of India. The company offers its services in just six cities in Southern India – Bengaluru, Chennai, Nellore, Vijayawada, Hyderabad, and Eluru – and Gokhale tells us that growing into new markets is a slow process that will take time. In fact, given ACT's very reasonable plans (in Chennai, a 20Mbps plan with a 60GB limit costs Rs. 1,099. On Airtel, a 16Mbps plan with a 35GB limit costs Rs. 1,649) when compared to other providers, we had to ask Gokhale whether ACT Fibernet has any plans to expand to Delhi now. He laughed and said that people always ask him about coming to Delhi and Mumbai, but added that at present, the company was going to continue to expand in the South.
As the name suggests, ACT Fibernet uses fibre-optic cables to deliver Internet access to its customers. In contrast, most established companies use a technology called DSL that uses the regular copper line of your phone, Gokhale explains. Fibre allows for much faster connections, and is also free of electro-magnetic interference, according to Gokhale."With DSL, the upload speeds are also much slower, it is a technological limitation," he explains. "The real advantage of fibre is that it is scalable. Today we are offering plans from 20Mbps to 100Mbps, but over time, we will be able to offer even greater speeds with the same cable. On the other hand, the DSL connections can't get faster."
This is why DSL providers are also starting to invest in installing fibre-optic cables, and bringing these services in other parts of the country. That doesn't mean that ACT is going to rush to gain a presence all over India just yet."To build the network, there is a lot of investment needed," says Gokhale. "You have to basically dig up the place, and lay the cable and this is not an easy process. We have gained a level of expertise in doing this, but if you try and expand too fast then you won't be able to ensure quality of service."
This is another important point that the TSPs could stand to learn from ACT Fibernet – especially at a time when practically half the mobile Internet users say that the experience between 2G and 3G connections is indistinguishable.Hopefully, companies like ACT Fibernet and Spectranet will stick to their beliefs when the debate shifts from wireless broadband to all ISPs, so that we as customers have viable alternatives to switch to if we feel we need to do so.The idea of net neutrality or free and equal Internet to all has garnered wide attention from across the globe. While countries like the US, Chile, Netherlands and Brazil have already adopted net neutrality that doesn't allow discrimination of Internet content or charge users differently based on the content, site, or platform they consume, back home the Telecom Regulatory Authority of India (TRAI) has also asked for mass feedback to help formulate regulations that could change the way Indian netizens consume the Web in the near future.While consumers appear to be majorly in favour of net neutrality, telecom companies are up in arms against the concept owing to the notion that bringing equality of Internet would cut down on their prospective revenue from the OTT services that are offered through their network, including apps such as WhatsApp, Flipkart, Skype, etc.
Below is the timeline of the landmarks in the net neutrality debate in India:
The debate on net neutrality in India
While consumers appear to be majorly in favour of Net Neutrality, telecom companies against it as bringing equality of Internet would cut down on their prospective revenue from the OTT services.In 2006, TRAI had invited opinion regarding the regulation of net neutrality from various telecom operators.In February 2012, Airtel chief, Sunil Bharti Mittal, suggested that services like YouTube should pay an interconnect charge to network operators. In July same year, the company reiterated that large Internet companies like Google and Facebook should share their revenue with telecom companies for allowing their services for free to the users.In February 2014, Airtel again raised the proposal of regulating apps like WhatsApp, Skype, and Line. However, TRAI rejected the proposal.On March 27, 2015, TRAI, published a 'Consultation Paper on Regulatory Framework for Over-the-top (OTT) services' consultation paper, which is a 117-page document describing what net neutrality in India would mean and how it'll impact the way we consume the Internet today. The deadline for comments is April 24.On April 6, 2015, Airtel launched its open marketing platform, Airtel Zero, aimed at offering free access only to certain apps. The platform received flak for splitting the Internet into paid and free where Internet companies pay money to Airtel to allow users to get free Internet. While Airtel has widely defended its platform for being akin to the working of a toll-free number, where the caller doesn't pay but the company which uses the marketing tool does.On April 11, 2015, India's comedy collective, AIB, posted a video on YouTube, decoding Net Neutrality and urging Indian netizens to support the cause and spread the word. The video questions the legitimacy of regulation OTT services based on the 1885 Indian Telegraph Act. It asks Indian netizens to demand for equality and freedom of using the Internet by sending an email to TRAI through www.savetheinternet.in and stop the regulation of the Internet services.On April 14, 2015, Flipkart pulled out of Airtel Zero over row of protests against net neutrality abuse. The e-commerce platform said that it will commit to the larger interest of the public and walk away from Airtel's controversial platform. Following that, Airtel tried to clear misconceptions about its new platform, saying that it was not a tariff proposition but an open marketing platform.On April 15, 2015, Facebook CEO Mark Zuckerberg stressed that his internet.org initiative, which has been recently launched in India, did not abuse net neutrality and was aimed at providing access to those communities and places where basic Internet is not available. The same day, online travel services provider Cleartrip pulled out of internet.org citing growing protests against the issue.On April 17, 2015, speculations arose over Wikimedia Foundation's Wikipedia Zero allegedly violating net neutrality. Under Wikipedia Zero, users can access Wikipedia on Wikimedia's partner networks without having to pay for data usage. The service was launched in 59 countries with 67 operators that is said to allow 400 million people access to Wikipedia free of data charges.On April 19, 2015, Airtel CEO Gopal Vittal sent emails to customers to clear the company's stand on net neutrality and defend Airtel Zero platform. The same day, Industrial body Cellular Operators Association of India (COAI) reaffirmed its support for 'net neutrality', but also made a strong pitch for 'net equality' that will enable access to Internet for a billion Indians as part of the governments digital India vision.On April 22, 2015, Congress vice president Rahul Gandhi moved adjournment motion in Lok Sabha demanding debate on net neutrality.TRAI will record public comments on the issue by April 24 and counter-comments by May 8. As the date draws to a close, end users are mulling what shape the final verdict will take possibly upturning the way people have known the digital form of communication.What is your stand in this debate? Do you think net neutrality should stay as it is and allow you to continue using the Internet like you have been from the last 20 years? Or should telecom operators be given opportunities to earn more returns on the investments they have made? Let us know in the comments.
---
If you like the current state of the internet, you should know about net neutrality. If you are not aware of it, don't worry.
Internet is built around the idea of openness. It allows people to connect and exchange information freely, if the information or service is not illegal. Much of this is because of the idea of net neutrality. If you like the current state of the internet, you should know about net neutrality. Many web users are aware of it. But if you are not, don't worry. We explain it here:
What is net neutrality?
Net neutrality is an idea derived from how telephone lines have worked since the beginning of the 20th century. In case of a telephone line, you can dial any number and connect to it. It does not matter if you are calling from operator A to operator B. It doesn't matter if you are calling a restaurant or a drug dealer. The operators neither block the access to a number nor deliberately delay connection to a particular number, unless forced by the law. Most of the countries have rules that ask telecom operators to provide an unfiltered and unrestricted phone service.When the internet started to take off in 1980s and 1990s, there were no specific rules that asked that internet service providers (ISPs) should follow the same principle. But, mostly because telecom operators were also ISPs, they adhered to the same principle. This principle is known as net neutrality. An ISP does not control the traffic that passes its servers. When a web user connects to a website or web service, he or she gets the same speed. Data rate for Youtube videos and Facebook photos is theoretically same. Users can access any legal website or web service without any interference from an ISP.Some countries have rules that enforce net neutrality but most don't. Instead, the principle is followed because that is how it has always been. It is more of a norm than a law.
How did net neutrality shape the internet?
Net neutrality has shaped the internet in two fundamental ways.
One, web users are free to connect to whatever website or service they want. ISPs do not bother with what kind of content is flowing from their servers. This has allowed the internet to grow into a truly global network and has allowed people to freely express themselves. For example, you can criticize your ISP on a blog post and the ISP will not restrict access to that post for its other subscribers even though the post may harm its business.But more importantly, net neutrality has enabled a level playing field on the internet. To start a website, you don't need lot of money or connections. Just host your website and you are good to go. If your service is good, it will find favour with web users. Unlike the cable TV where you have to forge alliances with cable connection providers to make sure that your channel reaches viewers, on internet you don't have to talk to ISPs to put your website online.This has led to creation Google, Facebook, Twitter and countless other services. All of these services had very humble beginnings. They started as a basic websites with modest resources. But they succeeded because net neutrality allowed web users to access these websites in an easy and unhindered way.
What will happen if there is no net neutrality?
If there is no net neutrality, ISPs will have the power (and inclination) to shape internet traffic so that they can derive extra benefit from it. For example, several ISPs believe that they should be allowed to charge companies for services like YouTube and Netflix because these services consume more bandwidth compared to a normal website. Basically, these ISPs want a share in the money that YouTube or Netflix make.Without net neutrality, the internet as we know it will not exist. Instead of free access, there could be "package plans" for consumers. For example, if you pay Rs 500, you will only be able to access websites based in India. To access international websites, you may have to pay a more. Or maybe there can be different connection speed for different type of content, depending on how much you are paying for the service and what "add-on package" you have bought.Lack of net neutrality, will also spell doom for innovation on the web. It is possible that ISPs will charge web companies to enable faster access to their websites. Those who don't pay may see that their websites will open slowly. This means bigger companies like Google will be able to pay more to make access to Youtube or Google+ faster for web users but a startup that wants to create a different and better video hosting site may not be able to do that.Instead of an open and free internet, without net neutrality we are likely to get a web that has silos in it and to enter each silo, you will have to pay some "tax" to ISPs.
What is the state of net neutrality in India?
Legally, the concept of net neutrality doesn't exist in India. Sunil Abraham, director of Centre for internet and Society in Bangalore, says that Trai, which regulates the telecom industry, has tried to come up with some rules regarding net neutrality several times. For example it invited comments on the concept of net neutrality from industry bodies and stakeholders in 2006. But no formal rules have been formed to uphold and enforce net neutrality.However, despite lack of formal rules, ISPs in India mostly adhere to the principal of net neutrality. There have been some incidents where Indian ISPs have ignored net neutrality but these are few and far between.
Will the concept of net neutrality survive?
Net neutrality is sort of gentlemen's agreement. It has survived so far because few people realized the potential of internet when it took off around 30 years ago. But now when the internet is an integral part of the society and incredibly important, ISPs across the world are trying to get the power to shape and control the traffic. But there are ways to keep net neutrality alive.Consumers should demand that ISPs continue their hands-off approach from the internet traffic. If consumers see a violation of net neutrality, they ought to take a proactive approach and register their displeasure with the ISP. They should also reward ISPs that uphold the net neutrality.At the same time, as Abraham says, Trai needs to come out with a set of clear and precise rules that protect the net neutrality. "We have started seeing ISPs trying to take control of the traffic that flows from their servers but Trai can regulate them. It can keep the internet open and consumer-friendly by forming rules that protect net neutrality. These are early days so it is easy to do. If ISPs manage to change the system, it may become too late," he says.