Veteran IT guru & Datamatics Founder Dr. Lalit S. Kanodia to debate on Smart Cities in India at India Leadership Conclave 2015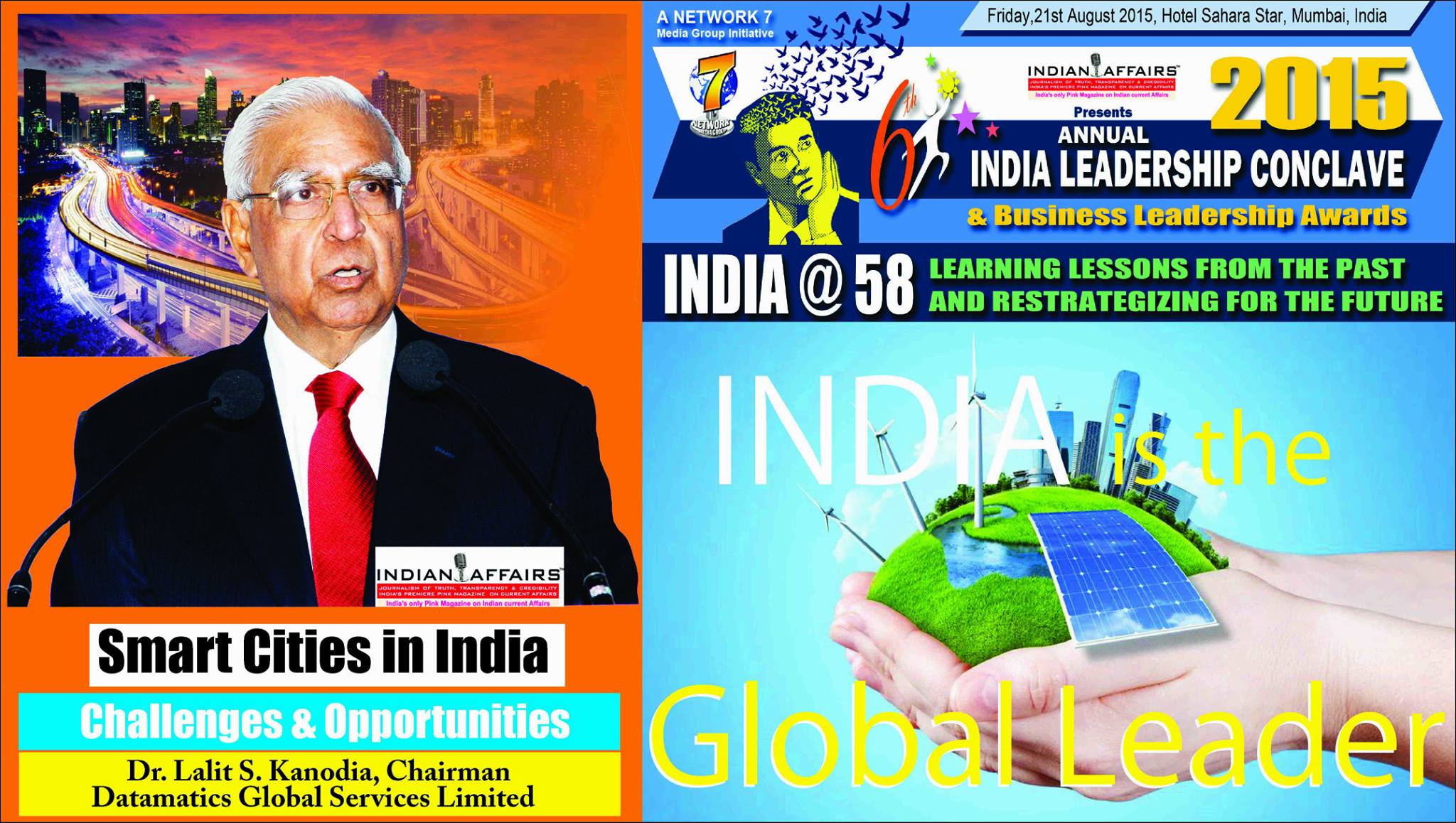 In 1800 only 3% of people lived in a city of 1 million or more; by the year 2000, it was 47%. In 1950 there were only 83 cities worldwide with populations over 1 million; by 2007 there were 468. In April 2008, the world passed the 50% urbanization mark. Cities have evolved into a more complex space inter-linked by a number of systems and planners generally have failed to read the 'Urban Progression' and thus cities have failed significantly in terms of the 'Quality of Life' of the urbanites
The urbanization policies and reforms carried away in the Republic of India have by far seemed to have not attained their defined goals. The reasons may be many – adoption of the foreign models into the Indian context without studying the prevailing Indian conditions, lack of co-operative planning between different sectors/authorities, lack of public awareness to avail the government run programs and initiatives, rapid growth of population, to name some, but it would have been the prime duty of those involved to look into all those factors that defines the planning, growth and development of the urban settlements. One of the major issues concerning with the urban design features of the developing nations has been the lack of planning according to their own context and prevailing conditions. With the change in the central government and announcement of 100 new smart cities by the Urban Ministry, India seem to have created a chance for itself to release the ever increasing pressure on the existing cities – but the planning regulations to be followed and its implementation process is quite doubtful.
The country is on a rapid phase of urbanization with around 35 percent of the total population expected to live by 2020 which will substantially increase to around 50 percent by 2050 and 70 percent by 2070. The figure suggests the scope of urban development and also the extent of fresh urban spaces to be planned and developed in the coming decades. Therefore, it will be quite significant not to repeat the mistakes committed in previous attempts.
Currently, 31% of India's population lives in cities; these cities also generate 63% of the nation's economic activity. These numbers are rapidly increasing, with almost half of India's population projected to live in its cities by 2030. Smart Cities focus on the most pressing needs and on the greatest opportunities to improve quality of life for residents today and in the future.
Some of the bigger cities like New Delhi, Mumbai, Kolkata seem to have crossed their carrying capacity limit with the situation seem to get worsen in the coming decades. There's no point in developing the new cities with these cities as their prime model of development as these cities have by far not able to provide the quality of life an urban space is expected to provide to their citizens. The Ministry quoted three words – 'Education, Employment and Entertainment' as the three sectors on which emphasis would be given. Its however quite suspicious that by emphasizing on these three will create the sustainable urban settlements.
The diversity of the country can be said unanimous and hence with the changes in the diverse conditions and culture – changes the habits of the communities, environmental conditions and all other things which are equally important in planning the road towards sustainable development. The chances of a prototype city planning seem to get vanished here.
India should quickly look into the significance of local area planning and development – planning for a city in Meghalaya can't be done by the people in Chennai. It's more of a local approach which helps in an efficient planning process. Also, transportation planning needs a revitalisation plan – building flyovers, widening of the roads, enhancing various MRTS schemes are some short-term development which seem necessary at times, but their long term viability is suspicious. Transportation defines any urban structure and hence it can't be done in isolation – the interdisciplinary nature needs to be understood through a wider window. Also, transportation of goods to these new cities should be sorted out – allowing a agriculture buffer zone in the city's close proximity may be one such solution which will cater to different urban issues that has arisen in recent times. Special emphasis on planning the cities pedestrian and cycling friendly should be given to reduce the extent of the carbon footprints and also to provide a healthy lifestyle to its citizens. There's no point planning the cities and that too new developments to promote consumption of private vehicles by providing wide expressways and ignoring other aspects of mobility. The difference between mobility and accessibility should be also looked in through a wider aspect. The formation of the Urban-Rural Continuum discussed in earlier posts may prove quite significant and will cater some real long-term development. The concept of density planning should also be studied and brought into implementation for these new city developments.
The step of the creation of the 100 new cities seems to be a nice opportunity for the country to guide their whole developmental process and boost up their economic strength. The Indian government and the authorities have to be visionary and far-sighted with any urban development and should emphasize on long-term development. Planning process will need to be carried in co-ordination among different ministries, authorities, departments and communities. The participatory approach may prove quite beneficial and the sites which will be selected for the new cities needs to be strategically selected and a roadmap for their collective development should be prepared at first. There's no point of selecting the sites according to the different region and state demands and then linking them with a roadmap. The cities should also look within the carrying capacity of the environment and try to present a model to other nations by planning it across disciplines, in co-ordination among different authorities and as per the quality of life that a human deserves.
India to have 100 Smart Cities across 21 States in next 5 years.
A total of Rs 98,000 crore has been approved by the Cabinet for development of 100 smart cities and rejuvenation of 500 others. For Smart Cities Mission, Rs 48,000 crore and for Atal Mission for Rejuvenation and Urban Transformation (AMRUT), a total funding of Rs 50,000 crore has been approved by the Cabinet.
Future roadmap for Smart Cities in India
100 smart cities: The government has allocated an outlay of Rs 98,000 crore (US$ 15,329.26 million) to execute 100 smart cities, and the Atal Mission for Rejuvenation and Urban Transformation (AMRUT), which is an urban rejuvenation programme for 500 towns and cities in next 5 years.
Smart heritage cities: The government has introduced a project to develop 12 heritage cities across the country. Called HRIDAY Scheme or National Heritage Development and Augmentation Yojana, the cities included are Ajmer, Amaravati, Amritsar, Badami, Dwaraka, Gaya, Kanchipuram, Mathura, Puri, Varanasi, Velankanni and Warangal.
Smart ports: The government plans to connect 12 smart cities with the maritime hubs at an estimated cost of Rs 50,000 crore (US$ 7821.05 million).
Smart armed force stations (SAFS): There is a proposal to develop 6 smart armed force stations (SAFS). Of the 6 stations; 3 will be army stations, 2 of airforce and 1 of the navy.
Smart aerotropolis: The West Bengal government plans to develop first airport city called the Bengal Aerotropolis Pvt Ltd (BAPL) at Andal in Burdwan district.
Smart railways: Ministry of Railways has introduced world-class station programme to upgrade and revamp the existing railway stations. New Delhi Station will be the first station to be redeveloped within this programme spread over 86 hectares land with 18 platforms to handle in excess of 500,000 passengers per day. The Surat railway station is also to follow with 2.27 lakh square metre for redevelopment of new station. Along with this a total of 1,052 stations have been identified for upgradation of passenger amenities. It is proposed to include 200 more stations under this scheme.
Smart villages: Saansad Adarsh Gram Yojana (Parliamentarian's Model Village Scheme aims to ensure holistic development of identified gram panchayats. Under this programme, Andhra Pradesh is the first state to launch the 'Smart Village' plan aimed at making AP, a top state in the country by 2029.
DMIC: The Delhi Mumbai Industrial Corridor (DMIC) running through six states Delhi, Western Uttar Pradesh, Southern Haryana, Eastern Rajasthan, Eastern Gujarat, and Western ans to build a dedicated freight corridors along the Delhi-Mumbai. The cities that have been identified are Dholera in Gujarat, Shendra-Bidkin in Maharashtra, Greater Noida in UP, Ujjain (MP) and Gurgaon in Haryana.
SEZ: Guizhou International Investment Corp (GIIC) has signed an MoU with Kakinada SEZ (KSEZ), a subsidiary of GMR Infrastructure to develop industrial park over 2,000-acre land for setting up Chinese high-end equipment manufacturing plants. GIIC will invest $500 million in developing the infrastructure and various facilities of the industrial park. These Chinese companies will invest $2-3 billion in setting up their operations over the next 5 years and generating more than 5,000 jobs for both skilled and unskilled workers.
The India Smart Cities Challenge is designed to inspire greater creativity from municipal officials and their partners, more involvement and inspiration from citizens, and the development of proposals that will produce concrete benefits in people's lives.
The Challenge requires municipal leaders and their partners to consult the public to develop proposals that are both sound and have a high likelihood of being implemented. Proposed solutions must strengthen the city's governance or its physical, social, or economic infrastructure.
WHAT THE PLANS INCLUDE
A Bold Vision: Each city must convey its own unique vision that reflects local context, its resources, and the priorities and aspirations of its citizens.
A Pan-City Initiative: Cities should draw inspiration from smart solutions that incorporate the use of technology, information and data to improve services or results for citizens. The pan-city initiative must touch the lives of many, or potentially all, of its citizens.
An Area-Based Development Plan: This plan will transform an existing place within each city, creating an exemplar for other areas in the city, or across the country, to follow. Depending on local circumstances, cities may choose one of three approaches: retrofitting, redevelopment, or greenfield development.
The top 10 implementation challenges for smart cities in India
Having recognised that cities are the engines of growth and are drawing a million people every minute from rural areas, the Government has introduced the 'Smart City Challenge', handing over the onus of planned urbanisation to the states. In the approach to the Smart Cities Mission, the objective is to promote cities that provide core infrastructure and offer quality of life to citizens, a clean and sustainable environment and application of 'smart' solutions. Those states that measure up to the guidelines and nominate cities could get funding of Rs 100 crore per year per city for the next five years. The funding is a golden chance for states to rejuvenate their urban areas but the Smart Cities Mission still has its own challenges to face. Here are the top 10:
1. Retrofitting existing legacy city infrastructure to make it smart: There are a number of latent issues to consider when reviewing a smart city strategy. The most important is to determine the existing city's weak areas that need utmost consideration, e.g. 100-per-cent distribution of water supply and sanitation. The integration of formerly isolated legacy systems to achieve citywide efficiencies can be a significant challenge.
2. Financing smart cities: The High Power Expert Committee (HPEC) on Investment Estimates in Urban Infrastructure has assessed a per-capita investment cost (PCIC) of Rs 43,386 for a 20-year period. Using an average figure of 1 million people in each of the 100 smart cities, the total estimate of investment requirements for the smart city comes to Rs 7 lakh crore over 20 years (with an annual escalation of 10 per cent from 2009-20 to 2014-15). This translates into an annual requirement of Rs 35,000 crore. One needs to see how these projects will be financed as the majority of project need would move through complete private investment or through PPPs (public-private partnership).
3. Availability of master plan or city development plan: Most of our cities don't have master plans or a city development plan, which is the key to smart city planning and implementation and encapsulates all a city needs to improve and provide better opportunities to its citizens. Unfortunately 70-80 per cent of Indian cities don't have one.
4. Financial sustainability of ULBs: Most ULBs are not financially self-sustainable and tariff levels fixed by the ULBs for providing services often do not mirror the cost of supplying the same. Even if additional investments are recovered in a phased manner, inadequate cost recovery will lead to continued financial losses.
5. Technical constraints of ULBs: Most ULBs have limited technical capacity to ensure timely and cost-effective implementation and subsequent operations and maintenance owing to limited recruitment over a number of years along with inability of the ULBs to attract best of talent at market competitive compensation rates.
6. Three-tier governance: Successful implementation of smart city solutions needs effective horizontal and vertical coordination between various institutions providing various municipal amenities as well as effective coordination between central government (MoUD), state government and local government agencies on various issues related to financing and sharing of best practices and service delivery processes.
7. Providing clearances in a timely manner: For timely completion of the project, all clearances should use online processes and be cleared in a time-bound manner. A regulatory body should be set up for all utility services so that a level playing field is made available to the private sector and tariffs are set in a manner that balances financial sustainability with quality.
8. Dealing with a multivendor environment: Another major challenge in the Indian smart city space is that (usually) software infrastructure in cities contains components supplied by different vendors. Hence, the ability to handle complex combinations of smart city solutions developed by multiple technology vendors becomes very significant.
9. Capacity building programme: Building capacity for 100 smart cities is not an easy task and most ambitious projects are delayed owing to lack of quality manpower, both at the centre and state levels. In terms of funds, only around 5 per cent of the central allocation may be allocated for capacity building programs that focus on training, contextual research, knowledge exchange and a rich database. Investments in capacity building programs have a multiplier effect as they help in time-bound completion of projects and in designing programs, developing faculty, building databases as well as designing tool kits and decision support systems. As all these have a lag time, capacity building needs to be strengthened right at the beginning.
10. Reliability of utility services: For any smart city in the world, the focus is on reliability of utility services, whether it is electricity, water, telephone or broadband services. Smart cities should have universal access to electricity 24×7; this is not possible with the existing supply and distribution system. Cities need to shift towards renewable sources and focus on green buildings and green transport to reduce the need for electricity.
 Despite the current infrastructure woes in cities, Prime Minister Narendra Modi has launched the laudable initiative of "100 smart cities" mission. Indeed, the right strategy considering India's urban population is expected to grow to over 50 per cent in the next 15 years, contributing to over 75 per cent of the GDP.
Smart cities are expected to make the life of the general public better by using Information and communication technology (ICT), and bringing in efficiency and accountability. ICT can assist in efficient delivery of physical services to the public. The recently launched Digital India project would help in building-in transparency and creating an "ICT aware" society.
It is estimated that an astounding Rs 40 lakh crore is required to build 100 smart cities. Will the existing cities be able to self-finance and manage the scale? May be the government should look at a complete overhaul of the archaic administrative set-up.
The government plans to spend Rs 1 lakh crore over five years for the 100 smart cities project and 500 cities under the AMRUT (Atal Mission for Rejuvenation and Urban Transformation). The AMRUT is aimed at improving the infrastructure of cities with over one lakh population.
It is an excellent idea as it aims at improving the quality of life and providing a clean and sustainable environment to the Tier 2 and Tier 3 cities and towns including the much needed tourist spots. This will also help decongest metropolitan cities.
The government is planning for a two-stage 'City Challenge' competition that would allow states to compete with each other for funding. Among other parameters, past track record in implementing sanctioned projects, self-financing, city's vision and strategy, innovation, scalability and cost effectiveness of the smart city plan will be part of the evaluation criteria.
Planning for the smart cities mission is strategic and long term in nature. Hence, there must be a "short term" focussed effort in handling initiatives that can provide immediate respite to the citizens. As a first step, we need better coordination between the government organisations within the city and thereby reduce costs. Why can't the departments handling a city's road repairs/ asphalting, sewerage/ water, work coherently?
Each city will have different priorities and civic groups must be involved in identifying key issues that can be implemented using the existing ICT system.  For example, a simple and effective parking solution during weekends and holidays could be created by using all the vacant parking slots available in government and private offices in the central part of any city.
Similarly, installing skywalks/escalators on roads with dense vehicle movement, providing bus arrival information system in all the bus stops can be some of the simple yet high-impact measures that the citizens would appreciate. Most cities have established e-governance systems that people use for paying utility bills, taxes etc.
Can we improve the grievance redressal systems, provide time-bound response and establish a clear work-flow automation? This will greatly help in providing the exact status to the citizens availing any service. This can also reduce corruption to a great extent.
Sensing an immense opportunity, many countries and global companies are offering funding and technology solutions towards India's smart cities mission.  We need "India-specific" and affordable solutions and hence copying from other countries may only result in significant cost with no meaningful impact to the citizens.
For example, some European cities have implemented an underground pneumatic garbage disposal system. Basically, the moment garbage is dumped into the bin on the street, it gets immediately sucked into the underground system. Sounds impressive, isn't it? But, do we need such expensive systems in India?
In fact, a research report suggests that an efficient traditional garbage collection system would just cost only 10-15 per cent of such sophisticated underground systems.
SMART CITIES
Innovate and implement

The smart cities initiative is a great platform to spur innovation. Using the 'MeraShaharMeraSapna' contest, Modi has made the right move by asking people for innovative ideas. Ideas should be bottom-up, while the planning would require a top-down approach. The government must create a platform to appreciate "engaged citizens" contributing ideas.
While large multinational technology companies are eager to participate in the smart cities' journey, the government should create the right checks and balances to avoid monopoly. For sustained innovation, the start-up ecosystem must be encouraged along with a strong push for participation from smaller companies.
Synergies between the smart cities and the Digital India initiative can spur inno-vation and help in creating ICT jobs. The recently launched Skill India mission can act as a stimulus for encouraging entrepreneurship around smart cities. The government should consider creating specific
skill development programmes around ICT/smart cities by involving other stake holders.
As with any infrastructure project, implementation is the key. The government should publish measurable targets, accountability and a quarterly progress report. An Independent Evaluation Office to monitor the progress would greatly benefit.
Finally, only government's willingness and a "make it happen" attitude will decide if the dream of smart cities can become a reality.  In the short term, will the urban bodies take a cue from the PM's message and implement simple, yet high impact initiatives, create visible positive changes in our cities and gain the citizens' trust?
India's big smart city challenge
Urbanization can be simply defined as the rise of cities vis-a-vis the rural landscape. As a country moves ahead on the road to progress, cities tend to take center stage. In that manner, the rise of cities has often been construed as an indicator of development and progress. The case has been no different when it comes to India. While the pace of urbanization was a bit slack in the early years post-independence, it has really picked pace in the past few decades, especially in the post-1991 phase. Coupled with economic growth and expanding markets, the urban population now stands at around 30% of the overall pie.
Yet, the picture of an urban India is far from rosy. From economic reforms to demographic dividend in the form of a young population, India has many things going for it. However, there is some more ground to cover if India is to shed its 'developing country' tag and emerge a superpower. This can happen only when urbanization (read planned urbanization) is given due attention. Upgrading existing cities and creating new ones are prerequisites for economic progress and they must take place in an organized manner.
Why India needs more planned cities?
A 2010 study conducted by McKinsey Global Institute (MGI) points out that urbanization in India has been a victim of systemic inefficiencies and policy vacuum. While India's population is no doubt increasing, quality of life of citizens in urban areas is declining. Moreover, unchecked migration from rural areas is only putting further strain on the infrastructure in cities. The result is water and power shortages, lack of proper sewage collection and treatment, overburdened transport systems and unplanned constructions.
It is imperative then to not only create new 'smart' cities, but also upgrade the existing ones. Developing newer cities will bridge the rural-urban divide. This will in turn reduce social inequity, one of the biggest psychological benefits of planned urbanization.
The MGI study titled 'India's urban awakening: Building inclusive cities, sustaining economic growth' estimates that by 2030, 40% of India's population will be living in cities. This makes it all the more crucial for us to ensure that the process of urbanization occurs in a smooth and phased manner.
A carefully planned city will attract investments, create jobs, have strong infrastructure, and most importantly, up the standard of living of its citizens. Going ahead, the contribution of cities to India's GDP will only increase. If in 2008, cities accounted for 58% of the national GDP, by 2030, this figure is expected to go up to 70%. To adequately leverage this, India needs livable and productive cities.
Where are we lagging now
Lost somewhere between the labyrinth of local and state bodies, municipal corporations, urban development agencies, corruption and political will, India's urban spaces are struggling to breathe. If unplanned growth of cities continues, their state will only get more deplorable.
There has to be better cohesion between the various agencies responsible for urban development and planning. Sewage treatment, provision of clean water to citizens, robust healthcare systems, efficient transport networks and strong governance must form the blueprint of re-designing existing cities and creating new ones. Technology can go a long way in helping realize the creation of smart, safe and sustainable cities.  Every urban plan will need to have a long-term view only then will economic growth happen. A myopic approach can prove disastrous.
To address such issues of scalability, one needs proper research mechanism in place. Sometime back The Energy and Resources Institute (TERI) and United Technologies Corporation (UTC) launched the Center of Excellence for Energy Efficient Buildings in India, which will conduct a pan-India study of 100 buildings across various climatic zones, covering  cities such as Allahabad,  Ajmer,  Vishakhapatnam,  Varanasi,  Delhi-NCR, Mumbai, Chennai, Bengaluru, Kolkata,Hyderabad, Pune, Ahmedabad, Surat, Jaipur etc. These cities have been shortlisted based on Smart Cities program, and are most likely to be chosen for it. This study can thus lay the groundwork for agencies to plan their growth accordingly.
The road ahead
For long, urban planning has not featured on the national agenda as prominently as it is seen now. Creation of 100 smart cities was one of BJP government's key election promises. With a view to modernizing India and accelerating the process of urbanization, Modi had envisioned creation of 100 smart cities. The idea was to develop satellite towns of larger cities and modernize existing midsized cities. In keeping with the PM's vision, Finance Minister ArunJaitley, while presenting his first Budget last year, set aside Rs 7,060 crore towards this. Jaitley had also announced relaxation of foreign direct investment norms so as to attract overseas capital. These announcements were as refreshing as they were promising.
The government has even gone ahead and defined the process after detailed consultation. A framework has been created, based on which cities will be selected in the days to come. Once, these cities are chosen, the next stage of making them smart will kick in. To ensure that the cities are not merely 'smart' in terms of technology alone, the eligibility conditions are quite holistic. For instance, to participate in the 'Smart City Challenge', any applicant city needs to have a vision document and a city development strategy in place, progress under Swachh Bharat Mission is another condition, timely payment of salaries to municipal staff is another, and finally, there needs to be an information and grievance redressal mechanism with a e-newsletter in place. From the lot of applicants, a final set of cities will be chosen that would be turned 'smart'.
In a country such as India, that witnesses unchecked migration to urban areas, creation of smart cities is nothing short of a landmark move. It has the potential to improve the administrative process and also provide citizens access to quality healthcare, education, sanitation and governance.
So far only private construction companies had come forward and developed or proposed to develop smart cities. That the central government identified this issue and gave it a national thrust brought cheer to the general public. With overpopulated cities and their strained infrastructure, India is already in the midst of an urban crisis. The only way out is planned urbanization.
Public and private bodies must join hands and come up with smart, sustainable and long-term solutions. Creating thriving and self-sufficient urban spaces will not only ensure inclusive growth but also contribute to overall economic advancement.  The future of India lies in cities and we must fortify them if the country has to prosper.
 An aspect of our current approach, while having implications for the entire world, has a special relevance for its two largest economies – the US and China. India is endeavouring to modernise in the fullest sense of that term. This is expressed in a variety of programmes, ranging from Make in India,Digital India and 100 Smart Cities to Skill India and Clean India. It seeks resources, technology and best practices from international partners. That is very much at the heart of our diplomatic engagement. Both the US and China – and indeed the Asean, Japan, RoK and Europe – can contribute to this transformation. The centrality of this commitment ensures that India will set a positive and interactive agenda with other major powers and groupings. We look at the world seeing more possibilities than risks and are confident that in turn, India itself will be viewed as an opportunity by the world. At the end of the day, India's future is of a human resources power. That will be a key calculation in how others – including the US and China – approach us.
Let me now turn to the US and the state of our ties with them. There is little doubt that the US economy is in recovery mode. It is probable that in pursuing its interests, the US will seek to leverage its comparative strengths that include technology, finance and its international partnerships. The issue then is the extent to which those partners have a convergence of interests. In the case of India, that is quite significant. Let me illustrate that using some recent examples. When President Obama came to India in January, the two countries agreed on a Joint Strategic Vision for the Asia-Pacific and the Indian Ocean Region. We affirmed our shared interest in safeguarding maritime security and ensuring freedom of navigation and over-flights throughout the region. We opposed terrorism, piracy and WMD proliferation. And we urged all parties to avoid the threat or use of force and pursue resolution of disputes through peaceful means, in accordance with international law.
The vast expanse of practical cooperation laid out on that occasion is also worth noting. On the economic side, there is the promise of expanding investment flows, collaborating on skills development, furthering India's digital ambitions and expanding capabilities ranging from health to education. In areas where the US has traditionally dominated such as space, nuclear energy and R&D, new collaborative initiatives were agreed upon. The entire spectrum from defence, counterterrorism, homeland security, intelligence-sharing and law enforcement are being taken to a new level. In global economic, political, security and technology areas, the two nations are working together on a number of issues. The deepening and broadening of the Indo-US relationship has been among the key elements of a changing Asian calculus. This process, which has unfolded unevenly in the last two decades, has definitely acquired new energy in the last year. Obviously, the two countries would not agree completely on all issues but their ability to work together is a factor worthy of serious consideration.
With China, the changes are more nuanced, more complex but no less significant. Again, I use the recent visit of Prime Minister Modi to China and his meeting with President Xi to illustrate my argument. On that occasion, the terminology agreed upon by the two countries to describe themselves were as "two major powers in the region and the world". I would suggest – and I am sure the China watchers in the room would agree – that this is not without meaning. The task which they have set for themselves is to pursue their national development goals and security interests in a mutually supportive manner. Clearly, that would happen only if they showed respect and sensitivity to each others' concerns, interests and aspirations. That the two neighbours, whose parallel if differential rise offers a somewhat unique situation in world history, agreed on a constructive model of relationship is no small thing. Precedents in global history have been largely otherwise. This is not just a conceptual proposition. Those of you who would have watched the Modi-Xi interaction in Xian would have noted that this approach was reflected in their demeanour. The mood today allows for frank and direct conversations between the leaderships. Their shared appearances – including the world's most powerful selfie – and utterances would have been difficult to envisage a year ago.
But as with the US, it is what is happening on the ground that can make these sentiments sustainable. So, let me talk a little about recent developments in that regard. On the economic side, the discourse has been traditionally dominated by the growing trade imbalance, a source of unhappiness for India as it reflects lack of market access. Admittedly, that continues to be a major challenge, one that the two prime ministers agreed would be taken up by a high-level task force. But attention has now turned to the possibilities offered by investments. Two Chinese industrial parks are under development in Maharashtra and Gujarat. Other private investment initiatives are moving forward. In fact, PM Modi's meeting in Shanghai with Chinese CEOs probably saw the strongest foreign interest that I have heard expressed in Make in India in all the visits that I have accompanied him. Knowing the gaps between the two systems, there will be some process challenges. That, I would delicately suggest, may be an opportunity for Singapore. Collaboration is also unfolding in a number of other sectors, especially in the modernisation of India's railway infrastructure.
The standard narrative of Sino-Indian relations, however, remains focused on the border dispute and security issues. Here, I would draw attention to efforts to enhance communication between the militaries, promote leadership-level contacts, establish more hot-lines, expand border commanders' exchanges and create more meeting points. The political settlement of the boundary question is obviously a complicated issue. But there is recognition today on both sides that peace and tranquility on the border is an important guarantor for the development and continued growth of our bilateral relations.
We are also moving to address the familiarity gap in the relationship, an outcome of the difficult parts of our shared history. New policy and governance-level mechanisms and platforms have been formed. Promoting contacts between think tanks and media has been given a special boost. Sensitivity displayed in respect of religious tourism has gone down well in both nations. The direction we are moving in should be clear even if much work remains to be done.
My message to you today is that India engages with the world with greater confidence and assurance. It does so with the intent of ensuring stronger growth, greater connectivity, closer integration and deeper harmony. It wants to expand its commonalities and manage its differences. It is prepared to shoulder greater responsibility and expects that this would be duly reflected in the structure of the international order. With specific reference to India's ties with the US and China, we approach them both positively. In doing so, we look beyond the 20th century orthodoxies.
Recently, prime minister Narendra Modi launched three mega urban schemes – Smart Cities Mission, Atal Mission for Rejuvenation and Urban Transformation (AMRUT) and Housing for All in urban area setting in motion the process of urban transformation.
The schemes would help urban poor through increased access to water supply, sewer connections, public transportation, housing, improved urban governance ensuring transparency and accountability and better delivery of services and enhanced employment opportunities.
For smart city development, each selected city will be provided central assistance of Rs 100 crore per year. Under AMRUT, allocation of funds will be as per urban population and number of cities/towns in each state/UT. The government is looking at PPP model as the main resource of resource mobilization.
Commenting on Smart Cities Mission, DrAnand Agarwal, CEO, Sterlite Technologies said, "We are fully aligned with the government's vision of creating smart cities as new engines for empowerment and growth. India is on the verge of the biggest technology revolution and as a leader in developing optical communication products and end-to-end digital solutions, Sterlite has the requisite capacities and capabilities to execute this vision."
Speaking on Smart Cities Project, Anil Chaudhry, country president and managing director, Schneider Electric said, "The launch of the Smart Cities and AMRUT, in essence, will change the face of India's municipal and social infrastructure. To support India's growing population and provide housing to all, cities and towns need to be sustainable and liveable. In this aspect, integrated solutions to create an all-pervasive 'smartness' in the fields of transport and mobility, water management, building management and energy efficiency will play a critical role in shaping the government's vision."
We are quite upbeat that the Rs 3 lakh crore allocated by the government for this mission will induce active participation from all stakeholders," added Chaudhry.
Koichiro Koide, MD, NEC India said, "What is commendable is that the three schemes together not only focus on developing 100 smart cities across different states but also commit to readying a few hundred more to become smart cities in the next phase, while making them better immediately for its citizens with better housing and urban transformation. This practical approach clearly indicates the intent of the government of an all-round development for all regions in the country."
"With this step taken, the launch of the guidelines will help channelizing the resources, funds, expertise in the right direction and will act as a trigger in propelling the development of smart cities mission in India. We will continue to contribute to Indian smart cities mission creating "Solutions for Society," and our reinvention as a "Social Value Innovator", added Koide.
AnandNavani, country manager, Verint Systems India said, "Public private partnership will be key in taking this initiative further, residents along with city leadership will be instrumental in implementing Smart Cities across the country."
"We at Verint Systems have been a part of the Smart City initiative in India from its inception and believe that this announcement highlight's the central government's renewed focus and commitment to the cause," commented Navani.
The Narendra Modi government is planning to select 100 smart cities under the Smart Cities Mission through a two stage competition. In the stage-1 of city challenge competition, each state and union territory will score all their cities based on a set of criteria and nominate the top scorers as per the indicated number of potential smart cities for participation in the stage-2 of competition.
In the second stage, 20 top scorers will be chosen for financing during this financial year. The remaining would be asked to make up the deficiencies identified by the apex committee in the ministry of urban development for participation in the next two rounds of competition. 40 cities each will be selected for financing during the next rounds of competition.
Sectors
Smart Water and Waste Management
Clean Energy
Smart Transportation
Smart IT & Communications
Smart Buildings
Smart Education
Smart Health
Smart Security and Safety
World's Top 7 Smart Cities Of 2015 Are Not The Ones You'd Expect
You are probably familiar with the concept of the Smart City, a city which uses digital technologies to improve the quality of public and private services, while reducing costs and resource consumption. The Intelligent Community Forum (ICF), a a New York-based think tank, prefers to focus on Intelligent Communities, defined as "cities and regions that use technology not just to save money or make things work better, but also to create high-quality employment, increase citizen participation and become great places to live and work."
Every year, since 1999, the ICF has been naming he world's most intelligent community. Last Thursday the organizations announced the list of finalists for 2015, which included 7 cities and towns from 5 different nations: three from the United States, one from Australia, one from Brazil, one from Canada, and one from Taiwan. Except perhaps for Rio de Janeiro, the names selected are not the ones you would expect to find in such a ranking. Huge conglomerates like London, New York, Tokyo or Mexico City, did not make it to the top seven; rather, the candidates are mainly mid-sized cities, that have found in the "broadband economy'"a way to rethink themselves. The overall winner will be announced at the ICF's annual summit in Toronto in June.
Here's a brief overview of the seven finalists:
Arlington County, Virginia, USA
Arlington County benefited a lot, in the past, from being close to Washington DC and being home to the Pentagon, the Defense Advanced Research Projects Agency and the National Science Foundation. But decisions by the US Department of Defense will empty 3.2 million square feet and export 13,000 jobs over the next several years. The county is seeking to reduce its vulnerability to Federal decision-making, through "The Arlington Way", a formal structure of more than 40 citizen advisory groups and commissions, which influence decisions on everything from land use to technology, and with the Telecom Master Plan, a public-sector fiber network which seeks to reinvent the way citizens engage with government.
Columbus, Ohio, USA
Home to the highest metropolitan concentration of Fortune 1000 companies in America, but also to a a large, low-income population stranded by the decline of low-skilled factory employment, Columbus is trying to bridge the gap between these two worlds through collaboration among government, education, business and institutions. Thanks to startup acceleration programs, business mentoring, seed funding and capital attraction, Columbus has been one of a handful of U.S. metros that turned a brain drain in 2005-2007 into brain gain in 2007-2009.  Employment growth in skilled manufacturing has exceeded 35% over the past decade and, in 2013, Columbus was named one of the top 10 cities in the US for new college grads.
Ipswich, Queensland, Australia
In 2011, the city of Ipswich published a 20-year economic development plan. It forecast the addition of 292,000 new residents and 120,000 jobs. The city has just commenced a major redevelopment of its center, where digital technologies will be used to attract commercial and residential tenants and to improve public safety. Green standards will make the city center one of the most sustainable in Australia, so much so that when the plan is completed, in 2031, it will mark the emergence of one of Australia's model cities.
Mitchell, South Dakota, USA
In the past mainly a rural city, that the most brilliant and ambitious left behind in search of a brighter future elsewhere, in recent years Mitchell has been able to create another economy on top of the agricultural one. The Mitchell Technical Institute (MTI) has invested $40 million in a new technology-based campus, where it trains hundreds of communications and data technicians, and a local angel investors network has sprung up and begun incubating new communications startups. Engineering, consulting and software companies have made Mitchell into a regional hub for expertise and services, transforming the city in a magnet for ICT talent.
New Taipei City, Taiwan
For the second time in a row in the top seven, New Taipei City (NTC), created in 2010 from the county surrounding Taiwan's capital city of Taipei, is developing a knowledge-based economy to power its future. The focus has been mainly on broadband: the household penetration rate is at 91% with 87% on 100 Mbps service.  NTC has also connected more than 300 schools, put tablets and computers into classrooms and has facilitated the installation of more than 10,000 Wi-Fi hotspots in convenience stores. Massive investment went into high-speed roads and rails to unite the doughnut-shaped city, while broadband advances coupled with a Knowledge-Bridge project has driven industry-university collaboration projects and provided talent and job matchmaking.
Rio de Janeiro, Brazil
Probably the best known of the pack, Rio is more famous however for its beaches, Carnival spirit and favelas than for being a vibrant business hub. But preparation for the 2014 World Cup and the 2016 Olympic Games has given the city the chance to revitalize itself, create a better transportation system and deal with long-standing infrastructure problems. ICT programs such as the Rio Datamine (an open-data system that makes available vast amounts of city information) are also playing an important role in giving a boost to the economy. The municipality has built Knowledge Squares in nearly 40 low-income, crime-ridden neighborhoods, and 32 digital facilities which have provided digital literacy training to 69,000 citizens. Thanks also to the discovery of vast offshore oil fields, Rio is now receiving twice the foreign direct investment of Sao Paulo.
Surrey, British Columbia, Canada
Surrey is Canada's third fastest-growing city, part of the metropolitan area of Vancouver. To foster development, is focusing on a project called Innovation Boulevard, overseen by the Mayor's Health Technology Working Group, comprised of 50 representatives from universities, a health authority, nonprofits, business associations, government and developers. City, universities and business are building clusters in health technology, clean tech and advanced manufacturing, and a range of smart-city systems are improving livability and better engaging with citizens. The goal is to boost local employment by almost 50%.
---
Platform : India Leadership Conclave 
Speaker : Dr. Lalit Surajmal Kanodia
Topic : Smart Cities
---
Dr. Lalit Surajmal Kanodia, Ph.D., MIT, USA is Founder of Datamatics Group of Companies and has been its Chairman of the Board since 1975. Dr. Kanodia founded Datamatics in 1975 and has been an Executive Chairman at Datamatics Technologies, Ltd. since February 8, 2006. He serves as Chief Mentor at Datamatics. He drives all innovation, new product development and quality initiatives at Datamatics. Dr. Kanodia founded the Indian IT industry in India. He has over 30 years of rich and varied experience in the field of information technology products and services. He is an Executive Member of NASSCOM, the apex body of the IT-BPO industry in India. He has also been designated as the Honorary Consul General of Chile in India by the Government of Chile. In the past, he has held several eminent positions with various industry associations, which include- President of the Management Consultant's Association of India and Chairman (Western Region) of the Electronics & Computer Software. He serves as Chairman of the Board of Datamatics Financial Services Ltd. He has been the Chairman at Datamatics Global Services Ltd. since February 8, 2006. He served as the Chairman of IDream Film Infrastructure Company Ltd. He served as the Chairman of Datamatics Limited. Dr. Kanodia serves as Director of RPG Life Sciences Limited. He also serves as Director of Cybercom Datamatics Information Solutions Ltd, Datamatics Technosoft Limited, Datamatics Information Technology Limited, Zed-tech Software Designs (India) Limited, Datamatics Software Services Limited, Datamatics Infosolutions Limited, Amal Products Limited, Datamatics Worldwide Services ApS, Datamatics Technologies Inc., Datamatics Infotech Inc., Datamatics Consultants Limited, Knowledgeworks Global Limited, CorPay Solutions Inc. Datamatics Inc. and Datamatics Technologies UK Limited. He serves as Board Member of CIGNEX Datamatics Corporation. He has also been an Executive Director of Datamatics Technologies Ltd. since May 16, 2005. He served as a Director of Saztec International Inc. since October 19, 2000; IDream Film Infrastructure Company Ltd since May 2005; Brabourne Enterprises Ltd until June 18, 2008; Datamatics Global Services Ltd (SOFTBPO Global Services Ltd) since May 2005 and Datamatics Limited. He has served as the President of the Management Consultants Association of India and is a member of various committees and councils. He is an international consultant and has held the post of consultant to Ford Motor Co. and Arthur D. Little, USA. Dr. Kanodia worked with TCS and held overall charge of the organization during 1968-69. He taught statistical decision theory at MIT from 1964 to 1965. He was also the visiting faculty for MBA students at the Jamnalal Bajaj Institute of Management, Mumbai from 1968 to 1970. His inspirational leadership has led Datamatics to be conferred with various awards over the years, including the Most Innovative Software Product Award, the International Asia Pacific Quality Award and being ranked among the top 50 best managed outsourcing vendors by 'The Black Book of Outsourcing'. Dr. Kanodia has won a Ford Foundation Fellowship (on the basis of national selection in the USA) for his Ph.D. He won the distinguished Alumnus Award of IIT, Mumbai at their 25th Anniversary Celebration in 1983 for "Entrepreneurship" from the President of India and was awarded Order of Merit for Management & honored as Samajshree, by the Council of Management Executives in 1994 in recognition of services rendered to the public. He was included by Dataquest, an Indian computer magazine, in their January 1995 issue, as one of the ten persons in their "Hall of Fame". He is a B. Tech (Hons.) from IIT, Powai, Mumbai, M.B.A. and Ph.D. in Computer Science from Massachusetts Institute of Technology, USA. Dr. Kanodia completed his doctorate in Management from MIT.