The Empire of Subrata Roy may soon be a story for history students as Sahara Chief Subrata Roy's flamboyant lifestyle has mix of success & blunders!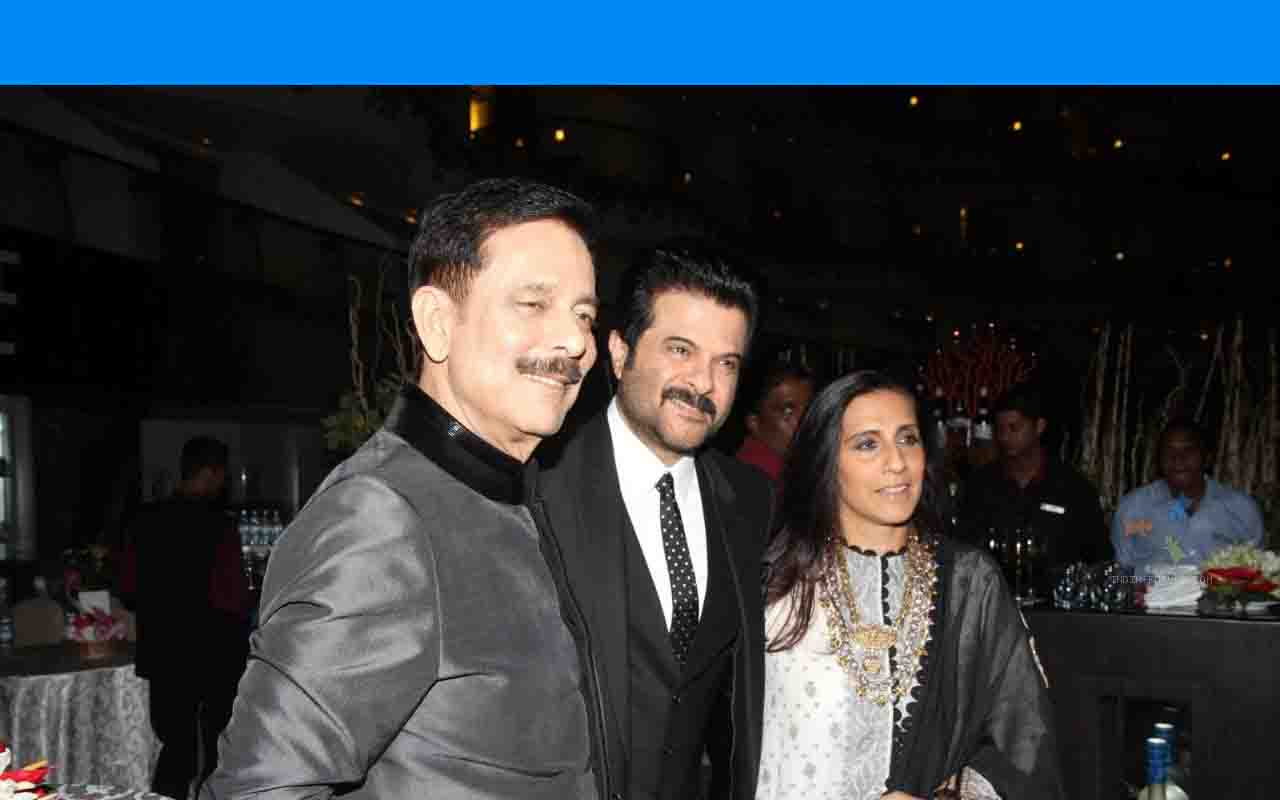 Subrata Roy is one of India's most flamboyant and enigmatic tycoons.The rags-to riches story of the chairman of Sahara, which became one of India's biggest business groups, has made him a household name in India.The group, worth 682bn rupees ($11bn; £6.6bn), has businesses ranging from finance, housing, manufacturing, aviation and the media. It also has interests overseas – it owns New York's landmark Plaza Hotel and London's iconic Grosvenor House.Sahara also sponsors the Indian hockey team and owns a stake in Formula One racing team, Force India.With more than 1.1 million workers, the group is also India's biggest private sector employer.Mr Roy is often in the news for his larger-than-life image, colourful lifestyle and considerable political connections.
The Empire of Subrata Roy may soon be a story for history students as Sahara Chief Subrata Roy's flamboyant lifestyle has mix of success & blunders!
He counts Bollywood superstar Amitabh Bachchan among his friends and rubs shoulders with the likes of former British Prime Minister Tony Blair.
At the wedding of Mr Roy's two sons in 2004, festivities lasted nearly a fortnight. It was billed as the Indian marriage of the century, and it lived up to the hype.
Over 10,000 guests – a veritable A-list of India's power set, including business moguls, Bollywood idols, cricket stars and fashionistas – were airlifted to Lucknow by special chartered planes. Then Prime Minister Atal Behari Vajpayee also flew down to bless the newly-weds.
The Empire of Subrata Roy may soon be a story for history students as Sahara Chief Subrata Roy's flamboyant lifestyle

— Indian Affairs (@Indian_Affairs) May 8, 2015
Opulent lifestyle
Critics say Mr Roy runs his company like a cult, referring to himself as the "chief managing worker" and guardian of the "Sahara parivar (family)".
The Sahara boss has an opulent lifestyle – he has a fleet of private jets and helicopters and one of his mansions is modelled on the White House.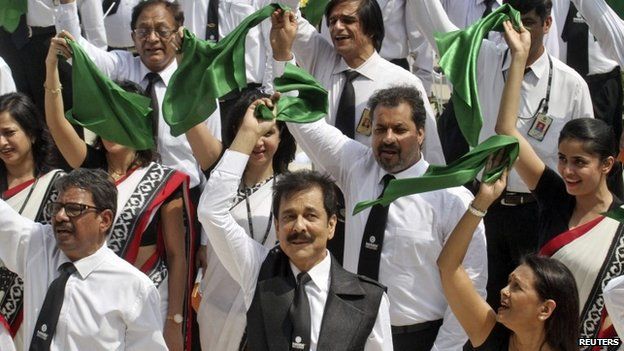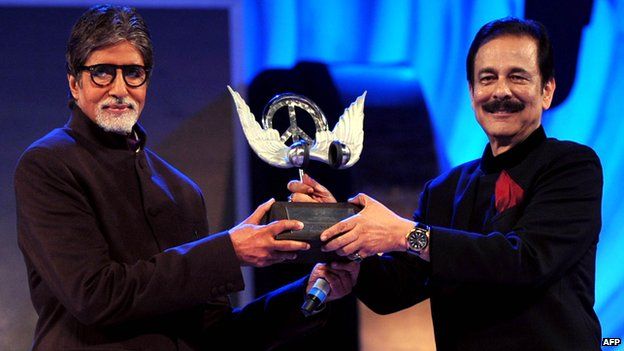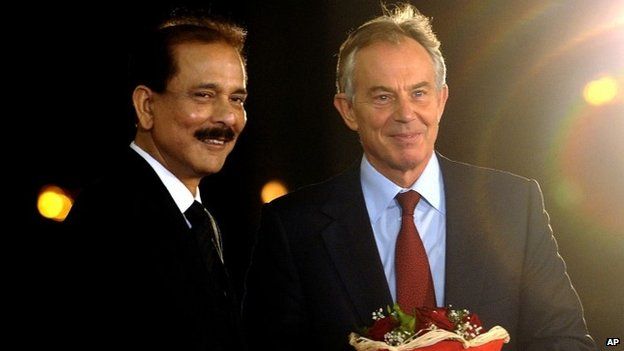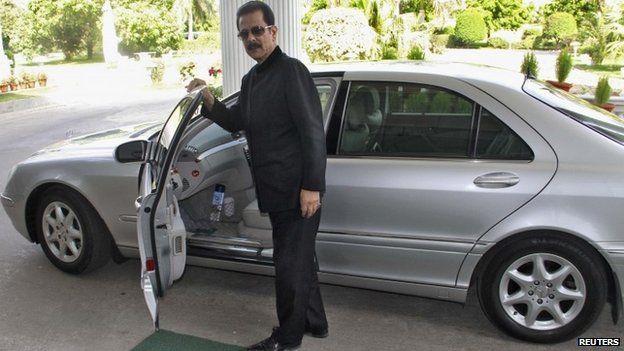 Another residence – located in a private city he has built at a cost of tens of millions of dollars – is a replica of the Buckingham Palace.
According to reports, he owns a fleet of Rolls-Royces, Bentleys and BMWs.
The 65-year-old lives in Lucknow, the capital city of the northern state of Uttar Pradesh, and is often named among the most influential businessmen in the country by Indian news magazines.
But at the moment Mr Roy is in the news for the wrong reasons – he has been arrested for failing to appear in court over refunds to millions of investors.
Two of his firms raised nearly 240bn rupees ($3.9bn; £2.3bn) through illegal bonds five years ago and authorities say he has failed to refund the money despite a court order. Mr Roy has issued a statement setting out his case and denying reports that he was avoiding court appearances.
Sahara also disputes the amount of money it has to pay back.
---
From a company with an asset base of Rs 2,000 in 1978 to the biggest private sector employer in the state of Uttar Pradesh- – where there are hardly any sources of employment, industry is collapsing and the state's economy is ailing — the Sahara India Group stands out as a major Indian corporate group with diverse business interests.
Subrata Roy its Managing Worker has a very wide canvass which runs from finance, Infrastructure & Housing, Media & Entertainment, Tourism & Hospitality, Consumables, Manufacturing and Services & Trading. Some say Sahara has an asset base of Rs 60,000 crores. For others he is a God. He has a stature beyond mortals and his lifestyle would put the nawabs of Avadh to shame. The house he lives in at Sahara Shahar is reported to be in a 150-acre campus in Lucknow's prestigious Gomtinagar colony. Roy began his career selling salted snacks in Gorakhpur for a living. His father who used to work in a sugar mill died and the Roys then shifted to Delhi.
After a takeover of a finance company, he began Sahara India in Lucknow. Roy always wanted to enter the housing and infrastructure business so Sahara was always having a thrust in real estate investment at a time when real estate began to see a boom and Uttar Pradesh's cities began to experience mushroom growth. Sahara had latched on to the real estate business at the right time.
Roy maintained a lifestyle where the corner stones were encouraging patriotism for Mother India, promoting sports and encouraging the media. He always wanted to be a media baron and his first venture in the field was a tabloid called Shane-e-Sahara.
Roy soon realised that the world of the media required more investment. The investment came from his chitfund schemes where Sahara started recurring deposits and daily deposits even as small as Rs 10 a day from small traders who were wooed with lucrative returns. Since the investor base was so large this added up to thousands of crores worth of funds.
Sahara then established its presence in Aliganj, Lucknow, by buying several highrise buildings there. The Sahara India office had come up for good. Later another building was taken up and Roy realised his dream of owning a media empire. The Rashtriya Sahara group of newspapers and TV channel were a far cry from Shan-e- Sahara. The organisation spread to Noida and several senior journalists who were earlier critical of Roy and his finance company began to work for him. The collapse of the paper founded in Urdu for the Muslim population of Uttar Pradesh – the Quami Awaz – paved the way for the successful launch of the Urdu Rashtriya Sahara which is today reported to be the largest circulating Urdu daily in UP, Delhi and parts of Bihar.
Sahara had by now set up base in Mumbai and several other cities. Its projects went from housing to hotels to hospitals. The most modern and biggest hospital in Lucknow is the Sahara Hospital today.
The life style of Subrata Roy Sahara rivalled that of Saddam Hussien and kings and monarchs. Politicians, film actresses and actors surrounded him. Sahara was also in the business of film production. But Roy did all this because he knew that he had to brand his company and create investor confidence in the state. The best and easiest way was to organise lavish parties and promote sports. The Sahara tee-shirt became visible on sportspersons all over the world wherever Indians played. With Bipasa Basu, Aishwarya Rai, Shilpa Shetty and several others being at Sahara social get-togethers branding the company was never an issue and investor confidence rose and rose. There were several who tried to imitate the Roys but they came in late and could not sustain competition with Sahara.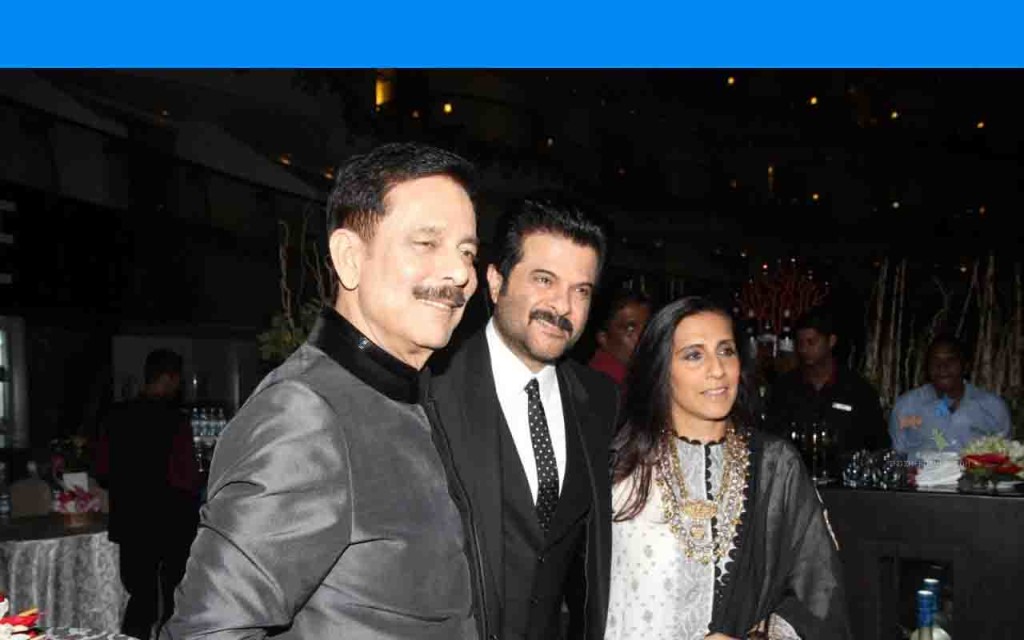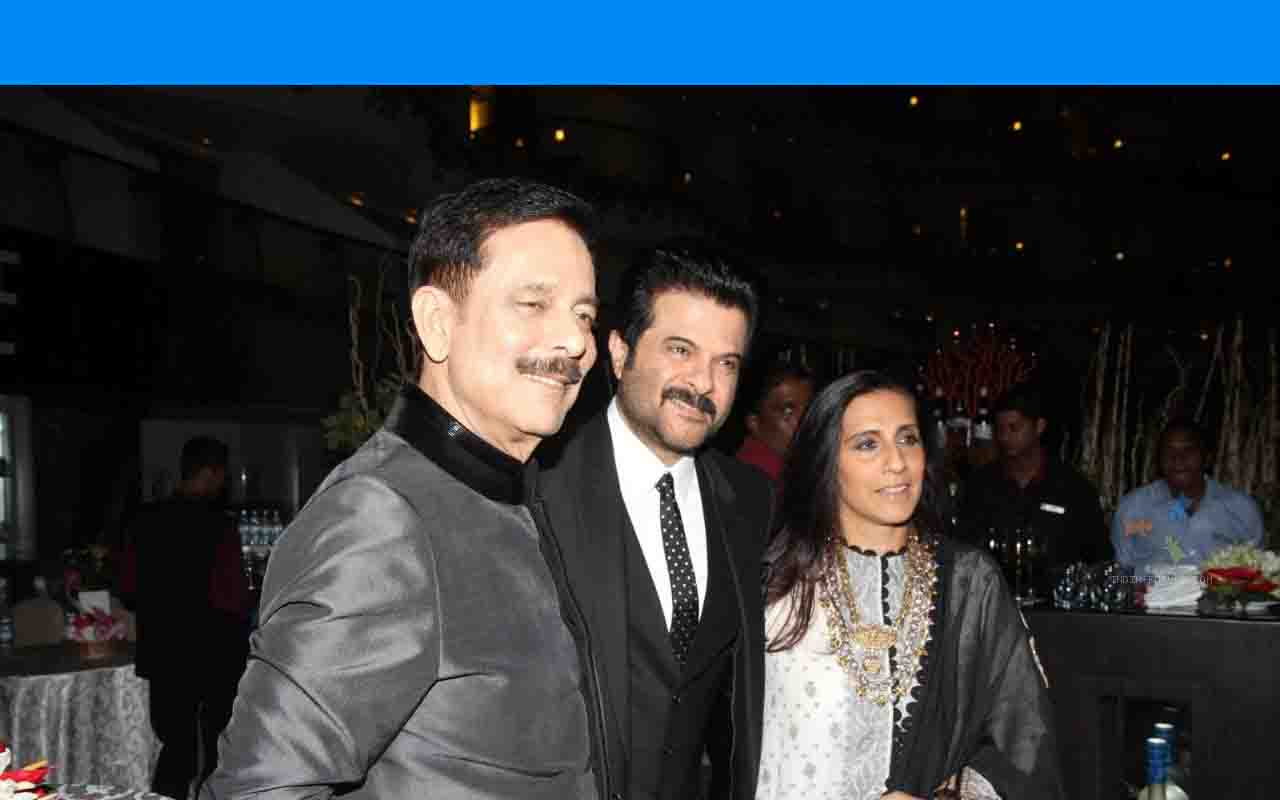 The lack of banking services in Uttar Pradesh made it easy for Sahara agents to collect funds from every nook and corner of the state where traders invested blindly in Sahara. Roys growing political connections, his closeness with the Samajwadi Party led to his meteoric growth. The Sahara Ganj came up by cutting a prime property in Lucknow by half the Carlton Hotel and was the first mall to come up in the city.
With Mulayam Singh's regime out the Roys were reportedly in the shadows for some time. But by now their branding had changed. The salute in Sahara was now longer good Sahara it was Sahara Pranam – a form of salutation introduced by Amar Singh when he was the right hand man of Mulayam Singh Yadav and a member of the Sahara Parivar.
Today, however, the man from Gorakhpur is cooling his heels in a guest house in the Kukrail Forest under the watchful eye of the Uttar Pradesh Police who have to produce him before the Supreme Court on March 4.
When Roy claimed a witch-hunt by the Cong
On November 30, 2013, Roy held a press conference in Kolkata alleging that his group had become the victim of a political vendetta. This report widely available on the internet and carried in several leading English dailies says that Roy believed that this vendetta was unleashed against his group for his comment in 2004 that the country's prime minister should be an Indian by birth and not someone of foreign origin.
In this press conference, Roy also indicated that he would prefer Narendra Modi as the new prime minister to Rahul Gandhi because even though both Rahul and Modi had no experience as the prime minister the world had seen Modi perform as the chief minister of Gujarat.
The reports on the internet state that while articulating his stand that the PM should be an Indian by birth, Roy had not taken any name.
However, this comment was seen as to have been aimed at the Congress president Sonia Gandhi who had seemed set to take over as PM when the UPA came to power in 2004. Gandhi had on her own will stepped down in favour of Manmohan Singh contrary to what Roy believed. Roy in the press conference seemed to have alleged according to the reports that the actions against Sahara were being driven by a section of Congress leaders and financial regulators who wanted to curry favour with Gandhi.
There were several who tried to emulate Roy and failed
Roy's rise impressed many. There were several wannabe finance companies that came and collapsed in Uttar Pradesh. To name a few there was the INCAN group, the Kuber Group, Lions Finance, Megabyte Leasing and Finance and several others like Magnum Finance. Their names are immaterial but the modus operandi was the same. The companies could not pay back the money and they were forced to close down and flee when the law became strict. They emulated Roy's style of branding by partying and currying favour with the rich and powerful but failed to sustain it and finally fled over night. They left behind stranded employees and broken dreams and police investigations. The 1990s in Uttar Pradesh and Bihar were full of stories of a lot of dreams gone sour. With the exit of the finance companies came the survey companies the biggest and most shocking scandal to rock India was that of Speak Asia.
Roy loved to promote the Durga Puja and cricket
The finance wizard and real estate magnate and media baron had two passions. He loved to promote sports ranging from hockey to badminton to cricket. Several sportspersons began their career with support from the Sahara Group. The Roys reportedly made it a point to attend the Durga Puja every year at the CR Park in New Delhi as they feared they would be mobbed if they went anywhere in Lucknow.
His younger brother J B Roy took care of the media business when Roy's health failed him. His mother who has been ailing for quite some time was attended upon by Tirlochan Singh, who has worked for Sahara. When Roys health failed the rumours in Lucknow were that Roy had died and his son had undergone plastic surgery to look like him to prevent investor panic. There are reasons for this fear. For if Sahara India were to shut down today so would the kitchen in more than 10,000 workers and lakhs of field and commission agents who depend on the organisation for their bread and butter.
Bold and the beautiful
His lifestyle rivalled that of the world's richest and most powerful.
With Amar Singh in tow in the Sahara India Parivar saw phenomenal growth and branding. From Amitabh Bachchan to Aishwarya Rai to Bipasa Basu to Jaya Prada and Shahrukh Khan and several starlets of the Mumbai film world to Nafisa Ali, they all were seen at some Sahara get-together or the other.
Sahara Shahar where Roy celebrated the wedding of his two sons, was the envy of Lucknowites and every one wanted to be invited to it. Only very senior officials, ministers and politicians however made it there. It was from here that Roy exited from the rear entrance to go and surrender before the police on Friday.
During his heydays, Roy would never have imagined that a time would come when he would have to do so. So surrounded was he by wealth and social climbers.
---
Many would call this the most controversial book of the year. Others would hail it as a fine piece of investigative journalism.

But Tamal Bandyopadhyay's Sahara: The Untold Story, which was released in the Capital on Wednesday evening by former Comptroller and Auditor General Vinod Rai, is all that and more. In his second book, Bandyopadhyay, a well-known business journalist, has attempted to narrate the story of the largely unlisted Sahara India Pariwar and its ongoing legal battles with market regulator Sebi.As was expected, the book evoked the ire of the Sahara Group, which slapped a Rs 200 crore defamation suit against the author and got a stay on the publication of the book. A settlement between the two parties ensured that the book saw the light of the day, albeit with a detailed disclaimer by the group. "This book is a product of painstaking research and in-depth interviews with a cross-section of professionals across the country," said Rai, who lauded Bandyopadhyay for the excellent journalism that forms the backbone of his work. The highlight of the book, however, is an exclusive interview with Sahara founder Subrata Roy. While Sahara's disclaimer says the book has "defamatory content" and "insinuations", Bandyopadhyay begins his story right at the beginning, long before Roy got into trouble with the RBI and Income Tax department.Bandyopadhyay, who studied thousands of legal documents, affidavits and court judgments to do his research, also remembers buying a packet of Davidoff cigarettes and a bottle of Grey Goose vodka (even though he enjoys neither) to appreciate the finer tastes of Roy.