Saina Nehwal Officially Confirmed as World No. 1, India's moment of glory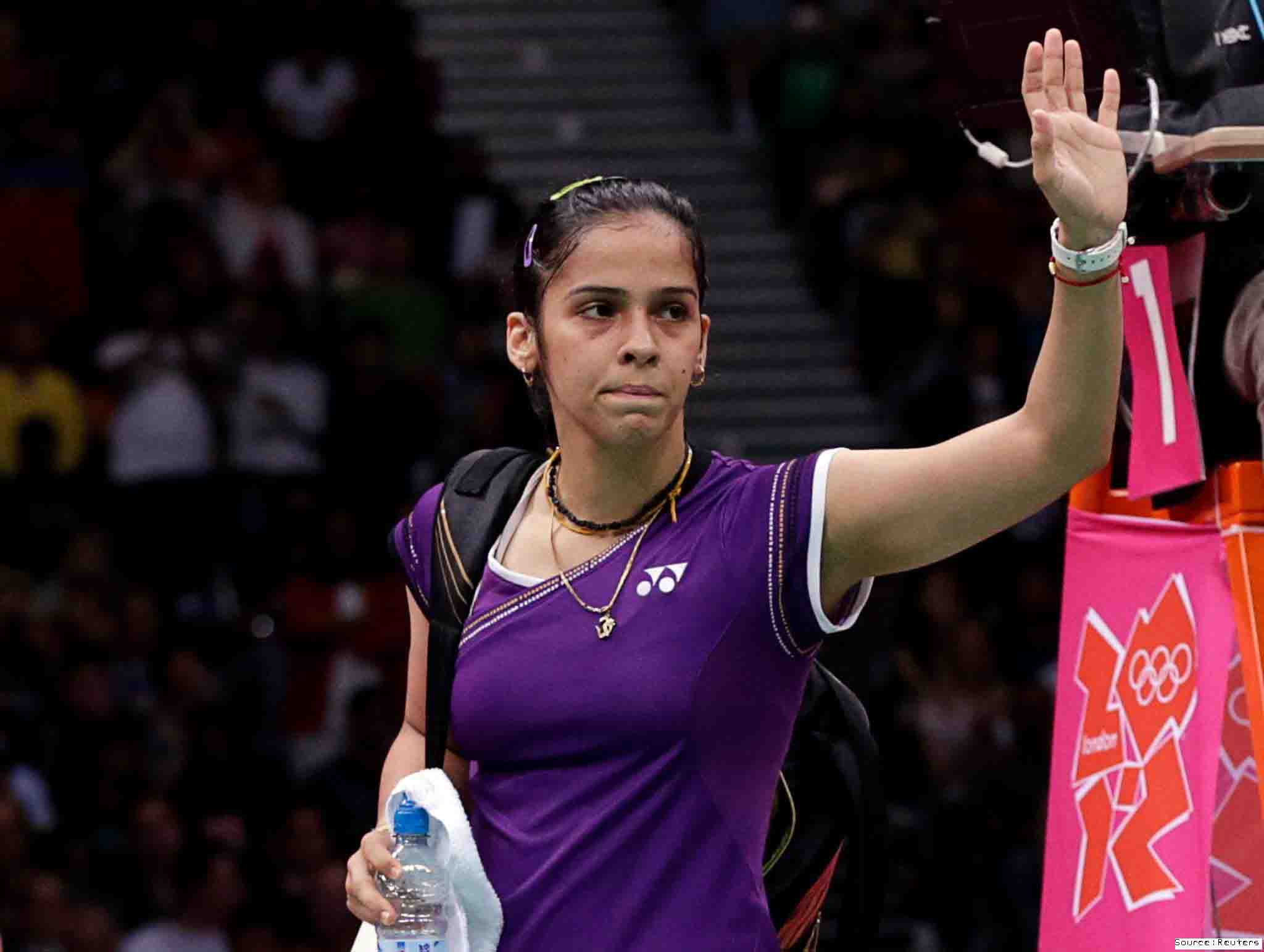 Indian ace Saina Nehwal's ascent to the top of women's badminton was officially confirmed on Thursday with the release of the latest rankings by the game's international governing body.In becoming the first Indian woman shuttler to attain the number one spot in world rankings, Saina took over the reins from China's Li Xuerui, who slipped to third with Spain's Carolina Marin claiming the second position.Saina, who had clinched the India Open Super Series title on March 29, was already assured of the top spot after her closest challenger for the position, Carolina, lost in the semifinals.Saina thus becomes only the second Indian overall to be world number one after Prakash Padukone had the distinction of being the numero uno men's badminton player.Risinng women's shuttler PV Sindhu held her ninth position.Saina, who shuttled past former world champion Ratchanok Intanon of Thailand 21-16 21-14 in the summit clash at the Siri Fort Sports Complex had said: "I think the consistency with which I am playing is great. I reached three finals in last two months and it is not easy."
"Titles makes me hungry. Next I hope to win more and more titles, I hope to be fit and injury free. This result will motivate me to win more titles."
The London Olympic bronze-medallist has won a staggering 14 international titles in her glorious career and most recently became the first Indian woman to make the finals of the prestigious All England Championships in Manchester.In the men's category, India Open Super Series winner Kidambi Srikanth stayed at the fourth spot with China's Chen Long leading the rankings chart.
Saina Nehwal has been badminton India's leading brand ambassador for almost seven years now. Last week during the Indian Open in New Delhi, Saina Nehwal became the world's No. 1 player, a status no woman in the country ever dared to dream of. When Prakash Padukone pays his tribute to Saina, it's got to be special because he knows what it takes to be the numero uno in the world.
India's badminton canvas is suddenly looking like a clear star-filled sky and pregnant with opportunities. Saina celebrated her world No. 1 status by winning the Indian Open in Delhi for the first time. Kidambi Srikkanth's victory was more than icing in the cake because we hardly care about men's badminton in India.
Padukone has been world No. 1. In 1980, the All-England champion became the first Indian man to become world No. 1. But then in the Eighties, badminton was among the "also-rans" in Indian sport and Padukone was a lone bright spot in terms of international achievements.
"Saina achieving the number one ranking is a red-letter day for Indian badminton. This is probably the best phase in history for our sport. I don't think there have ever been so many good players at the same time. In the past, we've generally had just one standout player," said Padukone
In recent years, badminton has taken giant strides and Saina's No.1 ranking is the reflection of how much the game has professionally grown in India. Saina, of course, has been India's most standout player. She came close to becoming world No. 1 in 2010 but the Chinese players were not easy to surmount. Her bronze medal in the 2012 London Olympics was testimony to her class but she needed to address the finer points that separate a champion from the rest.
A change of coach, better and faster recovery from injuries and physical stress and more self-belief made 2014 a turning point in the career of the 25-year-old. After having trained under Pullela Gopichand for years, Saina decision to have Vimal Kumar as coach just before the Incheon Asian Games was a bold step.
Professional athletes, more so in individual sports, have to rise above emotions and sentiments to make choices that augment their career growth. Look at the Djokovics, Murrays and Federers.
Padukone is diplomatic when he says that all of Saina's coaches should be complimented for her growth, but highlights the need for personal attention for an international athlete who is at the peak of her career.
"She is working very hard with Vimal, but I think credit goes equally to all three of her coaches — Syed Arif, Pullela Gopichand and now Vimal Kumar.
"She was like a very good finished product that had lost some of its sheen and all Vimal had to do was put a little bit of polish on it. Vimal has been able to give her personalised attention, which was obviously difficult for Gopi to do as he runs a national centre in Hyderabad for so many good players," Padukone said.
It is perhaps easier to become No. 1 in the world than defend the position for a period of time. Rankings are like slippery eels. You need a hard grip to hook it. That grip comes from consistent performances and the mental strength to look the best in the eye. Padukone feels Saina's biggest challenge starts now.
"If she is able to work on her weaknesses and continue like this, the Chinese will probably be scared of her in years to come; that is her potential. She has an all-round game and is one of the fittest players on the circuit.
"She needs to add a little more deception to her game, to master that will probably take a few more months. Once she does that, she will probably get even stronger," Padukone says.
The Chinese hate to lose their stranglehold on anything. Badminton won't be an exception for sure and Saina will have to watch out every step starting from the Malaysian Open this week.
Local favourites Saina Nehwal and Kidambi Srikanth on Sunday gave double delight to the nation by clinching their maiden women and men's singles titles at the India Open Super Series badminton tournament in New Delhi on Sunday.
Saina, the first Indian women shuttler to achieve world number one ranking, clinched her maiden title here after notching up a dominating straight game victory against former world champion Ratchanok Intanon of Thailand while Srikanth had to toil hard to register a thrilling three-game win over sixth seed Viktor Axelsen of Denmark in the men's singles competition at the Siri Fort Sports Complex.
While Saina, a bronze medalist at the London Olympics, played like a champion to get the better off a Intanon 21-16 21-14 in a relatively one-sided affair, world No. 4 Srikanth notched up his second successive title of the season by getting the better of sixth seed Axelsen 18-21 21-13 21-12 in a gruelling contest later in the day.
The men's singles summit clash was a rematch of the Swiss Open final where Srikanth had defeated world No. 6 Axelsen to clinch his first title of the season.
But up first Saina, coming into the match with a 5-3 overall advantage over her rival, was not tested much as the Indian was prepared for Intanon's deceptive game.
Saina encountered her rival with her better movements and powerful and accurate smashes to eventually wrest her second title of the season.
The girl from Hyderabad, who has been on a roll ever since her victory at the China Open, played like a champion as she anticipated her opponent's moves and caught her on the wrong foot during rallies.
Intanon, seeded third, seemed to be affected by her marathon semifinal match against Carolina Marin of Spain which lasted for close to an hour and and half on Saturday.
The energy-sapping clash seemed to have made her movements slow on the court as she struggled with her returns.
The deafening cheers of the near-packed house crowd which chanted 'India India' and 'lets go Saina lets go', seemed to disrupt Intanon's concentration as nothing went for her in the match.
Saina used her powerful smashes and rode on her opponent's unforced errors to lead 11-5 early on. She was up for the deceptive drops and half smashes which Intanon used to trouble the Indian.
After the break, Intanon gave a glimpse of her superb game as she engaged in a long rally with the Indian and her wristy dribbles to narrow the gap to 10-12.
However, Saina didn't allow the Thai to threaten her as she anticipated well and retrieved everything that was thrown at her end. She closed the points with a smash whenever there was a chance.
Intanon had no answer to Saina's accurate and powerful strokes as she ended up sending them wide and long or at net to allow Saina gain a massive nine game point advantage at 20-12.
game points before Saina sealed the opening game when the Thai girl hit long.
The change of side didn't alter anything as Saina once again rushed to a 5-0 lead. Intanon gained a few points with her half smashes and deceptive strokes but the Indian still managed to zoom into the break with a 11-6 lead.
After the break, Intanon caught Saina a few times at the forecourt but those were few as Saina raced to a 17-11 lead. Intanon reduced the gap to 18-14 but the Thai girl once again hit out twice to first give Saina the match point and then the title.
Saina won the Syed Modi Grand Prix Gold in Lucknow in January, before becoming the first Indian women to reach the final of the All England Championships. She achieved her dream of becoming the world number one on Saturday after Carolina Marin lost in the semifinals.
Later in the day, Srikanth gave more joy to the home fans when he eked out a fighting three-game win over Axelsen, who had sent packing H S Prannoy in the quarterfinals.
Seeded second Srikanth showed tremendous grit as he fought back from 3-7 down in the decider to edge out his opponent for the second time in as many encounters.
Axelsen had reached the finals after his semifinal opponent Tommy Sugiarto retired midway in the second game after wining the first but the Dane could not cross the final hurdle.
Axelsen, the world championship bronze medallist, opened up a 8-5 lead in the opening game and even though Srikanth clawed back at 9-9, the Dane broke off soon and didn't allow his plans to go wayward.
In the second game, Srikanth came up with a dominating show as he zoomed to a maive 12-4 lead. The 2010 World junior champion, however, reduced the margin to 11-13 but the Indian soon marched ahead to roar back into the contest.
In the decider, Axelsen, who won bronze medals at the 2012 and 2014 European Champion, opened up a 7-3 lead and after a fierce battle, the Dane entered the interval with a 11-9 advantage.
But Srikanth had other plans as soon after the break, he caught up with Axelsen at 12-12 and then reeled off nine straight points to seal the issue in his favour.
It is yet another feather in Srikanth's cap as he has been on a roll ever since winning the China Open Super Series Premier last November. He reached the semifinals of the Hong Kong Open, World Super Series Finals, made it to the finals of Syed Modi Grand Prix Gold before winning the Swiss Open.
Meanwhile, Badminton Association of India President Akhilesh Das Gupta has announced Rs 10 lakhs for Saina for becoming the world No. 1 shuttler, while awarded Srikanth Rs 5 lakhs for winning the men's singles title.