Rohit Sharma packs off Bangladeshi attack, India wins Match!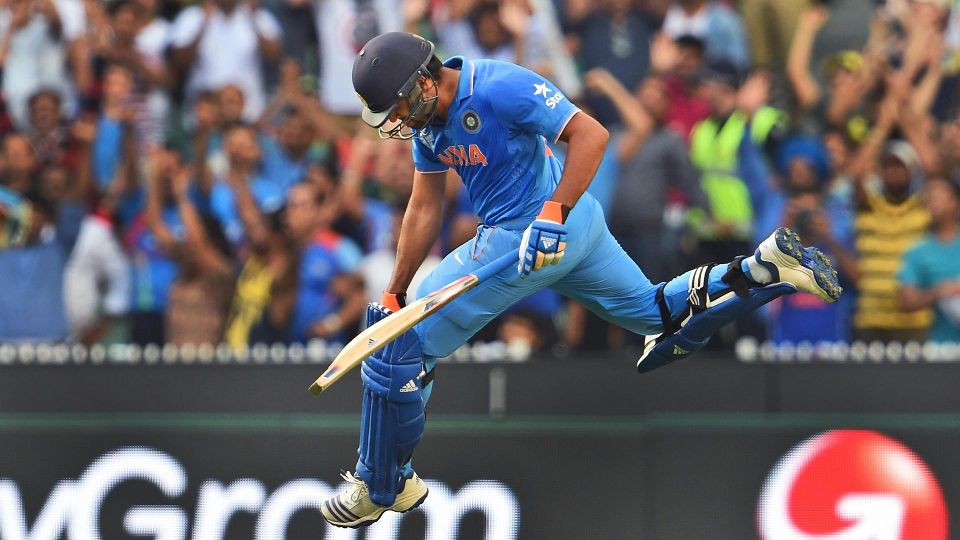 Rohit Sharma packs off Bangladeshi attack, India wins Match!
Sports Bureau
Bangladesh did a pretty good impersonation of Rafael Nadal for the first 30 overs of the quarter-final, defending everything with intensity and precision, but when the moment came to hit that winner which sets Nadal apart from other defensive players, Bangladesh kept defending and paid the price. Rohit Sharma kept absorbing the pressure in a largely subdued innings, but exploded in the end to go from 60 off 80 to 137 off 126, helping India score the second-highest score in a World Cup knockout match.
Bangladesh showed they were no pushovers with bowling and fielding that put India under pressure, but the wheels came off towards the end with possibly everything, including the umpiring, going India's way. Suresh Raina played his part by stinging Bangladesh in a concentrated attack of 65 off 57, and Ravindra Jadeja made sure the momentum continued with a 23 off 10 in the end, taking India to a total that required high-risk batting from Bangladesh. Tamim Iqbal came out swinging, but the chase was too difficult to sustain against an in-form Indian bowling attack, which has claimed all 70 wickets on offer so far. This was MS Dhoni's 100th win as captain, and 11th on the trot in World Cups.
That the eventual margin of victory was huge should not take anything away from the significance of the umpiring blunder. India had only just started to look threatening with 41 runs in 4.3 overs of the batting Powerplay when Rohit hit a full toss straight down deep midwicket's throat. This was the time when for a split second Bangladesh thought they could work at wresting back the control, but to their horror they saw square-leg umpire Aleem Dar had called a no-ball.
Replays showed Rohit had met the ball waist-high well in front of his normal stance, and the ball was on its way down. Not only was it not a no-ball, it was inconsistent that the on-field umpire made such a hurried call when extreme caution has been the norm. Nine out of 10 times in modern cricket, Rohit would have been given out after replays; this just happened to be that other occasion.
Rohit was 90 off 101 when he was reprieved. India were 196 in the 40th over. Bangladesh were looking at Dhoni and Jadeja, who have not been in the best hitting form, for the last 10 overs. Instead, they had to contend with some exquisite stroke-play from Rohit. The mayhem in the end all added up to nearly double the 35-over score of 155 for 3. Rohit's three sixes took him to the joint-fifth-highest score at MCG, his average of 83.75 the best among those who have scored over 250 runs at the venue, where the final will be played. He also became only the third visiting batsman to score two hundreds at the ground.
Biggest Fight in Cricket History Ever- India Vs Australia
Some of Rohit's hitting in the end was just too good for Bangladesh. They were at the wrong end of the umpiring, but they will rue plays both big and small that hurt them in the end. They realised soon enough that this was a flat pitch – the flattest in Australia this summer – and even though India added 75 for the first wicket they defended really well. They were accurate, hardly bowled any bad balls once Rubel Hossein and Shakib Al Hasan came on to bowl, were backed up in the field, and the drying of the runs drew three unforced errors from India.

Umesh Yadav collected 4 for 31 as India bowled out a team for the seventh successive match
Nadal knows when to pull the trigger, just when he has run the opponent ragged. That moment presented itself when Ajinkya Rahane fell trying to force the pace, making it 115 for 3 in the 28th over. That was when you would have expected Bangladesh to attack Raina and the tiring Rohit, but they held back their attacking options. Mashrafe Mortaza, their captain who has never looked 100% fit in the tournament, came on to bowl. It took Bangladesh 42 balls to bowl Raina his first bouncer. It was duly top-edged. Raina, though, had
galloped away to 41 off 41 by then after a slow start of 13 off 25.
India 302 for 6 (Rohit 137, Raina 65, Taskin 3-69) beat Bangladesh 193 (Nasir 35, Yadav 4-31, Shami 2-37) by 109 runs
Other small little things were not paid attention to either. The fielders inside the circle sat back on the ring allowing easy singles, the bowlers did nothing to stop Raina backing up too far and too early at the non-striker's end, the fielders threw at Dhoni's end even when Rohit was struggling with fitness, and when you would have expected them to cut the single with Rohit on 99 they actually bowled a no-ball because they didn't have enough men inside the circle.
Don't take much away from Rohit and Raina, though. They were under high pressure of the stifling bowling of a side with not much to lose in the big knockout game. They were both forced to play a game against their nature. They waited and waited, and then they exploded in the Powerplay. The intent was unmistakable. Raina charged at the first ball of the Powerplay, and drove it over extra cover. It helped that it was Mortaza's gentle pace, and not Rubel's quickness. He again targeted the first ball of the next over, sending Shakib over long-on. The pressure was squarely on Bangladesh, and just when they thought they had caught a break, the umpires let them down.
Rohit then unleashed some artistic late-overs hitting. He saw Raina get out to a slower ball, he saw Dhoni struggle for timing, he was himself exhausted by the effort – physically and arguably mentally – but he exposed gaps in the field beautifully. Without violence he scored 25 off the last nine balls he faced, and Jadeja provided the finishing touches in the end. Bangladesh, after having competed well for at least 30 of the 50 overs, were now left chasing what had never been successfully chased at MCG.
Tamim made a low-percentage start, which was too good to last. It didn't, ending to an edge to Umesh Yadav. A panicked run-out followed. Asking rate rose. Disciplined bowling meant Bangladesh had to take risks every time they tried to score faster. Wickets fell almost every time they did so. Dhoni took a diving catch to where a first slip would have been. Dhawan took one at the boundary after stepping over the rope and coming back to control the ball. Everything went for India once Rohit and Raina began to attack Bangladesh. Now they are headed to play the winner of the match between Australia and Pakistan.
---
Stats highlights from the second quarter-final, between Bangladesh and India at the MCG
Insights: How quick is Rohit after scoring 100?
100 ODI victories for MS Dhoni, the third-most for any captain. The only captain with more ODI wins are both Australian, Ricky Ponting (167) and Allan Border (107). 17 Wickets taken by Mohammed Shami in this World Cup, the most for any bowler. He took two wickets in this game and went past Mitchell Starc who has taken 16 wickets so far.2 Hundreds scored by Rohit Sharma at the MCG. He is one of only three visiting batsmen to score two ODI tons at the ground, along with David Gower and Viv Richards.7 World Cup centuries that have been scored at the MCG, the most at any venue. The second-most centuries scored at a single venue is six, at the National Stadium in Karachi.99 Runs scored by India in the first 25 overs of their innings. India scored 203 runs in the last 25 overs.11 Consecutive wins for India in World Cups, the second longest winning streak after Australia's 25-match run between 1999 and 2011. Including the five wins in the 2013 Champions Trophy, India now have 16 consecutive wins in global ICC ODI events.83.8 Rohit's batting average at the MCG, the highest for any batsman who has scored at least 300 runs at this venue. Aaron Finch with a batting average of 65.2 is next on the list with 391 runs.7 Consecutive games where India have bowled out their opponents, the most for any team in World Cups. India's opposition in these games have included five Test nations – South Africa, Pakistan, Zimbabwe, West Indies and Bangladesh.0 India are the only team not to have lost a single wicket in the batting Powerplay during this World Cup. India scored 50 for 0 during the batting Powerplay today.72.8 India's win percentage in World Cup knockout matches, the best for any team. India have eight wins from 11 matches. Australia have the second-best percentage (71.4%) with 10 wins from 14 matches.4 Instances since 2002 where teams have gone on to make a 300-plus score after making less than 100 at the end of 25 overs. This is the second such instance in this World Cup. India were 99for 2 after 25 overs before going on to post 302. Earlier this World Cup, West Indies made 304 against Ireland after being 93 for 5 at the end of 25 overs.