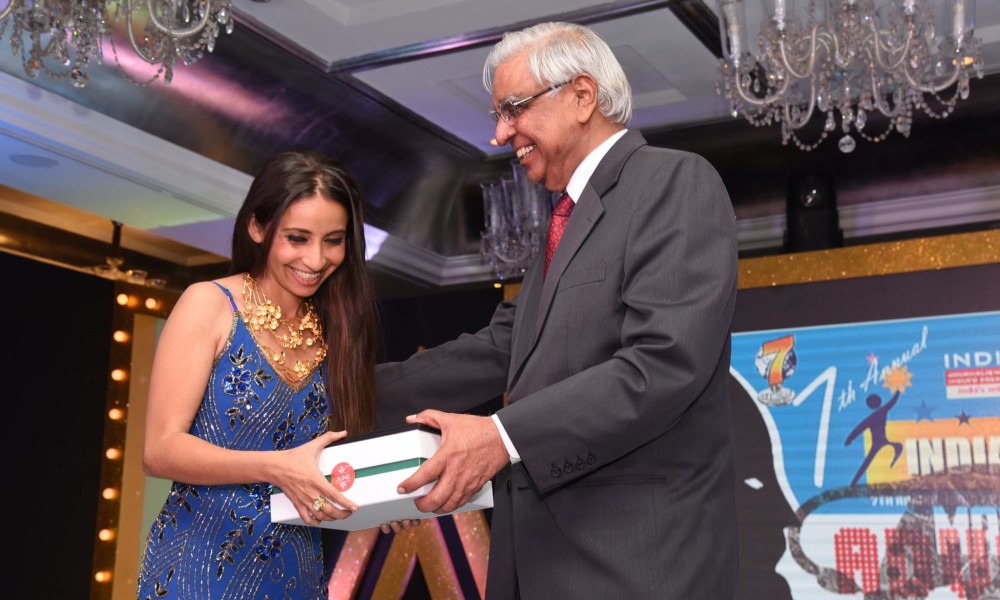 Pallavi Foley bags the prestigious India's Most Promising Face in Jewellery Designing 2016 at India Leadership Conclave 2016
Pallavi Foley voted in the individual jury category for bringing innovative & trend-setting designs & making the brand a favourite choice for the internationally acclaimed celebrities & business leaders.
International Award Winning Jewelry Designer Pallavi Foley received the prestigious "India's Most Promising Face in Jewellery Designing 2016" at the 7th Annual India Leadership Conclave & Business Leadership Awards 2016.The ace Jewelry designer Pallavi received the award on a glittering award night where more than 350 leaders of the country & leading faces attended the ceremony. Prominent faces from cinema,business & social enterprises were also recognised in Indian Affairs's 7th Annual editions. These prestigious awards were given away to the most deserving candidate, aptly tagged – 'Nation's Best' after being reviewed by an eminent panel of top professionals & globally acclaimed academia followed by an extensive selection methodology via public voting through Network 7 Research, the research wing of Network 7 Group. Dr. Lalit S. Kanodia, the founder and Chairman of Datamatics Group of Companies & Mrs. Sandra Rajnikant Shroff of United Phosphorus Limited along with Mr. Satya Brahma, Chairman & Editor-In-Chief of Network 7 Media Group conferred the award trophy & certificate of excellence to Pallavi Foley. Speaking on the award, Pallavi said "Each nominee in the category was wisely chosen, all being par excellence in their own regard. I feel proud and honored to have won this prestigious award. I would like to thank the entire country and jury for deeming me as the 'Nation's Best' and loving and admiring my work. For me jewelry is a piece of art and I have always utilized Indian craftsmanship and adapt it to modern, global sensibilities. Hope to continue being loved so!"said Pallavi Foley.
Eid Mubarak everyone!!
Happy to share that I won the award for India's Most Promising Face in Jewellery Design 2016 pic.twitter.com/pFFxgWbFnB

— Pallavi Foley (@PallaviFoley) July 7, 2016
Pallavi is one of India's leading jewellery designers; her list of achievements is long.She has been on the cover of India Today – they called her a game changer – part of 35 young achievers who "make a difference". Rio Tinto has called her India's "hottest young talent", and the World Gold Council has called her "the Elsa Peretti of India". She won second place at the International Saul Bell Award Competition in 2010 for her piece 3-space. And in 2006 and 2007 (while she was at Tanishq), designed the Femina Miss India Universe Crowns and Tiaras.But much more importantly, what enables Pallavi to make the masterpieces she does? Pallavi says that "when it comes to design, she is fearless". She understands the limitations of the manufacturing process but that she is not encumbered by tradition, or the "accepted way of doing something". So, under her watch, gold and precious stone are pushed to their limit – the end result being jewellery that is today avant-garde, and tomorrow timeless. Her remarkable ability to think out of the box has created many a masterpiece for she believes her work to be more than art. Pallavi says"After conceptualizing a design idea, it's all about design detailing; there is as much science in a piece of jewellery as there is art".This ability has also encouraged traditional craftsmen to enhance and explore their skills with her design sensibilities.Pallavi's foray into jewellery design is much like an artist's journey, which is how she looks at it. Creative visionary is a word synonymous with her.She has received numerous national and international design awards in jewellery design. With awards flowing her way, her shows are undoubtedly the most sought after in the fashion world.Pallavi Foley was featured in a Coffee Table book called the 'Trailblazers of Bengaluru' which feature 28 entrepreneurs of Bangalore. She has also been awarded as "The Best Designer", instituted by the South India Jewellery Show (SIJS-South India jewellery show).  To add to her kitty of great achievement she has been featured by the renowned World Gold Council and won the NID business world design award for designing a hugely successful, contemporary jewellery collection, designed using a traditional indian motif.Pallavi's designs are captivating, with significance behind each piece she creates. The designs are known to be enriching, enchanting and rejuvenating.Some of the most well known names in Bollywood have worn her jewels and sashayed the ramp in her jewellery, making way for new trends.  She showcases her collections at the Lakme Fashion weeks and IIJW shows, which are looked forward to by the media and the industry, for avantgarde new trend directions.

Pallavi Foley Boutique Jewels is a jewellery boutique located in the Leela Palace Bangalore . Pallavi says that "when it comes to design, she is fearless". She understands the limitations of the manufacturing process but that she is not encumbered by tradition, or the "accepted way of doing something". So, under her watch, gold and precious stone are pushed to their limit – the end result being jewellery that is today avant-garde, and tomorrow timeless.

Pallavi Foley while being nominated for the top recognition of "India's Most Promising Face in Jewellery Designing 2016″ submitted to the jury outlined the vision of taking the brand ahead & said "Pallavi's foley into jewellery design is much like an artist's journey, which is how she looks at it. Creative visionary is a word synonymous with her. Pallavi's designs are captivating, with significance behind each piece she creates. The designs are known to be enriching, enchanting and rejuvenating.All the Pallavi Foley designs are executed in India, by the finest craftsmen across the various states. Some of the most well known names in Bollywood have worn her jewels and sashayed the ramp in her jewellery, making way for new trends. Her themes are rooted in tradition, yet her style global and modern. A unique way to retail jewellery for the fist time in the world, where we are all about design and co-creation. She brings the core of the jewellery business, "Design" to the forefront and enchants her audience with the power of Indian design. The Pallavi Foley Brand, will be setting-up a chain of stores across Indian cities in the year 2016/2107 and going global in the year 2017 launching stores in the fashion capitals of the world. The Pallavi Foley Brand, will be setting-up a chain of stores across Indian cities in the year 2016/2107 and going global in the year 2017 launching stores in the fashion capitals of the world.

<!-comments-button-->