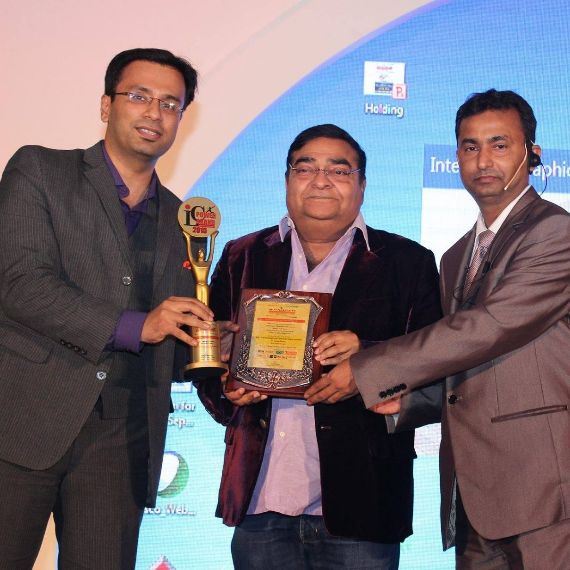 Amidst an audience of esteemed panelists and industry experts, Dr. Debraj Shome, renowned Mumbai-based plastic surgeon was awarded the title "Most Promising Face in Plastic Surgery Innovations", at the India Leadership Conclave 2015. At the flagship event of the Network 7 Media Group, the award was presented during a stellar function held at Hotel Sahara Star late last week.
The award was announced to acknowledge Dr. Shome's outstanding contribution to the medical industry over the last fifteen years, especially in Ophthalmic Plastic Surgery and Facial Plastic Surgery. A jury of industry thought-leaders and experts cast their votes to award the title to Dr. Shome for fantastic results and patient-focused delivery, which he is world-renowned for.
Dr. Shome has been significantly responsible for creating medical miracles in the plastic surgery space, offering nothing less than perfection to patients who seek treatment not only for aesthetic appeal, but also importantly for corrective surgeries after accidents. Regardless of the nature of the need, Dr. Debraj's skill and rigorousness has ensured a remarkable reputation, as well as strong recommendations.
Noted Plastic Surgeon @debrajshome voted as India's Most Promising Face In Plastic Surgery Innovations 2015 at ILC Power Brand 2015 #Ilc2016 pic.twitter.com/2aKZEG3Fuc

— Ileadershipconclave (@ilcpowerbrand) November 28, 2016
Noted Plastic Surgeon @debrajshome voted as India's Most Promising Face In Plastic Surgery Innovations 2015 at ILC Power Brand 2015 #Ilc2016 pic.twitter.com/2aKZEG3Fuc

— Ileadershipconclave (@ilcpowerbrand) November 28, 2016
From a research standpoint, Dr. Debraj has spearheaded ground-breaking studies that make cost-effective plastic surgery and therapy available and accessible in the country. With a flawless track-record of delivering beauty through surgical and non-surgical procedures, Dr. Debraj is today one of the most sought-after facial plastic-surgeon amongst celebrity circles. Dr. Shome is also a columnist on leading publications including the Times of India, Hindustan Times and Daily News & Analysis (DNA), where he shares his thoughts on the future of plastic surgery, and upcoming innovations.

This is not the first time that Dr. Debraj's contribution has been commended by the industry. With over 20 national and international peer-reviewed publications and several distinguishing awards, Dr. Shome has a distinguished track-record and reputation for excellence in healthcare delivery. In the year 2010, Dr. Shome was awarded the Colonel Rangachari Gold Medal and the Hanumantha Reddy Award 2010 by the Indian Ophthalmological society. In fact, Dr. Debraj was also the first Indian and the youngest individual to ever receive the Davies foundation Grant Award by the Royal College of Surgeons, Glawgow.

Dr. Debraj Shome comes with an outstanding list of accomplishments in a variety of medical areas including cancer-care and plastic surgery, with a specialization in Ophthalmic Oncology, Ophthalmic Plastic Surgery and Facial Plastic Surgery. He was part of the two-member team that invented a molecule QR 678 that helps patients grow back hair, without a need for transplants revolutionizing the way we looked at baldness problems. In cases of plastic surgery, he has been known to deliver excellent results right from facial reconstruction to a creative approach of using fillers to adjust bone-structure.

In his expert capacity, Dr. Shome has been associated with the Institute for Aesthetics and Cosmetic Surgery at Apollo Hospitals, Hyderabad, India, the Department of Facial Plastic Surgery at Aditya Jyot Eye Hospital, Mumbai, as well as the Tata Memorial Hospital in Mumbai. Shortly afterwards, he conceptualized a chain of aesthetic surgery centers called The Esthetic Clinic, in collaboration with the Apollo Hospital group. Dr. Debraj Shome is now a much sought after facial plastic surgeon in Mumbai and is a Consultant at Saifee Hospital, Apollo Spectra Hospital and the iconic Breach Candy Hospital.Being a motivated entrepreneur and an ardent advocate of second opinion, Dr. Shome launched his newest venture, MediAngels.com aims at providing patients with a digital platform to connect and interact with over 400 super-specialists globally, across over 96 specialty areas. As part of the Leadership Conclave, MediAngels.com was named "Emerging Online Healthcare Delivery Company of the Year 2015".At the Indian Leadership Conclave, more than 300 industry leaders, diplomats, policy makers, social activists, business tycoons, rebel leaders including delegates from the Middle East, Europe & ASEAN countries were present. The panel felicitated leaders & companies across industry sectors, for remarkable their performances and making India proud & prosper.As part of the event, Dr. Debraj also delivered the keynote address, stating his vision for the healthcare sector in India titled – India@68 – Healthcare Delivery in India – Vision 2020. Providing a thoughtful and insightful leadership experience to the audience that comprised industry leaders as well as entrepreneurs, he spoke about the need for healthcare and medical professionals to embrace new-age ideologies and technology. To tackle the challenges of primary and specialty healthcare delivery, and make quality service available and affordable, he emphasized, it is essential to use technology effectively.

<!-comments-button-->