Narendra Modi makes a Hard Selling at Germany, Chancellor Merkel is clean-bowled on Make In India!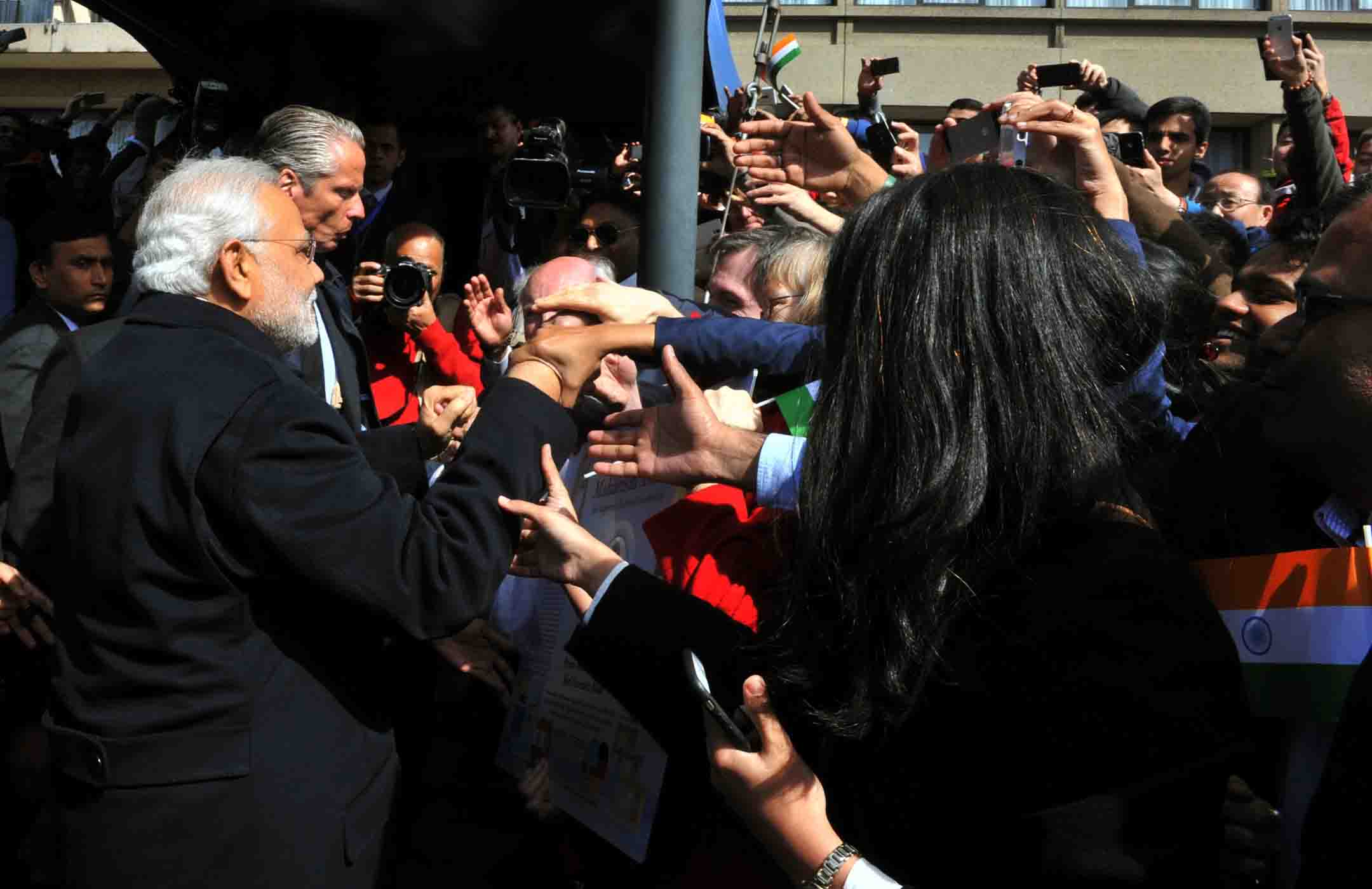 Narendra Modi makes a Hard Selling at Germany, Chancellor Merkel is clean-bowled on Make In India!
My visit to Berlin Hauptbahnhof was a valuable experience. Learnt a lot about railway infrastructure & modernisation pic.twitter.com/Ye8cIeJUaM

— Narendra Modi (@narendramodi) April 14, 2015
Prime Minister Narendra Modi, German chancellor Angela Merkel are issuing a joint statement in Berlin.
Here are the highlights:
PM Modi:
With an open mind we have discussed India-Germany ties
The lion and eagle will make good partners
It is natural that when we are thinking about make in India we are thinking about cooperation with Germany
Germany is known for skill development, which is a priority area for us. There is a lot we can learn from Germany
We have also discussed international issues in our meeting
I believe both India and Germany should be permanent members in the UNSC and the world will gain a lot by this
Germany's strength is manufacturing. India's workforce that will be trained in this sector can become the world's workforce
Terrorism needs to be defined. I urge the UN to pass a pending resolution that will define terrorism
The way the world is sensitive about nuclear weapons, it should be sensitive about terrorism and nations that harbour terrorists
We, the Prime Minister of India and the Federal Chancellor of Germany, met in Hannover and Berlin to exchange views on upgrading and further strengthening our Strategic Partnership. We view each other's development as mutually reinforcing and offering significant opportunities for expanding cooperation between the two countries. Our common objective is to encourage greater synergies between German engineering, experience in sustainable development, innovation and skills, and the new opportunities available in India and through 'Make in India', 'Clean India', 'Digital India' and other initiatives towards achieving economic growth and sustainable development. India's participation as Partner Country at Hannover Messe 2015 is a welcome expression of our common desire to strengthen this cooperation.
We are exploring ways of expanding our dialogue on foreign policy and security issues. We welcome the proposed visits of the Defence Minister of Germany to India and the External Affairs Minister of India to Germany before the Inter-Governmental Consultations. Taking our partnership into the future, we will also work together on meeting global challenges such as climate change, energy and food security.
We look forward to our 3rd Inter-Governmental Consultations (IGC) in India in October 2015. Our Strategic Partnership is entering a new and more intensive phase. In order to strengthen this cooperation, we agreed to encourage our respective Ministries/Departments to take proactive steps to advance our collaboration in the following areas.
1. Manufacturing: Utilize the momentum generated by India's participation in the Hannover Messe to foster stronger ties between business and industry on both sides in order to support India's 'Make in India' initiative. Greater investments, a positive investment climate and technology partnerships are crucial for the success of India's 'Make in India' initiative
. 2. Skill Development: Expand existing Indo-German cooperation through new initiatives, including a road-map for enhancing employability of trainees and apprentices by strengthening industry involvement in Skills Development, as in the German dual system.
3. Urban Development: Strengthen the bilateral cooperation through the establishment of a working group on urban development. Support development of urban planning and infrastructure in India, including (a)cooperation in the development of new areas of collaboration and mutual benefit in the development of smart cities in India; (b) Setting up peer-to-peer network of Municipalities for direct collaboration; and (c) Assistance in the area of affordable housing.
4. Environment: Strengthen the bilateral cooperation through the establishment of two working groups in the areas of water and waste management.
5. Railways: Support for the modernization of the railway infrastructure including setting up of semi high-speed and high-speed railways and training and skill development of personnel in the rail sector starting with signalling and telecommunications and a high-speed rail system.
6. Cleaning of Rivers: Following the completion of the Ganga Scoping Mission in October 2014 by Germany, develop cooperation on Ganga River rejuvenation strategies, capacity support for urban sanitation, setting up of standards, approaches to industrial pollution and innovative financial models.
7. Renewable Energy: Support India's proposed objective of 175GW of renewable energy by 2022 through technical and financial support for developing comprehensive solar rooftop and green energy corridor projects in India.
8. Education: Promote closer educational exchanges, including through setting up of an International Center for Advanced Studies in the Humanities and Social Sciences, strengthening collaboration between universities in India and Germany through the Indo German Strategic Partnerships in Higher Education program, and enhancing the exchange of scientists between both countries, e.g. in the framework of India's GIAN initiative.
9. Language: Support the respective programs and efforts in India and Germany to broaden knowledge of each other's languages among the youth in accordance with the national policy of each country.
10. Science and Technology (S&T): Both sides declared their intent to promote closer R&D Cooperation in science, technology and innovation, in particular through extending the tenure of the bi-national Indo-German Science & Technology Center in India with appropriate resources, the cooperation arrangement between Ministry of Earth Sciences, India and Helmholtz Association, Germany for Institutional collaboration in the area of Earth Sciences, and understanding between National Council of Science Museums in India and Leibniz Association, Germany on closer cooperation in science communication.
We agree that we strengthen our efforts towards carrying on negotiations for an ambitious EU India Free Trade Agreement with a view to its early conclusion.
Our discussions in Germany have established a robust road-map for expanding our multi-faceted and mutually beneficial ties. We are confident that this will receive a further boost during the visit of the German Chancellor to India for the 3rd Inter-Governmental Consultations.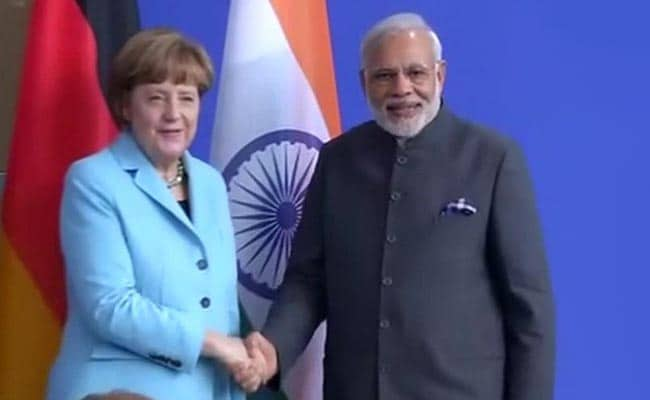 English Rendering of the Text of Prime Minister's Remarks to the Media during his visit to Germany
When I last came to Berlin, Germany was successful in winning the World Cup Final. This time in Berlin, I feel that we will also be successful in taking the strategic partnership between India and Germany to new heights.
Whenever anyone in India talks about technology, manufacturing or high quality, Germany is the first country that comes to the mind. So, it is natural that when India has embarked on a new journey for 'Make in India' for economic development and employment, we look forward to Germany's strong partnership.
Whatever objectives we think of in terms of economic transformation and improvement in quality of life of ordinary citizens, technology, skills, innovation and investment will play an important role in it.
My objective of coming to Germany was not only to invite the German industry to India, but to assure them that they would find an open and stable environment, which would be easy to do business in; and that they will have my full support to invest and work in India.
I feel deeply encouraged by the enthusiasm and interest that I have seen in Chancellor Merkel and Germany. Equally, the feedback that I have got will be of great benefit to me in framing our policies.
I have also decided that we will establish a mechanism for German companies to facilitate their investment and business in India.
Our goal of 'Make in India' and creating employment for our youth depends on skill development in our country. Germany is a world leader in this field. India will have to pursue its skill development programme in accordance with its own circumstances. But at the same time, there is a lot that we can learn from Germany. We had a detailed discussion on the subject. Similarly, we intend to further strengthen our close cooperation in the areas of science, technology and education.
An area that has great priority for me personally and for my country is renewable energy and energy efficiency. As I have already said, we intend to add 175 Giga Watts of renewable energy during the next seven years. Germany is a strong partner in the development of clean energy. We would also like your cooperation on manufacturing of equipment for clean and renewable energy in India; and enhance our shared efforts to address the challenge of climate change.
Development of India as a manufacturing hub and expansion of infrastructure of India would also be beneficial for trade. Our imports would also grow. And, it is natural that German companies would benefit a lot from it. In this context, I would also like to state that negotiations between India and European Union on a Broad-based Trade and Investment Agreement have remained stalled for two years. I have requested Chancellor Merkel that India and European Union should resume the negotiations quickly and conclude a balanced and mutually beneficial agreement at the earliest.
We would also like to enhance our cooperation in the area of advanced technology and defence manufacturing. I hope that the German companies would participate enthusiastically in this and that your government would support them fully.
Chancellor Merkel and I had also discussed international developments. We in India believe that economic momentum in Europe is important for the global economy and European stability for global peace. The world looks to Germany for leadership in addressing both challenges. I also congratulate her on the successful outcome of talks with Iran. This will be beneficial for the entire region. Instability and violence in West Asia affects the security of our citizens at home. Peaceful and democratic development of Afghanistan is important for both of us. The direction that Asia-Pacific region will take in this century will be of great significance to the entire world.
The spread of terrorism is growing and its character is changing. The threat is coming close to us across every region of the world. We need a comprehensive global strategy to deal with this global challenge, in which India and Germany can work together. Equally, in the coming days, maritime cyber and space security would be a matter of concern to everyone and we should increase our cooperation in this area as well.
It is my belief that India and Germany are two countries that have earned the right to be permanent members of the United Nations Security Council. Our membership will also be beneficial to the world. We both would like to see tangible progress in the United Nations Security Council reforms during the 70th Anniversary year of the United Nations.
We also look forward to a successful outcome of COP-21 in Paris this year.
Once again, I would like to thank everyone, especially Chancellor Merkel for a very successful and productive visit and I look forward eagerly to hosting Chancellor Merkel in India in October.
---