Jet Airways emerge victorious from the national survey as Indian Affairs India's Most Admired & Valuable Airline Company 2015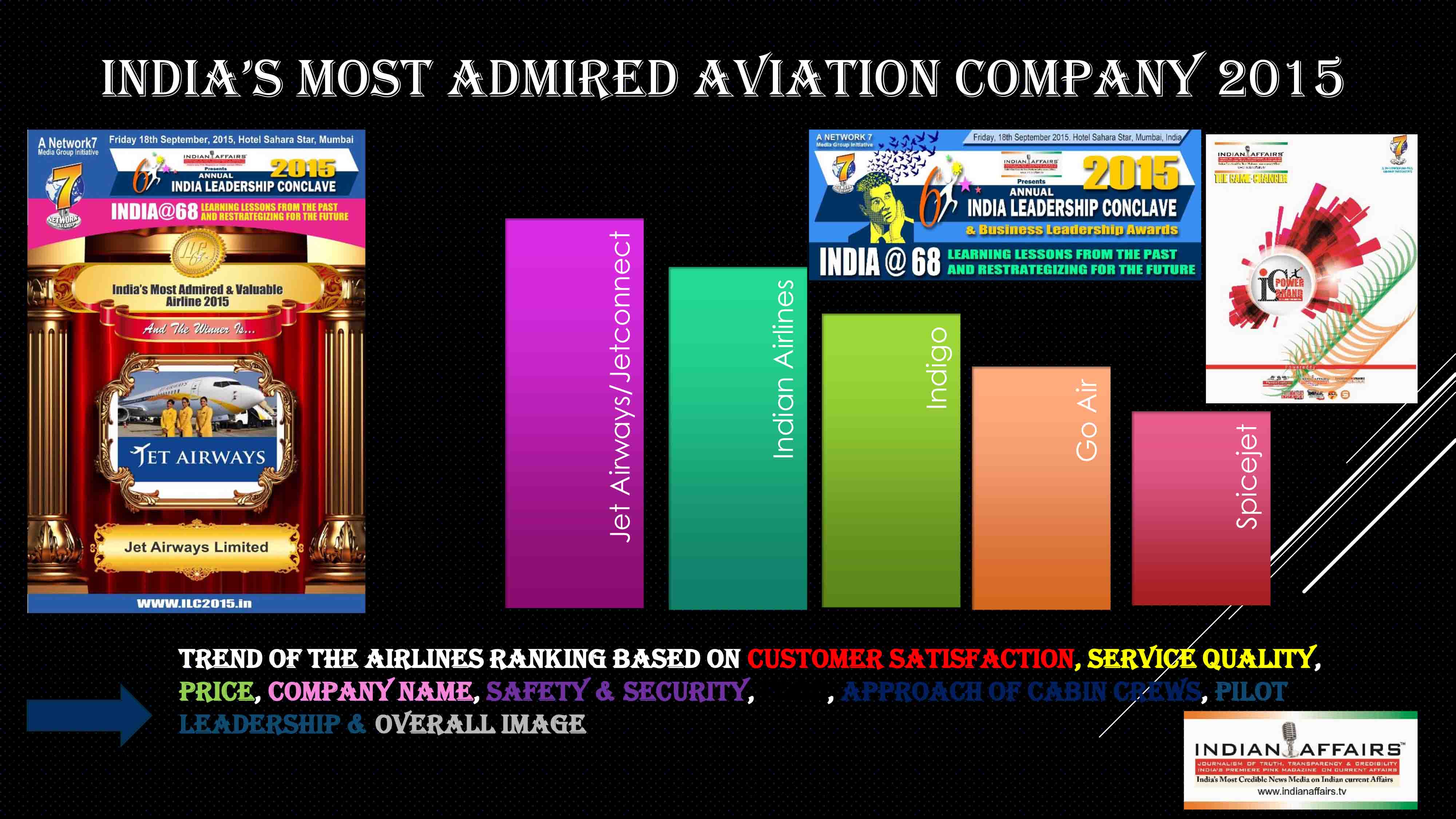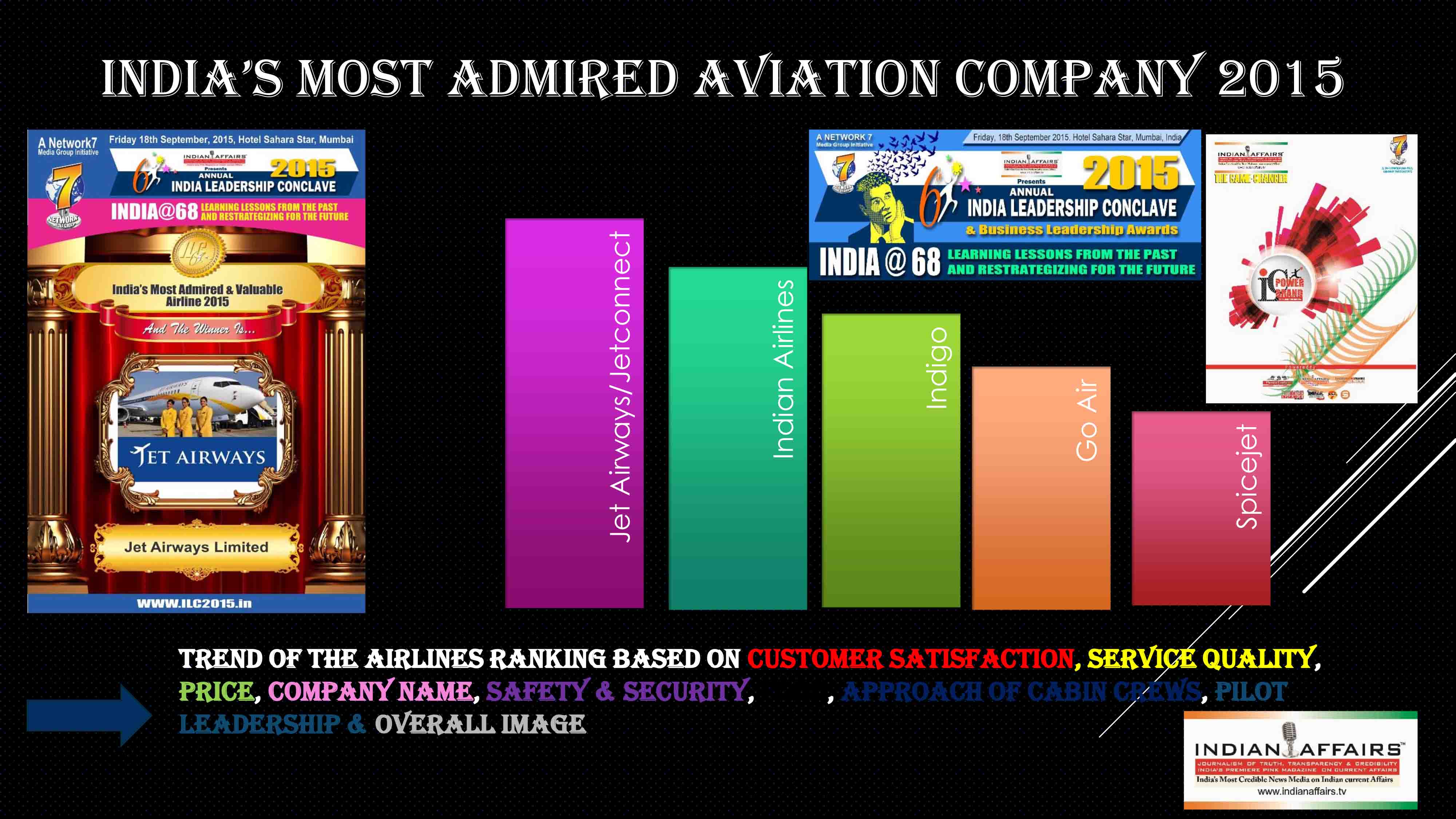 Network 7 Media Group in order to review service quality factors of the airline industry, and to rank these factors in Indian society on the eve of a Award Title India's Most Admired Aviation Company 2015 decided to embark upon the research using Survey Analysis.
Jet Airways/ JetKonnect emerged victorious in comparison with  other service providers such as Indian Airlines, Indigo, Go Air &  Spice Jet. The Research did not dwell on market share but the key factors was to find the admiration for the Airline to match the standard of India Leadership Conclave's title India's Most Admired & Valuable Airline Company  2015 based on eight factors from the period of jan 2015 to 14th Augst 2015.
Design/methodology/approach
The research was conducted among the tier 1 tier 2 Cities of the availiable data of frequent fliers & to meet the objectives of the study, Network 7 Research authorized by India Leadership Conclave Research Team used the databank & information was gathered through a questionnaire.
Naresh Goyal led @jetairways emerge victorious in @Indian_Affairs findings at #IndiaLeadershipConclave2015 #Aviation pic.twitter.com/I0vI8EOkL3

— Indian Affairs (@Indian_Affairs) August 20, 2015
Findings
The results show that "Flight safety", "Good appearance of flight crew" and "Offering highest possible quality services to customers 24 hours a day" are the most important airline service quality factors in the eyes of Indian customers. Interestingly, "food & Company image " has been selected as the top important quality factor by respondents. Research findings also announce that the majority of Indian potential travelers prefer airplane as their transportation means. However, at the moment, they are mostly using train & buses as their first choice. To the business class & higher income Group, their first choice remained as Flights
Authencity & Risk Factors
The research considers frequent fliers  as its sample society. Although midle class & highr midle class  are a group of airlines' potential customers, the analysis findings might not be generalized to all groups of airline customers and further studies might be essential to see if the same ranking of service quality dimensions will be found within other groups of customers having other career backgrounds. The paper will be helpful in enabling airline industry policy makers to identify the key service quality factors in the eyes of Indian customers.
Originality/value
The concept of ranking airline service quality factors using a Physical Interview via Question Hour  is a new approach. The study report  is the first application of a research  approach to examine and rank customer expectations of airlines' service quality.
Aviation Companies taken for Ranking
The top trending aviation companies which included in the research & findings are
Jet Airways/ JetKonnect
Indian Airline
Indigo
Go Air
Spice Jet
The factors that Network 7 Research looked at that determined in the final process of voting & rankings are
Customer Satisfaction
Service Quality
Price
Name
Safety & Security
Food
Approach of Cabin Crews
Pilot Leadership
This study was conducted with the objective of finding out the factors affecting customer satisfaction in the airline industry and also determine attributes that passengers consider important in judging quality of service delivery.
To achieve these objectives a sample of 670 passengers was picked and questionnaires administered to each of them. 125 respondents were picked from each travel agency. The researcher used random sampling method to pick the passengers. The questionnaires were administered in the passenger's office and it was a 'drop and pick' method used.
Data collected was an analyzed using percentages, means and standard deviations. Factor analysis was used to reduce the variables and determine inter relationships.
Analysis of the data indicated that there are many factors that passengers consider important in customer satisfaction. Factors such as reservation and ticketing check in procedures, in- flight services, baggage handling and collection. The general objective of the study was to investigate factors that affecting customer satisfaction in the Airline industry with special focus on Branding From the study it can be concluded that reservations and ticketing, check-in procedures, in-flight services and baggage handling and collection do affect customer satisfaction in the Airline industry. The results of this project should be viewed and adopted in the light of the limitations of this study which are methodological limitations, research design, resource constrain and under sampling.
---
Background Check & Overall Aviation Industry 
India's civil aviation industry is on a high-growth trajectory. India aims to become the third-largest aviation market by 2020 and the largest by 2030. The Civil Aviation industry has ushered in a new era of expansion, driven by factors such as low-cost carriers (LCCs), modern airports, Foreign Direct Investment (FDI) in domestic airlines, advanced information technology (IT) interventions and growing emphasis on regional connectivity. India is the ninth-largest civil aviation market in the world, with a market size of around US$ 16 billion. "The world is focused on Indian aviation – from manufacturers, tourism boards, airlines and global businesses to individual travellers, shippers and businessmen. If we can find common purpose among all stakeholders in Indian aviation, a bright future is at hand," said Mr. Tony Tyler, Director General and CEO, International Air Transport Association (IATA).
 Market Size
In the second quarter of 2015, domestic air passenger traffic surged 19.2 per cent to 20.3 million from 17 million in the corresponding period a year ago. Total passenger carried in June 2015 increased 13 per cent Y-o-Y to 8.8 million from 7.8 million in June 2014. International and domestic passenger traffic grew 5.3 per cent and 16 per cent, respectively, in  June 2015.
In June 2015, total freight carried rose 5.4 per cent Y-o-Y to 222,990 tonnes vis-à-vis 211,590 tonnes in June 2014. International freight movement witnessed higher growth (7.1 per cent) compared with domestic freight movement (2.6 per cent).
In June 2015, total aircraft movements at all Indian airports stood at 141,620, which was 8 per cent higher than June 2014. International and domestic aircraft movements increased 6.5 per cent and 8.4 per cent, respectively, in June 2015.
Over the next five years, domestic and international passenger traffic are expected to increase at an annual average rate of 12 per cent and 8 per cent, respectively, while domestic and international cargo are estimated to rise at an average annual rate of 12 per cent and 10 per cent, respectively.
The airlines operating in India are projected to record a collective operating profit of Rs 8,100 crore (US$ 1.29 billion) in fiscal year 2016, according to Crisil Ltd.
 Investment
According to data released by the Department of Industrial Policy and Promotion (DIPP), FDI inflows in air transport (including air freight) between April 2000 and May 2015 stood at US$ 573.18 million.
Key investments and developments in India's aviation industry include:
Airbus, the world's leading aircraft maker, expects India's aviation industry to grow at over 10 per cent annually in the next decade, almost double the average growth rate of the global aviation industry.
Eyeing large orders from Indian airlines, Airbus has committed to source products worth US$ 2 billion cumulatively over the next five years from India; the company plans to provide customised maintenance and other services closer to the base for all its airline customers in India.
French drone-maker LH Aviation signed a Memorandum of Understanding (MoU) with India's OIS Advanced Technologies on June 19, 2015to manufacture tactical drones in India through an industrial license.
Mahindra Group expanded its partnership with GE Aviation by signing an agreement to manufacture aero structures at the Group's new aerospace facility in Bengaluru.
IndiGo plans to file documents for an initial public offering within the next two months to raise US$ 400 million by selling 10 per cent stake.
 SpiceJet plans to enter a deal with Boeing Co. and Airbus Group SE to buy 80-120 jet airplanes which would help to expand their fleet and rebuild its business..
Air India, India's national airline, has started to shift its IT operations to cloud and is exploring the use of iPads for work, as it plans to upgrade its technology to maintain pace with the competition.
The Airports Authority of India (AAI) and Kannur International Airport Ltd. (KIAL) signed a MoU for 26 per cent equity in the greenfield airport worth Rs 1,892 crore (US$ 295.62 million) being built at Mattannur in Kannur.
Hindustan Aeronautics Ltd. (HAL) signed an agreement with French engine manufacturer Turbomeca for maintenance, repair and overhaul (MRO) of Shakti helicopter engine, which would power a fleet of 1,000 Indian military choppers over the next 10 years.
 Government Initiatives
Government agencies project that around 500 brownfield and greenfield airports would be required by 2020. The private sector is being encouraged to become actively involved in the construction of airports through different Public Private Partnership models, with substantial state support in terms of financing, concessional land allotment, tax holidays and other incentives.
Some major initiatives undertaken by the government are:
Gujarat is expected to get a second international airport at Dholera. The state government has formed Dholera International Airport Co. Ltd. and is obtaining approvals from the union government.
The Directorate General of Civil Aviation (DGCA) has given its approval to Air India's maintenance, repair and overhaul (MRO) unit.
The Government of India has decided to award airports in Kolkata, Chennai, Jaipur and Ahmedabad on management contract. AAI has issued the 'Request for Qualification' document for these four airports.
The Government of India plans to form a committee comprising bankers, aviation experts and technocrats to help turn around and privatise the national airline, Air India.
The Government of India approved a proposal to set up a second airport in the National Capital Region.
The Government of India expects to finalise the new aviation policy and revised international flying norms for domestic carriers soon; the government may remove the '5/20' norms for domestic airlines in this new policy.
---
 Road Ahead
India's aviation industry is largely untapped with huge growth opportunities, considering that air transport is still expensive for majority of the country's population, of which nearly 40 per cent is the upwardly mobile middle class.
The industry stakeholders should engage and collaborate with policy makers to implement efficient and rational decisions that would boost India's civil aviation industry. With the right policies and relentless focus on quality, cost and passenger interest, India would be well placed to achieve its vision of becoming the third-largest aviation market by 2020 and the largest by 2030.
A series of heavy discounts helped Indian carriers fly 21.6% more passengers in February this year compared with the same month last year.Budget carrier IndiGo continued to lead the way, registering a record market share of 37.1% during the month. In January, the airline's market share was at 36.4%. Jet Airways, along with JetLite, too managed to improve its market share marginally to 24.3% (up from 24.1% in January). National carrier Air India came in third with 17.8% share of air traffic, a decline over 18.7% the airline had recorded the month before. For others, market share remained largely constant — SpiceJet 9.2% (9.4% in January), GoAir 8.9%, Air Costa 1%, AirAsia 1.2% (1.3% in January) and Vistara 0.5% (0.2% in January). "The growth in passenger numbers during February is higher than expected and is driven by continuing fare stimulus," said Kapil Kaul, India CEO of Centre for Asia Pacific Aviation.As per data available with the aviation regulator DGCA, airlines' occupancy improved in February due to reduction of additional flights by airlines and distribution of passengers on existing flights.During this period, Jet Airways and JetLite reported the highest seat occupancy at 89.5% and 89.7%, respectively, while the newly-launched Tata-SIA joint venture Vistara continued to struggle, filling only 58.6% of its seats.IndiGo's passenger load factor stood at 88%, while that of Air India improved to 83.8% from 82.4% in Janaury. IndiGo also turned in the best on-time performance with 83.8% of its flights sticking to scheduled time in February. Spice-Jet came in next with on-time performance of 75.8%.Indigo was seen to carry the maximum amount of passengers within India in the month of July as a result gaining 35.8% market share among domestic airlines according to the latest civil aviation data from Directorate General of Civil Aviation. Jet Airways followed with a 19.8% market share and then Air India with 16.2% and Spice Jet at 12.3% market share.
---
The much awaited & Asia's biggest meeting point for thought leadership conclave organized by Network 7 Media Group's initiative from the nation's most widely acclaimed news media India Affairs will host its 6th edition under the theme "India @68" : Learning Lessons From The Past And Strategizing For The Future" at the  6th Annual India Leadership Conclave & Indian Affairs Business Leadership Awards 2015 in Mumbai, India on Friday, the 18th September 2015 at Hotel Sahara Star where top leaders from the various sections of the society will assemble to make an analysis of India's journey from independence & the important milestones that the country has achieved since last 68 years & the areas where India has remained silent & unmoved & has given a big miss. Currently in its 6th year since the last five successful editions held annually uninterruptedly in key states of the country where the platform evoked great degree of interest & made headlines,the Conclave will be debated & discussed by the speakers of eminence from the world leaders, industry icons, Politicians, movie stars, rebels, peacemakers and social activists. The Grand Annual Affair of Indian Affairs Conclave has been a sold out event & attendance from over 350 delegates coming from india & across the globe. India Leadership Conclave & Indian Affairs Business Leadership Awards 2015 is also keenly a awaited platform for its power brand awards called ILC Power Brands. From business to politics, cinema to sports & public service to social service, ILC Power Brand Awards are the most coveted prestigious & credible awards by an eminent panel of jury members, conferred to top leaders of the country. Iconic leaders like Ratan Tata, Mukesh Ambani, late former Prime Minister Rajiv Gandhi, Arvind Kejriwal, Priyanka Chopra, Kiran Mazumdar shaw, Narayan Murthy are few of the names who are the recipients of the awards in various categories.