8 Decades of Monumental property washed away, Death Toll Rises Above 3,400,chaos' at Nepal airport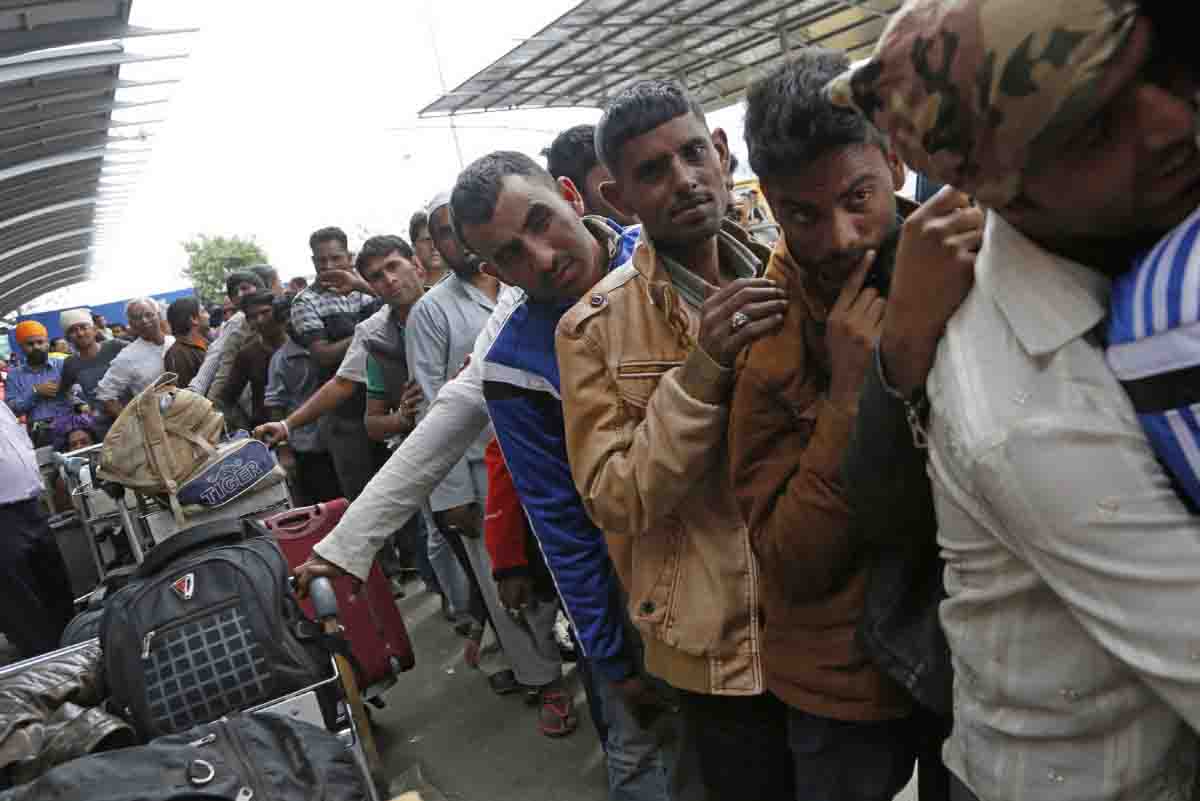 Lila Mani Poudyal, the government's chief secretary and the rescue coordinator, appealed for more help from the international community, saying Nepal was short of everything from paramedics to electricity."We are appealing for tents, dry goods, blankets, mattresses, and 80 different medicines … that we desperately need now," he told reporters. "We don't have the helicopters that we need or the expertise to rescue the people trapped."
Once people are pulled from the wreckage, he noted, even more help is needed, especially orthopedic doctors, nerve specialists, anesthetists, surgeons and paramedics. "We are appealing to foreign government to send these specialized and smart teams."
The recovery situation was also being slowed because many workers — water tanker drivers, electricity company employees, laborers to clear debris — have "all gone to their families and (are) staying with them, refusing to work."
— Binaj Gurubacharya, Kathmandu, Nepal
__
3.30 p.m. (0945 GMT)
The French Foreign Minister says two French citizens have been confirmed dead in the earthquake.
Laurent Fabius said in a statement broadcast on French TV BFM Monday that the two victims were killed in a landslide triggered by the earthquake,
Fabius said authorities have located 1,400 French people in Nepal and are still trying to contact 676 others. Ten French citizens are known to have been injured in the disaster.
__
3.15 p.m. (0930 GMT)
Aid group World Vision says its staff members were able to reach Gorkha district, where Saturday's magnitude 7.8 quake was centered, but gathering information from the villages remains a challenge.
The group says that some of the remote areas can be three days' walk from the main disaster center in Gorkha even when the roads are clear.
"These remote areas don't have any search or rescue operations assistance as of this time. In some of the remote areas staff heading out for assessments are finding both the road and the trails blocked by landslides, making access extremely difficult," World Vision said in an email to The Associated Press.
"In those villages that have been reached, the immediate needs are great including the need for search and rescue, food items, blankets and tarps, and medical treatment."
__
2.30 p.m. (0845 GMT)
A respected consultancy says the long-term cost of reconstruction in Nepal after Saturday's earthquake could be more than $5 billion, or about 20 percent of Nepal's GDP.
Rajiv Biswas, Asia-Pacific Chief Economist for the Colorado-based consultancy services IHS, says Nepal has extremely limited capacity to finance relief efforts and reconstruction from its own resources.
"The total long-term cost of reconstruction in Nepal using appropriate building standards for regions vulnerable to severe earthquakes could exceed $5 billion, which is around 20 percent of Nepal's GDP," he says.
Nepal's annual per capita GDP is only $1,000, and the average family lives in poverty.
"Massive international disaster relief and rescue efforts will be needed urgently, as well as large-scale international financial and technical assistance for long-term reconstruction of the economy," says Biswas.
Continue reading the main story
— Muneeza Naqvi, New Delhi
__
1.45 p.m. (0800 GMT)
Nepal's police say at least 3,617 people have been confirmed killed in Saturday's earthquake, including 1,302 in the Kathmandu Valley alone.
In addition, 6,515 people were injured nationwide, the police department said in a Tweet.
So far 18 people have also been confirmed dead in an avalanche that swept through the Mount Everest base camp in the wake of the earthquake. Another 61 people were killed in neighboring India.
__
1.15 p.m. (0730 GMT)
Foreign tourists in Nepal are getting anxious as food, water and power remain scarce. Hotel rooms are in short supply too so Pierre-Anne Dube, a 31-year-old from Quebec, has been sleeping on the sidewalk outside a hotel. Friends had been staying there for the first two days so she could use the bathroom and shower there. But they have checked out.
Like many others she's scared and wants to get out on the first flight she can get.
"We can't reach the embassy. We want to leave. We are scared. There is no food. We haven't eaten a meal since the earthquake and we don't have any news about what's going on."
She had just returned from a trek to Everest base camp, which had been the "best experience of her life," but living the experience of the massive earthquake was definitely the "worst."
— Katy Daigle, Kathmandu, Nepal.
__
1.15 p.m. (0730 GMT)
The Israeli military said it is sending a search and rescue crew to Nepal on Monday to help locate survivors in the rubble, set up a medical field hospital for locals, and bring Israeli travelers home. A total of 260 Israeli military personnel are traveling to Nepal for the mission.
The military says about 150 Israeli travelers have yet to establish contact after the earthquake and are believed to be missing.
"The idea is to arrive and to try to establish communication with them," said Col. Yoram Laredo, head of the Israeli military mission.
In addition, Israel's emergency response service, Magen David Adom, is flying home a group of 18 Israelis who travelled to Nepal to receive babies born to Nepalese surrogate mothers, spokesman Zaki Heller said.
— Daniel Estrin, Jerusalem
__
1.00 p.m. (0645 GMT)
International aid agency Oxfam says it is is gearing up to deliver clean water and sanitation supplies to thousands of Nepalis now left homeless. They estimate that some 30,000 people are currently living in makeshift shelters in 16 government camps, too scared to return to their homes for fear of aftershocks.
"We are managing to reach out to people in Kathmandu, but it is extremely difficult to provide support on a larger scale to the most affected areas — a lot of the main roads have been damaged," said Cecilia Keizer, Oxfam country director in Nepal.
"Our staff is still checking on their families and the partners we work with. At the moment, all the death count reports are coming from Kathmandu Valley. Sadly, I fear that this is only the beginning," she said.
__
11.45 a.m. (0600 GMT)
There's a lot that the world still doesn't really know about the Nepal quake.
Continue reading the main storyContinue reading the main storyContinue reading the main story
The key thing is this: How significant is the destruction in Gorkha district, 80 kilometers (50 miles) from the capital and the location of the quake's epicenter? Roads to the area, difficult on good days, are damaged. Learning about the level of destruction and human toll in the vulnerable mountain villages there could change the whole picture.
Here's an assessment by Matt Darvas, a member of the aid group World Vision:
"Villages like this are routinely affected by landslides," he says, "and it's not uncommon for entire villages of 200, 300, up to 1,000 people to be completely buried by rock falls."
__
11.20 a.m. (0540 GMT)
Jagdish Pokhrel, the clearly exhausted army spokesman, says nearly the entire 100,000-soldier army is involved in rescue operations.
"90 percent of the army's out there working on search and rescue," he said. "We are focusing our efforts on that, on saving lives."
— Katy Daigle, Kathmandu, Nepal
__
11.15 a.m. (0530 GMT)
Fears are growing that thousands of people may remain cut off in isolated, devastated mountain villages.
Udav Prashad Timalsina, the top official for the Gorkha district where Saturday's quake was centered, says he is in desperate need of help.
"Things are really bad in the district, especially in remote mountain villages. There are people who are not getting food and shelter. I have had reports of villages where 70 percent of the houses have been destroyed," he said when contacted by telephone. "We have been calling for help, but we haven't received enough from the central government."
He says 223 people had been confirmed dead in the district but he presumed "the number would go up because there are thousands who are injured."
— Katy Daigle, Kathmandu, Nepal
__
11.00 a.m. (0515 GMT)
Australian Foreign Minister Julie Bishop says Australia has dispatched a 9-person crisis response team that is scheduled to arrive in Kathmandu later Monday and "will assist in establishing the safety and welfare of Australians currently unaccounted for" after Saturday's earthquake. She says the team will also assist with humanitarian assessments to support Nepal's government and the international relief efforts.
__
11.00 a.m. (0515 GMT)
New Zealand is sending 37 urban search and rescue experts to Kathmandu. They are scheduled to leave Monday evening. Included are experts in rubble-pile rescues and technical rescues, as well as a structural engineer, a doctor, and paramedics.
New Zealand is also contributing 1 million New Zealand dollars ($761,000) to the relief effort.
Officials have made contact with over 200 New Zealanders in Nepal and are seeking contact with others. They say they have no reason to believe at this point that any New Zealanders died in the earthquake.
— Nick Perry, Wellington, New Zealand
Each time this city shuddered with aftershocks from the earthquake that convulsed Nepal, Samaj Gautam felt an urge to join the millions of residents who fled to safety outdoors. But working in a hospital emergency ward inundated with the wounded, and their broken limbs, fractured skulls and other physical traumas, Dr. Gautam said Sunday night, he and his colleagues had to suppress their fears and stick to treating patients.
"I'm feeling exhausted but also scared because the tremors have been by the dozens," Dr. Gautam said as he worked through his own exhaustion in the emergency ward of Bir Hospital in Katmandu, where he had been since soon after the earthquake hit Saturday. "But the most worrying thing to me is the aftereffect. Sanitation, disease, these are also serious worries."
---
Emilie-Anne Leroux says she was in a taxi on the way to the airport to return to Canada to be with her father who is having heart surgery when the quake hit.
Leroux says it felt like the car "had four flat tires at different moments" and thought it was car trouble until the driver stopped at an open area and let her out.
She says it was shaking so much that everyone was holding onto handrails at the side of the street "because we thought we could fall if we didn't hang on."
Leroux, 28, was in Nepal working for the International Organization for Migration and says other Canadians she knows who were in the country have checked in to say they're safe.
Leroux, who is in Patan, says she's been told she can't get a flight out of Nepal until May 2, but adds she is lucky and has a number of places she can stay while she waits.
"It was complete chaos at the airport," Leroux said.There were huge lineups at the airport while Kathmandu lies in partial ruins after a massive earthquake struck Nepal Saturday."Right now there is about a three kilometre queue of Indians who are standing literally nose to the back of the head" waiting for flights promised by India's government, she said.
"There's people camped out even on the grassy spots between the parking zones," she said.
The earthquake centred outside Kathmandu, the capital, was the worst to hit the South Asian nation in over 80 years and has left over 3,200 dead.
The Canadian government is sending a disaster assessment team to Nepal and is contributing $5 million to relief efforts, Foreign Affairs Minister Rob Nicholson's office said late Saturday.
The assessment team was part of the Disaster Assistance Response Team, known as DART, Johanna Quinney, Nicholson's press secretary, said in an email. The military team is designed to deploy on short notice to deal with natural disasters or humanitarian emergencies.
CARE Canada said Sunday that emergency specialists from across the world, including a Canadian, are now on their way to Nepal, and CARE has over 150 staff already in Nepal.
CARE's emergency response co-ordinator in Kathmandu, Santosh Sharma, said staff are putting plans in place to assist up to 75,000 people with temporary shelter, ready-to-eat meals, water purification and toilet construction.
Toronto aid worker Reena Vohra was walking through a narrow alley in Bhaktapur when the quake hit. She ran to a nearby shop entrance, where she watched in horror as the historic city crumbled.
"People were screaming and crying all around me," she said a statement provided by World Vision. "I'm still incredibly shaken up. I've never experienced anything like this."
Prime Minister Stephen Harper released a statement Saturday in which he offered his deepest condolences to those who lost loved ones.
"We mourn with the people of Nepal and India in the aftermath of this terrible natural disaster and offer our help and our prayers," he said.
The Foreign Affairs Department has said there are 388 Canadians registered as being in Nepal, but cautioned that is only an estimate as registration is voluntary.
Among the Canadians in Nepal is former New Brunswick NDP leader Elizabeth Weir, who tweeted Saturday, "Outside Kathmandu and still aftershocks with ground rumbling."
Foreign Affairs spokeswoman Diana Khaddaj said Canadian diplomats in Ottawa and in the region were working with local authorities to help Canadians in the region.
Some families were turning to social media in an effort to track down relatives in the quake-stricken area. A number of people tweeted asking if anyone heard from their loved ones.
Live: Latest Updates on Earthquake in Nepal
By Monday afternoon, Nepalese authorities had sharply raised the death toll to more than 3,400, but the full extent of the devastation and death was still unclear. It was that uncertainty, over what the earthquake had wrought and what the future might hold, that spread fear and anxiety across Nepal. The true extent of disasters like the one that hit Saturday often become clear only in the days and weeks afterward, as the digging-out gains momentum and crews work through the rubble of lives upended.But for now, getting through the day — and night — is the immediate challenge as aftershock after aftershock continues to rattle this country and its unnerved people. In the capital, Katmandu, as if the powerful earthquake were not enough of a test, heavy rains pelted the thousands who sought safety in the streets, cowering under leaking tarpaulins and makeshift tents, wondering what had become of homes, lives and livelihoods thrown into limbo by the quake.
"We don't have anyplace to go," said Mohammed Kabil, one of a dozen or so men who were warming themselves near a smoky campfire as the drizzle turned to rain. They sat near the remains of the Dharahara Tower, a revered monument that was toppled by the quake.
"We don't have any clothes, we don't have enough food, we don't have medicine, we don't know when we can go back into our homes," he said.
Sitting atop a major tectonic fault, Nepal is accustomed to the tremors of the earth. But this time it has been overwhelmed by a powerful quake that killed thousands and destroyed some of the country's most treasured temples. Past and present were destroyed all at once, making digging out and rebuilding that much more daunting.
On Sunday afternoon, the streets of Katmandu were filled with people carrying bedrolls and pillows to any open space they could find, including a military parade ground that has been transformed into a giant tent city. Few people seemed willing to sleep inside, fearful that the next shock might make their homes pancake. There seemed an arbitrariness to the destruction, one building collapsing and entombing its occupants, while another nearby withstood the shock.
That, too, added to the uncertainty, the sense that sleeping in the street, in the rain, was the only hedge against the randomness of fate."Everyone is scared," said Samir Thapa, a 30-year-old security guard who, like thousands of other residents, slept in the tent city. "Everyone is saying it will come again. No one is going to sleep at home."
As the government of Nepal struggles to gain its bearings, an international relief effort has begun to shift into gear. The United States, India and China were among countries initiating their own relief efforts, but aid officials said they were finding it difficult to get out to rural areas where some of the greatest devastation is feared.
Even getting aid and relief workers into Katmandu is complicated, with fewer than a fifth of the regular daily flights now arriving, with airlines concerned about the effects of powerful aftershocks.
The government also pleaded with its own workers to help in local rescue efforts rather than going to their usual jobs.
There is an urgency to the need, knowing well how devastation can spread its roots beyond the immediate crisis. The crammed encampments, for instance, are almost certain to pose a health risk in the days ahead, Dr. Gautam said, as unsanitary conditions could allow disease to spread. "Even some patients prefer to stay in the open field because they're afraid of being inside."
Hundreds of foreign and Nepalese climbers remained trapped on the mountain, according to the news agency.
Public frustration over the hardships brought by the disaster could grow into ire with the government, if its response is seen as too little too late.
"We feel we are helpless," said Biraj Bikram Shah, a pilot who wandered through his neighborhood darkened by a power blackout. "We can do nothing."
He and his family slept in their garden despite the rain. Pedestrians seemed to do everything in their power to stay away from buildings. They walked in the street instead of on sidewalks.
Across Katmandu, especially in the oldest districts, there are piles of detritus — timber beams and broken bricks. In the heart of the historic district, the country's most prized temples are rubble. These buildings "are what made Katmandu special," said Sri Kitav Sangoala, a middle-age truck driver, as he surveyed the piles of bricks that the authorities believe contain more bodies.
"So many sites are destroyed," he said. "Our history is gone."
In time, engineers and scientists will no doubt offer explanations for why some buildings collapsed into splinters and piles of bricks while others next door appeared indifferent to the violence of the earthquake.But for now, there was still the overwhelming trauma of the quake. Ichcha Gauchan, a 33-year-old homemaker, said she clutched the wall of her home as everything in her kitchen flew from the shelves. She moved her hands like a metronome to describe how the houses next to hers swayed during the quake.
"I thought I had died," she said. She is sleeping at the military parade ground, and although her house is intact, she does not plan to return home for several days. "How can we sleep at night?"
Others have no home to return to. Depak Lama, 35, a street vendor, can only stare at the pile of bricks that used to be his home. Under the rubble are his savings, his identity card, his mobile phone, clothing and all of his family documents.
In the seconds before the earthquake struck, Mr. Lama said, it felt as if it suddenly became very windy outside. Birds flew away in a frenzy. He grabbed his 2-year-old son and ran from the building as bricks fell on his head. On Sunday, among the dusty piles of debris that were once his home, were a pair of socks, pages of a book and a padlock.Dr. Gautam, 30, said he had rushed into work at the emergency ward of Bir Hospital soon after the earthquake struck. The ward and a unit for less serious injuries had treated about 1,000 people over the weekend, far more than the 15 or 20 people they receive on an average weekend.Although the hospital is one of Katmandu's best-regarded government hospitals, its relatively primitive equipment and medical supplies were no match for the influx of patients with broken limbs, punctured chests and other injuries.
"The casualties from the buildings will still grow," he said, "not so fast, but the other problems will grow."